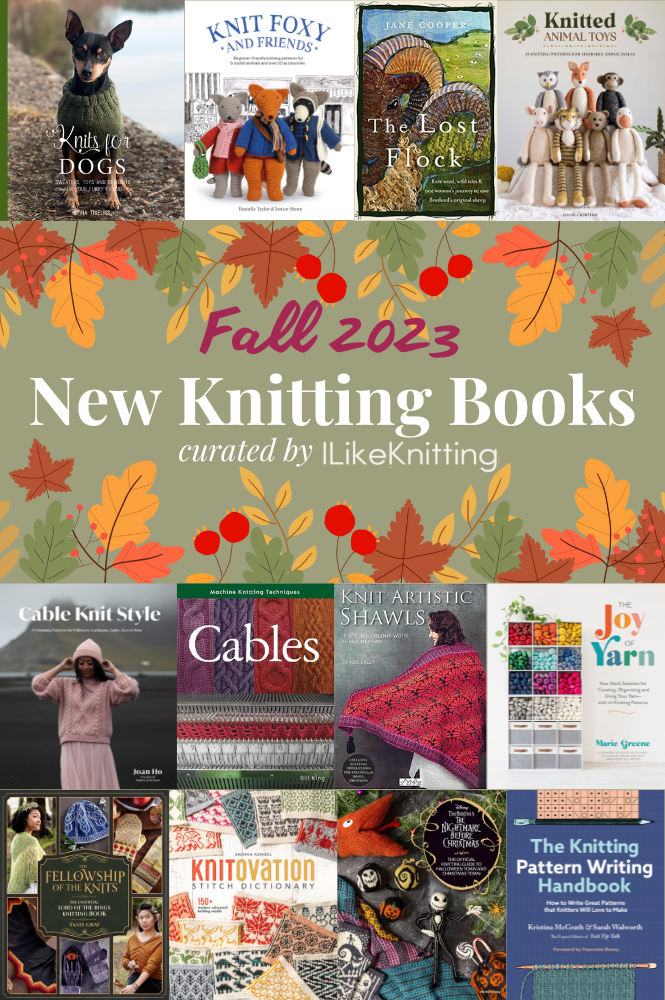 As the air turns crisp and the leaves begin to dance, the world of knitting welcomes a delightful array of new books to inspire your fall crafting endeavors. From innovative ways to organize your beloved yarn stash to imaginative patterns that bring beloved characters to life, this season's lineup is a treasure trove of creativity.
The Joy of Yarn: Your Stash Solution for Curating, Organizing and Using Your Yarn―with 10 Knitting Patterns
by Marie Greene
This book offers a practical guide for yarn enthusiasts, helping them keep their stash organized and manageable. With creative solutions and insights, it's a valuable resource for turning chaos into crafting bliss.
KnitOvation Stitch Dictionary: 150+ Modern Colorwork Knitting Motifs
by Andrea Rangel
Featuring a wide array of colorwork stitches, this stitch dictionary by Andrea Rangel is a treasure trove for knitters seeking to add vibrant patterns to their projects. From traditional to modern designs, this book sparks creativity in every stitch.
Knitting Pattern Writing Handbook: How to Write Great Patterns that Knitters Will Love to Make
by Kristina McGrath and Sarah Walworth
A must-have for aspiring designers, this handbook delves into the art of creating knitting patterns. With clear instructions and practical advice, it's a valuable tool for those looking to bring their design ideas to life.
The Disney Tim Burton's Nightmare Before Christmas: The Official Knitting Guide to Halloween Town and Christmas Town
by Tanis Gray
This knitting book brings beloved characters from "The Nightmare Before Christmas" to life through 25+ knitting patterns. With detailed instructions and whimsical designs, it's a treat for fans of both this Disney classic and knitting.
Machine Knitting Techniques: Cables
by Bill King
Bill King's comprehensive guide to machine knitting techniques is a go-to resource for both beginners and experienced machine knitters. Packed with step-by-step instructions, it empowers readers to create intricate patterns and textures.
The Fellowship of the Knits: Lord of the Rings: The Unofficial Knitting Book
by Tanis Gray
Combine your love for knitting and "The Lord of the Rings" with this delightful book. Featuring patterns inspired by characters and locations, it's a charming way to bring Middle-earth magic into your knitting.
Knits for Dogs: Sweaters, Toys and Blankets for Your Furry Friend
by Stina Tiselius
This book offers a heartwarming collection of knitting patterns for dogs, including cozy sweaters and neckerchiefs. A perfect gift for dog-loving knitters looking to pamper their furry companions.
Cable Knit Style: 15 Stunning Patterns for Pullovers, Cardigans, Tanks, Tees & More
by Joan Ho
Embrace the timeless elegance of cable knitting with a modern twist. This book features a range of cable designs for all skill levels and seasons, helping knitters create stylish and cozy garments.
The Lost Flock: Rare Wool, Wild Isles and One Woman's Journey to Save Scotland's Original Sheep
by Jane Cooper
In this captivating and inspiring book, Jane Cooper's journey from knitting enthusiast to sheep savior comes to life. Through rich storytelling, she uncovers the fascinating history of the Orkney Boreray sheep, the UK's rarest breed, and its vital role in Scotland's heritage.
Knit Artistic Shawls: 15 Special Colour Work Designs. Exclusive Knitting Instructions for Triangular Shawl Creations
by Bärbel Salet
Bärbel Salet presents a collection of stunning shawl designs that showcase her artistic approach to knitting. With intricate patterns and versatile shapes, this book inspires knitters to create wearable masterpieces.
Knitted Animal Toys: 25 knitting patterns for adorable animal dolls
by Louise Crowther
This book offers a delightful array of knitted animal toy patterns that are sure to enchant both children and adults alike. With detailed instructions and charming designs, it's a wonderful resource for creating handmade toys.
Knit Foxy and Friends: A collection of beginner-friendly knitting patterns for a stylish urban fox and his friends
by Daniella Taylor and Venice Shone
With a collection of 50 beginner-friendly knitting patterns, you'll have the opportunity to bring endearing characters to life, complete with their clothes and accessories. With captivating photography and lively illustrations, "Knit Foxy and Friends" promises to become your go-to source for heartwarming knitting projects.