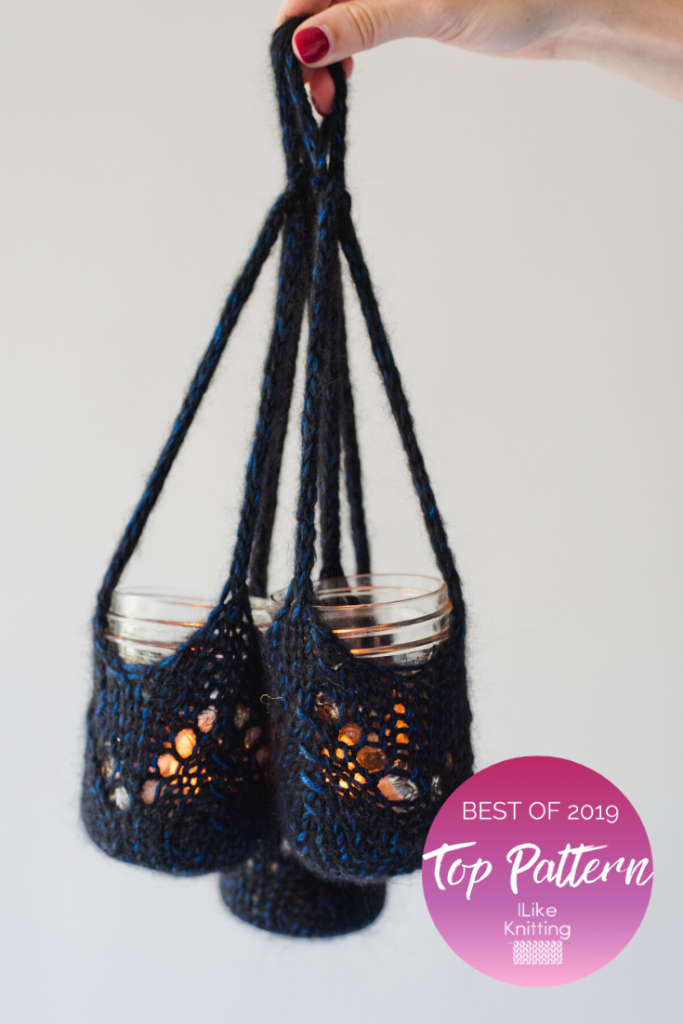 There's something magical about the flickering of a candle in the dark evening hours. Capture this magic with these knit lantern holders that are somewhere between boho and chic. You can make a set in the weekend and they make a fantastic and unique hostess or birthday gift. Each lantern is made with an 8 oz. mason jar, yarn and an battery-powered tealight candle.
Skill Level: Easy
Size: To fit an 8oz / [250 ml] mason jar
Gauge: 20 sts and 22 rows = 4" [10 cm] in pattern
Materials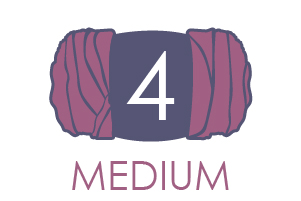 Yarn: Cascade Yarns Luminosa (52% Viscose, 44% Baby Alpaca, 4% Wool; 240 yards [220 meters]/100 grams): 08 Sapphire (1 ball)
Needles: US size 9 (5.5 mm) DPNs
Notions: Tapestry needle, 3 8oz / [250 mL] mason jars, 3 electronic tea lights, st holder.
Abbreviations
Psso – Pass slipped stitch over
Pattern Notes
The pattern is worked for the bottom up. At the top of the jar the stitches on each needle are
decreased and worked into i-cord separately before the three strands of cord are joined at the
top.
Instructions are given for three lengths of cord. The sample has lanterns that hang at three
different lengths.
For each lantern work all of that lantern's cords the same length.
Safety Note: Some yarns, especially plant fibres like cotton and hemp, are very flammable whereas many yarns made of synthetic fibres (such as acrylic) can melt. The cords holding the lantern could catch fire if a real flame was used, as so this pattern is intended to be used ONLY with electronic candles. Electronic tea lights are inexpensive and usually available at home decor, hardware, or dollar stores.
Pattern
Bottom
CO 6 sts. Join for working in the rnd, being careful not to twist sts.
Rnd 1 (and all odd rounds): Knit
Rnd 2: *Kfb, k1; rep from * to end of rnd. (9 sts)
Rnd 4: *Kfb, k2; rep from * to end of rnd. (12 sts)
Rnd 6: *Kfb, k1; rep from * to end of rnd. (18 sts)
Rnd 8: *Kfb, k2; rep from * to end of rnd. (24 sts)
Rnd 10: *Kfb, k3; rep from * to end of rnd. (30 sts)
Sides
Work from either written instruction below or chart.
Rnds 11-13: Knit
Rnd 14: *Yo, k3, sl1, k2tog, psso, k3, yo, k1; rep from * to end of rnd.
Rnd 15 and all odd rnds: Knit.
Rnd 16: *K1, yo, k2, sl1, k2tog, psso, k2, yo, k2; rep from * to end of rnd.
Rnd 18: *K2, yo, k1, sl1, k2tog, psso, k1, yo, k3; rep from * to end of rnd.
Rnd 20: *K3, yo, sl1, k2tog, psso, yo, k4; rep from * to end of rnd.
Rnds 21-24: Knit.
Cords
Note: Each row is worked on one third of the sts. Leave the other sts on their needles, you will come back to them later.
Row 1: Ssk, ssk, k2, k2tog, k2tog, TURN. (6 sts)
Row 2: P6, TURN.
Row 3: Ssk, k2, k2tog, TURN. (4 sts)
Row 4: P1, p2tog, p1. (3 sts)
Work 20 (25, 30) even rows of i-cord.
Next Row: K3tog. Place st onto stitch holder.
Rep with other two thirds.
Loop
Place the 3 sts (one from each cord) onto one needle.
Work 15 rows of i-cord.
Break yarn, leaving a 12" tai and draw through remaining sts.
Finishing
Sew end of loop to point where the three cords meet.
Weave in ends.
---
Gold Members, Download Here
Not a gold member yet? Join Now