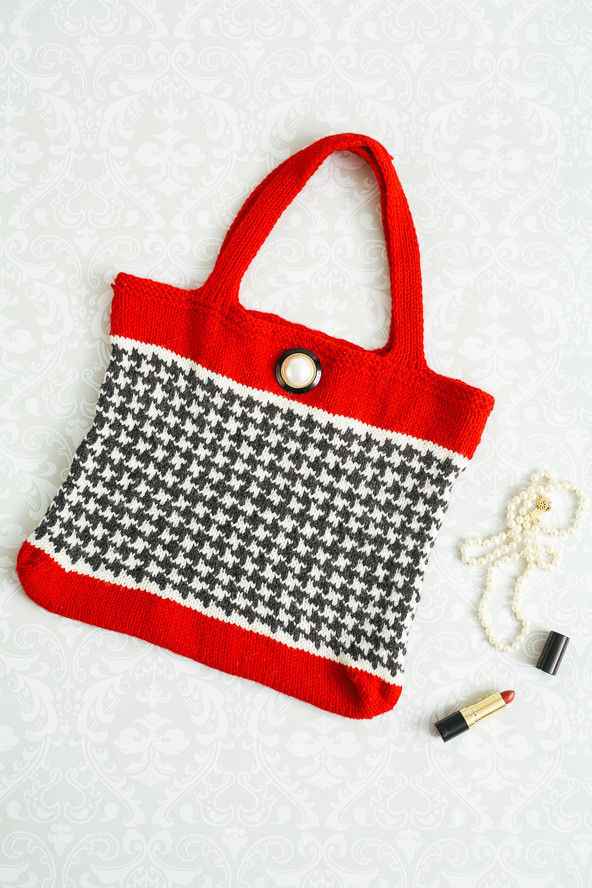 This stylish bag showcases a classic houndstooth check with a pop of color and features an oversized decorative button. While red is a traditional accent, think about using lime green or bright acid yellow for a new twist.
Skill Level: Intermediate
Size: 14" wide and 14" high [35 x 35 cm] excluding handles
Gauge: 22 sts and 26 rows = 4" [10 cm] in St st after blocking 
Materials
Yarn: Valley Yarns Northampton Worsted (100% wool; 247 yards [223 meters]/100 grams): Charcoal Gray (1 skein), Natural (1 skein), Red (1 skein)
Needles: US size 7 (4.5 mm) circular needles (24" [60cm]), US size 5 (3.75 mm) straight or circular needles
Notions: Markers, stitch holders, tapestry needle, one 1" button, 1 yd/1m grosgrain ribbon, plastic canvas sheet to reinforce bottom of bag (optional), magnetic closures (optional).
Pattern Notes
This pattern is worked by knitting a rectangle for the bottom of the bag, picking up stitches around the other 3 sides of the piece, and joining to work in the round.
Handles are knitted as continuous extensions then grafted together in the middle.
An optional crochet chain loop can be added to close the bag by looping over the button. A magnetic closure (optional) can also be added. Grosgrain ribbon may be sewn around the inside of the top edge of the bag to add firmness (recommended).
Hint: be sure to keep your "floats" loose, or the bag will bunch up. 
Pattern
Using red yarn, CO 62 sts.
Knit 16 rows in stockinette stitch, ending with a WS row.
Pick up and knit 16 sts along narrow end, 62 sts on wide side, and 16 sts on second narrow end. Join to work in the round. PM at beg of rnd. (156 sts)
Work 5 rnds in stockinette stitch.
Change to white yarn. K2, kfb, k to end of rnd. (157 sts)
Next Rnd: Knit.
Begin colorwork. Work 12 repeats (48 rounds) of houndstooth pattern using chart.
Change to white yarn. Knit 2 rnds.
Change to red yarn.
Rnd 1: *K15, k2tog, repeat from * 9 times, k to end. (148 sts)
Rnds 2-10: Knit.
Rnd 11: Purl.
Rnd 12: Knit.
Rnds 13-14: Repeat Rnds 11-12 once more.
Rnd 15: BO 6 sts, [p1, k1] 5 times, BO 26 sts, [p1, k1] 5 times, BO 28 sts, [p1, k1] 5 times, BO 26 sts, [p1, k1] 5 times, BO rem 22 sts.
Handles
Transfer sts for handles to smaller needle, working each of the 4 strips in turn, as follows:
Attach yarn. Hold with RS facing.
Row 1 [RS]: Sl1, k1, [p1, k1] to end.
Row 2 [WS]: Sl1, k1, [p1, k1] to end.
Repeat these 2 rows until handle is about 10" [25cm] or desired length (handles will stretch with use). Place sts on a holder or scrap yarn.
Repeat for all 4 handle straps.
Graft together handles using Kitchener St.
Finishing
Weave in yarn ends. Block piece to required measurements. Sew matching grosgrain ribbon along inside top edge of bag to reinforce edge. Place plastic canvas (cut to fit) along bottom of bag for reinforcement.
Sew decorative button as shown. Optionally crochet a single chain loop to loop over button to close bag.
---
Gold Members, Download Here
Not a gold member yet? Join Now