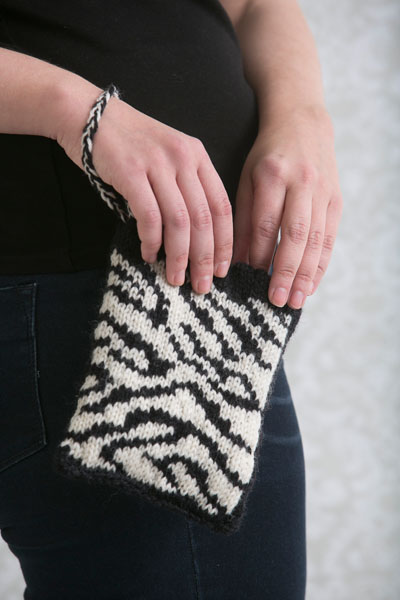 This zebra print bag has a scalloped edge, is fully lined, and features a drawstring closure that doubles as a wrist strap. It is worked in a long tube and the scalloped edge is made by some cleverly placed yarn-overs and folding in the lining.
Skill Level: Easy
Size: No size specified
Gauge: Gauge is not specified
Materials
Yarn: Patons Classic Wool Worsted (100% wool; (210 yards [192 meters]/100 grams): Black (1 skein), Aran (1 skein)
Needles: US size 8 (5.0 mm) circular or double pointed needles for working in the round
Pattern
Using black yarn, cast on 50 stiches. Join to work in the round.
Knit all stitches around for 38 rows. You will have a long black tube.
On the next round, (k4, kfb) all the way around. You will now have 60 stitches.
Knit one round. 
Scallop Edge Shaping
[yo, k2 tog, k1] around.
Knit 4 more rows.
You will now begin working the chart. Make sure to catch the non-working yarn in the back of your working yarn as you work in the two colors.
After the 40 rows of the chart have been worked, knit two more rounds of black. Bind off.
At this point you have a long tube-half black, half zebra print. Sew each open edge of the tube closed. Fold the black half inside the zebra print (wrong sides together) so the rows with the yarn-overs are at the top to form a scallop edge. Weave in ends.
Drawstring
Cut 3 strands each of both colors of yarn approximately 30 inches long. Tie the six strands together with a knot at one end. Braid the strands together and tie a knot at the end. Take one edge of the drawstring and pull it through the holes made by the yarn overs. When you get to the one at the side of the bag (marked by the black stripe), skip one of the scallops so the drawstring travels on the outside of the knitting and then insert it back into one of the yarn-over holes to get it back to where it was started. Tie the drawstring ends together, snip off any extra and then hide the knot inside of the knitting.

---
Gold Members, Download Here
Not a gold member yet? Join Now