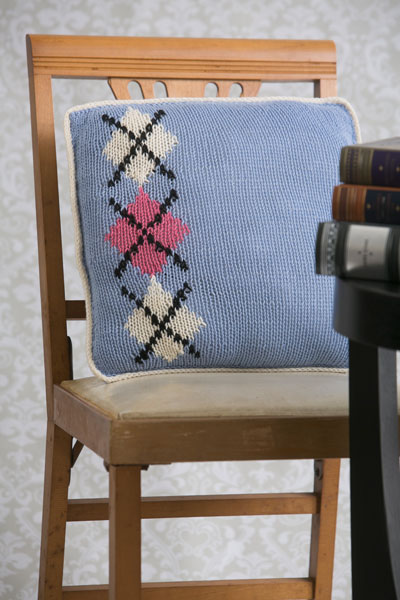 This pillow will fit every décor – just customize your colors! It uses an easy stylized version of a traditional argyle stitch as an accent. An applied i-cord is used to neatly finish off the edges, and the whole thing is closed with two decorative buttons.
Skill Level: Intermediate
Size: Pillow cover to fit a 12-13" [30-32 cm] square pillow form
Gauge: 18 sts and 28 rows = 4" [10 cm] in St st after blocking
Materials
Yarn: Lion Brand LB Collection Superwash Merino (100% merino wool; 306 yards [272 meters]/100 grams): #107 Sky (MC, 1 ball), #098 Ivory (CC1, 1 ball), #139 Peony (CC2, 1 ball), #153 Night Sky (CC3, 1 ball)
Needles: US size 6 (4.0 mm) straight or circular needles, DPN for I-cord.
Notions: Stitch markers, tapestry needle, two 1" buttons
Special Stitches
Applied I-cord: On DPN or circular needle, cast on 4 sts. *Slide the sts to the opposite end of the ndl. K3, sl 1 purlwise. With left hand tip, pick up a stitch on edge of piece. Slip the last st on right ndl tip back onto left tip. K2tog tbl. Repeat from * until all sts on edge are worked. (When you have live stitches on left needle, simply knit the next st on the needle together with the i-cord stitch.)
Buttonhole: Be sure to work all the stitches tightly.
Knit to the point where the buttonhole will be placed. Hold the yarn in front of the work. Sl the first st on the LH needle purlwise. Move yarn to back of work. *Sl next st purlwise. Pass first slipped st over second slipped stitch. Rep from * 3 more times. Sl the last st back to the LH needle.
Turn work. Move yarn to back of work. CO 5 sts onto the left needle, using the Cable Cast On – but before placing the last loop on LH needle, bring yarn to the front; it will rest between two stitches.
Turn work. Sl first st from LH needle purlwise. Pass the last cast-on st over the slipped stitch. Pull yarn tight. Continue working the row.
Pattern Notes
This pattern is knitted first as a square piece with argyle patterning, then the back pieces are worked. Applied i-cord all around the edge provides a neat finish. 
Pattern
Section 1 (Front)
Using MC, CO 54 sts.
Row 1 (WS): Purl.
Row 2 (RS): Knit.
Row 3: Purl.
Row 4: K7, PM, work Argyle Chart Row 1, using CC1 and CC3 as shown, PM, k to end.
Row 5: P to marker, SM, work next row of Argyle Chart, SM, p to end.
Row 6: K to marker, SM, work next row of Argyle Chart, SM, k to end. 
Rows 7-81: Repeat Rows 5-6, working one repeat of Chart with CC1 (cream), one with CC2 (pink) and one with CC1 (cream).
Row 82: Knit.
Row 83: Purl
Row 84: Knit.
Keep sts on a holder or on scrap yarn.
Section 2 (Back Button band)
Using MC, CO 54 sts.
Rows 1-12: Knit.
Rows 13-40: Work in stockinette stitch.
BO all sts.
Section 3 (Back Buttonholes)
Using MC, CO 54 sts.
Rows 1-6: Knit.
Row 7 (RS): K14, work buttonhole, k18, work buttonhole, k to end.
Rows 8-12: Knit.
Rows 13-40: Work in stockinette stitch.
BO all sts.
Finishing
Return sts from holder onto needle. With WS facing, and using CC1, work i-cord around edge of Pillow Cover Section 1, using live sts first, then picking up sts around rem 3 edges.
Sew back of pillow to front, overlapping the buttonholes over the button band.
Sew buttons opposite buttonholes.
Weave in yarn ends. Block piece to required measurements.

---
Gold Members, Download Here
Not a gold member yet? Join Now