Royal Cabled Pullover, From the December 2015 issue, by Olya Bagi
Magazines, red carpets, and fashion blogs are just three ways we find upcoming trends to incorporate into our daily lives, but sometimes those trends are not right for our body types. Dressing for your shape is important, but learning how to knit for your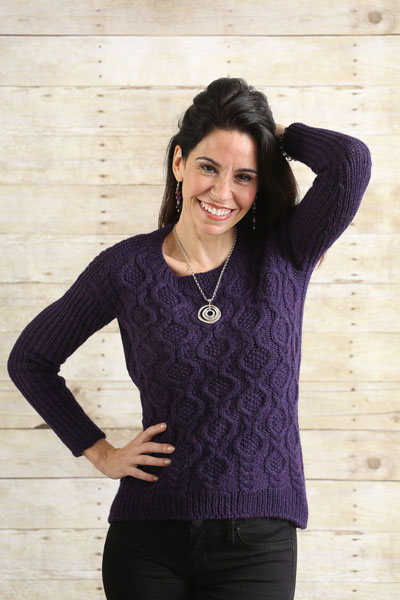 Royal Cabled Pullover, From the December 2015 issue, by Olya Bagi
Magazines, red carpets, and fashion blogs are just three ways we find upcoming trends to incorporate into our daily lives, but sometimes those trends are not right for our body types. Dressing for your shape is important, but learning how to knit for your shape can be daunting. Many patterns only give one size, so it can seem impossible to make alterations to the original design without making the sleeves baggy or the hem too long. We've compiled our favorite tips on knitting for your shape to help you create gorgeous garments that look great on your needles and on your body.
Research your body shape. It's important to know what type of figure you have so you can seek out patterns that flatter you specifically. With a quick online search you can find out exactly what they mean by "rectangle", "hourglass", and more. While it may not seem like it should be on the top of your list, it's important to see what length of hem will flatter you so you can cut your projects short or extend them as you see fit.
Know your measurements. No two bodies are the same, that's why knitting for yourself is so great, and you should know your exact measurements to ensure your knitted garments fit you. While this may seem like a "duh" tip, many people don't take into consideration things like high rise skirts, low rise skirts, off the shoulder tops, and other patterns that don't conform to the standard hips, waist, arms, and legs measurements. If you know your exact measurements before beginning a project it will be easier to wing it when it comes to tweaking the pattern, and you will be able to eyeball the size or length while working.
Work with patterns that work for you. If you know that you don't like the way peplum tops look on your body, don't bother knitting one, and don't feel bad about not jumping on a trend bandwagon. You won't like everything that's "on trend", and that is probably a good thing. You don't need to be trendy when you can have a wardrobe full of classic pieces that flatter you and will be in style forever.
Change every detail. When you're working with a pattern and you go to change the length or fit of it, make sure you're changing all of the details accordingly. If you don't, you can end up with a wonky hem or a cardigan that has tight sleeves while fitting perfectly everywhere else.
Wear your favorite colors. Being boring doesn't suit you. If you love red, work up a gorgeous red knit skirt that you will love to add to your closet. When you work up pieces in colors that you feel like you have to make, or you feel like you should have already done, it doesn't do anything besides make you miserable because of the yarn you wasted. If you hate the color red, make that skirt in tan or plum instead! There is a color for everyone, and you don't need to think inside the box while creating for yourself. If you feel good in what you've made, you'll look great no matter what.