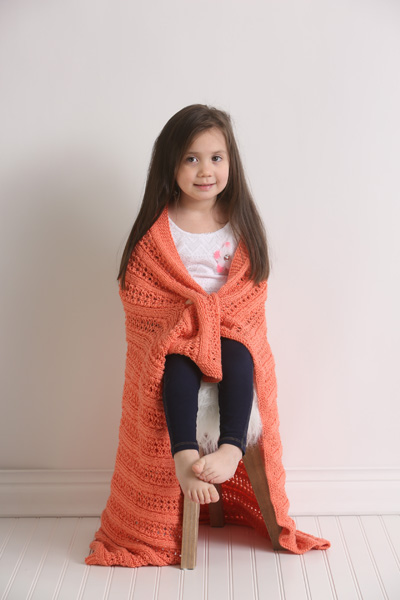 Snuggle up with a good book and your little one as the summer day winds down. The open cables form vertical columns in an easily memorized four-row pattern in this cuddly blanket.
Skill Level: Easy
Size: Approx 37" wide x 43" long
Gauge: 17 sts and 26 rows = 4" in Open Cable pattern
Gauge is not critical to this project, but may affect the amount of yarn needed.
Materials
Yarn: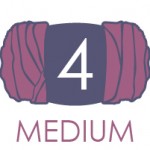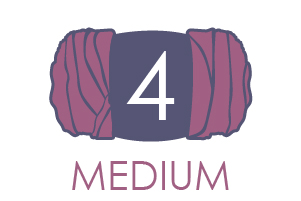 Cascade 220 Superwash (100% Superwash Wool; 220 yards [201 meters]/100 grams: #827 Coral, 6 balls.
Needles: US size 7 (4.5mm): 26" circular needle or size to obtain gauge
Notions: Cable needle (cn); stitch markers
Stitch Guide
Wyif: With yarn in front.
Open Cable Pattern (multiple of 12 sts +3)
Rows 1 and 3 (WS): K3, *p9, k3; rep from * across.
Row 2: P3, *k1, sl1 to cn and hold in back, k2tog, p1 from cn, yo, p1, yo, sl2 to cn and hold in front, p1, ssk from cn, k1, p3; rep from * across.
Row 4: P3, *k2tog, k1, yo, k1, p1, k1, yo, k1, ssk, p3; rep from * across.
Rep Rows 1-4 for pattern.
Pattern Notes
Circular needle is used to accommodate large number of sts. Do not join, work in rows.
Blanket
CO 171 sts.
Border Row: Sl1 purlwise wyif, knit to end of row.
Rep Border Row 7 times more.
Set-up Row: Sl1, k5, place marker, work Row 1 of Open Cable pattern to last 6 sts, place marker, k6.
Slipping first st of every row and keeping 6 sts at each end in Garter st and remaining sts in Open Cable pattern, work even until Blanket measures approximately 42" from beg, ending with Row 1 of pattern.
Work 8 Border rows.
BO knitwise on RS.
Finishing
Weave in ends. Block.