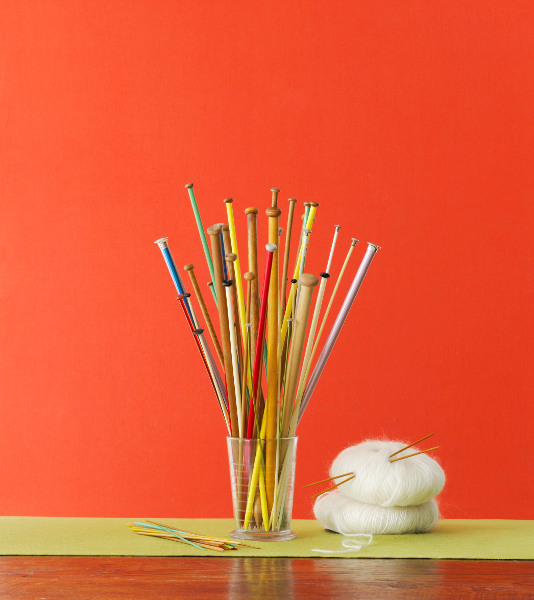 While working up a new project, have you ever thought: I love these needles, I wish I could use them all day long. Well lucky reader, with ten new uses for your favorite craft tools, now you can. No need to use your brand new knitting needles for these – any worn out or thrifted pair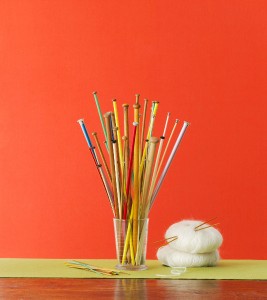 While working up a new project, have you ever thought: I love these needles, I wish I could use them all day long. Well lucky reader, with ten new uses for your favorite craft tools, now you can. No need to use your brand new knitting needles for these – any worn out or thrifted pair of needles work just as well
Plant stakes: Perfect for when your plants first start growing, try using one of your knitting needles as a temporary support system. Cheap and easy, this gives you enough time to run to the store before your plants get too big. Plus, they give your plant that perfectly chic rustic look.
Hair styling: In a hurry to fix your hair? Grab a needle and give yourself a deep part for more volume, or sweep it all up and use two needles to pin it in place for a stylish bun.
Play swords: Re-purposing your needles has never been more fun, and by making a felt or paper casing in the shape of a sword, you will have a creative toy that your kids won't expect.
Clean narrow spaces: Using a knitting needle, you can clean thin bottles and vases with ease and efficiency. Instead of filling the bottle with soapy water and hoping it gets clean, you can get now into the crevices with the tip of your needle.
Chip away ice from a frozen car: Living on Lake Michigan is tough in the winter, and more often than not the roads are lined with ice-covered cars. Instead of using a giant, blunt car scraper, chip away the ice on your handles and windshield with your sturdy metallic needles before getting in the car.
Makeshift touchscreen stylus: Trying to use your tablet, but can't find the stylus? Grab a knitting needle and tap away!
Testing cakes: Old knitting needles might not be part of your craft project, but they can stay in your life through your recipes. Use your old, thin needles to test cakes, muffins, brownies and more when they come out of the oven.
Letter opener: Don't use a letter opener that will crumple and crush the message inside. Instead, poke your knitting needle through and slide it across the top for a perfect open every time.
Spearing pieces of food: Did you forget your fork today? Use a spare clean knitting needle to spear pieces of fruit or meat during your lunch hour. Not only will you not go hungry, but it is also a great conversation starter.
Beverage stirrer: Pouring cream in your coffee or milk in your tea? Mix it in with a knitting needle! If you are taking a break or have one lying around, it works just as well as a spoon.
What did you think? Have you used any of these tricks before? Do you know any better ones? Let us know on our Facebook page!