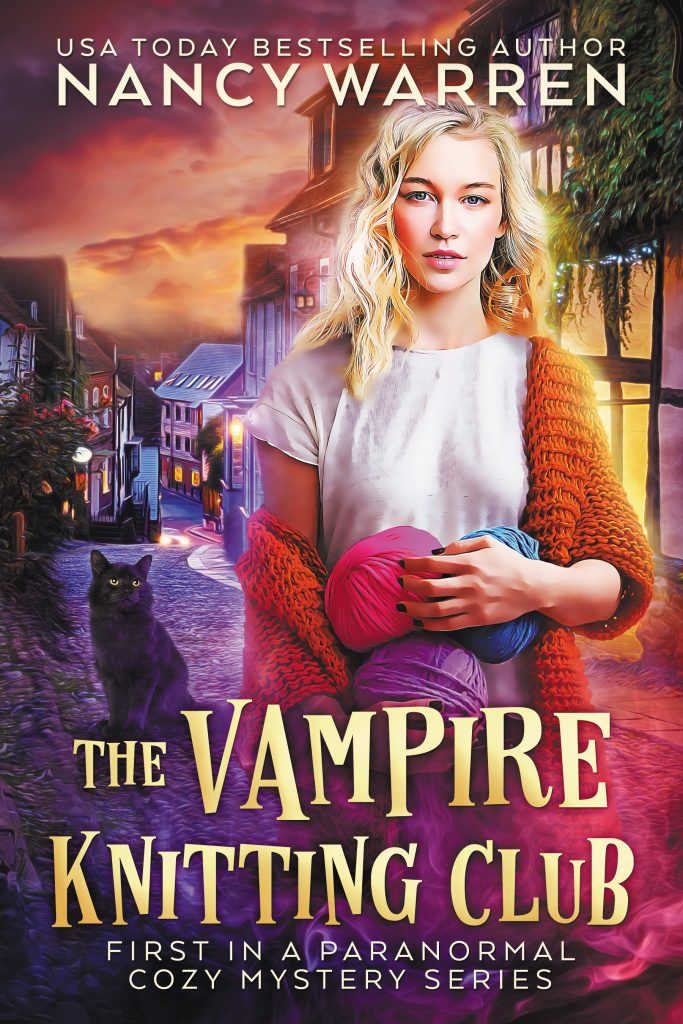 The Vampire Knitting Club
Excerpt © 2018 Nancy Warren
Chapter One
Cardinal Woolsey's knitting shop has appeared on postcards celebrating the quaint views of Oxford, of which there are many. When a visitor has tired of writing 'wish you were here' on the back of pictures of the various colleges, the dreaming spires, and the dome of the

The Vampire Knitting Club
Excerpt © 2018 Nancy Warren
Chapter One
Cardinal Woolsey's knitting shop has appeared on postcards celebrating the quaint views of Oxford, of which there are many. When a visitor has tired of writing 'wish you were here' on the back of pictures of the various colleges, the dreaming spires, and the dome of the Radcliffe Camera, a cozy little shop painted blue, brimming with baskets of wool and hand-knitted goods, can be so much more inviting.
My grandmother, Agnes Bartlett, owned the best knitting shop in Oxford and I was on my way to visit her after spending a very hot month at a dig site in Egypt with my archeologist parents.
I was looking forward to telling Gran about my latest life crisis. I might be twenty-seven years old and supposedly all grown up, but Gran was always ready to wrap her warm arms around me and tell me everything was going to be all right. I needed comforting after discovering my boyfriend of two years, Todd, had stuck his salami in someone else's sandwich. I referred to him now as my ex-boyfriend 'The Toad.'
I was thinking how much I needed Gran's wisdom, her hugs, and her homemade gingersnaps as I walked down Cornmarket Street toward Ship Street. A busker played his guitar and sang Bob Dylan, not very successfully as suggested by the small number of coins in his open guitar case. I dodged out of the way before a tour group swallowed me whole. As I passed, the tour guide was pointing out the three-story timber-framed building on the corner where it leaned drunkenly into the street. "Built in 1386, for a local wine merchant, this was originally called the New Inn. It's one of Oxford's few remaining Medieval domestic buildings." I moved past them and couldn't hear any more. I'd learned a lot about Oxford from overhearing snatches of tours. One day, I should really take one.
Just past Ship Street, I turned into Harrington Street where Gran's yarn shop was located. After the bustle and crowds of Cornmarket, it seemed quiet and nearly deserted.
My case bounced and rattled as I crossed the patch of cobblestones in front of Cardinal College. The college was named for Cardinal Wolsey, Henry VIIIs right hand man until he couldn't manage to get the king out of his first marriage, when he promptly fell out of favor. Since the knitting shop was down the street from the college, my great-grandmother had called her shop Cardinal Woolsey's.
A sign outside the arched entrance informed me that the college was closed to visitors today. It wasn't the main entrance, but it still featured fierce gargoyles glaring down over the pale gold Headington stone façade, and through the gate I glimpsed the quad with a fountain in its center. I continued, following the college wall to its end, passing a row of parked bicycles, and then to the commercial part of Harrington where the shops were.
They weren't as old as the colleges. They were Georgian, mostly, standing like a row of elegant ladies, in cream or the palest pastel shades. They contained shops at street level and flats above. Cardinal Woolsey's was in the middle of the row, with a pale green plaster front and original sash windows, all painted white. The shop had one big front window and a door with a glass panel. All the woodwork was painted bright blue. The front window displayed richly-colored wools, an antique spinning wheel draped with a crocheted blanket that looked perfect for snuggling up in. There was a selection of books, kits and a gorgeous red sweater that made a person wish they knew how to knit.
Suddenly, I started to feel as though cold, wet fingers were walking down the back of my neck.
The September day was mild and I was warm since I'd walked from the train station. Every part of me was warm but the back of my neck. When I looked ahead, I saw two ladies on the other side of the street headed toward me. One of them was Gran. She wore a black skirt, sensible shoes and one of her hand-knitted cardigans, this one in orange and blue. With her was a glamorous woman in her sixties whom I didn't recognize. I called out and waved. They both wore wide-brimmed hats and, as I started forward, they ducked their chins so their faces were hidden from me. Still, I'd know my grandmother anywhere.
I called again, "Gran!" moving faster so my suitcase began to bounce.
I was sure they saw me, but as I sped toward them, they veered down Rook Lane, a narrow passageway that connects Harrington to George Street. What on earth? I lifted my case and began to run, though my case was so heavy it was more of a grunting stagger.
"Gran!" I yelled again. I ran to the bottom of the alley they'd turned into, but it was deserted. A dry, shriveled leaf tumbled across the flagstones and from a window ledge a small, black cat regarded me, with what looked like pity. Otherwise, Rook Lane was empty. "Agnes Bartlett!" I yelled at the top of my lungs.
I followed them down the flagstoned alley. A black wooden door, set into the wall beneath a gothic arch, was just shutting as I reached it. I contemplated ringing the small brass bell, but didn't want to make a fool of myself so resisted and walked on.
Well, there was no point hanging around in a deserted lane. I'd go to Cardinal Woolsey's and wait for Gran there. Her assistant, Rosemary, would be working and I could let myself into the upstairs flat and unpack while I waited for my grandmother to return.
I think the only disappointment for both of us was that she'd never been able to teach me to knit. Everything I tried, whether it was a sweater, a pair of socks or a simple scarf ended up looking like a scrunched-up hedgehog.
I got to the entrance of the quaint blue-fronted shop and tried the door. It didn't open. I tried again, pushing harder before my other senses kicked in and I realized there were no lights on inside.
A printed page was taped to the windowed front door that said, "Cardinal Woolsey's is closed until further notice." At the bottom was a phone number.
Closed until further notice?

---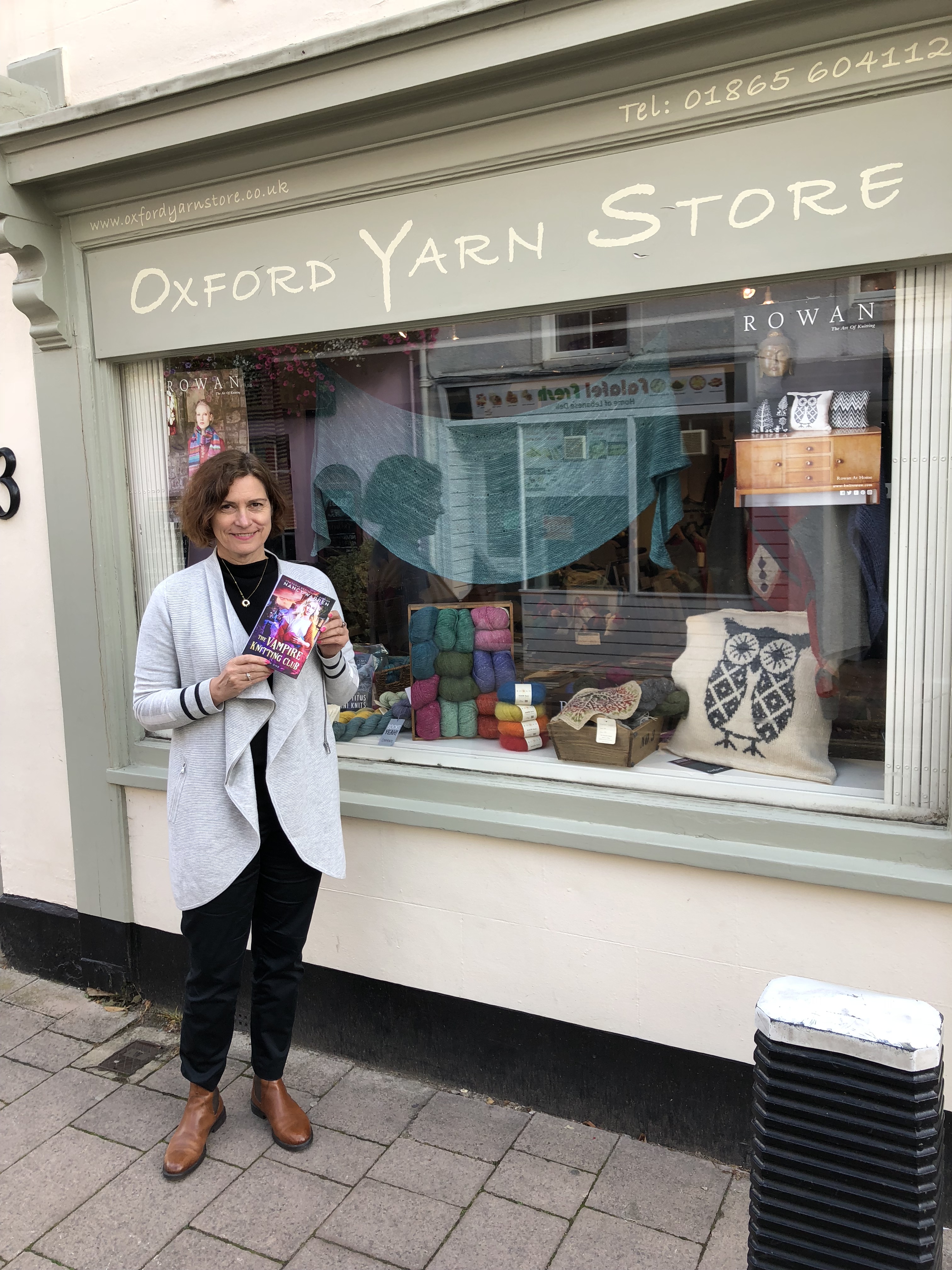 The USA Today bestselling author of more than sixty novels, Nancy is known for her funny, sexy and suspenseful tales.
She's an avid hiker, often tramping the hills with her Border Collie, Max. Nancy recently completed her MA in Creative Writing at Bath Spa University, UK.
Nancy is a three-time Rita Awards finalist, a winner of the Romantic Times magazine Reviewer's Choice Award, and was featured on the front cover of the New York Times for her Harlequin Nascar series.
Love Nancy's books? The best way to keep up with Nancy and her work is to join the Nancy Warren Readers' List