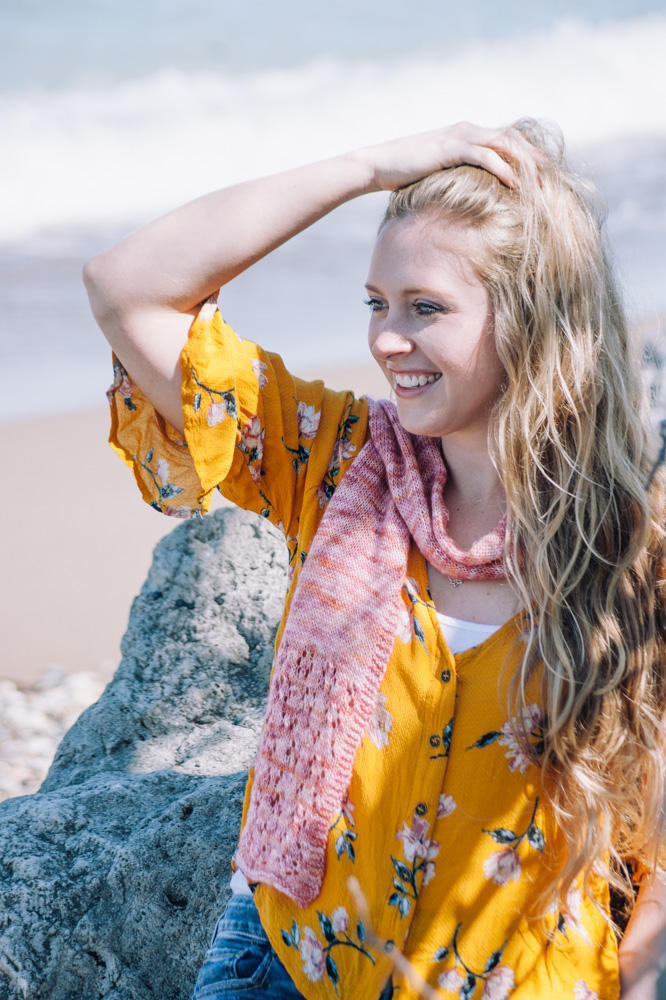 Rosado is a light scarf with delicate eyelet details on the ends. This scarf is the answer to cool summer morning walks and evening moonlit strolls. With a clean and elegant look, this scarf is bound to become a daily wear in your wardrobe when paired with your tee, tank, or evening dress. The scarf is highly customizable based on the yarn amount you have on hand and makes for a great one-skein project!
Time: 12 Hour Pattern
Skill Level: Easy
Size: 62" long and 7" wide
Gauge: 24 sts and 30 rows = 4" [10 cm] in St st after wet blocking
Materials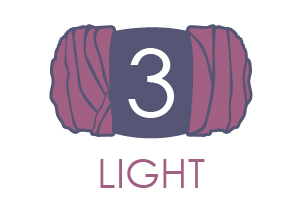 Yarn: Eden Cottage Yarns Keld Fingering (90% superwash extrafine Merino, 10% linen; 393 yards [360 meters]/100 grams): Summer Solstice (1 ball)
Needles: US size 6 (4.0 mm) 16" straight needles
Notions: Removable markers, tapestry needle or crochet hook to weave in ends.
Pattern Notes
This is a lightweight, skinny scarf that is knit flat from one end to the other and is flanked by simple garter borders and edges to keep the lace in place. The scarf begins with a long tail cast-on and a garter border, followed by a few repeats of the hexagonal eyelet motif resembling summer flowers. The lace then gives way to easy Stockinette that showcases the beauty of hand-dyed yarn. The scarf then ends with the same number of lace rows and finishes with the garter border. The lace pattern consists of simple knit increases/decreases and yarnovers, and will make for a great learning project for adventurous lace beginners and equally exciting for lace enthusiasts.
Pattern
Before you begin the CO, weigh your yarn and note the total yarn amount on hand (total g).
Using long tail cast-on, CO 44 sts.
Border rows 1-4: K.
Begin Lace Pattern
Row 1 (RS): K6, *yo, DD, yo, k5; rep from * to last 6 sts, yo, ssk, k4. (4 pattern rep)
Row 2 and all WS rows until Row 16: K4, p to last 4 sts, k4.
Row 3: K4, ssk, yo, *k3, yo, k2tog, k1, ssk, yo; rep from * to last 6 sts, k6.
Row 5: K6, *yo, DD, yo, k5; rep from * to last 6 sts, yo, ssk, k4.
Row 7: K.
Row 9: K5, *k5, yo, DD, yo; rep from * to last 7 sts, k7.
Row 11: K5, *yo, k2tog, k1, ssk, yo, k3; rep from * to last 7 sts, yo, k2tog, k5.
Row 13: K5, *k5, yo, DD, yo; rep from * to last 7 sts, k7.
Row 15: K.
Row 16: Rep Row 2.
Rep Rows 3-16, 3 more times.
Weigh your remaining yarn again and subtract it from the total yarn amount to get the yarn amount you used for the CO, the garter edge and the lace section. This number is approx. the same amount of yarn you will need to knit the final lace section and garter edge.
Stockinette st section
Work in Stockinette st while still maintaining the 4-st garter st edging on each side for approximately 40" (or desired length) or until you still have enough yarn remaining for the final lace border, garter edge and BO.
Begin lace pattern
Rep Rows 1-16 once.
Rep Rows 3-16 3 times.
Border rows 1-4: K.
BO and fasten off.
Finishing
Wet block your scarf stretching the lace gently. Weave in ends when dry.
---
Gold Members, Download Here
Not a gold member yet? Join Now