With spring on its way and the feeling that 2019 is just getting started, we wanted to highlight the patterns and yarn that match Pantone's Color of the Year: Living Coral. While we wait for warmer days and the sun to come out, Living Coral makes its presence known in a variety of our past patterns. Seeing all of these designs together for the first time, we can see why this vibrant shade has captured our hearts for a very long time. We're just glad that the color is finally getting the spotlight it deserves.
Summer Festival Tank

From the August 2017 issue
Short and cropped tops are the in thing for summer style, and this top does not disappoint. The fringed bottom gives the cabled tank an edginess that would be perfect paired with jean shorts—and a concert or festival celebrating long summer days. https://www.ilikeknitting.com/knitting-top-patterns/summer-festival-tank/
Peach Bellini Tee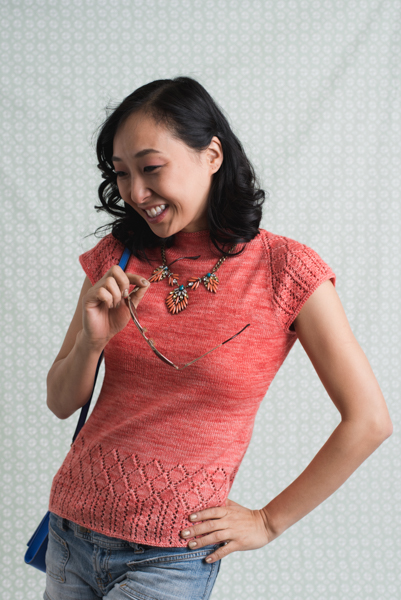 From the June 2018 issue
Knit in the round and bottom up, this Peach Bellini Tee features set-in raglan sleeves with an adorable keyhole that can be worn in either the front or the back. Once you make it, you'll wonder how you ever survived the summer without this essential piece in your closet. https://www.ilikeknitting.com/knitting-top-patterns/peach-bellini-tee/
England Awaits Scarf

From the August 2017 issue
by Lana Jois
With its gentle waves and airy spaces, this scarf will give you the confidence to travel to your dream destination. Knit this up for the friend headed abroad or to spice up your wardrobe for the summer season. https://www.ilikeknitting.com/knitting-scarf-patterns/england-awaits-scarf/
Warm Weather Whimsy Scarf

From the August 2017 issue
by Diane Zangl
Take a day off and enjoy nature's floral gifts, and make sure your wardrobe is prepared for the occasion! This openwork scarf features a German braid pattern, coin cables, and satin ribbon fringe.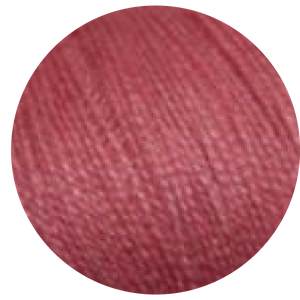 Cascade Forest Hills Yarn – Sugar Coral
Cables and Webs Cowl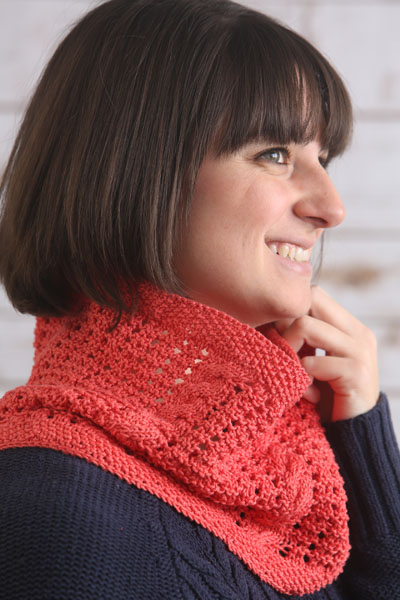 From the April 2016 issue
The dew in the early morning resting quietly on a spider's web was the inspiration for this cowl pattern. This 100% cotton shoulder wrap or cowl is worked in the round from the top down with cables worked alternately with openwork web stitches.
Orange Blossom Cowl

From the February 2019 issue
The organic and delicate lace openwork gives a romantic allure to the Orange Blossom Cowl. This elegant and poetic design is knitted flat, and stitches are grafted to form a graceful loop.
Sonoran Desert Bucket Bag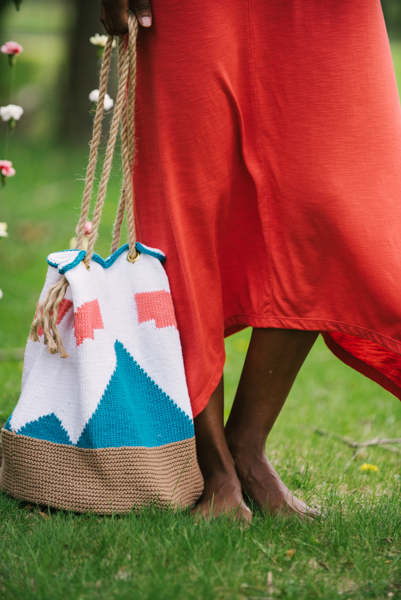 From the August 2017 issue
Tackle intarsia colorwork with this beginner-friendly bag and its colorful geometric design. The roomy size and drawstring handles of this bag make it ideal for all the fun outings planned for your last days of summer.
Garter Twist Tee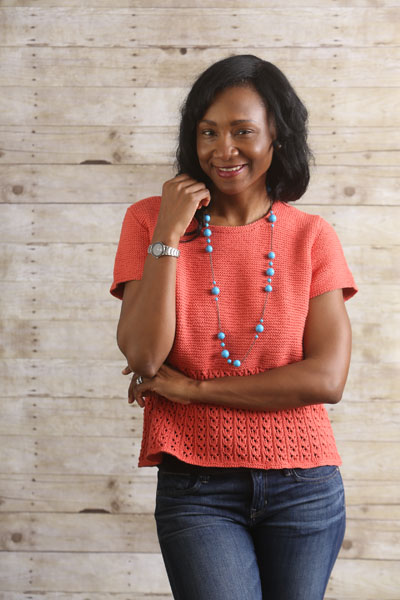 From the April 2016 issue
This coral-hued top is knit from the top down, so it can be tried on as you knit to ensure a perfect fit. It's also easy to customize as you go, so you can place the twist lace pattern where you want it and work the sleeves as long or short as desired.
Coral Reef Tank

From the June 2017 issue
This breezy summer top hints of the beach but can be worn for any occasion. Both sassy and sweet, the deep V-neck and romantic pink color balance the cute shell edging and belted waist. Start planning your next getaway soon—because this project works up in no time.
Coral Honeysuckle Top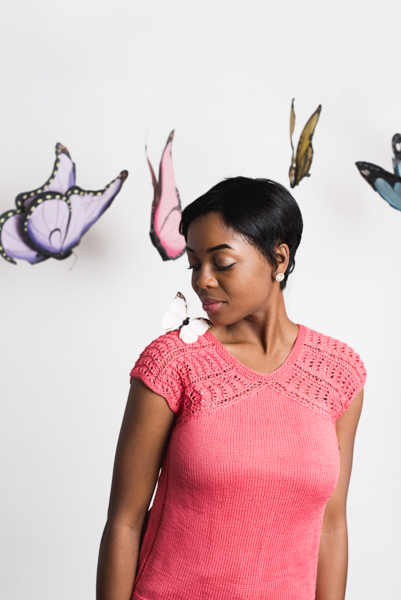 From the April 2018 issue
This deceptively simple top is an easy-to-wear, contemporary design that showcases a lattice and fan-lace shoulder. The exaggerated raglan decreases form a butterfly-like line that gives this must-have top an added dose of elegance.