The Craft Yarn Council has long established itself as a key player in the crochet and knitting world by organizing and advancing yarn companies like Red Heart Yarn, Lion Brand, Annie's, and more. Representing the limitless potential of working with fiber, the CYC hosts events for I Love Yarn Day to inspire regulars and attract
The Craft Yarn Council has long established itself as a key player in the crochet and knitting world by organizing and advancing yarn companies like Red Heart Yarn, Lion Brand, Annie's, and more. Representing the limitless potential of working with fiber, the CYC hosts events for I Love Yarn Day to inspire regulars and attract newcomers. According to their website, 38 million people crochet or knit, and that figure includes women of all ages. As a matter of fact, celebrities like Julia Roberts, Cameron Diaz, Sarah Jessica Parker, and others all appreciate the power of an afternoon spent with hooks or needles, yarn, and a good pattern. The CYC answers that demand by producing project ideas that continue to delight crocheters everywhere.
In an October 2014 survey, the Craft Yarn Council discovered that scarves are still the most popular and trendy pattern for those who crochet or knit.
"Scarves at 86% and hats at 79% were the favorite projects across all age groups," the report on the website says.
At I Like Knitting, we have seen that the popularity of scarves has stayed strong throughout 2016, so the innovation has continued. The Craft Yarn Council and its thriving community of passionate yarn experts have created a template for a magnificently colossal scarf that—literally—dwarfs regular scarves. This collaboration has resulted in I Like Knitting's version of the Super Scarf, which is 10 inches wide, 84 to 120 inches long, and 100 percent full of trendy appeal. Just for comparison, your average scarf is about six to eight inches wide and 70 to 80 inches long—meaning the Super Scarf is over one and a half times larger! The bulky, bundled look of this style takes scarves from being a simple accessory to being the star of an outfit. This new fashion trend is everything a knit piece should be: cozy, eye-catching, and comfortable all at the same time. Thanks to the ground-breaking design, the beautiful stitching is on full display, and the sleek tassels lighten the entire look. To make this scarf your own, follow the pattern on I Like Knitting's blog.
Besides being flawlessly bold and commanding, the Super Scarf is like a whole closet of scarves in itself—there are so many different ways to wear it. Embrace a loose feel with the Dramatic Drape or Down to Business styles for crisp fall days that just need a light coverage, or layer up by styling your Super Scarf like the Cozy Hooded Wrap or Modern Twist for stronger protection during the winter.
Although it is hard to stop experimenting with all the trendy ways to wear the Super Scarf, here are a few of our favorite styling options:
1. Winter-Ready Pouf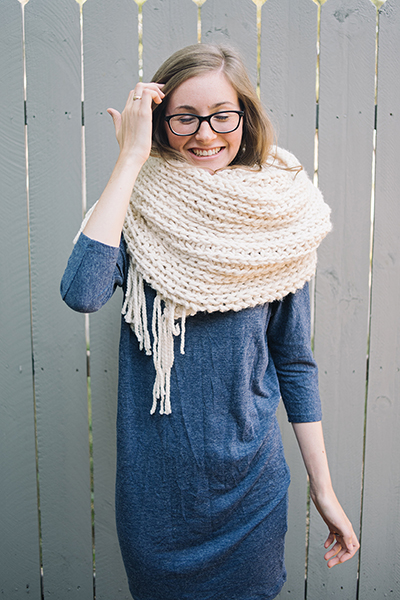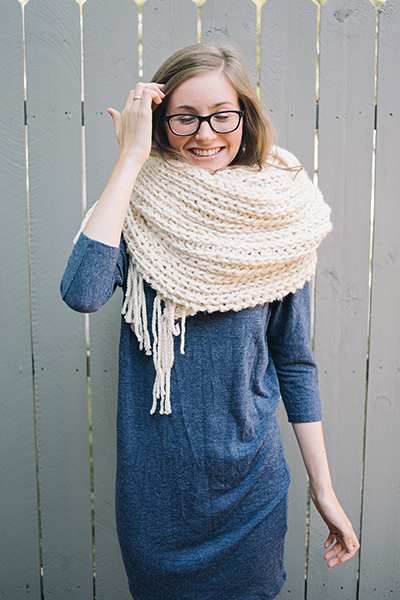 Simple steps can sometimes lead to the most exciting results. The bunching of the Super Scarf forms a thick layer between you and the elements, while also achieving that delightful pouf shape. With just a hint of the tassels peaking out, this design is playful, giving you a chance to really show your personality. This style will also testify to your skill as a knitter because it puts the knit rows front and center.
2. Sophisticated Scoop Neck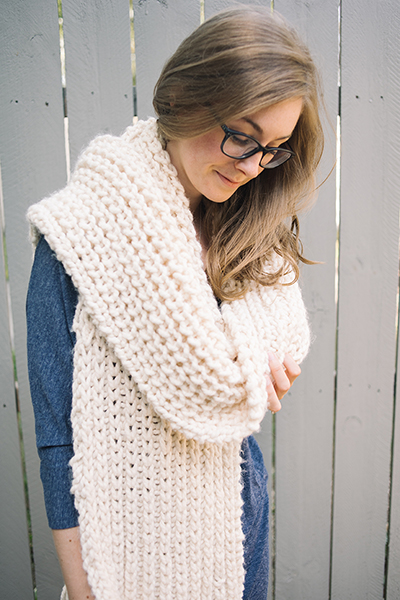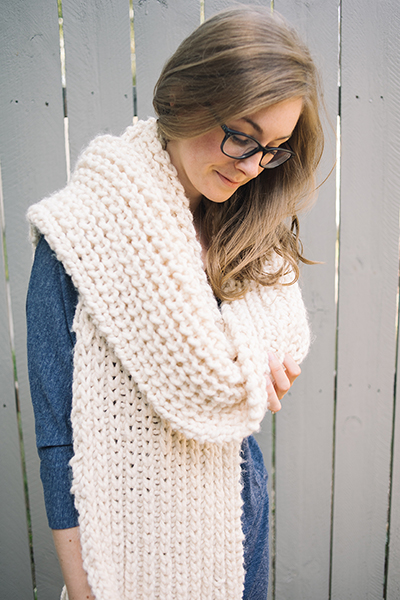 This style simply radiates elegance and composure. It looks difficult to achieve, but it is really just a clever interpretation of a simple technique. Wrap the scarf around your neck, then throw one end over your opposite shoulder, giving that part a little twist to create the curved drape. This is a modern way to achieve the look of a turtleneck or cowl, and the size of the Super Scarf really sets this look apart by making the whole ensemble look soft and full.
3. Infinite Knit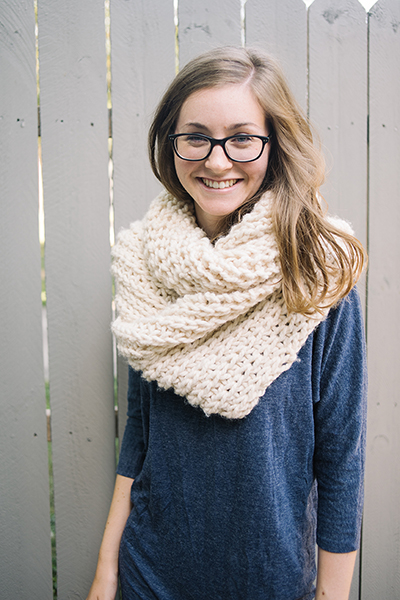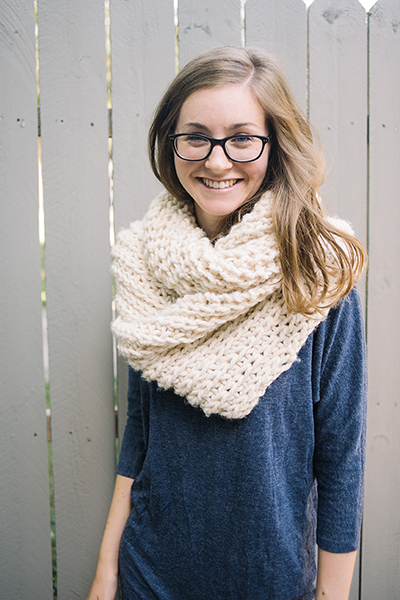 Knit infinity scarves are incredibly popular right now, and it's easy to see why. The bunched, interlocking parts of the scarf parallel the tight knit stitches in a way that you just can't seem to find in a store. This style shows how incredibly versatile the Super Scarf is since you don't have to choose between free or connecting ends. With a few simple loops and the right positioning, the length of the Super Scarf transforms into a short and bulky infinity design.
4. Flowing Oversized Loop
This irresistible style is hard to look away from. The folds of the Super Scarf look as though they are tumbling out of a waterfall, ending in those fun tassels. There are so many folds and layers to this style, which keep the entire design interesting. Wearing the scarf this way really bunches the material up around the neck to keep it from looking flat or one-dimensional, so it's a great piece to wear with a simple shirt, jacket, or dress.
4 easy steps and this style is yours:
Fold the scarf equally in half.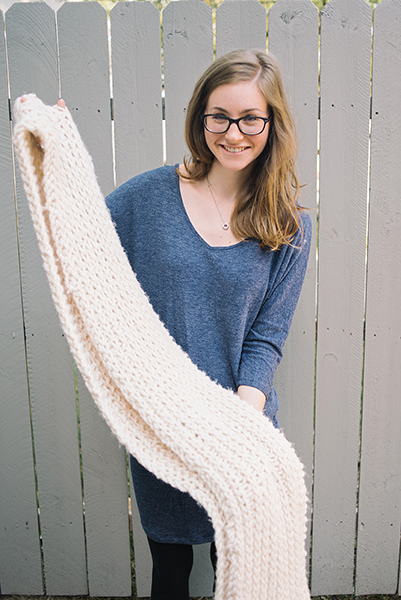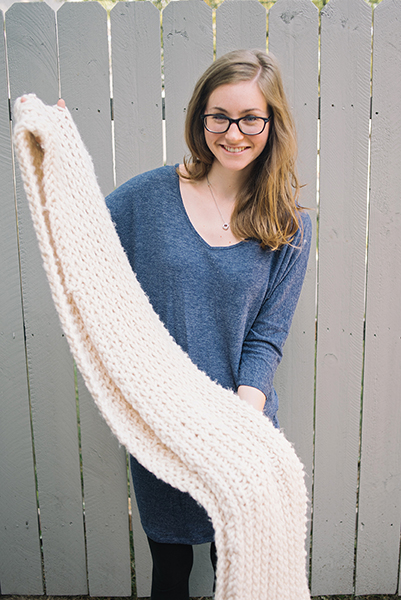 Wrap the folded scarf around your neck.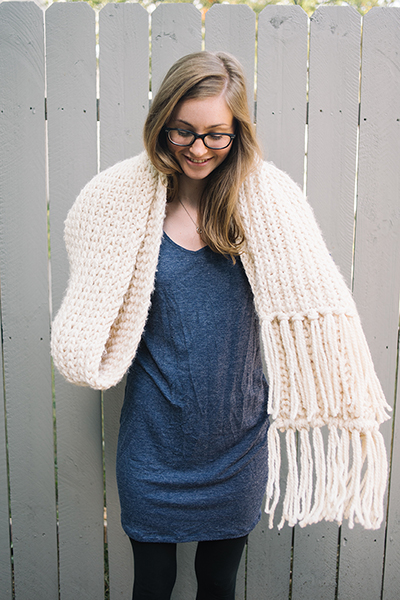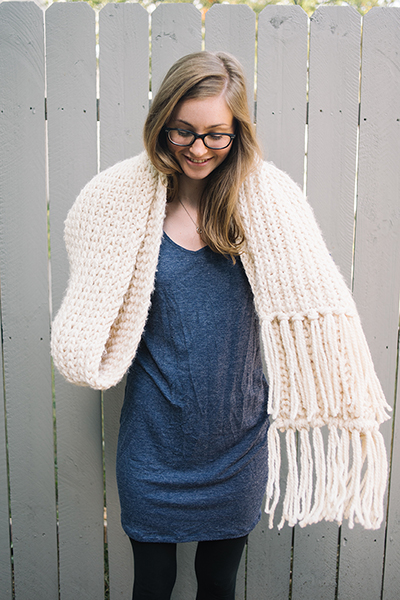 Pull the tasseled end through the loop formed by the fold.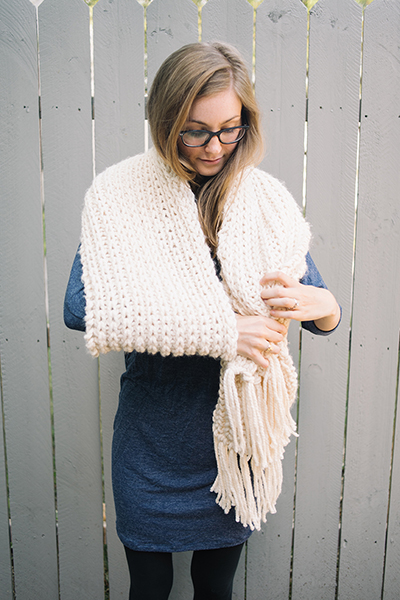 Tighten and adjust.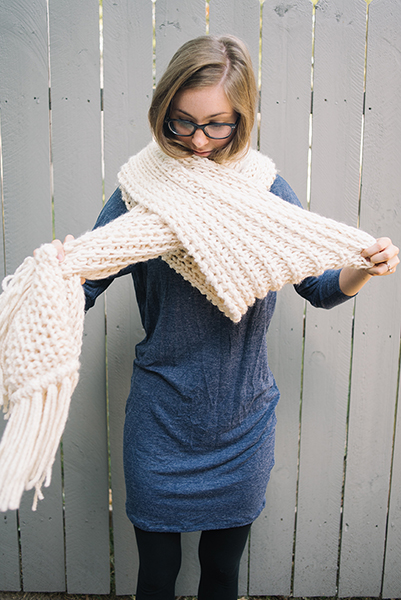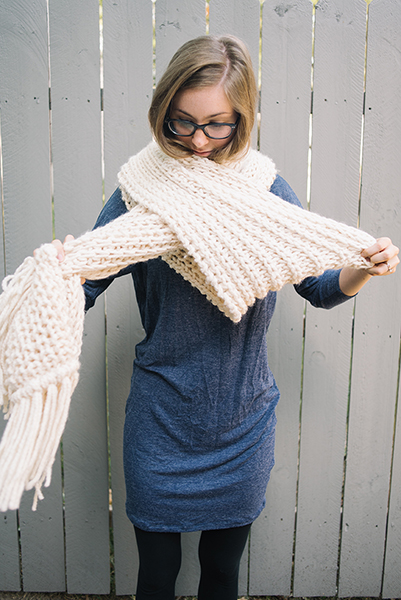 The glamorous style is complete!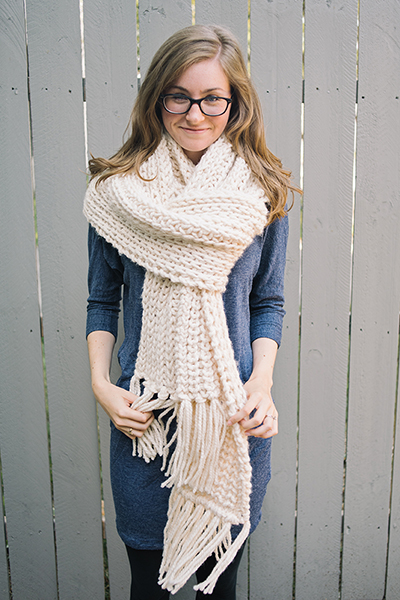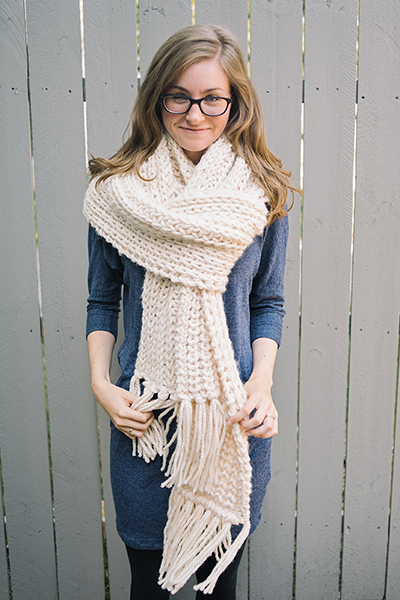 5. Charming Wrap and Hood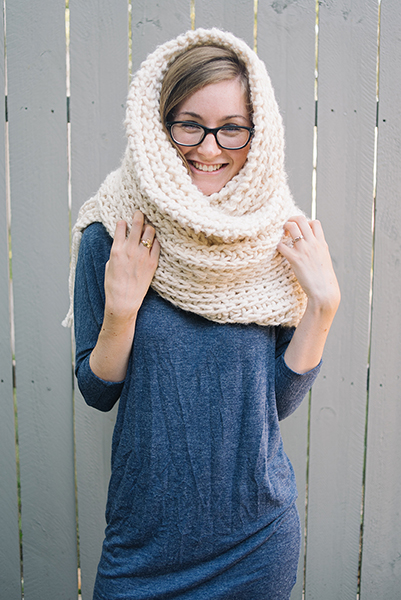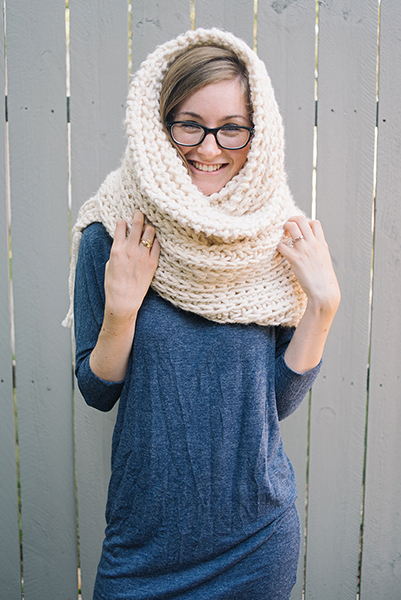 Some days, the cold wind makes fashionable attire seem as distant as the end of winter. Even with the icy feeling of snow in the air, it is completely possible to bundle up to keep ears and head warm without sacrificing your trendy style. Transform the Super Scarf from bunched loops around your neck to a hooded piece simply by taking one of the folds and tugging it up over your hair. It will be an invaluable buffer against the elements and will provide that "cocoon" feeling that makes it easy to burrow down into, as though your entire upper body is getting a big yarn hug.
6. Royal Drape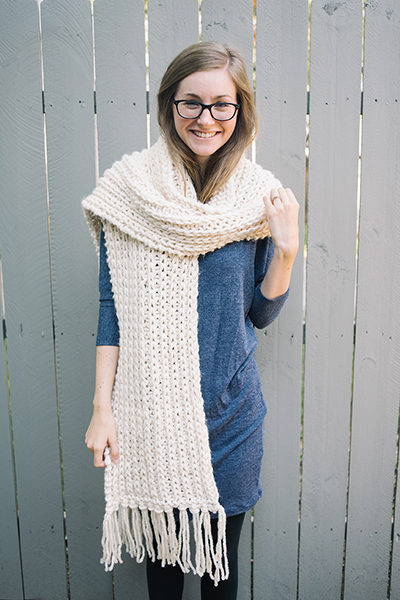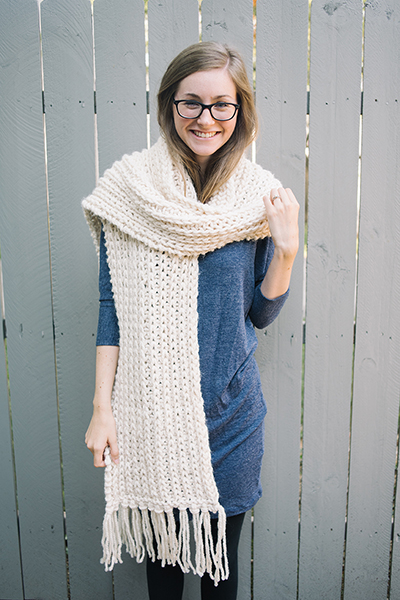 A scarf tossed effortlessly over the shoulder gives off the elegant vibe of royalty and a timeless beauty. This style provides knit warmth at the same time that it maintains breathing room, and it's such an easy way to add last-minute drama to an outfit on the way out the door. The powerful fashion statement will exude confidence and composure, especially when worked up in this classy white yarn. The teasing hint of a scooped neckline rounds out this style, and the flair of the drapery really makes it a show-stopping piece that would compliment a wide array of outfits.
7. Down to Business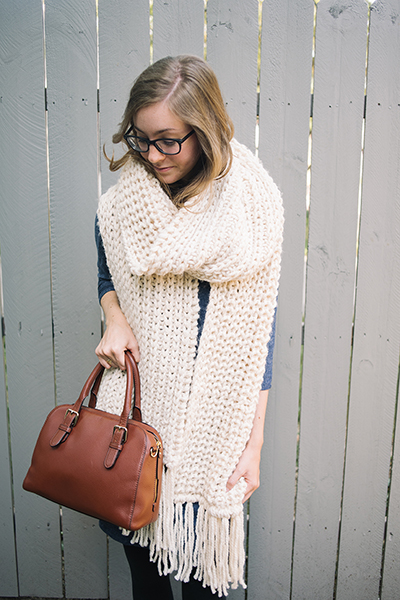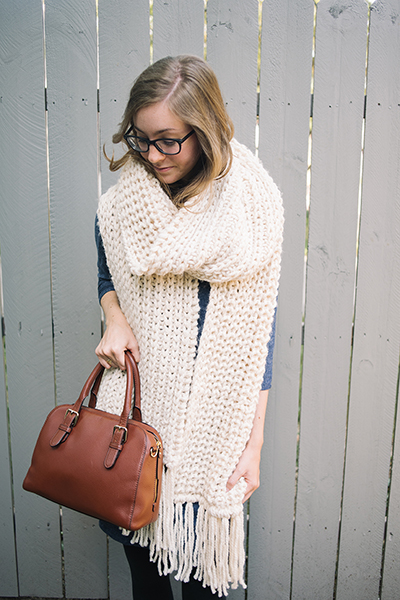 Another classic way to wear the Super Scarf, the Down to Business style keeps its look clean and fresh. It's simple to loop the piece around your neck and then let each end hang down on either side, creating a great dynamic between the rest of your outfit and the scarf. With just a hint of the shirt peeking through between the two sides and the complimenting colors on the sleeves, an outfit like this one can coordinate all its pieces flawlessly, tied together by this striking piece. Plus, the ends would drape nicely on either side of a chic button-up overcoat. Of course, when wearing the Super Scarf, it's impossible not to have a side of fun with your main course of business.
Obviously, this knit scarf is a must-make. It's a great way to keep that wardrobe up to date without breaking the bank, but it would also be a fabulous gift idea for a fashion-forward friend—or to prove that grandma still knows what's cool. Whoever gets this scarf will never run out of style ideas, thanks to yet another great design from the Craft Yarn Council and I Like Knitting.