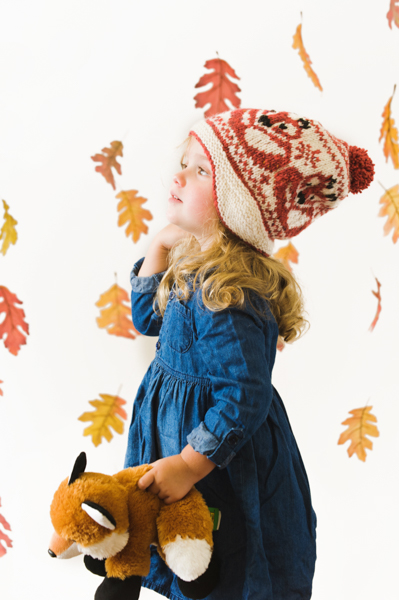 This slouchy bobble hat is just what your little one needs for the upcoming winter. Knit in the round with stranded colorwork, this warm ad  make this a cozy and warm hat for any child. To make a larger fitting hat, just bump up your knitting needle size.
Skill Level: Intermediate.
Size: Child, (20" circumference x 11" high, excluding bobble)
Gauge: 17 sts and 23 rows = 4" [10 cm] in Stranded St st after wet blocking or size used to get correct tension.
Materials
Yarn: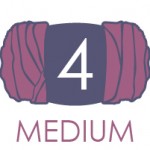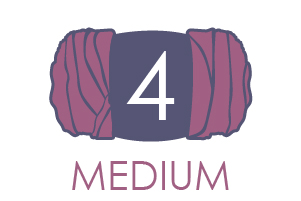 Studio Donegal Donegal Aran Tweed (4-ply) (100% Wool; 88 yards [80 meters]/50 grams): 1443 Báinín (MC), 1 ball; 4866 Fire (CC1), 1 ball; 4581 Black (CC2), small amounts for duplicate stitch.
Needles: US size 5 (3.75 mm): DPNs or 16" circular
Notions: 4 Markers; tapestry needle; pompom Maker or cardboard
Abbreviations
RS: right side
WS: Wrong side
Pm: place marker
Sm: slip marker
Rm: remove marker
LHN: left hand needle
RHN: Right hand needle
DPN: Double pointed needle(s)
Sl: slip
St(s): stitch (es)
m-1: Make 1 st: Pick up bar between sts from the front with LN needle and K through back.
Special Stitches
CDD (Centred double decrease): Dec 2 sts, slip 2 stitches together knitwise, k1, pass slipped stitches over.
SR (Short row shaping): WS is facing. Bring yarn to the front, sl st p-wise and bring yarn up, over and back to pull on the slipped stitch until it slides around to show two legs. Keeping the yarn at the back in order to k next st while keeping the tension. When working the stitch, the next time you meet it, work the "doubled stitch" as if it were one, that is, work the two legs together. Note: I used the German method of creating short rows in the hat. Use whichever method you prefer. If you are working the "wrap and turn", work this at the turning point and ignore the "SR" instruction at the start of the following row, then work the wrapped stitches together with their wraps as you come to them. As you are working in garter stitch, the wraps don't need to be hidden as they will blend in.
Pattern Notes
The hat is worked in the round from the bottom up in garter stitch with short row shapping on the ear flaps before graduating into two colour fair isle and finally, central double decreases in stranded work to shape the crown. The fox's features are added afterwards in duplicate stitch. Make a pompom to finish the hat.
Pattern
Brim
With CC1, CO 80 sts, place marker and join in the round, being careful not to twist the sts.
Change to MC, work 2 rnds in Garter St.
Earflaps
Row 1 (RS): K28, turn.
Row 2: SR, k18, turn.
Row 3: SR, k17, turn.
Row 4: SR, k16, turn.
Continue in established patt until 5 sts rem.
Next Row: SR, k46, turn
Next Row: SR, k18, turn.
Next Row: SR, k17, turn.
Next Row: SR, k16, turn.
Continue in established patt until 5 sts rem.
SR, knit to end of rnd.
Purl next rnd.
Work 6 rnds in Garter St.
Inc Rnd: (K10, m1) eight times – 88 sts.
Begin Chart
Change to CC1.
Rnd 1: PM, (work Chart) 4 times.
Rnd 2: SM, (work appropriate row of chart) 4 times.
Rep Rnd 2 thirty-two times.
Crown Shaping
While continuing to follow colour work in Crown chart
Rnd 1: *K9, CDD, k10; rep from * around – 80 sts.
Rnd 2 and all even-numbered rnds: Knit.
Rnd 3: *K8, CDD, k9; rep from * around – 72 sts.
Rnd 5: *K7, CDD, k8; rep from * around – 64 sts.
Rnd 7: *K6, CDD, k7; rep from * around – 56 sts.
Rnd 9: *K5, CDD, k6; rep from * around – 48 sts.
Rnd 11: *K4, CDD, k5; rep from * around – 40 sts.
Rnd 13: *K3, CDD, k4; rep from * around – 32 sts.
Rnd 15: *K2, CDD, k3; rep from * around – 24 sts.
Rnd 17: *K1, CDD, k2; rep from * around, removing all markers – 16 sts.
Rnd 19: *CDD, k1; rep from * around – 8 sts.
Break yarn and using a tapestry needle, thread yarn through 8 sts, pull tight and secure.
Finishing
With CC2 and using the Chart as a guide, duplicate stitch the fox's features.
Weave in all ends. Block to measurements.
Using CC1, make a 2-3" bobble.
When hat is dry, add the pompom to the crown using matching thread or yarn.

---
Gold Members, Download Here
Not a gold member yet? Join Now