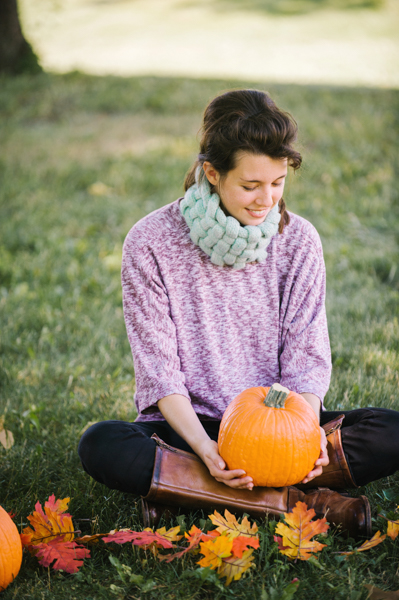 This cowl is worked entirely in I-Cords. Each I-Cord is then sewed to make I-Cord rings by closing both the ends. Then another longer I-Cord is knitted which is woven through these rings to make a cowl. It is a quick, fun project!
Skill Level: Easy
Size: Circumference: 20″ [51 cm] in diameter; Height: 6″ [15 cm]
Gauge:  6 sts = 1″ in I-cord; 3 sts = 1″ in St st
Materials
Yarn: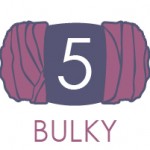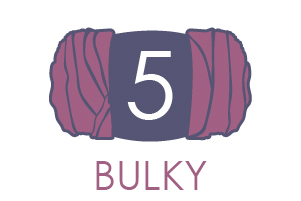 Malabrigo Yarn Chunky (100% Merino; 100 yards [91 meters]/ 100 grams):
Color Number: 083 Color Name: Water Green, 2 balls.
Needles: US size 10½ (6.5 mm): one set of double pointed needles (dpn).
Notions: Tapestry needle.
Abbreviations
K          knit
Dpn     Double pointed needle.
Special Stitches
I-Cord: CO 6 sts with dpn, knit 1 row, *do not turn work, slide the sts back to the other end of the needle, knit the row again; rep from * until desired length is achieved.
Pattern Notes
This pattern is worked flat in I-Cords.
Pattern
CO 6 sts with dpn, work in I-Cord (see Special Stitches) until piece meas 20″. BO leaving 5″ tail. Sew both ends of I-Cord together to make a ring.
Repeat above instruction 4 more times – 5 rings total.
Make 1 more I-Cord 100″ long. BO, do not join this one into the ring.
Arrange the 5 I-Cord rings side-by-side and then using the longer I-Cord, weave as following:
Step 1: Put the loose I-Cord under the 1st ring, over the 2nd ring, under the 3rd ring, over the 4th ring, under the 5th ring.
Step 2: Put the loose I-Cord over the 5th ring, under the 4th ring, over the 3rd ring, under the 2nd ring, over the 1st ring.
Repeat Steps 1-2 until all the rings are woven.
Finishing
Gently steam block the cowl.