Knit yourself something super!
Dear Knitting Friend,
What's the first step toward a sunshine-ready outfit? A new knit sweater that's breezy and beautiful. Spring knitting means stunning silhouettes, lace stitches and an array of playful colors. Today's forecast? Sunny with a chance of spring knitting. Here's a sampling of what you'll find in our Signature Spring Sweater Collection!
If you're looking for something on the lighter side, make the Lillee Boatneck Sweater, knit in the round from the bottom up. The easy, all-over lace pattern makes this a perfect choice for spring, and you'll love the scalloped edges on the hem and sleeves.
The Elora Balloon Sleeves Sweater is an intermediate project, knit seamlessly from the top down. This sweater has an ethereal, airy feel, and the combination of silk and mohair result in a delicate garment that you can dress up or down.
You'll love the classic look of our Ingrid Sweater, with its lovely cabling and special cuff and hem details in lifted-knot rib stitch. Knit this sweater in the round from the bottom up, and shape it to suit you — fitted or boxy. Use luxurious alpaca/silk yarn to make this sophisticated sweater, and you'll have a classic wardrobe piece for years to come.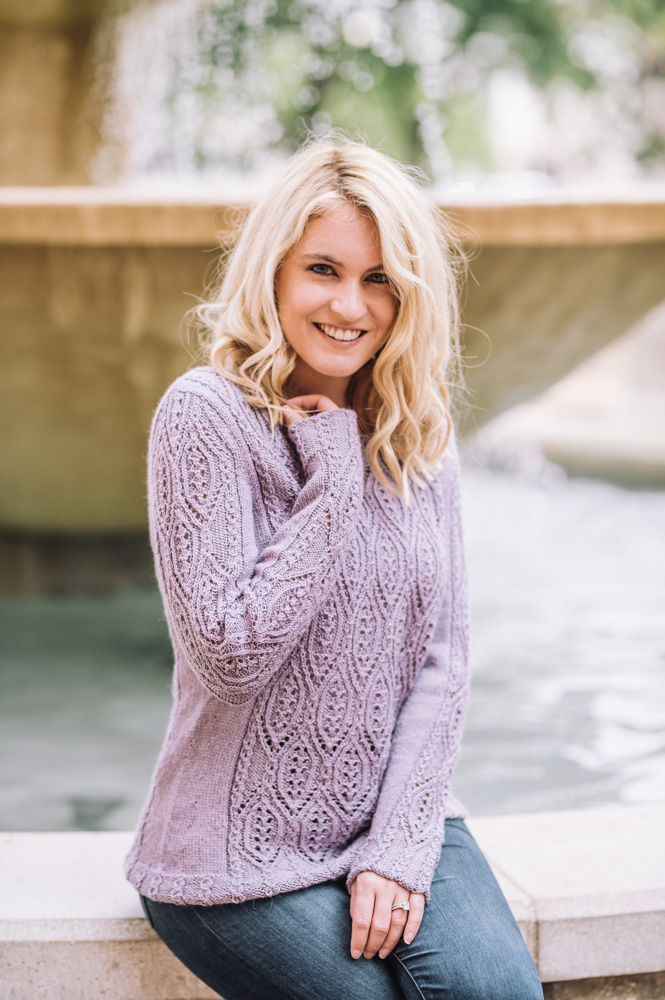 The perfect summer sweater is lightweight with a comfortable drape. You get that and more in our Isadora Sweater. This pullover features a semi-lace ribbed stitch pattern that forms vertical and diagonal stripes. All that lace and ribbing relaxes when you put this sweater on, creating more dramatic curves.
How about a sweater that works perfectly to dress up with a skirt or dress down with your favorite jeans? Our Blooming Lace Sweater is a delightful balance of fancy and fun. Lace and eyelets in all the right places make this a sweet sweater, with stockinette stitch to show off the delicate details.
Sometimes you need a stunning sweater that's light as a feather; that's our Everly Wrap Sweater. Worked in a fingering weight wool/silk blend, this sweater is the perfect topper to an elegant skirt or a statement piece to wear with your favorite jeans. You'll knit this sweater in pieces, then seam it all together for a stunning look!
A cotton blend yarn is the ideal starting place for our lightweight Wild Lavender Sweater. Three-quarter, bell-shaped sleeves take on an airy flare with the use of needles in three different sizes to create the delicate effect; you'll do the same with the lacy hem. This sweater is worked mostly in the round, giving you a seamless style for spring and summer.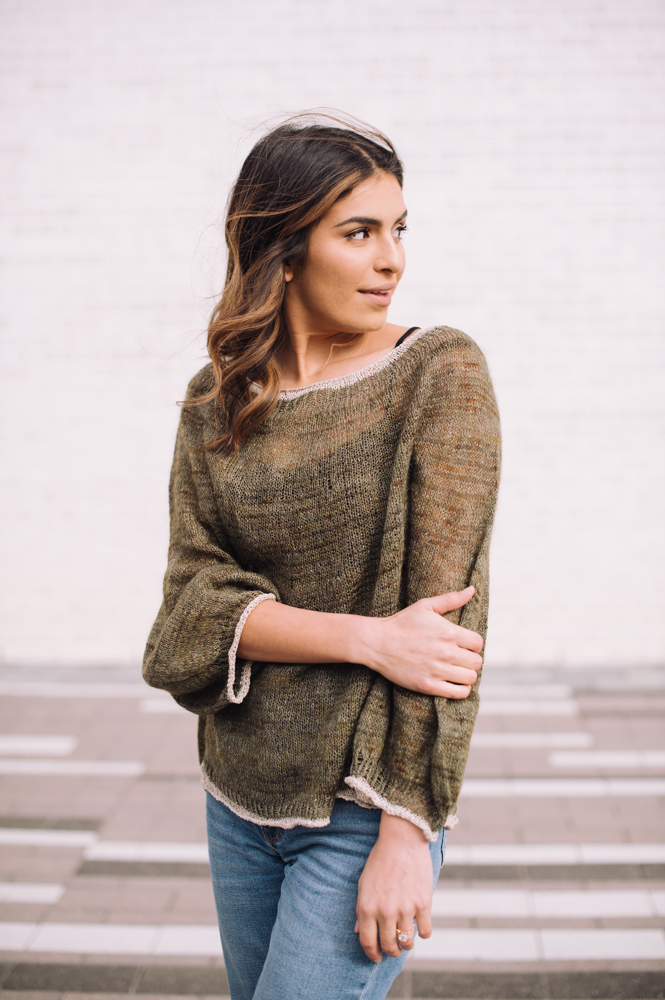 If you're comfortable with the easy level knitting skills and are ready to put them all together in one lovely project, consider making our Sandalwood Pullover. The wonderfully simple sweater has a smooth body and sleeves worked in the round, accentuated by a simple lace pattern in the yoke and sleeve caps. Dress it up or down, and make it in your favorite color.
For a statement piece that's perfect for warm days and cool nights, our Keyhole Pullover is a great choice. This simple fitted pullover uses texture to highlight flattering body shaping. You'll love the dramatic chevrons in the body of the sweater and the keyhole cutout just above the bust.
Baseball jerseys can be a comfortable weekend fashion choice. But why not take it up a notch and knit a baseball tee with soft cotton and just a touch of cashmere? Our Chill Cashmere Blend Baseball Tee features addle shoulders and three-quarter length sleeves to keep it casual, and the stockinette stitch gives all your edges that relaxed, rolled look.
Another perfect weekend sweater is our Lilia Cinched Top. A flattering V-neck, elbow-length sleeves, and a versatile cinched center give this top a fun and flirty summertime feel. Wear it to top off your favorite jeans or shorts for a casual day out.
Whatever your warm weather plans, be sure to include a project or two from our Signature Spring Sweater Collection. Which sweater will you cast on first?