The Birthstone Collection has something for everyone!
Dear Knitting Friend,
Who doesn't love the rich, alluring colors of gemstones? And how fitting would it be to make a gift for a friend in their gemstone color? You have dozens of choices in this collection — dazzling patterns to make for yourself or someone special!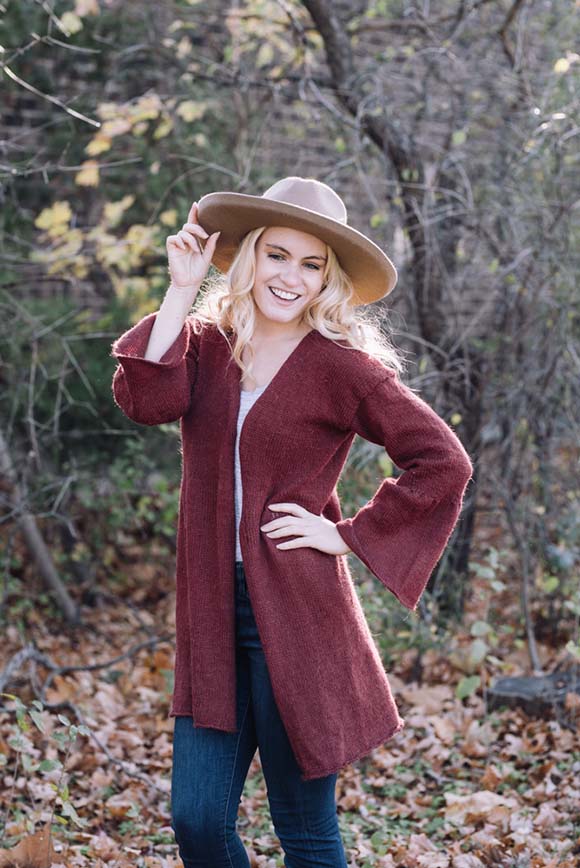 January: Garnet
The garnet is a gem that symbolizes friendship. What better way to surprise a friend than with the Cabernet Crossbody Bag? This bag features a dazzling diagonal woven pattern that will dress up any casual outfit. If you'd like to work on your Tunisian Crochet skills, you can make the strap using that technique; or knit an I-Cord strap instead. For and added elegant look, use vintage (or vintage style) hardware to attach the strap to the bag. For fans of the fantastic, work up our Garnet Wrap. This oversized wrap has the image of a dragon holding its treasured gem. Other Garnet patterns include the Garnet Longline Cardigan with flowing lines and belled sleeves, and the Poppy Broken Brioche Lines Scarf — a quick project using garter stitch and elongated slipped stitches for visual interest.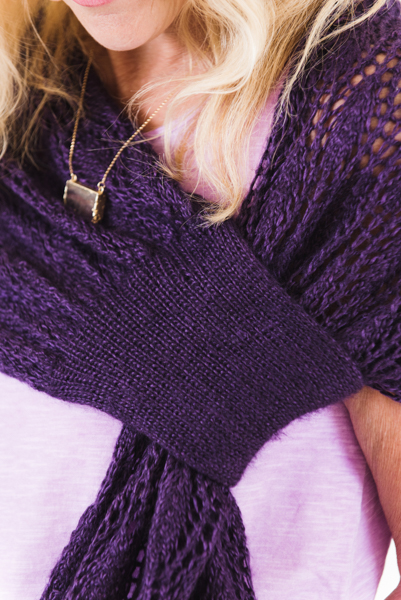 February: Amethyst
February's birthstone comes in a wide range of tones, from palest violet to deepest purple. Someone you know (maybe you?) will love the look and feel of our Amethyst Keyhole Wrap, with it lacy wave pattern and dramatic keyhole that will keep the wrap snug on your shoulders. No matter who you make this for, you know it will be a perfect fit!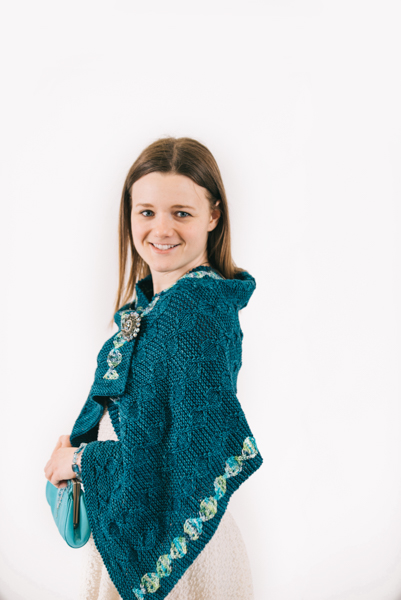 March: Aquamarine
When March rolls around and the hint of spring is in the air, what better way to celebrate than with the color of March's birthstone, aquamarine. Our Aquamarine Shawl evokes the tranquility of a calm sea, with its gentle waves of specially twisted stitches that expand across the shawl in ripples of blue.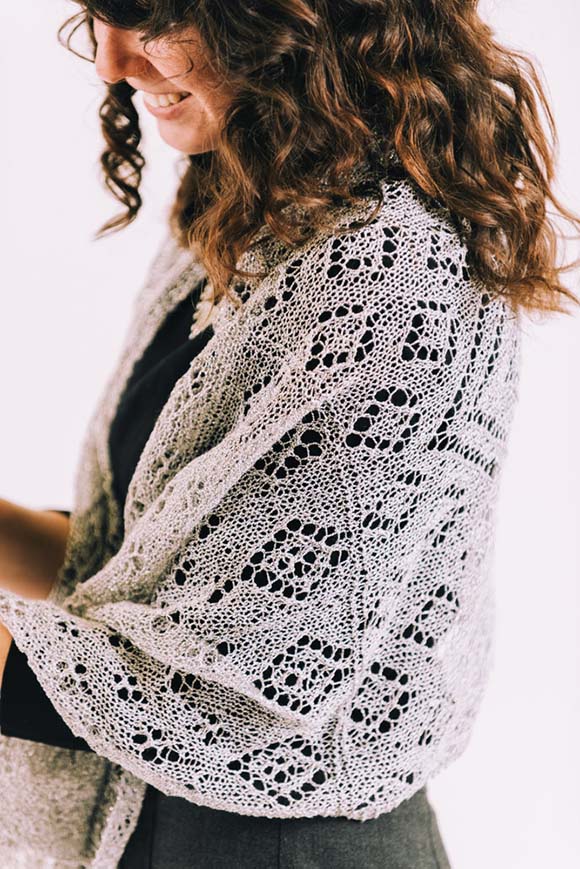 April: Diamond
April's birthstone is diamond. Dazzle her with the delicate drape of our Diamond Shawl. The open, lacy pattern boasts a lovely overall diamond motif, with nestled diamond shapes across the back. Diamonds are forever, and this shawl will certainly be a keeper!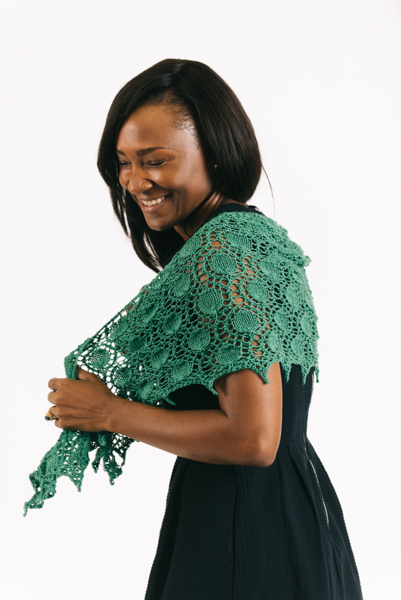 May: Emerald
May's birthstone is the rich, green, dazzling emerald. Our Emerald Shawl features jewel motifs embedded in a delicate lace lattice, finished off with a beautiful scalloped edge. Add some emerald accessories and this shawl will make an elegant addition to an evening outfit.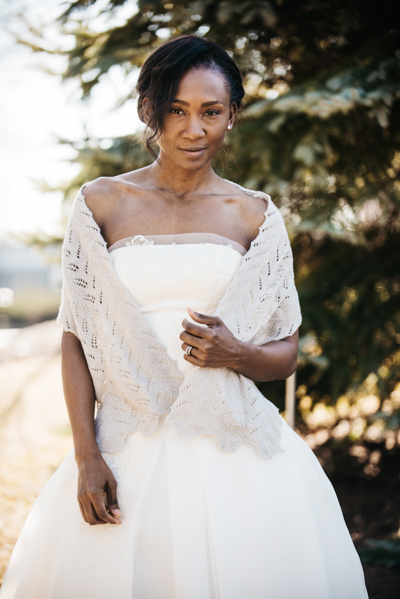 June: Alexandrite/Pearl
You have a choice of birthstone in June: the rich, creamy luster of pearl, or the color-changing magic of alexandrite — often called "emerald by day, ruby by night." Our Alexandrite Shawl features both colors in a lightweight, lacy shawl with arching eyelets and an engaging scalloped edge. Our Butterfly Wing Stole is delicate and dreamy, with a motif both simple and rich. This stunning piece is wedding-worthy if you want it to be — or use it as a statement piece with an understated dress.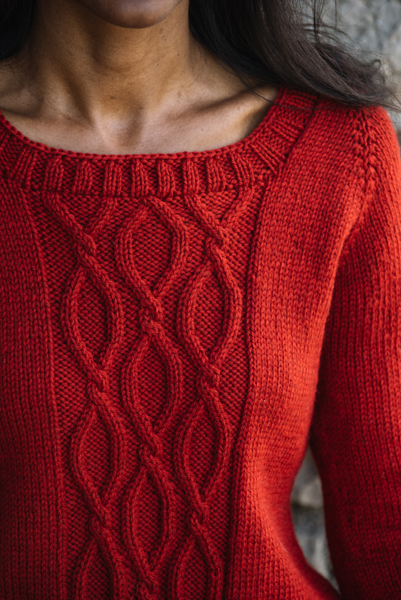 July: Ruby
Those born in July can lay claim to the ruby as their birthstone, and our Ruby Stole evokes the faceted feel of a perfectly cut gem. Short rows, twisted stitches, and basic lace make this stole a versatile piece that can take you from basic daywear to upscale evening attire without missing a beat. Be ready when cool weather comes with our Ruby Autumn Fields Socks rich with a lacy motif. Or make our Ruby Cabled Raglan with its square neck and eye-catching cabled front — it could be your next favorite sweater! When you need to kick back and relax, lean on our Scarlet Jumbo Cabled Pillow, with bold offset cabling and chunky wooden buttons.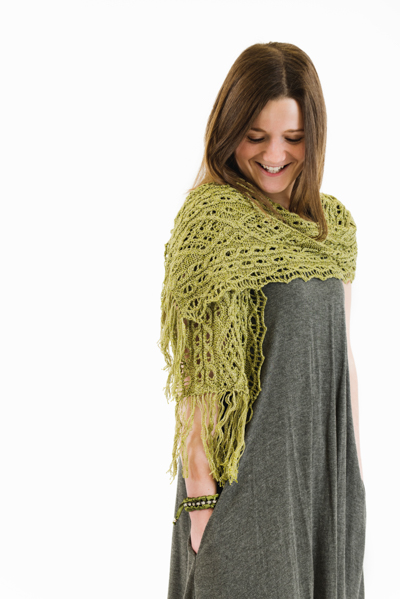 August: Peridot
Ah, the dazzling bright green of peridot. Our Peridot Scarf has a gem-like feel, with its open lacy edge and an eye-catching pattern that shifts as you move. Knitted width-wise with lace and metallic yarn together, this shawl just shimmers with possibilities!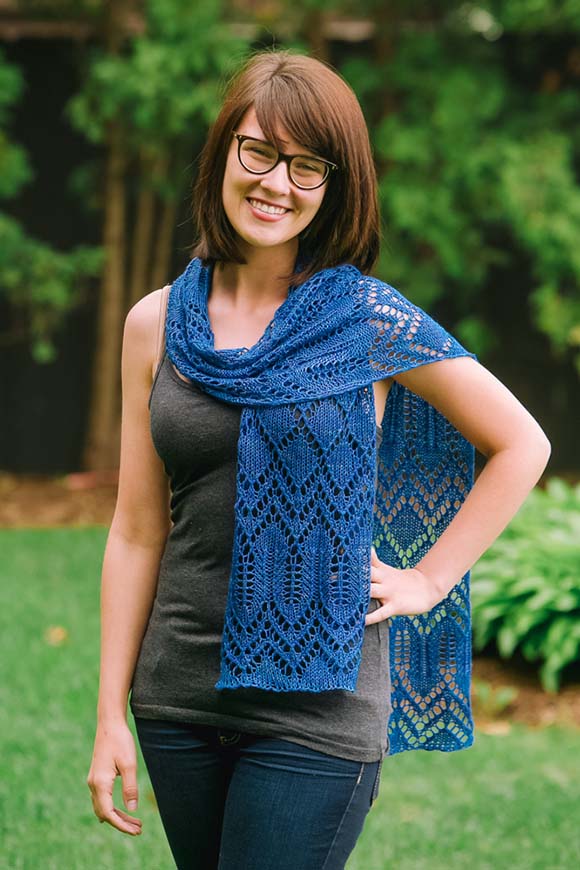 September: Sapphire
September's birthstone is sapphire, giving you inspiration with brilliant hues of blue. How about a lace scarf that looks hard but isn't? Our Chevron Lace pattern is rated easy. You can make it to the pattern, or widen it or lengthen it to suit you. After it's blocked, you're going to love the bold lace pattern!
If you need a new shawl (and, really, who doesn't?), our Sapphire Shawl has a whimsical scalloped edge and a gem-like overall motif. Add this jewel of a shawl to your must-have list for a special night out. And if it's a special night out at home, add some soft lighting around the deck with our Midnight Lights. Designed to hold mason jars and battery-powered candles (or a strand of fairy lights), you can hang these light holders singly or in a bunch. For a special occasion, make extras so your guests can take one home!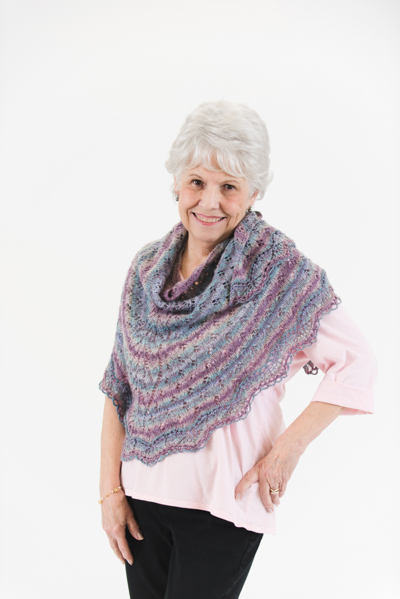 October: Opal
One of the great things about opals is that they never look exactly the same as they shift in the light. Our Opal Shawl will give you the same sort of effect, with an airy feel and a sweet shift of color and lace. A project for expert knitters, work this pattern from the top down to reveal the exquisite eyelets as you work your way to the delicate bottom edge. For a fun color-shifting pattern make our Sugar Stripes Pillow with its whimsical squiggles and opalescent buttons.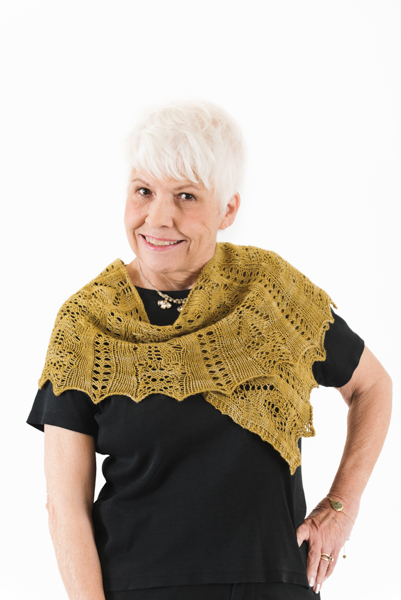 November: Citrine
November's birthstone, citrine, brings light to autumn days, along with changing shades of yellow, gold, and brown. Celebrate a special November day with our Citrine Shawl, a light and lacy number that evokes the feel of falling leaves with its unique lace pattern. It's the perfect accent to brighten someone's day.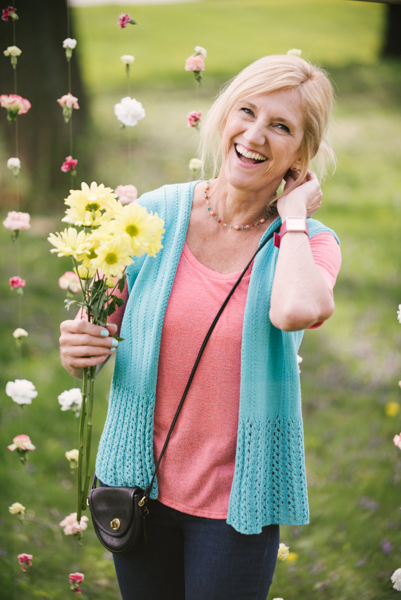 December: Blue Zircon/Blue Topaz/Tanzanite/Turquoise/Lapis Lazuli
The determination of birthstones isn't always set in stone, as it were. For December, you have a wide choice of gems in various hues of blue. Make our Wanderlust Vest in a rich sky blue and head into the great outdoors. This flowing vest has just enough weight to take the edge off a cool morning.
Our Turquoise Shawlette and Confetti Cowl offer two different styles to dress up an outfit — one fancy, one fun. And everyone needs a favorite comfy sweater, something they can pull on at the end of a long day or slip into for a quiet walk. Our Lapis Pullover shines in a rich blue, complete with cozy thumbholes and a kangaroo pocket.
Of course, if you find a pattern here that you really love, make it in your own favorite gemstone color. So many of these patterns look lovely in a wide range of colors. Which gemstone-inspired pattern will you make first?
But this is just a fraction of what you'll get with an I Like Knitting Gold Club Charter Membership—your membership includes subscriptions to the I Like Knitting Magazine Club and to the I Like Knitting Collections Club; full and immediate access to the digital library of 5+ years of magazine issues with 600+ knitting patterns and articles; step-by-step instructions for patterns; and video tutorials and full-color photographs for details about projects and stitches. Plus, FREE access to our two premium on-demand knitting videos, 9 Knitting Tutorials: Tips and Tricks for Knitters Old and New and Knitting Outside the Box: 3 Unexpected Stitch Tutorials.
Your I Like Knitting Gold Club Charter Membership gives you access to all of our knitting patterns and content, 24-hours-a-day on whatever device you prefer —desktop, or laptop. And the content is fully searchable, so you can find exactly what you want—when you want it—at your fingertips in an instant.
Here are just a few of the tantalizing patterns sitting in our library right now—and all contained in a single issue—to which you'll get instant access when you join the I Like Knitting Gold Club as a Charter Member:
Apple Leaves Sweater
Crisp Morning Cardigan
Spooky Cute Kitty Costume
Campfire Coals Cow
Macintosh Vest
Aspen Sweater
Cranberry Twist Sweater
The Touchdown Knit Scarf
Tailgating Messy Bun Hat
Alpine Cardi
Mountain Air Infinity Scarf Knitting Pattern
And the library of photos and video tutorials is gorgeous, inspiring, and practical— showing you exactly how your finished patterns should look and exactly how to execute stitches and patterns, even the difficult ones!
When you join our #1 community for knitting-lovers, you'll receive all of the handy benefits that knitters everywhere have been buzzing about:
You'll learn new stitch techniques with a variety of patterns that range from beginner to advanced.
You'll find expert tips and tricks that will help you achieve professional results.
You'll start getting requests for your stunning knitted items from your family and friends.
You'll have access to renowned designer patterns and tutorials from all over the world.
You'll never worry about mistakes in patterns or ripping out your progress because our tech-edited patterns are curated from trusted designers in the knitting community.
You'll be connected to an online community of knitters who are just as passionate as you!
Don't miss out on this exclusive Charter Membership offer to get all of the above and more!
When you activate your I Like Knitting Gold Club Charter Membership today, you'll get access to everything we have about knitting—all access and all the time:
A full year of upcoming issues of I Like Knitting magazine—Including 150+ exclusive designer knitting patterns and articles with step-by-step instructions, video tutorials and full- color photography for details of projects and stitches
Instant access to EVERY issue we've ever published—a vast library of more than 5 years of issues with 600+ patterns and articles
A full-year's subscription to the I Like Knitting Collections Club that includes 60 NEW and trendy patterns refreshed annually
Regular e-newsletters, full of the latest knitting tips & tricks and even more FREE patterns
NEW! Free Bonus! Instant access to our just-released on-demand streaming knitting videos, 9 Knitting Tutorials: Tips and Tricks for Knitters Old and New and Knitting Outside the Box: 3 Unexpected Stitch Tutorials—featuring patterns and tips for knitters of every skill level.
And here's what you don't get when you become a Charter Member of the I Like Knitting Gold Club—advertisements! That's right, we're advertising-free, so that we can devote more time, space, and effort to helping you be an awesome knitter.
All of this is available to you—right now—when you claim your I Like Knitting Gold Club Charter Membership. This special offer includes FREE unlimited access to our two streaming knitting videos, 9 Knitting Tutorials: Tips and Tricks for Knitters Old and New and Knitting Outside the Box: 3 Unexpected Stitch Tutorials…our gift for signing up now!
No other online magazine in the world has everything about knitting, all in one place and vetted and curated for your easy access and use.
Knitters everywhere have been enjoying I Like Knitting magazine for years, and now it's better than ever with more benefits, patterns, and content than you could ever imagine—with an I Like Knitting Gold Club Charter Membership.
When we first put this new club together for knitters like you, your needs and desires were top-of-mind. We're the ultimate resource and network for knitters everywhere, offering original designer patterns and content from authoritative and respected voices in the knitting world.
I think you'll agree that this really is an unusual offer, plus FREE access to our two premium streaming knitting videos when you become an I Like Knitting Gold Club Charter Member today! It's an incredible deal that you don't want to ignore!
Why not be among the select group of knitters to join us today and benefit from all the valuable information about knitting that you can't get anywhere else?
Become an I Like Knitting Gold Club Charter Member today—while this special offer lasts!
Happy knitting,

Caitlin Eaton
Editor, I Like Knitting Magazine
P.S. – Please join today so you can take advantage of this special Charter Membership offer, plus two FREE knitting videos!