Be the vest dressed in the neighborhood!
Dear Knitting Friend,
When it's too warm for a sweater but not quite warm enough for just a shirt, you know it's vest weather. Whether you're in the classic pullover sweater vest camp, or you prefer your vests to go with the flow, we have a wide assortment of patterns that will appeal to knitters of all skill levels. Get ready to layer on some style and fun! Let's take a look at the Vest Dressed Knitting Collection from I Like Knitting!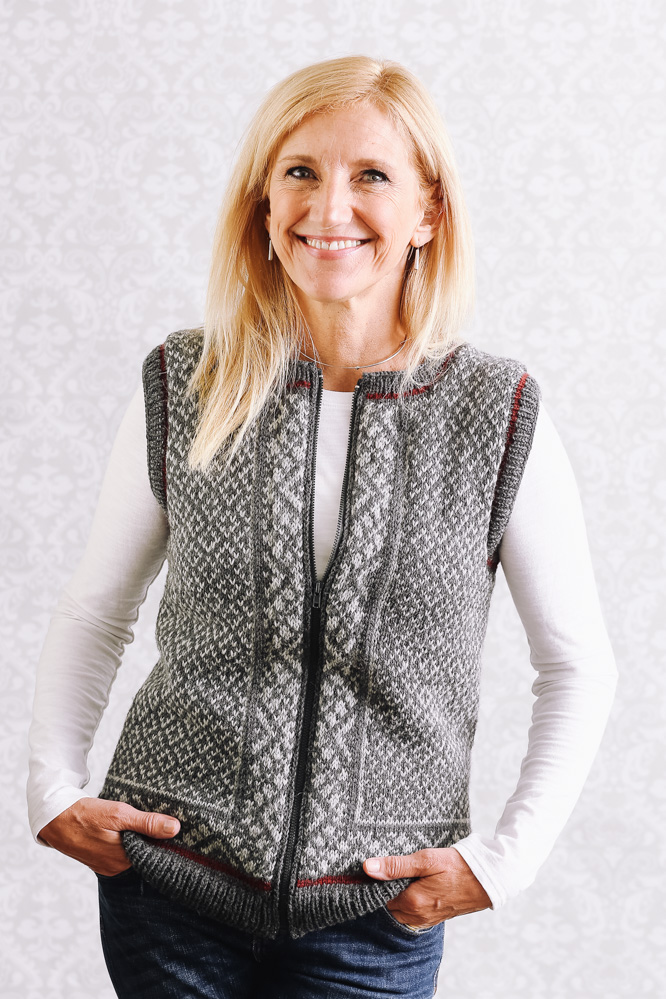 Cozy Fireside Vest
Ah, the cozy comfort of curling up by the fire. Whether you're relaxing around a campfire or you've claimed your favorite spot by the fireplace, you're going be cozy, comfortable, and totally stylish in our Cozy Fireside Vest by designer Amy Gunderson. This Intermediate-rated pattern has all the great elements of a classic sweater vest: clean lines, generous, comfortable ribbing at the hem and armholes, a timeless pattern, and a bonus — a zipper you incorporate into the pattern using a series of steeks. Friends will think this is a family heirloom, or maybe something you picked up on a trip abroad. Watch for their looks of surprise when you tell them you made it yourself!
This timeless pattern is worked in the round from the bottom up. You'll love the classic patterning and the subtle detail at neck and hem that make this a sweater vest that will go with any outfit. Dress it up for a fancy evening, or dress it down for a day on the trails. Our Cozy Fireside Vest is ski lodge chic at its best!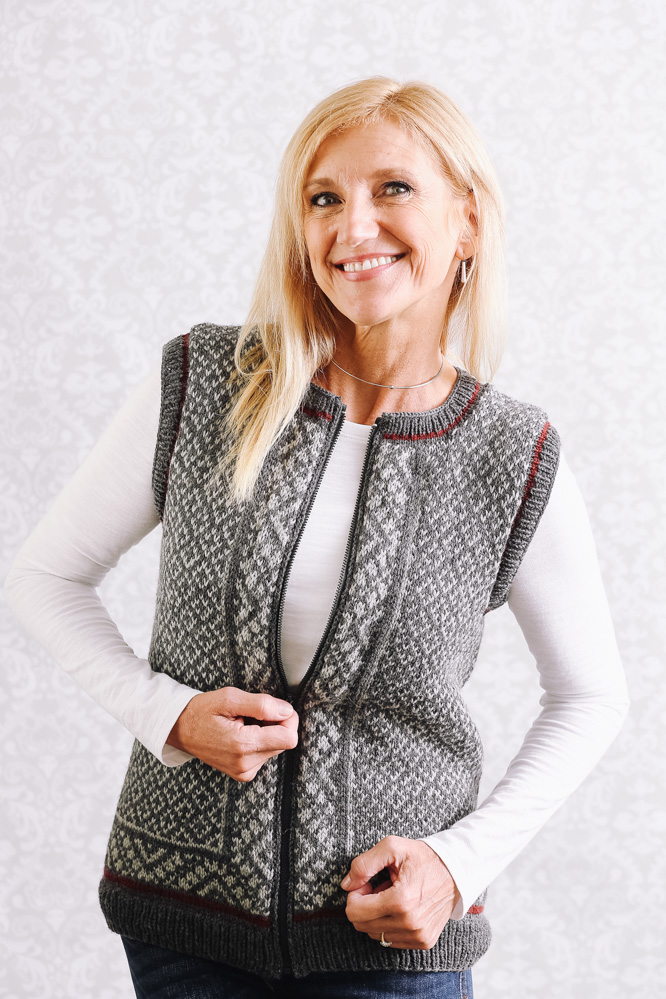 Open to Adventure
If you enjoy the wide open spaces and you prefer to have a more flexible layering option, try one of our open-front sweater vests. Make our Wanderlust Vest in a rich sky blue and head into the great outdoors. This flowing vest has just enough weight to take the edge off a cool morning.  Our Winter Prairies Vest is a hip-length open vest that's just perfect for days with a cool breeze. The pattern, knit in rich neutrals, evokes the feel of fields lying fallow, waiting for the first touch of the spring sun.
Maybe you're feeling more whimsical, and just a bit nautical? Our Boathouse Row Vest features bold red and white stripes, a turned bottom hem, rolled stockinette edgings, and an i-cord belt. All these elements in a pattern rated Easy! There's no reason for you not to try your needles at this project! If you prefer a sweater vest that's a little more buttoned-down, try our Macintosh Vest with its cowl neck as a special finish. Wear it buttoned, or roll the cowl down as a collar.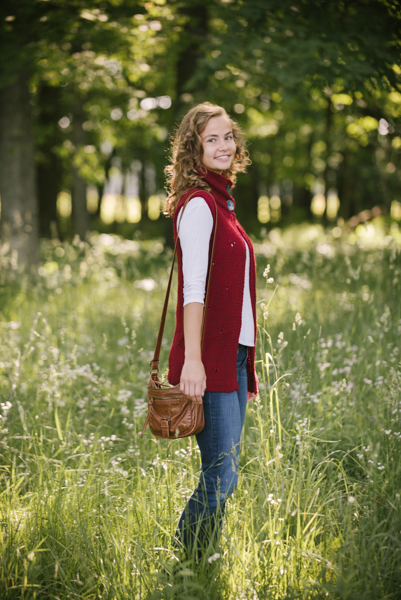 Pullover for Fun
Now, some people swear that a sweater vest isn't authentic unless it's a pullover. Well, pull over, sweater vest critics, because there's plenty of room in the sweater vest world. OK, we do have a collection of pullover sweater vests, but they are totally beyond boring!
Take our Mead Cabled Vest. This pattern is rich with lush, lovely cables and a striking turtleneck. "Mead" means "from the meadow," and this pattern will remind you of rows of flowers in flowing fields. Or maybe you'd like our tweedy-look Sparrow Mosaic Vest, with its beautiful bias construction in a modern colorwork mosaic pattern.
Or how about our timeless Kinsley Diamonds Vest, with diagonal lines, twisted, stitches, and crossing cables. A project for advanced knitters, this classic style sweater vest is a garment that will appeal to a wide range of sweater vest lovers.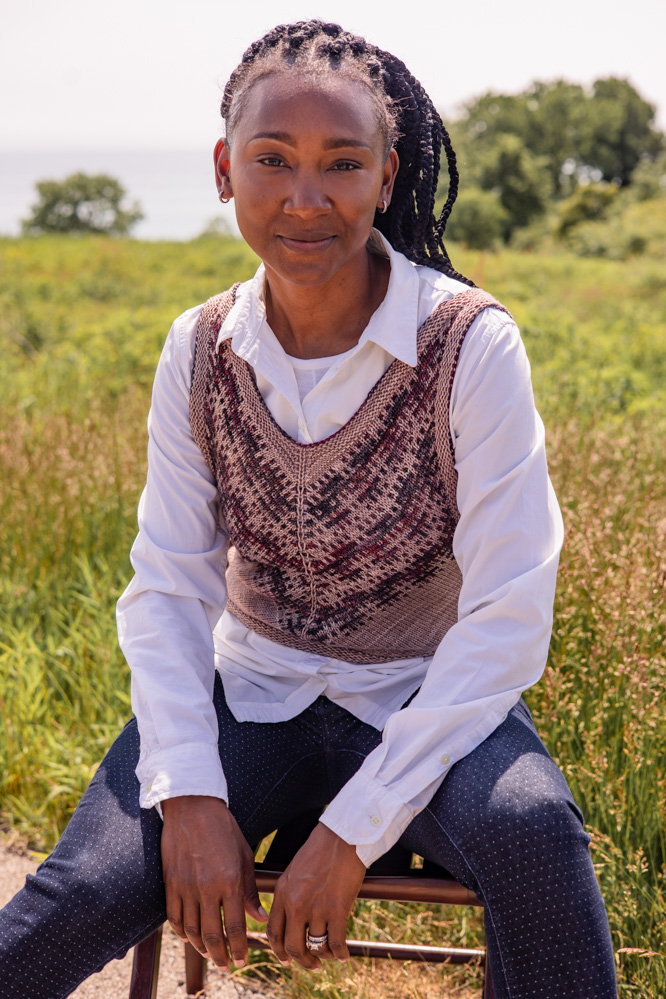 Feels like Shawl
Sometimes you need something that's more than a shawl, less than a sweater. Try Ramona, the update to the traditional shawl you didn't know you needed! Extended front edges drape gracefully to form a scarf-like waterfall collar on this ever-so-versatile garment.  Our Versatile Vest gives you so many options, it will feel like you're wearing something new each time you switch up the style. From a classic scalloped collar to an old-time traditional sweater clasp to a classic clasp with a twist, you'll love how versatile our Versatile Vest really is. Best of all, this is a pattern that you can totally do, even if you're a new knitter.
So, what are you waiting for? Dive into our Vest Dressed Knitting Collection, and start crafting your own classic (and classy!) vest dressed collection!