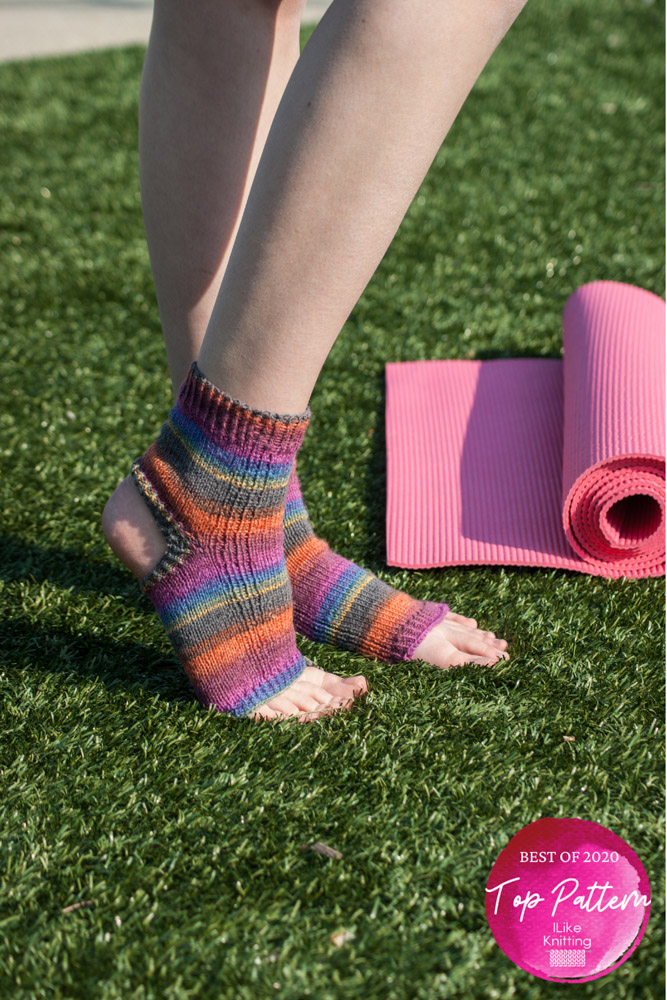 Show off your favorite self-striping yarn with these quick-to-knit socks. These cute socks have bare heels and toes and are designed to be worn for yoga, Pilates or dancing. Ribbing along the sides gives them a nice smooth fit and they're light enough to be worn all year round. These make the perfect gift for all the yoga lovers in your life!
Skill Level: Intermediate
Size: 4″ leg length x 7.25″ foot circumference x 4.5″ foot length.
One size fits most people. Use a larger needle for a larger sized sock.
Gauge: 30 sts and 40 rows = 4" [10 cm] in St st in the rnd.
Materials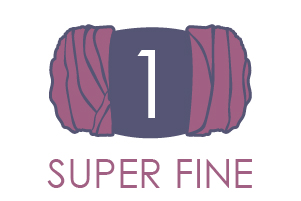 Yarn: Berroco Sox (75% Wool, 25% Nylon; 440 yards [400 meters]/100 grams): 1407 Idwal (1 ball)
Hand-dyed Alternative: Biscotte Yarns Bis-Sock (85% Merino, 15% Nylon; 435 yards [395 meters]/100 grams): Harvest (1 ball)
Needles: US size 1 (2.25 mm) DPNs, 2 circulars, or magic loop.
Notions: Markers, waste yarn, tapestry needle
Special Stitches
Twisted Rib: *Knit 1 through back loop, purl 1; rep from * to end.
Pattern Notes
Socks are worked from the cuff down. There is ribbing along the sides for a good fit.
Stitch markers are optional; they separate the ribbed panels from the stockinette stitch sections.
Pattern
First Sock
Leg
CO 64 sts.
Divide sts over 4 DPNs as follows: 16 sts on each of 4 needles.
For working on 2 circular needles, place 32 sts on Needle 1 and Needle 2.
Join to work in rnd, being careful not to twist. PM to mark beginning of rnd (BOR).
Work Twisted Rib patt for 12 rnds.
Rnd 1: (K1, p1) twice, PM, k24, PM, (k1, p1) 4 times, PM, k24, PM, (k1, p1) twice.
Rep this Rnd 30 more times, slipping markers. Sock will be about 4" long.
Heel
Knit 32 sts with waste yarn, then rearrange sts so that you can knit these same sts again with working yarn.
Continue to end of rnd in patt.
Rep Rnd 1, 45 times more, slipping markers.
Next Rnd: Work 32 sts in patt, (k1, p1) twice, ssk, k20, k2tog, (k1, p1) twice. (62 sts)
Work Twisted Rib pattern for 6 rnds.
BO loosely in patt.
Finishing
Carefully remove waste yarn, placing the 32 sts (above and below the waste yarn) on your needles to work in the rnd.
Work Twisted Rib patt for 6 rnds.
BO loosely in patt.
Work the Second Sock same as the First Sock.
Weave in all ends.