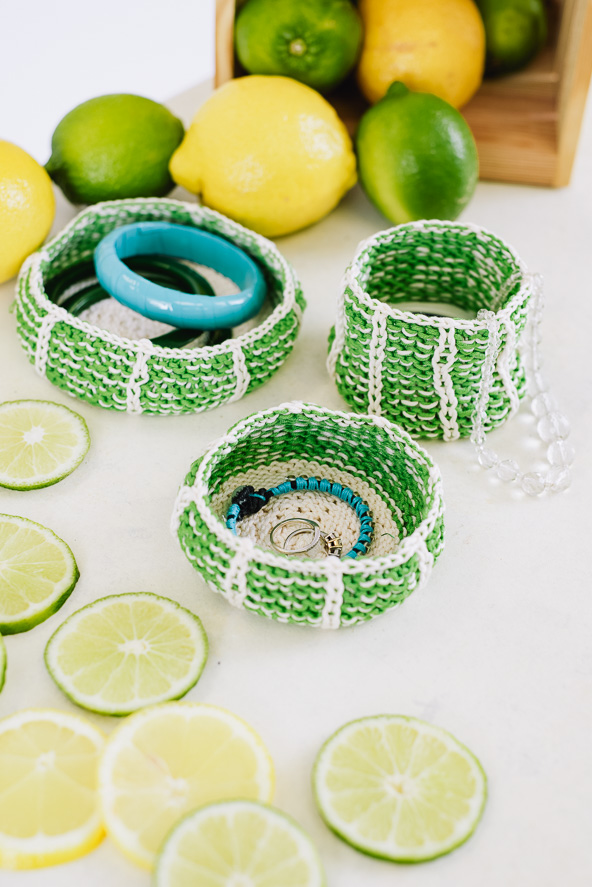 Brighten up your home with these cheerful, citrus-inspired trinket baskets. Worked in the round from the bottom up, you can make them any size you like. They are perfect for knitting notions, jewelry, or all those bits and pieces you need to keep surfaces tidy.
Skill Level: Intermediate
Size: Small (Medium, Large) Basket – 2½ (1½, 1½)" tall x 9 (12, 14)" circumference at base.
Gauge: 24 sts and 32 rows = 4" [10 cm] in St st
Materials
Yarn: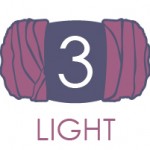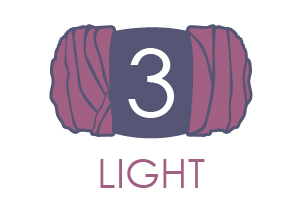 Rico Design Essentials Cotton DK (100% Cotton; 142 yards [130 meters]/50 grams): 51 Nature (MC), 1 ball; 66 Grass Green (CC), 1 ball
Needles: US size 3 (3.25mm): DPNS
Notions: Tapestry needle; removable markers; (optional) crochet hook if using Emily Ocker's Circular Cast-On method.
Abbreviation
wyib – with yarn in back
Emily Ocker's Circular Cast-On Method
Make a loose loop of yarn around your left thumb.
Insert crochet hook through loop from front to back, catch working end of yarn and pull through loop.
Catch working yarn again and pull through loop just made (as if to crochet 1 chain). This is your first st. Leave st on crochet hook.
Rep Steps 2-3 until you have cast-on required number of sts.
Transfer sts from hook to needles. After a few rnds, pull the yarn tail tight to close hole.
A video tutorial can be found at https://www.youtube.com/watch?v=MIFq29Dq6zU
Pattern Notes
These trinket baskets are worked from the center of the base out. You can make the base and sides any size you choose. You can either cast-on in your normal preferred way or try Emily Ocker's Circular Cast-On Method to avoid having a hole at the center of the base.
Pattern
With MC, CO 8 sts, join to work in the rnd, dividing sts evenly between DPNs.
Rnd 1: Knit.
Rnd 2: *Kfb, pm; rep from * to end – 16 sts.
Rnd 3: Knit.
Rnd 4: *Kfb, k to m; rep from * to end of rnd – 24 sts.
Rnd 5: Knit.
Rep last 2 rnds until base reaches desired circumference.
Next Rnd: Sl1 wyib, join CC, k to m in CC, *sl1 wyib, k to m in CC; rep from * to end of rnd.
Next Rnd: *Holding CC at back of work, k1 in MC, p to m using both colors held together; rep from * to end of rnd.
Next Rnd: *Sl1 wyib, k to m in CC; rep from * to end of rnd.
Rep last 2 rnds until basket reaches desired height.
Break CC.
BO in MC.
Finishing
Weave in ends, taking care to ensure you have a neat finish on the rim of the basket.
Block by dampening and placing over a cylindrical object of similar circumference with a flat base (e.g. for a 4" wide basket stretch over a 4" wide vase, cookie jar or similar).
Any distortion in the base of the basket should flatten out with blocking. When the item has dried, you may spray with starch to help it keep its shape.