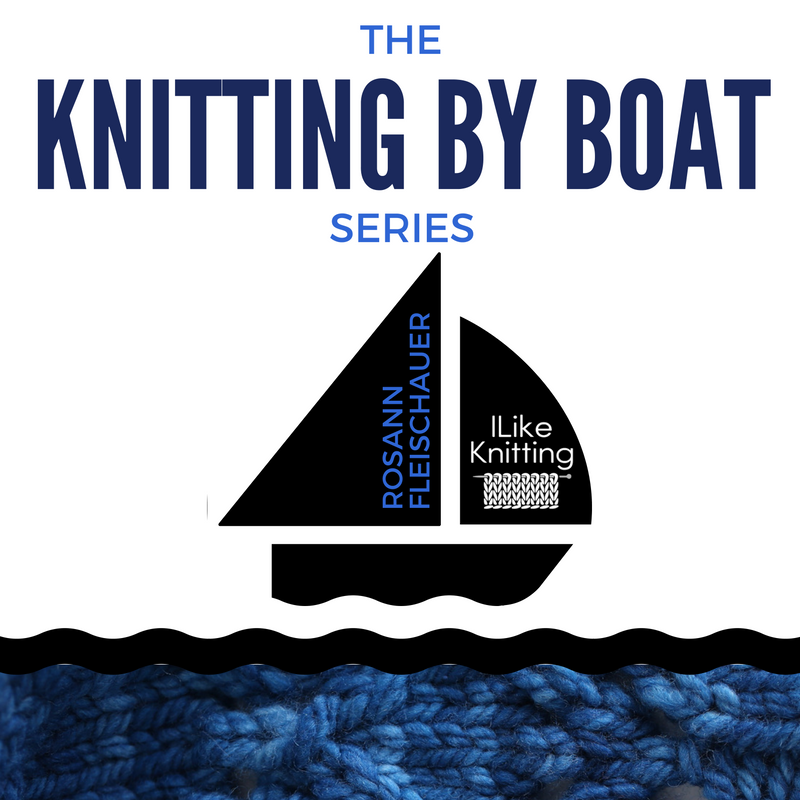 As one turns toward the beacon of Marblehead Light, the town itself unfolds on the hillside. You can sense there is something special about the destination, with its deep water and pristine but laid back waterfront; it's a haven from the sea, nourishing your soul as you pick up a mooring ball or drop anchor,
As one turns toward the beacon of Marblehead Light, the town itself unfolds on the hillside. You can sense there is something special about the destination, with its deep water and pristine but laid back waterfront; it's a haven from the sea, nourishing your soul as you pick up a mooring ball or drop anchor, secure in the knowledge you have arrived. The first stop for anything yarn related is Marblehead Knits. From the town dock near The Landing Restaurant, it is a short walk up the hill to Washington Street. If you are traveling with yarnaphobics, there are plenty of things to keep them busy in town.  My favorite drop-off point is the men's department at FL Woods, which carries all the best clothing lines for the sailor in your life.  For those who like to write letters on real paper with a beautiful pen, stop by Scribe to check out the shop's selection. If The Landing is too crowded or you prefer a spot that is a little more intimate, Sail Loft Maddie's is sure to please—the fresh oysters and clam chowder are delicious.
Marblehead Knits is a special place. It is a gathering spot for the community year round, and it welcomes into its hearts those who sail and cruise through during the summer season.  The shop owner, Kate Dailey (a fellow boater), and her friendly staffers Laurie Faria and Xhazzie Kindle make the visit all the more memorable with their welcoming smiles and warm greetings.  The store carries a wide selection of yarns from the bigger names including Araicania, Berroco, Cascade, Debbie Bliss, Feza, The Fibre Company, Jade Sapphire, Juniper Moon, Mirasol, Manos Del Uruguay, and Schoppel as well as a well-rounded collection of yarns from boutique lines including Kelbourne Woolens, Frabjous Fibers, Swans Island, and Three Irish Girls.
As a collector of locally sourced yarns, I was immediately drawn to locally dyed Littlebean Loves by Kayleen Weaver. This inviting collection of colors just inside the front door was my first stop. The mini skeins caught my eye. The way the colors sat side by side on the shelf enhanced their beauty like a bouquet of flowers fresh from the garden. Not sure what you can make out of the short runs of delicious colors? Not to worry: posted near the mini skeins is a selection of projects to spark your creativity. Kayleen's line of Littlebean Loves yarns, hand dyed in Marblehead, is available at the store and on Etsy.
---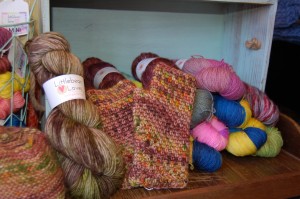 Littlebean Loves DK weight in wimping willow makes a lovely pair of Reverie Handwarmers and coordinated hat.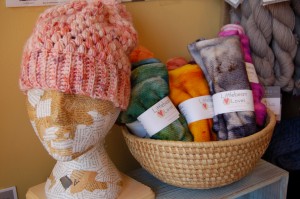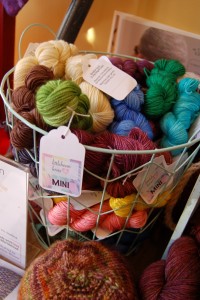 If you're short on space, these Littlebean Loves flats are easily stowed almost anywhere. They are sock weight yarn ready to knit with no surprises as to what it will look like knit up, which is helpful for new knitters who may not be able to appreciate hand dyed yarn in a skein. The colors are equally bountiful in Littlebean skeins whether mini- or full-sized—there is a color for every concept.
---
While "knit" may be part of the name, Marblehead Knits is 100 percent crochet friendly. Kayleen teaches crochet classes for all skill levels at the shop on Saturday mornings. As an expert in the art of crochet, Kayleen mentioned she was motivated to learn to knit "thanks to the loving encouragement of Laurie, and Kate." Her enthusiasm is infectious: she even got her husband to start knitting as well. It has become a true family activity for them.
---
LittleBean Loves Gradient is a beautiful yarn to use for making up a shawl or even a blanket for someone special—perhaps even my next Middle of the Road design (included in I Like Knitting  )
Littlebean Loves, in sock weight through bulky hand dyed locally by Kayleen Weaver, is available exclusively online at littlebeancrochet.etsy.com and at Marblehead Knits.
---
Open since December 2015, Marblehead Knits hosts a wide selection of classes and events. The best place to check out the store schedule is on their Facebook page where you will see the smiling faces of their customers showing off their latest creations in the fiber community.  For those lucky enough to visit in person, the sense of community is reinforced by the lively conversation around the knitting table, which is where I caught up with Kate between customers.
"Everyday we strive to make this a destination within the community for our customers. A yarn shop with the purpose of bringing people together to create something. We always appreciate it when customers drop in on the way to the grocery store or library whether they stay for just a few minutes, show us their progress on their latest design,  or sit and knit with us.  Our customers make Marblehead Knits a special place to be," Kate said.
As a mother of four, Kate recognizes the importance of the arts and creative expression. To foster creativity in children, Kate has developed a program through which local public schools' fifth grade students, who learn about colonial America as part of their curriculum, receive a knitting lesson outside the classroom. Last year after learning the basics, the children knit headbands with a reflective filament that they sold as a fundraiser for the school.
Children are at the center of the week's activities at Marblehead Knits. On Tuesday and Wednesday afternoons the shop comes alive with the laughter of children during their weekly 3:30-4:30 knitting group meet-up.  During the summer, the shop runs a kids' camp week during which the lucky participants are presented with a container filled with all the supplies they need for a week of fiber fun. Over the course of the week they dye yarn, learn to knit, and begin working on their first project in the company of their peers in a creative environment.
---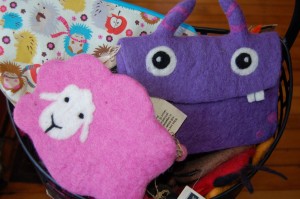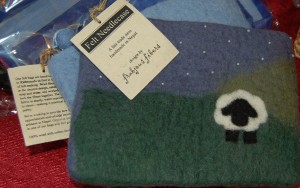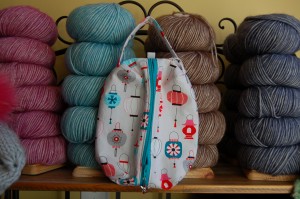 If your children didn't make the cruise with you, you can still bring them a little bit of Marblehead Knits. Ask Kate to put together a kit for your fiber artist using one of the animal themed felted bags from Frabjous Fibers, filled with a fun yarn, some little scissors, and knitting needles. Prefer something wool-free? A Jessilu cotton bag is just the thing, made in Great Barrington, Massachusetts.
---
Marblehead Knits carries something for every fiber enthusiast in your life. From the standby favorite Cascade 220 to a luxurious hand-dyed cashmere or silk skein, you are sure to find exactly what you need. Gradient sets—the latest trend in yarn—are also available here. If your needs should include a fully kitted-up shawl or blanket, you can find a project to suit.
---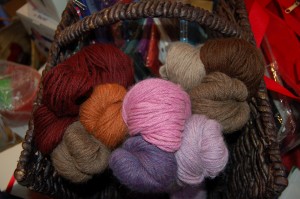 For those of us who are challenged when trying to make color selections, Laurie has a selection of three color cowl sets featuring Juniper Moon Herriot all kitted up and ready to go for any pallet  including Autumn, Shades of Purple, and Browns.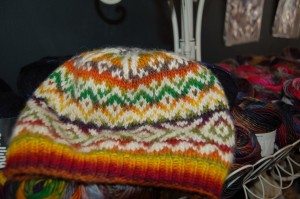 Looking for a quick knit? Try this hat Laurie knit up in Juniper Moon Moonshine and Viva, a self-striping yarn available in a wide array of colorways.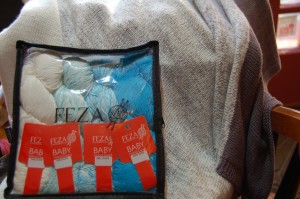 The latest cotton blanket set, Baby Gradient Blanket by Nancy Rieck, from Feza caught my eye in a selection of blue, pink, yellow, and grey gradients sure to work with any salon interior, nursery, or den. The set is wrapped up and ready to go. On display in shades of grey, the blanket has a soft hand, and at 27"x40" is just the right size for cuddling.
---
Giving back to those who protect our freedom plays a major role in the charitable knitting and crochet efforts at Marblehead Knits.  The shop plays a vital role in the Knit Your Bit collaboration with the National WWII Museum and USO Lounge at Logan Airport, which provides hats, scarves, and mittens to members of the armed services who find themselves in need of a little warmth when they touch down in Boston. Similar programs can be found across the country; interested fiber artists may want to take a look at http://www.nationalww2museum.org/learn/knit-your-bit/ to learn more about the good work this group does to keep our service people warm in inclement weather.
---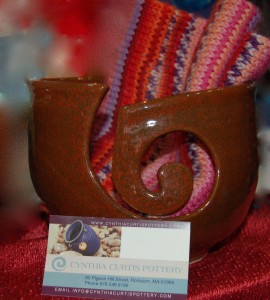 For a unique memento of your stay north of Boston, build your own special kit with a single skein of a luxury find like Mana, a locally made yarn bowl from Cynthia, and a cuddly Marblehead Cowl kit. When you set sail from port, you will be outfitted with provisions to keep you busy for a few more nautical miles before stopping at the next shop to restock.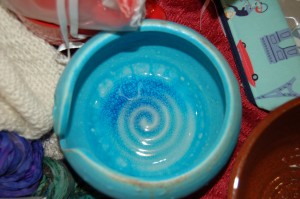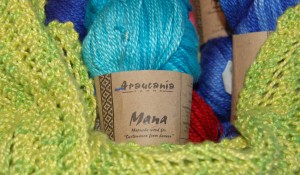 The last of the skein is not so sad when the yarn bowl is beautifully adorned with sea glass artistically set into one of Cynthia Curtis' yarn bowls, locally made in neighboring Rockport, Massachusetts.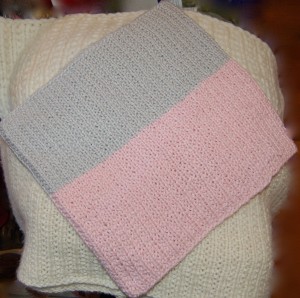 Available in three weights and a large assortment of colors, the Marblehead Cowl is a quick knit sure to please the lucky recipient.
---
One final tip: before leaving port, be sure to stop in at the local coffee shop Bello e Preciso Milano right down the street from Marblehead Knits for a chocolate croissant and cup of coffee.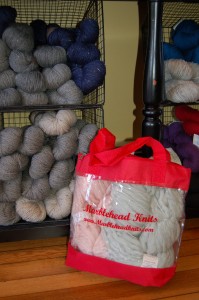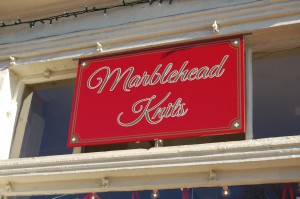 Marblehead Knits
http://www.marbleheadknits.com/
152 Washington Street
Marblehead, MA -1945
(781) 990-1722
The Landing
http://www.thelandingrestaurant.com
81 Front St
Marblehead, MA 01945
(781) 639-1266
Sail Loft Maddies
15 State St
Marblehead, MA 01945
781-631-9824
FL Woods
76 Washington St
Marblehead, MA 01945
(781) 631-0221
Bello e Preciso Milano
146 Washington St
Marblehead, MA 01945
(978) 536-1721
Boston Yacht Club
https://www.bostonyc.org/waterfront
1 Front Street
Marblehead, MA, 01945
781-631-3100