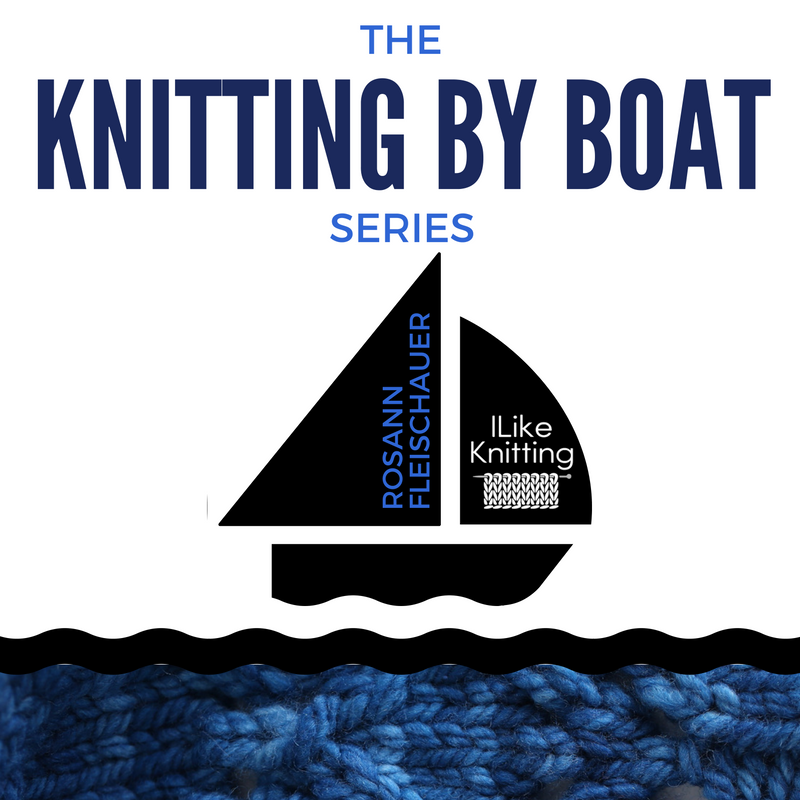 When seeking safe harbor in the Massachusetts Bay, many the mariner has stopped in Hingham to refresh, refuel, and relax. Good restaurants, a charming downtown historic district, a vibrant and newly repurposed shipyard full of retail options, and—just across the street from the shipyard—a yarn shop, Yarns in the Square.  If you prefer to let
When seeking safe harbor in the Massachusetts Bay, many the mariner has stopped in Hingham to refresh, refuel, and relax. Good restaurants, a charming downtown historic district, a vibrant and newly repurposed shipyard full of retail options, and—just across the street from the shipyard—a yarn shop, Yarns in the Square.  If you prefer to let another captain take the helm, the shop is a five-minute walk from the ferry dock with regular service to downtown Boston.
Yarns in the Square is a local treasure. Originally located downtown in a historic storefront, it moved to the shipyard neighborhood in November of 2015, so if you have dropped anchor in downtown Hingham previously, you may have had the pleasure of meeting Deb Connolly at her former location, where she carried an impressive selection of goods and notions. With more room for a wider selection, she now carries more lines including Anny Blatt, Blue Heron, Berrocco, Cestari, Done Roving, Ella Rae, Ellyn Cooper's Yarn Sonnet, Frabjous Fibers, Imperial Yarn, Juniper Moon, Great Adirondack Yarn Company, Juniper Moon, Madeline Tosh, Rowan, Swans Island, and Tahki Stacy Charles. On my most recent trip, I was delighted to see she had a large selection of my favorite, Blue Heron Rayon Metallic, to make a Pacific Poncho.
---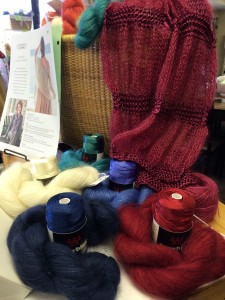 The wide array of rich gem tones offered by Anny Blatt are perfect for a jewel tone gem of a shawl or scarf.
---
For those of you who may want to part take in the sock society, check out her selection of Frolicking Feet, Sweet Georgia, and locally dyed Dirty Water DyeWorks sock yarns.  If your taste tends towards the chunky and bulky, try locally owned The Third Piece's Funky Chunky.  You may have heard of The Third Piece: they sell finished accessories to some of Barneys' New York stores.
As we were looking through the wide selection of sock yarns, I asked Deb where she derives the energy to run her shop and continue to build her business.
"It's all about the people, working here with all the different people, helping them, teaching them to do things. It's what this place is all about," she replied.
Her biggest challenges bring her the most satisfaction, such as helping customers pick out the colors for a baby sweater with just the right buttons for their first grandchild or selecting the perfect yarn for a special shawl to wear on a once in a lifetime cruise.
---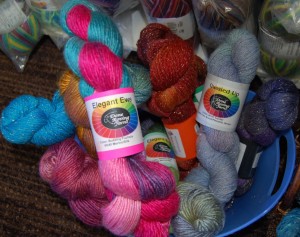 Looking for a little bling for your next shawl, pair of socks, or perhaps even a tank top? Done Roving's Elegant Ewe's merino and silk or Gussied Up's wool and metallic blend could be just what your needles crave.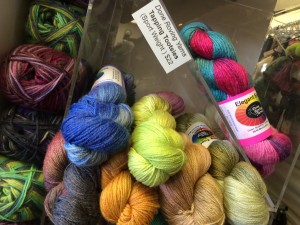 Done Roving Tapping Tootsies with its subtle colors is a wonderful find, sure to please as socks, mittens, or a hat for the lucky recipient.  Bolder space dyed colors have well defined color shifts without muddy transitions or pooling.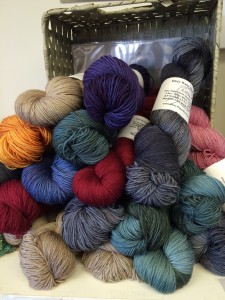 Dirty Water DyeWorks Sock Weight Lucia—75 percent superwash merino and 25 percent nylon—comes in a variety of beautiful kettle-dyed skeins. It is just waiting to join your stash and slide gracefully across your needles.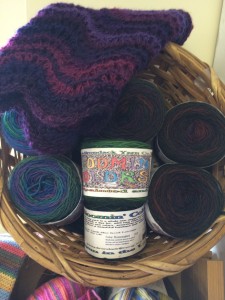 Bloomin' Colors by Great Adirondack Yarn Company works up beautifully in a feather and fan pattern, which could turn into a scarf for a lucky member of your crew.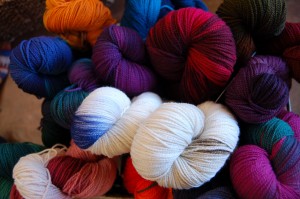 When the fog rolls in, roll on over to see the new selection of sock and DK weight yarns available fresh from the dye pots and set up on the table in baskets awash in color.
---
Wonderland Yarns is a relative newcomer to the indie dye scene. Dyed in nearby Vermont by the artisans at Frabjous Fibers, Wonderland Yarns do transport the knitter to new and exciting opportunities. It is difficult to describe how the light bounces off the delicate lurex and mohair fibers and dances across the silk and wool in the skein set of Opposites Attract.  Mad Hatter, a tightly spun superwash merino, perfectly holds a cable or a simple stockinette field when paired with Unicorn, which is a light blending of silk, kid mohair, nylon, and lurex. These yarns create a pallet of potential. Just imagine how beautiful your next shawl would look made up in one of these colors and knit in a simple pattern to let the yarn itself shine. No time to pick out a pattern? That's ok; the team at Frabjous printed one on the inside of the yarn band, so unwrap this delightful pairing carefully.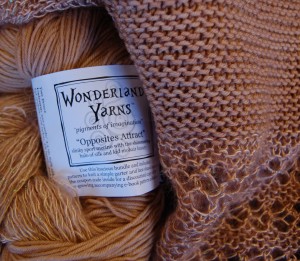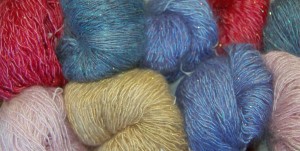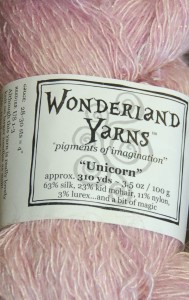 Unicorn really caught my eye as it's an interesting blend of silk, kid mohair, nylon, and a touch of lurex. I see it knitting up as a beautiful tank top with just a touch of mystery for a dockside dinner with friends.
---
On the road or high seas, it can be difficult to find simple or small projects. Yarns in the Square has a selection of quick knits including their own ready-to-travel, tri-color Harper Hat kit.  Recognizing travelers may not always have the time to make specific color selections, Deb has put together colorful kits of simple knits like her popular Harper Hat Kit, and knitters only need to add the needles.  A selection of quick knit mitts and tank tops grace the shelves and sample rack. To keep things simple, each is labeled with the yarn, needle size, and pattern name for a "quick pick" when you notice the ferry is about to depart or the captain is getting impatient.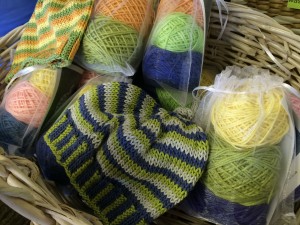 The Harper Hat kit is complete with pattern, yarn, and a lovely gift bag—just add needles!
---
Travelers who prefer special yarns, patterns, or notions over t-shirts and post cards will surely find something irresistible in the shop's pattern selections from ShuBui, Minnow Knits, Sublime, Rowan, and Yankee Knitter patterns or from needle options such as Addi, Clover, and difficult-to-find Inox.  Need a button to top off a special project? Yarns in the Square has an impressive selection of different shapes, sizes, colors, and materials.  Even if you've never knit a cardigan, you might cast one on when you see all the beautiful buttons available here.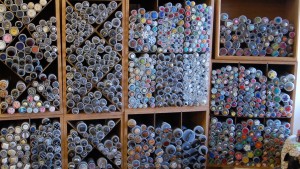 ---
Need a quick refresher or help deciphering a pattern? Schedule a time to get your questions answered in a private lesson, or take part in a 15-dollar, hour long Knitting Clinic on Tuesdays and Fridays from 11:00 a.m to 12:00 p.m. Deb's shop is also crochet friendly. There are regularly scheduled crochet classes, and if you call ahead, she can try to accommodate you with a private crochet lesson. Yarns in the Square is a welcome addition to any yarn enthusiast's float plan.
---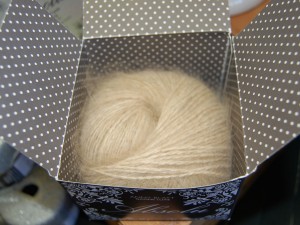 The Anny Blatt Gamme Luxe French Angora Absolu makes a lovely gift, sure to please even the most difficult to shop for. Shown here, Absolu is nestled safely in a gift box waiting for the perfect project.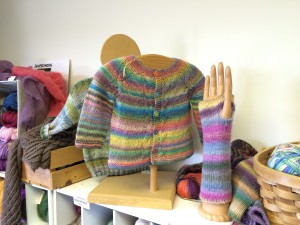 If you need some inspiration for your next project, check out the adorable knitted and crocheted samples conveniently arranged around the shop in addition to the standard square swatches. As a knitter Deb recognized the need to demystify how certain yarns may work up in a pattern.  Samples throughout the store are helpful as they show how a particular yarn responds in different color repeats, patterns, and textures.  For instance, in this display one can see how the Mille Colori Baby by Lang Yarn performs as a cable, rib, or basic stitch. This sort of sample tells a knitter much more than a swatch.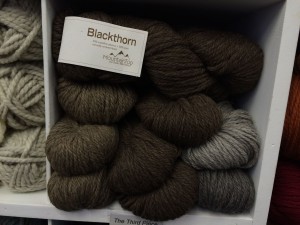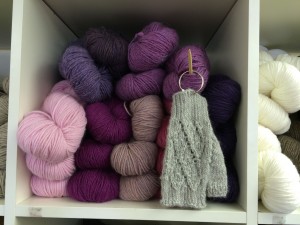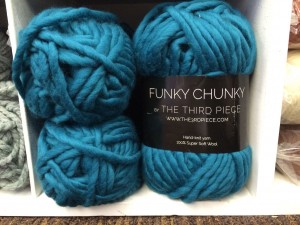 These beautiful skeins are just a few more of the treasures that can be found at Yarns in the Square.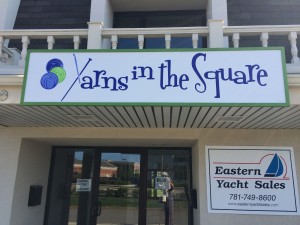 Yarns in the Square
400 Lincoln Street, shop #2
Hingham, MA 02043
(781) 749-2280
Hingham Shipyard Marina
781-749-2222
24 Shipyard Drive, Hingham, MA 02043
info@hinghamshipyardmarinas.com
http://www.hinghamshipyardmarinas.com
Accessible via commuter boat from Boston's Long Wharf and train from Boston's South Station on the Greenbush line. See mbta.com for schedules and connecting bus service via the T.