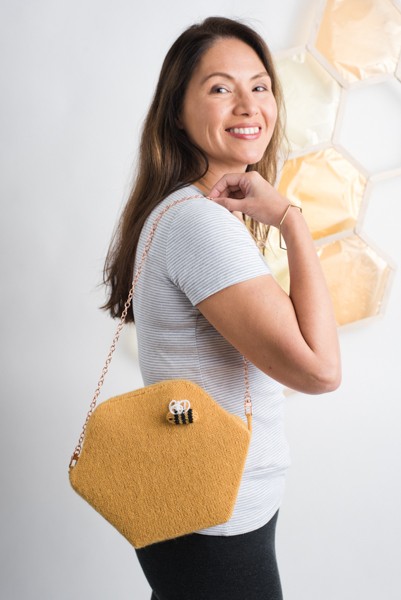 The simple honeycomb shape of this bag is accented by a little knitted bee and is accessorized with a metal chain handle. The bag has a frame constructed from plastic canvas and is lined to finish it off nicely. A zip closure ensures nothing will fall out when you're buzzing around town.
Skill Level: Easy (the knitting is easy but the sewing up requires some work)
Size: 11" width x 8.5" tall
Gauge: 31 sts and 39 rows = 4" [10 cm] in St st
Materials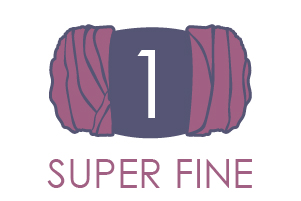 Yarn: Garnstudio Drops Nord Unicolour (45% Alpaca, 30% Polyamide, 25% Wool; 186 yards [170 meters]/50 grams): 18 Goldenrod (2 balls)
Needles: US size 3 (3.25 mm) 24" straight and short DPNs
Notions: Tapestry needle, small amounts of black (C1) and white (C2) yarn to work the bee, tiny amount of stuffing or scrap yarn to stuff the bee, 16" zip, Prym copper bag chain 34.5" / [88 cm] long, 2 sheets of plastic canvas 13.75" / [35 cm] x 10.25" / [26 cm], 0.5 meter of fabric to line the bag (the sample using Rose & Hubble cotton), pencil and paper to draw pattern pieces, sewing thread in a complimentary color, iron-on interfacing.
Pattern Notes
The bag is made by knitting a front and back, a lower gusset and two thin gussets to go either side of the zip. Use the knitted parts to create pattern pieces for the fabric lining before sewing them together.
Pattern
Front
With MC, CO 39 sts.
Row 1: P.
Row 2: K1, m1, k to last st, m1, k1. (41 sts)
Row 3: P.
Rows 4-43: Rep Rows 2-3. (81 sts)
Row 44: K1, ssk, k to last 3 sts, k2tog, k1. (79 sts)
Row 45: P.
Rows 46-85: Rep Rows 44-45. (39 sts)
Back
Make same as Front
BO all sts.
Lower Gusset
With MC, CO 18 sts,
Work in St st for 15" / [38 cm].
BO all sts.
Zipper Gussets (make 2)
With MC, CO 120 sts.
Rows 1-6: Beg with a k row, work in St st.
Rows 7-10: K.
BO all sts.
Bee
With MC, CO 7 sts.
Row 1: P.
Row 2: (Kfb) to end. (14 sts)
Rows 3-5: Beg with a p row, work in St st.
Rows 6-7: With C1, beg with a k row, work in St st.
Rows 8-9: With MC, beg with a k row, work in St st.
Rows 10-17: Rep Rows 6-9.
Cont in MC only.
Row 18: (K2tog) to end. (7 sts).
Break yarn leaving along tail, thread through the rem sts, pull up tightly and fasten off.
Finishing
Trace around the Front, Back, and lower gusset to make a template for the lining fabric and plastic canvas. Trace around the zipper gussets to make a template in lining fabric only.
Sew the lower gusset to the Front and Back of the bag. Sew the zipper gussets to either side of the zipper using sewing thread. Sew the entire zipper section into the bag, leaving a little bit of the zip open so that you can open it out after sewing and turn the back the right side out.
Cut a front and back panel and lower gusset piece out of plastic canvas. Oversew the edges of the plastic canvas to sew the pieces together. Place inside the bag and secure with a few stitches if necessary. Use the templates to cut out the lining fabric pieces, adding a seam allowance.
Cut some iron-on interfacing to match and attach to the back of the lining fabric. Sew together the lining fabric pieces as for the bag. Place inside the bag and slip stitch the zipper gusset sections to the back of the zip. Make loops to attach the chain handle by working a 5-st i-cord in MC for 2" (make 2). Sew them to the bag at each end of the zip where it is sewn into the gusset. Attach the chain handle to each loop.
Seam the row edges of the bee, stuffing as you seam. Gather around the cast on sts, pull up tightly and fasten off. Embroider two small eyes using C1. Use C2 to embroider 4 looped sts on the back of the body for wings. Sew the bee to the front of the bag, off-centred. Catch the wings in place if necessary.