Features
Patterns
Departments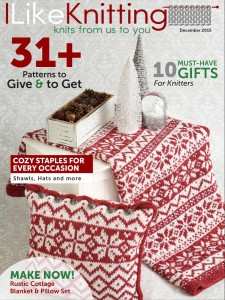 A Note from the Editor
Bare subfloors rye bread-like in appearance with marbled swirls of old and new stains, pieces of wood with nails lined along the baseboards, an old staircase stripped clean of carpet but covered in dark stains and dust – does this sound like your dream home? It doesn't describe mine either, but my husband and I will be moving in this weekend. Initially, the thought of living in a place with so many works in progress made my stomach tighten and my chest ache. Will we really be able to handle everything? But a home isn't just pretty furniture and newly painted walls, a home is all about the process you went through to make that space your own. It's more than priming walls for new paint; it's laying the groundwork for a future filled with new experiences.
As we get closer to the holiday season, where opportunities to spend more time with friends and family are right around the corner, I'm getting more excited about the renovations. I can't wait until we can host our own family celebrations, where the dining room will echo with laughter and the air will smell of homemade food and mulled wine. Though getting to that point will take some time, I plan on knitting up a storm this winter in order to create a cozy atmosphere that's budget friendly. The gorgeous Rustic Cottage Pillow and Blanket Set featured in this issue will be my first project. I love its bold, red and white Fair Isle design that's fresh, modern and charming. I can already see the blanket and pillow resting on our couch, glowing softly from the orange light of the fireplace.
If Fair Isle projects aren't your cup of tea, there are plenty of other cold-weather essentials inside this issue that all make great gifts and add a touch of winter whimsy to any space. From the Raspberry Cream Mitts to the Stunning Stranded Ornaments, you'll be able to stock your wardrobe and your home with fun, fast and simple projects.
Happy knitting,

Design submissions and article ideas should be sent via email to submissions@ilikeknitting.com