Classic cables, trendy tartans, cozy cardigans & more!
Dear Knitter,
Any day is a good day to knit. But there's something about the cool, invigorating breezes of fall that just call to your needles. The changing of the seasons is the perfect opportunity to create a new knitting memory — for you, a friend, a loved one.
Celebrate the arrival of fall and take inspiration from vibrant fall colors, equestrian styles, and some pure practicality — liberally laced with color and whimsy.
Let's take a peek inside the October 2022 issue of I Like Knitting and see what catches your eye!
Introducing Shawls for Sharing
Chances are, you've been involved in a blanket or scarf donation drive or two. Well, designer Kristin Omdahl has a new mission: to support survivors of domestic violence. Herself a victim of domestic violence, Kristen's Shawls for Sharing project is raising awareness to help bring an end to domestic violence.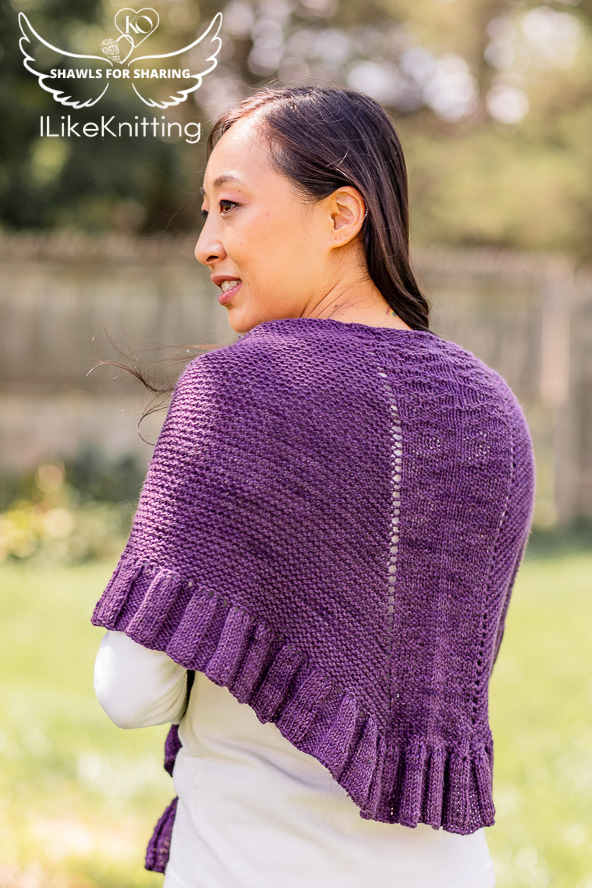 Each season, Kristin will release a new shawl pattern. Your purchase of a pattern supports the Shawls for Sharing cause. You can donate the shawl you make, or keep it for yourself as a reminder of the Shawls for Sharing mission. Either way, your support of this project means that together, we can make a difference.
The Alessia Shawl pattern will be released in October. 100% of the proceeds from the sale of the pattern will go to help survivors of domestic violence. We'll be featuring this shawl in our December issue. If you buy the pattern and make this shawl, we'd love to see your pictures and hear your story!
Color Me Fall
Many of us are sorry to see summer go. But there are those of us who look forward to the profusion of color as the trees prepare for the inevitable onset of winter. Seasons change, but some styles are evergreen — and groovy. Check out our Giulia Knit Pants. These hip knit bellbottoms are the ultimate way to stay warm, comfy, and stylish as colder weather arrives. This project is rated easy, and is knit from the top down in the round.
Keep your toes toasty and trendy with our Wheat Harvest Socks, which take their inspiration from the fall harvest. This pattern was designed specifically for this beautiful colorway, with each color rolling into the next like wheat waving in the wind.
You always want to keep a shawl on hand for whenever the weather turns chilly. You'll love the muted colors of the marled circles in our Bubble Knit Wrap. This pattern uses a technique that's an alternative to intarsia colorwork, with no separate bobbins required!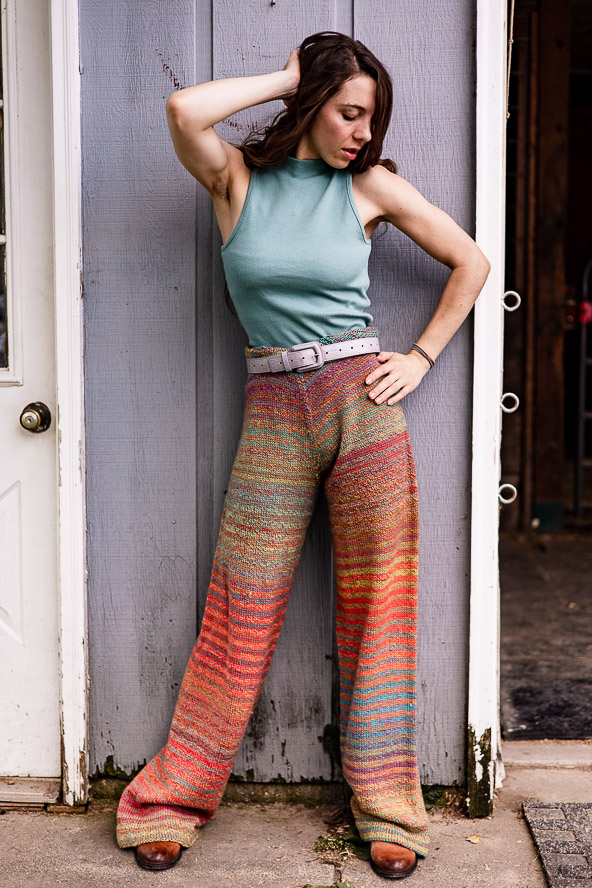 Sometimes all you need is a cowl to take the edge off a chilly day, so why not warm up in style? Our Ginger Gradient Cables Cowl shows off lovely gradient yarn with an interesting stitch pattern that's deceptively simple to work. The cowl's designed with a tapered shape that uses a change in needle sizes instead of decreases. Don't like the taper? Don't change your needles. You can make this cowl uniquely yours in a weekend.
We all need an oversized, cozy, classic cardigan. Refresh your cardigan collection with our Flicka Cardigan. It features loose, flowing poet sleeves and a big shawl collar. Work This open-front raglan cardigan from the top down and get ready to wrap yourself in total comfort!
If your vision of a poncho is a boring rectangle, meet the Lakelyn Horizon Poncho. This lovely piece features twisted stitches in an hourglass shape, framing a colorful center panel of gradient yarn alternating with the main color. This is a poncho with real pizzazz!
Nouveau Knits
Whether you carry a capacious purse or a voluminous knitting bag, there's always room for a little more organization. Don't bother with those store-bought dividers and pouches; you know you can make something better! Our Penny Purse Organizer is cleverly constructed, easy to make, and can be finished in a weekend. It has a place for everything, so no more searching the bottom of your bag for that lost lip balm!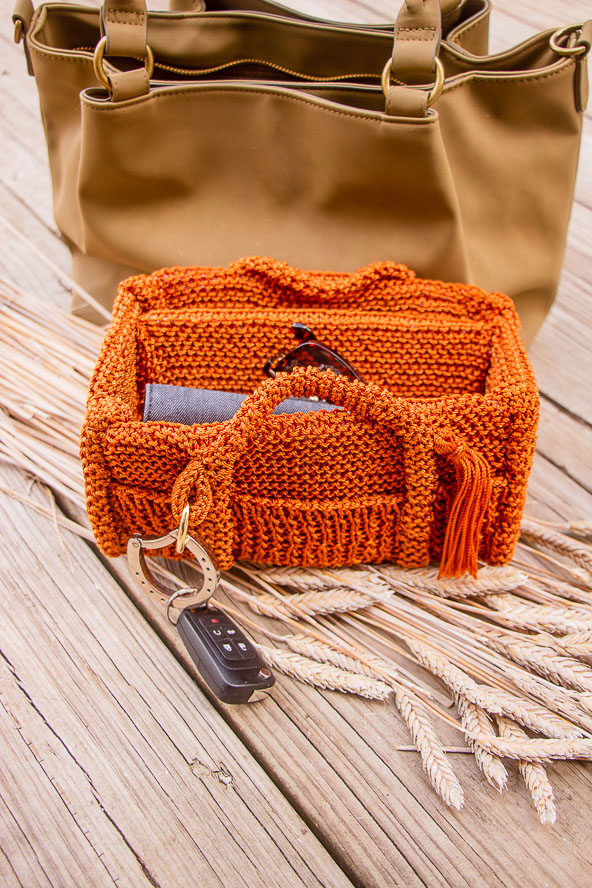 Enjoy the bright and brisk days of fall with our Larkin Chevron Cardigan. This simple yet eye-catching chevron lace pattern celebrates weekends outside in nature. Pair it with your favorite jeans for a relaxing walk along the lake.
How about a two-for-one knitting bonus? Make our Falabella Reversible Beret in your two favorite colors, paired with stripes of natural boucle. Make one beret, then just keep going to finish the second one. Ta-da! Two hats in one. Switch it mid-walk and see if anyone notices!
Farm to Stable
There's a lot of creative inspiration to be had when you're around horses. We have a few patterns that got their creative start in the stable.
Cardigans are cozy; blazers are stylish. Why not get the best of both worlds in one sweater? Our Tawny Sweater Blazer will keep you snuggly, warm, and stylish. Dress it up with a belt for a more tailored look.
Equestrian style springs to life in our Rosalind Cabled Cardigan with its classic cables and clean lines. This pattern is knit flat from the bottom up with set-in sleeves, giving you a classic fit with ribbed edges. Wear this sweater loose with a comfy layer underneath.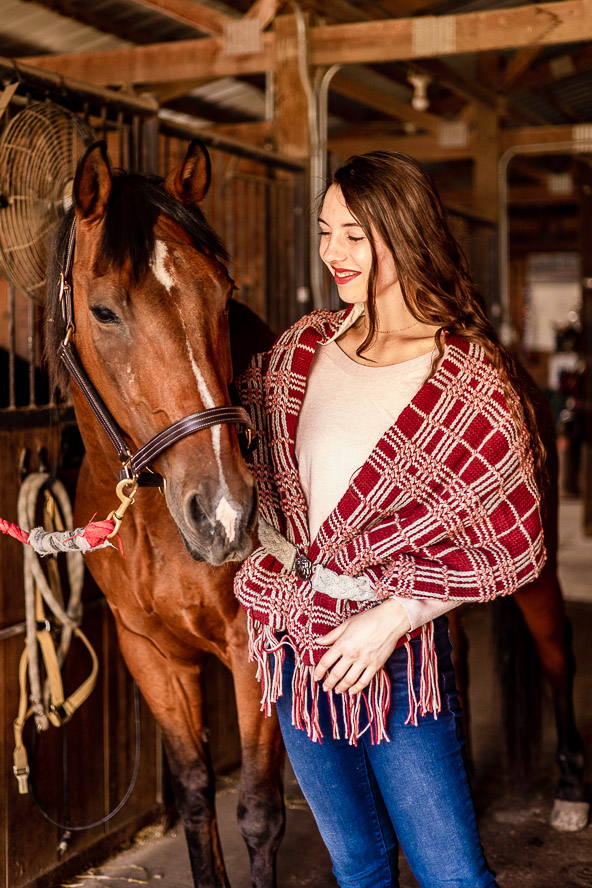 What do you get when you combine two tartan patterns in one sweater? You get our Sorrel Tartan Cardigan. The left front and sleeve are actually worked in a striped pattern, with embroidered vertical lines to mimic a tartan pattern. The other side is a symphony of colorwork. You'll love this comfy cardigan, with its relaxed shape and stunning stitchwork!
Take a classic plaid design up a notch with our Rowena Plaid Wrap. Knit this lovely wrap using stranded colorwork in two colors of worsted yarn. Embellish the wrap with fringe and French knot embroidery, and add a complementary backing. Then knit an antique-style cabled belt to finish the whole thing off. The result is stunning!
Every guy should have that one favorite sweater, and the Felipe Men's Sweater may just be it. This sweater features a classic cable pattern with a modern twist on the sleeve design: the cables are turned inside out on the sleeve cap! Make this sweater for someone who loves cabled sweaters with a modern touch.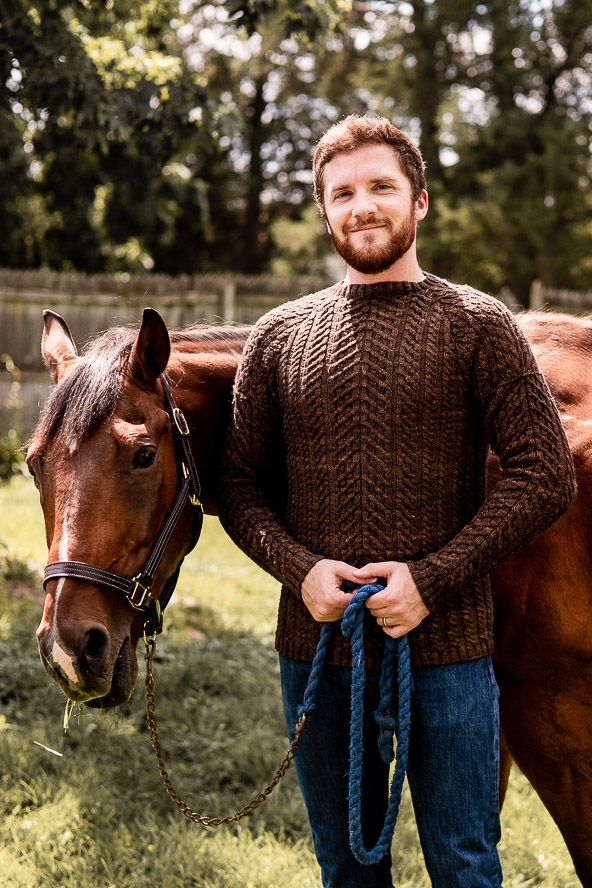 Our Eponine Cardigan is proof that a classic Aran sweater can accommodate a modern makeover. Our version uses a lighter weight yarn, a modern cable pattern, and an offset front. This sweater is the perfect top layer for your favorite weekend jeans and shirt.
After a long day on the trail, come home to our Cavalier Cabled Throw. Bulky yarn in a stockinette and garter diamond pattern gives you a sturdy, timeless throw that will keep you cozy and warm year after year.
The October 2022 issue of I Like Knitting is packed with patterns that are bound to become your new fall favorites. Welcome the fresh air of fall with some stunning new projects!
Each one of the patterns in I Like Knitting comes with everything you need to finish your project:
A full list of all the yarns and tools you'll need
Row by row instructions
Special stitch instructions
Pattern notes
Detailed, full-color photography
There's something for knitters of all experience levels in the October 2022 issue of I Like Knitting. And if you're still craving more creative projects ideas, you have immediate access to our complete library of more than 700 patterns, expert tips and tutorials, along with many more special collections, including The Knit Mitten Collection, The One-Skein Knitting Collection, The Vintage Knits Collections and The Knit Hat Collection. It's all yours with your membership in the I Like Knitting Gold Club.
The bold colors of fall inspire our October 2022 issue. Which project will you cast on first?