Knitting is inspiring. Knitting is innovative. And yes, knitting is addictive. But more than ever this year, we decided that knitting is FUN. Thanks to the talented designers for I Like Knitting, 2017 was hands down the best time we've ever had creating each issue. Over the course of 6 new issues this year, we explored trends and styles in never-before-seen ways and drew inspiration from top fashion and vintage flair. It seemed nearly impossible to narrow down to just 50 designs to highlight since each design is hand-picked and well-liked by all. So here's to the new designers, the innovative designers, and the seasoned designers—and all the outstanding designs they created this year. Welcome to I Like Knitting's best patterns of 2017!
Ace Accessories
When you need a quick knit, these are the little projects that will get you through!
Silver Mist Knit Fingerless Mitts
Cappuccino Cozies
Queen of the Ice Mittens
Espresso-ly Made for You Coffee Cozies
Espresso-ly Made for You Coffee Cozies by Karen Fletcher
Cappuccino Cozies by Miranda Jollie
Crowd Goes Wild Wrist Warmers by Ashlee Lackovic
Queen of the Ice Mittens by Melissa Metzbower
Silver Mist Knit Fingerless Mitts by Tian Connaughton
---
Awesome Afghans (+ Best Baskets)
Is knitting an afghan on your list for 2018? Take a look at the top 3 patterns and check out the cute little baskets too!
Richmond Graphic Blanket by Brenda Castiel
Cupcake Party Afghan by Rosann Fleischauer
Peter Rabbit Pillow + Blanket Set by Vikki Bird
Lime Wedge Trinket Baskets by Miranda Jollie
---
Chief Cardigans
These cardigans can be dressed up or dressed down for a variety of looks.
Blue Meadow Cardigan by Alexis Di Gregorio
Afternoon Coffee Cardigan by Amy Gunderson
Cherry Sweet Cropped Cardi by Deepika
Agave Cardigan by Kristen TenDyke
Belle Cardigan by Linda Gäßler
Lovely Day Jacket by Diane Zangl
---
Supreme Scarves + Coolest Cowls
Oh how we love a good scarf pattern! We've got lacy scarves and bulky cowls that rose to the top of the list. Take a look!
England Awaits Scarf
Boccioli Infinity Scarf

Mountain Air Infinity Scarf
Warm Weather Whimsy Scarf by Diane Zangl
England Awaits Scarf by Lana Jois
Summer Rain Scarf by Mesha McMullen
Lotus Cowl by Deepika
Café Cowl Set by Linda Browning
Follow Your Arrow Cowl by Megi Burcl
Cactus Cowl by Quenna Lee
Mountain Air Infinity Scarf by Linda Riley
Boccioli Infinity Scarf by Paola Albergamo
---
Super Shawls
Gotta love a good shawl pattern! Several of shawls from the You're a Gem: Birthstone Shawl Series made it to the top!
Shawl You'll Ever Need by Heidi Gustad
Golden Ginkgo Shawl by Jayalakshmi M H
Opal Shawl by Nazanin Fard
Garnet Wrap by Tania Richter
Alexandrite Shawl by Penny Schumers
Mountain Retreat Shawl by Quenna Lee
First Frost Shawl by Rachel McKinney
Fine Feather Shawl by Tania Richter
Mint for You Shrug by Paola Albergamo
---
Superb Socks
Keep those toes toasty with these knitting patterns for socks!
Cranberry Harvest Socks by Penny Schumers
Marshmallow Cream Knit Socks by Renée Kies
Leaf Socks by Vikki Bird
Twisted Peppermint Slippers by Heidi Gustad
---
Smashing Sweaters + Terrific Tops
This year, playful tops and sophisticated sweaters made the list. Unique design elements like elbow patches and split hems make these designs stand out in a crowd.
Aspen Sweater
Pistachio Pullover
River Valley Tunic
Knit's a Party Top
Aspen Sweater by Amanda Saladin
Pistachio Pullover by Kristen TenDyke
Tangerine Zest Pullover by Linda Gäßler
River Valley Tunic by Nadya Stallings
Knit in a Splash Pullover by Olya Bagi
Fan Favorite Knit Sweater by Paola Albergamo
Travel Bug Top by Diane Zangl
Knit's a Party Top by Olya Bagi
Ivory Roses Tank by Rosann Fleischauer
---
And there you have it folks! If you like what you see be sure to consider subscribing to our magazine if you haven't already. You'll get access to ALL of the top 50 patterns above AND our entire archive of patterns (over 500+ patterns!).
We've got a special deal for you too! Make 2018 the year you devote to furthering your knitting skills and treat yourself to our magazine at a discounted price. You seriously don't want to miss out on this deal.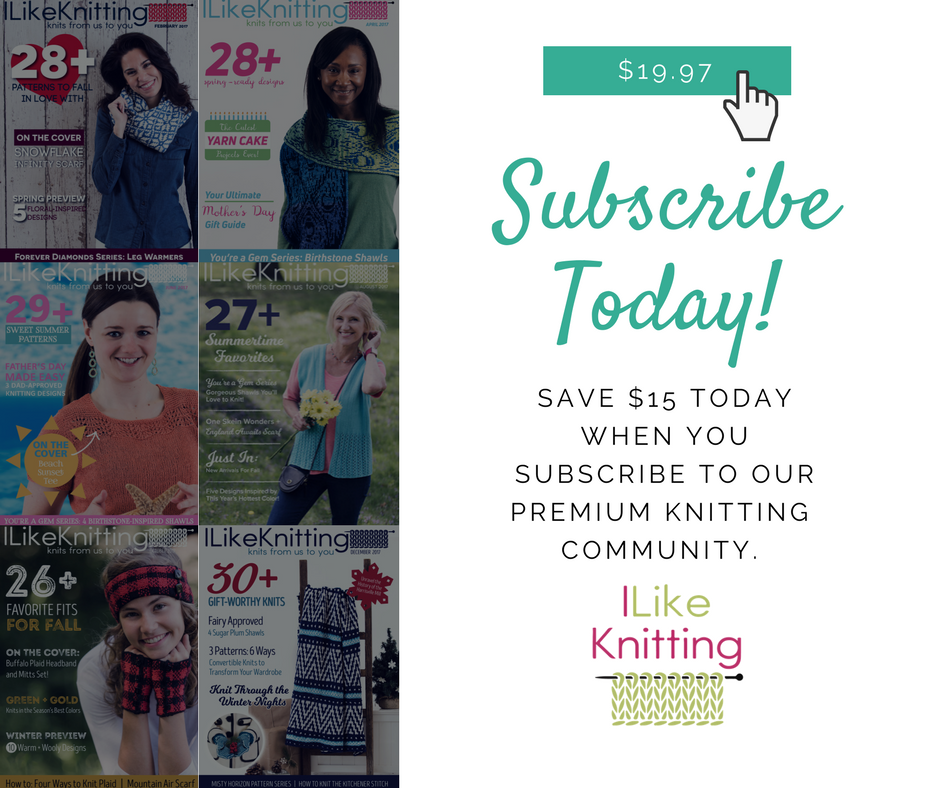 Happy New Year everyone! Cheers to a successful 2017 and to an exciting 2018!