Whether you're enjoying winter knits or looking forward to spring fashion, this issue has something for you. Warm scarves and lightweight cardigans will have you ready for anything the seasons bring. They're all yours as part of your I Like Knitting Gold Club membership!
Welcome to the February 2021 issue of I Like Knitting. This is an exciting time of year for us here, as we can still enjoy the coziness of a soft wool cardigan while we also look forward to spring by working on a lace scarf pattern. We also get to share these projects with you!
This issue includes some bold and comfy knits that are ideal for cold weather, including the worsted wool Hidden Hearts Fair Isle Sweater. Or you can get started on spring designs with the Field of Daisies Shawl, featuring delicate daisy motifs and simple garter stitch borders.
When you're ready to take a break, make sure to check out our four book recommendations, one of which is a fascinating look at Britain's history as told through a year of knitting garments from around the British Isles. Plus get our picks for new knitting products – the Daisy stitch markers are soooo cute!
The February 2021 issue of I Like Knitting has everything you need to keep warm while it's still cold and get ready for the warmer days of spring that are on the way.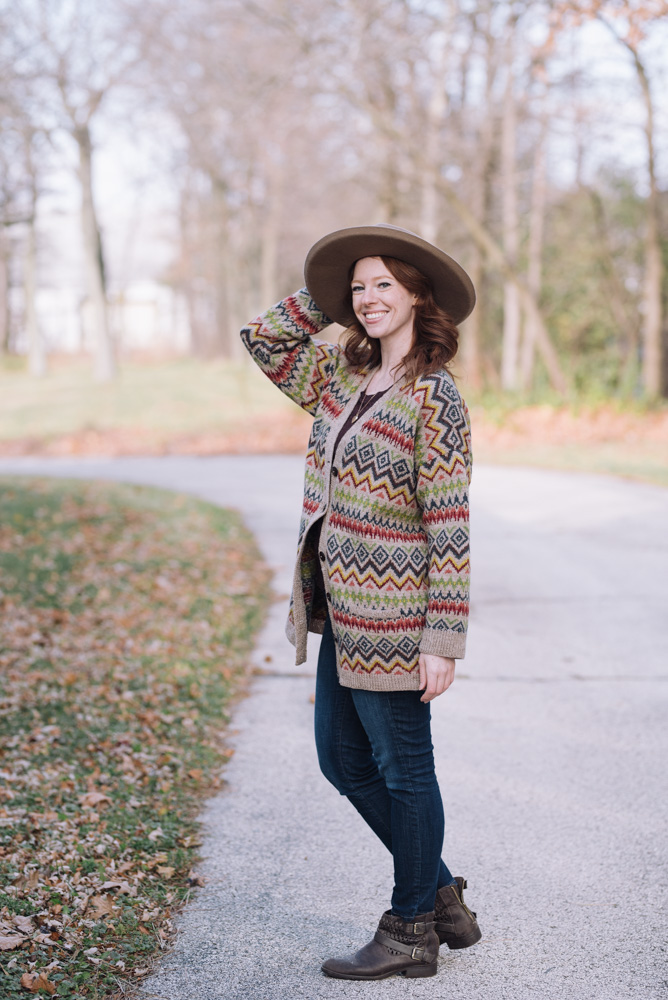 Pockets? Yes, please! The warm, stylish Western Winter Fair Isle Cardigan is one of our personal favorites, and not only because of the pockets. This long cardigan has plenty of ease for a vintage-inspired, loose fit. The ribbed cuffs, lower hems, and front bands are perfect for keeping the cold air at bay while keeping you as comfortable as can be.
Speaking of warmth, the Mystic Mountains Scarf will absolutely feel cozy on a winter hike or running errands around town. The eye-catching, color block scarf is knit in a bias garter stitch, giving you a completely reversible accessory that's fun and meditative to make.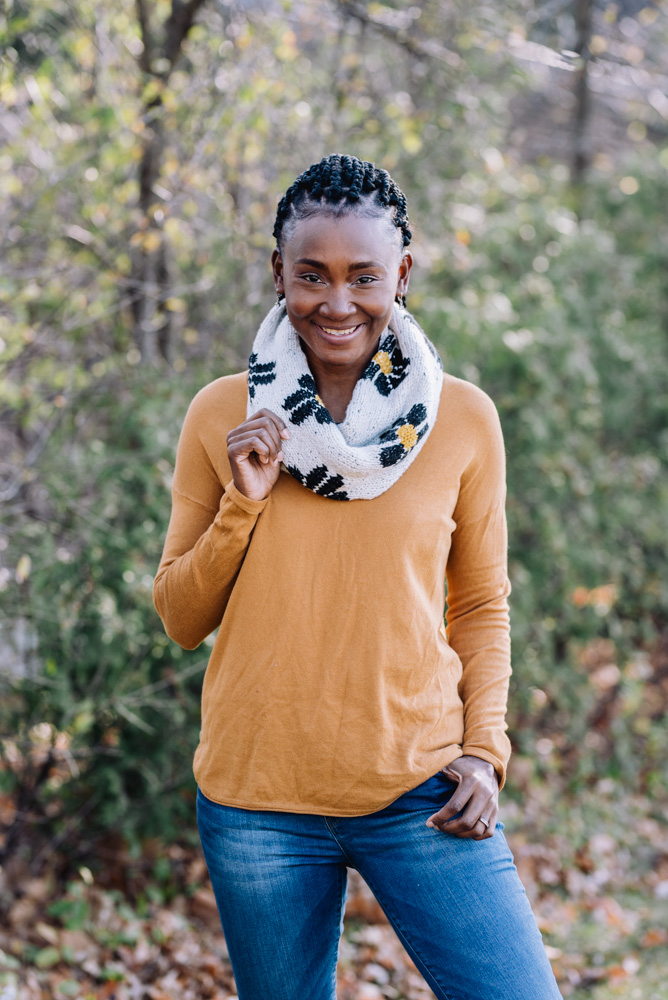 Even with spring on the way, we still have some icy days ahead. The Crazy Daisy Cowl gives you that bright, spring vibe and keeps you toasty. This Moebius cowl is double layered to protect you from windy winter nights, and embroidered with vivid daisies as a reminder that warmer days are coming.
The beautiful Blooming Lace Sweater is another garment that meets you between winter and spring. The luxurious Merino and Silk blend yarn is so fantastically soft and it drapes wonderfully. This sweater is perfectly flattering to wear over a dress or throw it on with your favorite jeans for a casual and comfortable look.
You get all of these patterns in the February 2021 issue with your I Like Knitting Gold Club Charter Membership along with instant access to our complete digital library of 600+ patterns, magazine issues, special collections, and more.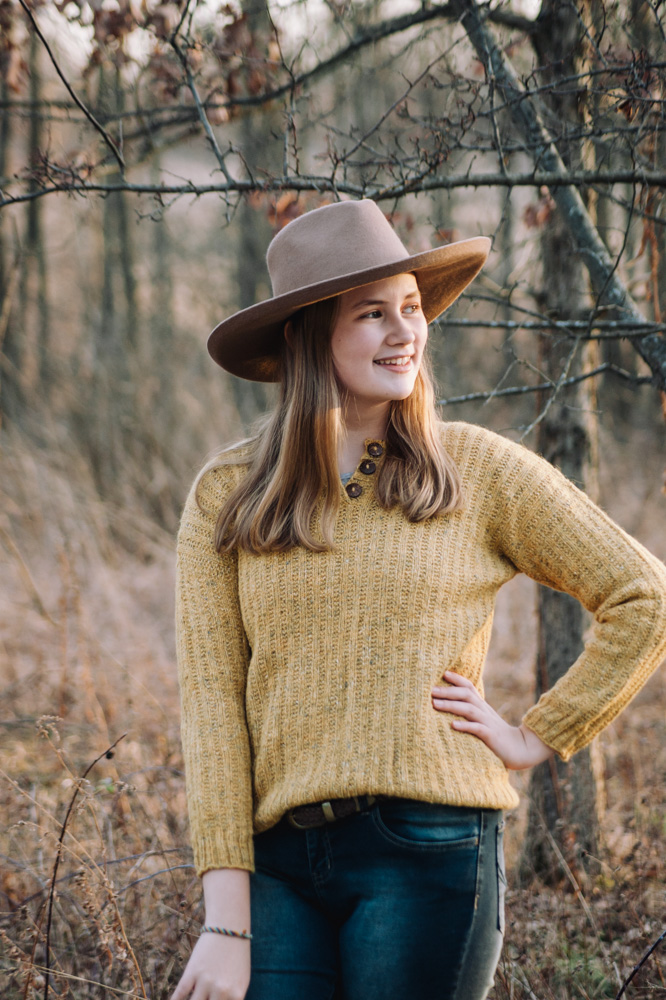 Get a fresh start with the February issue of I Like Knitting. From quick afternoon projects to more advanced patterns that you can work on over a few weekends, you'll find just the right thing for wherever you are in your knitting journey. We hope you'll enjoy the brand new issue of I Like Knitting, including these exciting new patterns:
The New Knit Henley Sweater is the epitome of casual, feel-good style.
The simple, open Garnet Longline Cardigan is the lightweight, comfortable piece you've been looking for.
Get ready for spring with The Weekend Tank, designed to be flattering and modern.
Skinny jeans or a midi skirt with boots, the Winter Prairie Vest goes with both. This shaped vest is nicely textured and ideal for layering.
… and that's just the beginning of the hundreds of patterns you have access to.
All the patterns and tutorials you want are here for you, 24 hours a day on your desktop, laptop, or tablet. Discover patterns that will keep your wardrobe fresh and stylish all year long, no matter the season.
But this is just a fraction of what you'll get with an I Like Knitting Gold Club Charter Membership—your membership includes subscriptions to the I Like Knitting Magazine Club and to the I Like Knitting Collections Club; full and immediate access to the digital library of 5+ years of magazine issues with 600+ knitting patterns and articles; step-by-step instructions for patterns; and video tutorials and full-color photographs for details about projects and stitches. Plus, FREE access to our two premium on-demand knitting videos, 9 Knitting Tutorials: Tips and Tricks for Knitters Old and New and Knitting Outside the Box: 3 Unexpected Stitch Tutorials.
Your I Like Knitting Gold Club Charter Membership gives you access to all of our knitting patterns and content, 24-hours-a-day on whatever device you prefer —desktop, or laptop. And the content is fully searchable, so you can find exactly what you want—when you want it—at your fingertips in an instant.
Here are just a few of the tantalizing patterns sitting in our library right now—and all contained in a single issue—to which you'll get instant access when you join the I Like Knitting Gold Club as a Charter Member:
Apple Leaves Sweater
Crisp Morning Cardigan
Spooky Cute Kitty Costume
Campfire Coals Cow
Macintosh Vest
Aspen Sweater
Cranberry Twist Sweater
The Touchdown Knit Scarf
Tailgating Messy Bun Hat
Alpine Cardi
Mountain Air Infinity Scarf Knitting Pattern
And the library of photos and video tutorials is gorgeous, inspiring, and practical— showing you exactly how your finished patterns should look and exactly how to execute stitches and patterns, even the difficult ones!
When you join our #1 community for knitting-lovers, you'll receive all of the handy benefits that knitters everywhere have been buzzing about:
You'll learn new stitch techniques with a variety of patterns that range from beginner to advanced.
You'll find expert tips and tricks that will help you achieve professional results.
You'll start getting requests for your stunning knitted items from your family and friends.
You'll have access to renowned designer patterns and tutorials from all over the world.
You'll never worry about mistakes in patterns or ripping out your progress because our tech-edited patterns are curated from trusted designers in the knitting community.
You'll be connected to an online community of knitters who are just as passionate as you!
Don't miss out on this exclusive Charter Membership offer to get all of the above and more!
When you activate your I Like Knitting Gold Club Charter Membership today, you'll get access to everything we have about knitting—all access and all the time:
A full year of upcoming issues of I Like Knitting magazine—Including 150+ exclusive designer knitting patterns and articles with step-by-step instructions, video tutorials and full- color photography for details of projects and stitches
Instant access to EVERY issue we've ever published—a vast library of more than 5 years of issues with 600+ patterns and articles
A full-year's subscription to the I Like Knitting Collections Club that includes 60 NEW and trendy patterns refreshed annually
Regular e-newsletters, full of the latest knitting tips & tricks and even more FREE patterns
NEW! Free Bonus! Instant access to our just-released on-demand streaming knitting videos, 9 Knitting Tutorials: Tips and Tricks for Knitters Old and New and Knitting Outside the Box: 3 Unexpected Stitch Tutorials—featuring patterns and tips for knitters of every skill level.
And here's what you don't get when you become a Charter Member of the I Like Knitting Gold Club—advertisements! That's right, we're advertising-free, so that we can devote more time, space, and effort to helping you be an awesome knitter.
All of this is available to you—right now—when you claim your I Like Knitting Gold Club Charter Membership. This special offer includes FREE unlimited access to our two streaming knitting videos, 9 Knitting Tutorials: Tips and Tricks for Knitters Old and New and Knitting Outside the Box: 3 Unexpected Stitch Tutorials…our gift for signing up now!
No other online magazine in the world has everything about knitting, all in one place and vetted and curated for your easy access and use.
Knitters everywhere have been enjoying I Like Knitting magazine for years, and now it's better than ever with more benefits, patterns, and content than you could ever imagine—with an I Like Knitting Gold Club Charter Membership.
When we first put this new club together for knitters like you, your needs and desires were top-of-mind. We're the ultimate resource and network for knitters everywhere, offering original designer patterns and content from authoritative and respected voices in the knitting world.
I think you'll agree that this really is an unusual offer, plus FREE access to our two premium streaming knitting videos when you become an I Like Knitting Gold Club Charter Member today! It's an incredible deal that you don't want to ignore!
Why not be among the select group of knitters to join us today and benefit from all the valuable information about knitting that you can't get anywhere else?
Become an I Like Knitting Gold Club Charter Member today—while this special offer lasts!
Happy knitting,

Caitlin Eaton
Editor, I Like Knitting Magazine
P.S. – Please join today so you can take advantage of this special Charter Membership offer, plus two FREE knitting videos!