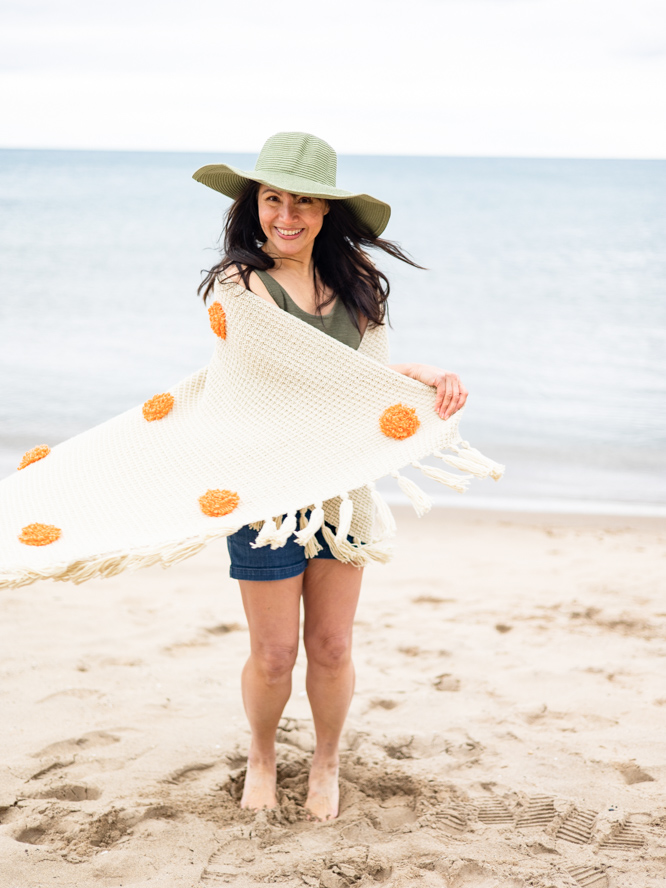 This classic throw features a simple repeating waffle stitch for a cozy, textured addition to your collection of blankets. Peyton is worked in one piece, then accented with tassels and finished off with playful yarn fur circles.
Time: Week Project
Skill Level: Easy
Size: 60" long and 36" wide (including fringe)
Gauge: 22 sts and 32 rows = 4" [10 cm] in waffle stitch
Materials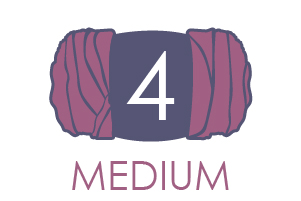 Yarn: Cascade 220 Superwash Merino (100% superwash Merino wool; 220 yards [200 meters]/100 grams): #71 Parsnip (MC, 10 skeins), #07 Bird of Paradise (CC, 2 skeins)
Needles: US size 6 (4 mm) 32" circular needle and DPNs
Notions: Tapestry needle, scissors, 12" ruler
Special Stitches
Loop Stitch (loop) – K into the next st without dropping it off the needle. Bring the yarn to the front between the 2 needles, loop it over your left thumb, then bring the yarn to the back again, between the needles. K the same stitch again, this time dropping it off the left needle, like a normal knit stitch. Insert the left needle tip into the second st from the end on the right needle and bring it over the first st and off the right needle.
Pattern Notes
Throw is worked sideways so that the CO and BO edges will be the long sides of the throw.
A circular needle is used for this pattern due to the large number of stitches, however you will not be working in the round. You will be working the throw back and forth in rows.
Pattern
Tassels (make 42)
Cut ten 12" lengths of MC (this is easiest to do by wrapping the yarn 5 times around a 12" hard ruler, then cutting both ends). Holding all 10 together, fold them in half to create a loop on one end. Using another 12" length of MC, wrap 7 times snugly around the bundle, approximately ¾" below the top of the loop, to create the head of the tassel. Then knot in place and trim the two ends of the yarn level with the rest of the strands. This will yield a final tassel length of  approximately 5¼ inches. Make 42 tassels the same, then set aside.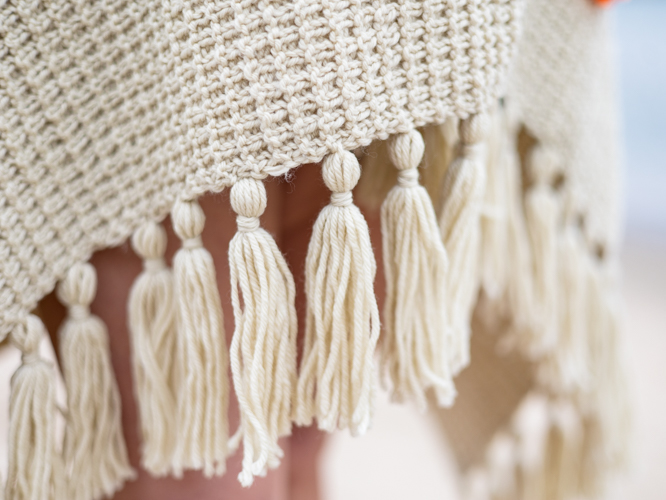 Throw
With MC, CO 286 sts.
Rows 1 (RS) & 2 (WS): Sl1p wyif, p1, *k1, p1; rep from * to end of row.
Rows 3 & 4: Sl1p wyif, k to end of row.
Rows 5 & 6: Sl1p wyif, k1, *p1, k1; rep from * to end of row.
Rows 7 & 8: Sl1p wyif, k to end of row.
Rep Rows 1-8 until the throw measures 36", or to the desired width, ending with Row 2 or 6. BO all sts and weave in yarn ends.
Fur Circles (make 12)
Working from the outside in:
Using dpns and CC, CO 40 sts and join to beg working in the rnd.
Odd Rnds 1-9: *Loop; rep from * to end of rnd.
Rnd 2: *P3, p2tog; rep from * to end of rnd. (32 sts rem)
Rnd 4: *P2, p2tog; rep from * to end of rnd. (24 sts rem)
Rnd 6: *P1, p2tog; rep from * to end of rnd. (16 sts rem)
Rnd 8: *P2tog; rep from * to end of rnd. (8 sts rem)
Cut yarn, leaving a short tail. Thread tail through the rem sts and cinch tightly. Weave in yarn ends.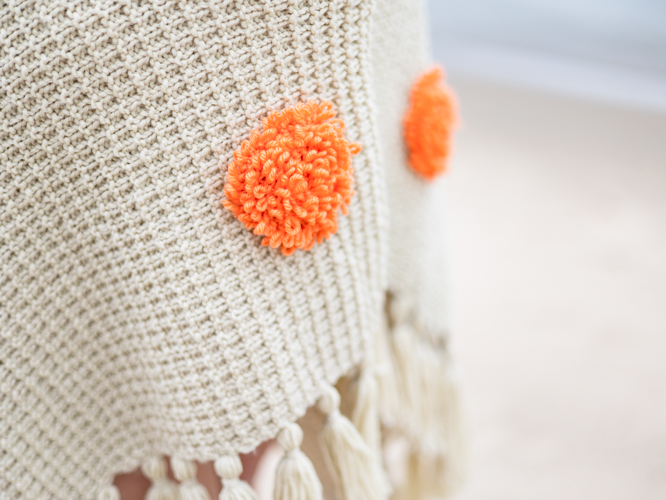 Finishing
Using lengths of MC, attach the tassels along the 2 short sides of the blanket, evenly spacing 21 tassels per side.
Using the pictures as a guide, stitch the fur circles in place, evenly distributed in a 3 x 4 grid onto the RS of the blanket. Weave in all yarn ends
In the video tutorial Jen is making a really thick tassel with a loop to dangle it from