Get started on these exclusive plaid knitting patterns right now with your I Like Knitting Gold Club membership!
Dear Knitting Enthusiast,
The Plaid Knitting Collection from I Like Knitting is here! From the Highland Hero Sweater on our cover, to cowls, scarves, blankets and bags, your biggest struggle will be deciding which project to tackle first. Enjoy this exclusive knitting collection with a stunning variety of projects in styles ranging from clearly classic to creatively colorful!
This collection covers all the plaid bases: preppy, red, brioche, plus gingham, check — even houndstooth!
The Plaid Knitting Collection from I Like Knitting is packed with stunning projects from some of our favorite designers. There are patterns for the expert knitters among us, as well as patterns for beginning and intermediate knitters. So, whether you want a challenge or you just want to unwind, there's a pattern waiting for you.
Now on to the knitting!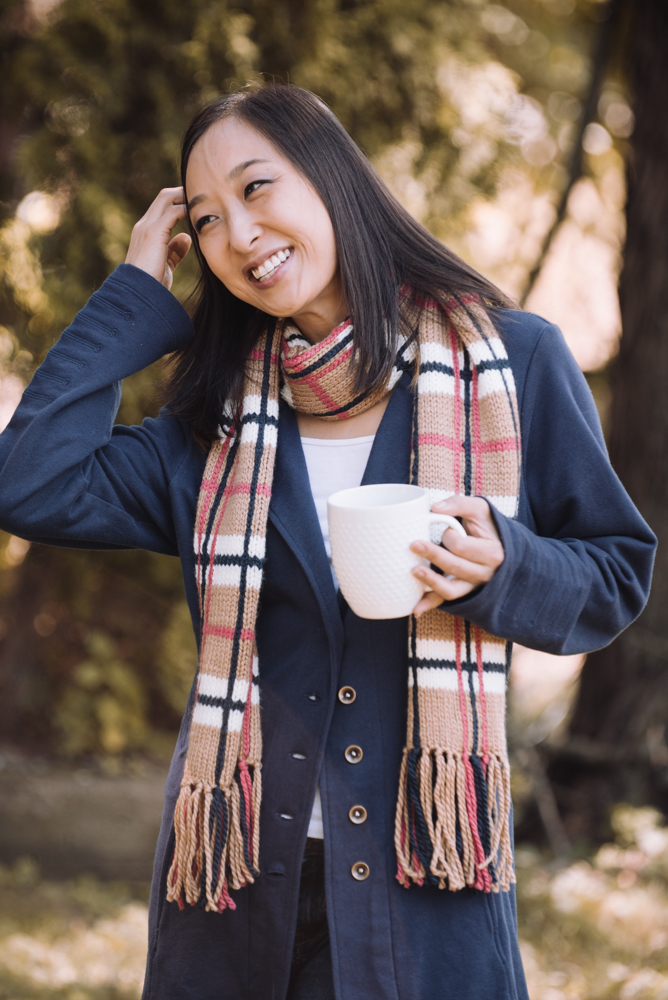 A plaid scarf is a classic, timeless piece to have within easy reach in your closet. This Plaid Prep Scarf by Emily Ringelman is a "best of both worlds" project — it looks way more complicated than it really is. The secret to this plaid project? Slip-stitch crochet to make the vertical stripes once the scarf is mostly done. Beautiful and brilliant!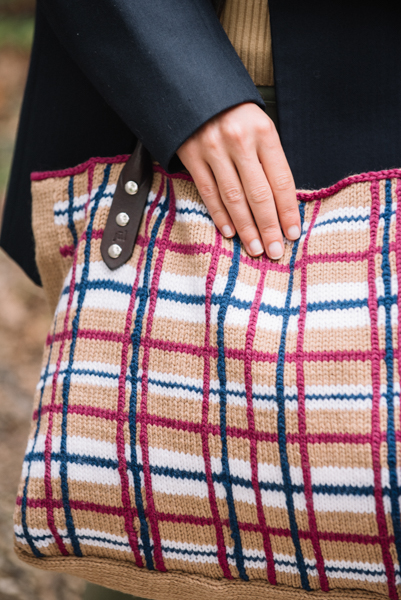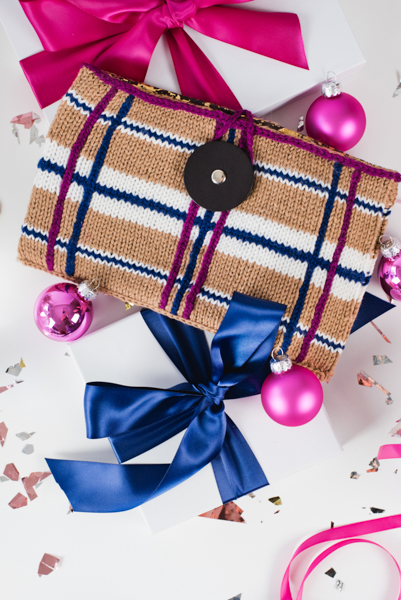 Need a little preppy accessory to go with that scarf? Well, designer Emily Ringelman has designed a companion piece rated Easy. Make the Plaid Prep Clutch in an afternoon and head out in style for the evening. Need something bigger than a clutch? How about the Plaid Prep Tote Bag? It's rated Easy, too — enjoy the compliments when you head out with this coordinated set!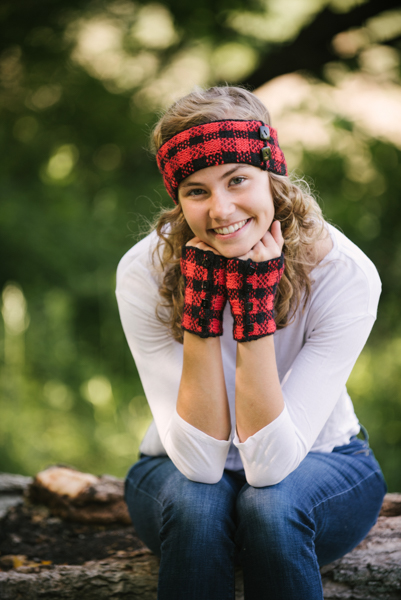 For some knitters, plaid must come in red and black. Designer Paolo Albergamo has made sure you can stay cozy and warm on your morning walk with the Buffalo Plaid Headband & Mitts Set. The tartan stitch evokes a classic plaid feeling, and you can decide if you want to add buttons as a decorative element to complement the design.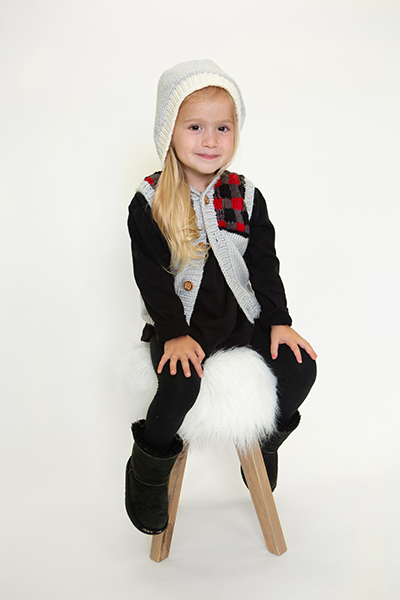 Don't leave the little ones out in the cold; make this Woodsy Hoodsy Toddler Vest by Linda Riley for your favorite little lumberjack! This pattern features a bold buffalo plaid, cute wooden buttons, and a cozy hood. It's the perfect fall and winter layering piece they'll love to wear!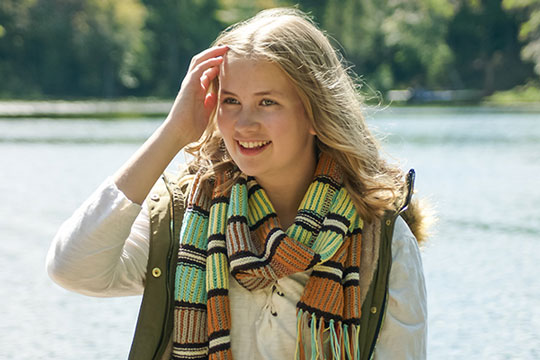 Take your scarf-making to the next level with this stunning Plaid Personality Brioche Scarf by Renate Kamm. Not only is this scarf cushy and colorful, it's fully reversible! And while it looks complicated, the syncopating process is easy once you get the hang of the rhythm. The brioche design is worked in four colors, with groups of garter stitches in between to more effectively showcase the multi-color design. Pick your color combos, and let's go!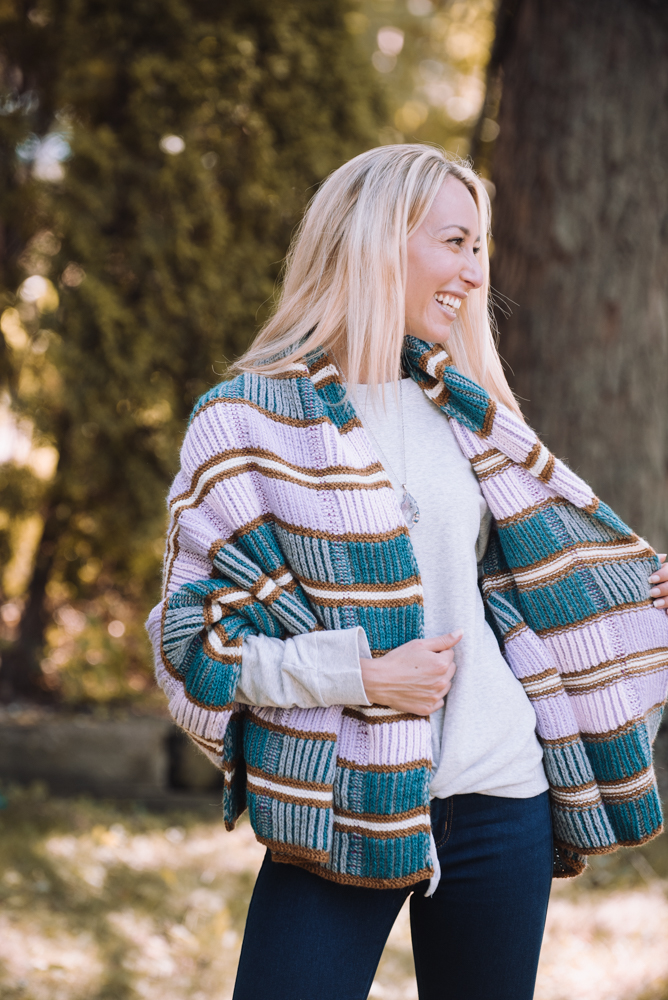 Maybe you'd like a brioche project with a bigger, bolder plaid pattern. Renate Kamm has you covered with the Color Me Plaid Brioche Wrap. This brioche wrap features a fully reversible syncopated 4-color brioche design. Color changes are easy to remember, with garter stitches punctuating the shift. When you're done, give the garter stitches a little decoration, with strands of purple yarn drawn through the purl bumps. You'll want to keep this piece in the front of your closet!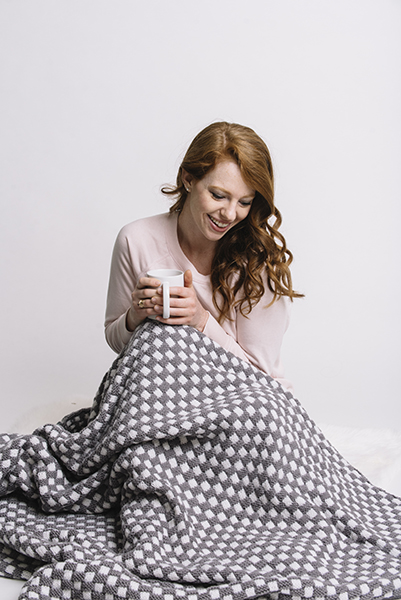 Gingham and checks deserve some knit time, and we have plenty of projects in both styles for you to try! The Corinna Checker Blanket by Stana D. Sortor is worked flat in two colors, and finished off with a fabric backing to keep any yarn strands tucked out of sight. Finish this project off with an I-cord edging. The Corinna could become your next favorite cozy reading blanket!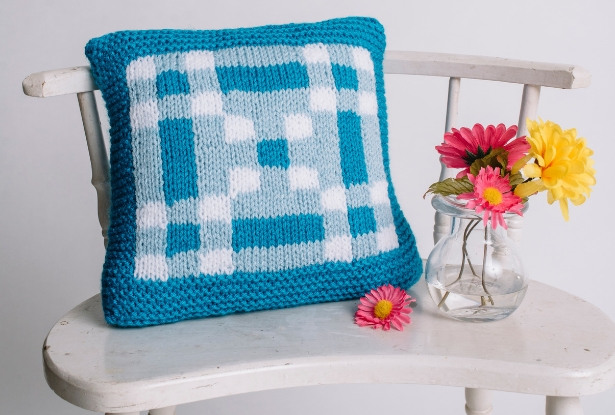 We love the look of gingham, and designer Debra Arch has taken gingham to a new level with her Shuffled Gingham Pillow. It's just a little different than traditional gingham, giving it an extra pop of eye-catching design. Play with colors and placement to create your own one-of-a-kind gingham pillow. Destined to become a classic!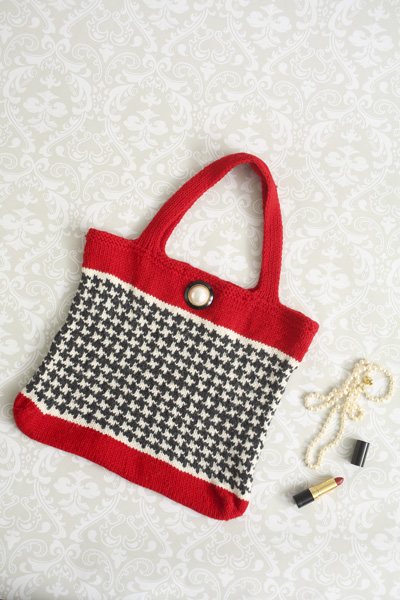 Now, what could be more classic than houndstooth? Worked in the traditional black and white with red as the classic accent color, the Houndstooth Boulevard Bag by Brenda Castiel showcases that classic houndstooth check to its best advantage. An oversize decorative button completes the look. Of course, red is the traditional accent color. But what about lime green or vivid magenta? Let your houndstooth run free!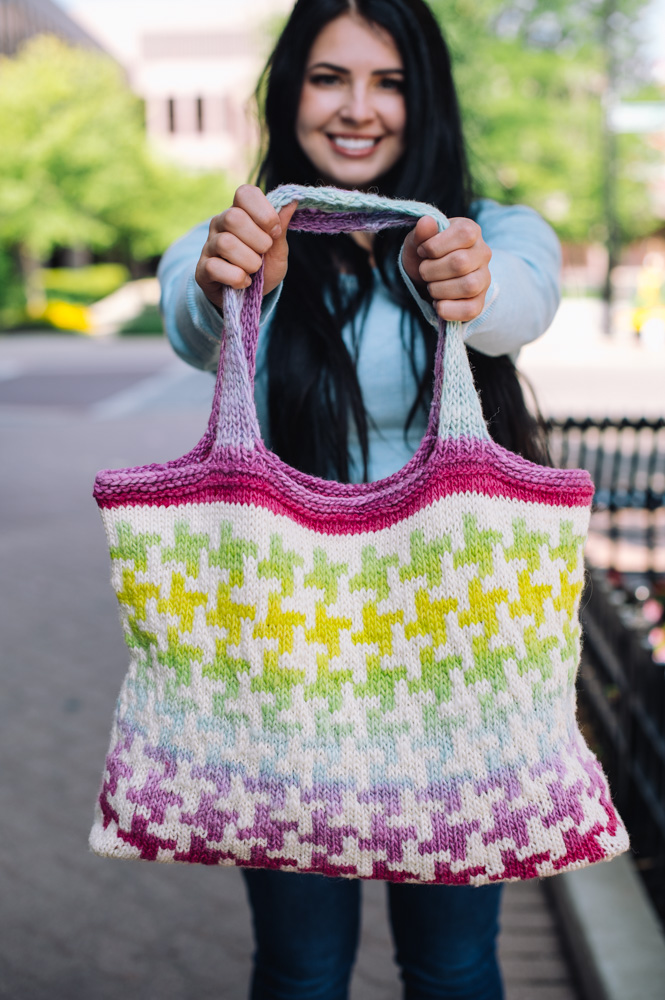 Designer Brenda Castiel has a playful take on houndstooth with her Kaleidoscope Houndstooth Bag. This big, bold bag features an oversized classic houndstooth check with a vibrant rainbow gradient yarn. Start with a rectangle for the bottom, then pick up your stitches and finish this artful masterpiece in the round!
This is just a sample of the designs in the Plaid Knitting Collection from I Like Knitting. And that's just part of your I Like Knitting Gold Club Charter Membership. Along with the Plaid Knitting Collection, you have instant access to our complete digital library of 700+ patterns, magazine issues, special collections, tutorials, and articles.
This Plaid Knitting Collection is packed with more than 20 patterns in all, designed to delight you and spark your creative knitting spirit. Here's a peek at some other patterns:
All the patterns and tutorials you want are here for you, 24 hours a day on your desktop, laptop, or phone. Discover patterns that will inspire your creativity and give you great ideas for gifts—or maybe a little something for you!
But this is just a fraction of what you'll get with an I Like Knitting Gold Club Charter Membership—your membership includes subscriptions to the I Like Knitting Magazine Club and to the I Like Knitting Collections Club; full and immediate access to the digital library of 5+ years of magazine issues with 600+ knitting patterns and articles; step-by-step instructions for patterns; and video tutorials and full-color photographs for details about projects and stitches. Plus, FREE access to our two premium on-demand knitting videos, 9 Knitting Tutorials: Tips and Tricks for Knitters Old and New and Knitting Outside the Box: 3 Unexpected Stitch Tutorials.
Your I Like Knitting Gold Club Charter Membership gives you access to all of our knitting patterns and content, 24-hours-a-day on whatever device you prefer —desktop, or laptop. And the content is fully searchable, so you can find exactly what you want—when you want it—at your fingertips in an instant.
Here are just a few of the tantalizing patterns sitting in our library right now—and all contained in a single issue—to which you'll get instant access when you join the I Like Knitting Gold Club as a Charter Member:
Apple Leaves Sweater
Crisp Morning Cardigan
Spooky Cute Kitty Costume
Campfire Coals Cow
Macintosh Vest
Aspen Sweater
Cranberry Twist Sweater
The Touchdown Knit Scarf
Tailgating Messy Bun Hat
Alpine Cardi
Mountain Air Infinity Scarf Knitting Pattern
And the library of photos and video tutorials is gorgeous, inspiring, and practical— showing you exactly how your finished patterns should look and exactly how to execute stitches and patterns, even the difficult ones!
When you join our #1 community for knitting-lovers, you'll receive all of the handy benefits that knitters everywhere have been buzzing about:
You'll learn new stitch techniques with a variety of patterns that range from beginner to advanced.
You'll find expert tips and tricks that will help you achieve professional results.
You'll start getting requests for your stunning knitted items from your family and friends.
You'll have access to renowned designer patterns and tutorials from all over the world.
You'll never worry about mistakes in patterns or ripping out your progress because our tech-edited patterns are curated from trusted designers in the knitting community.
You'll be connected to an online community of knitters who are just as passionate as you!
Don't miss out on this exclusive Charter Membership offer to get all of the above and more!
When you activate your I Like Knitting Gold Club Charter Membership today, you'll get access to everything we have about knitting—all access and all the time:
A full year of upcoming issues of I Like Knitting magazine—Including 150+ exclusive designer knitting patterns and articles with step-by-step instructions, video tutorials and full- color photography for details of projects and stitches
Instant access to EVERY issue we've ever published—a vast library of more than 5 years of issues with 600+ patterns and articles
A full-year's subscription to the I Like Knitting Collections Club that includes 60 NEW and trendy patterns refreshed annually
Regular e-newsletters, full of the latest knitting tips & tricks and even more FREE patterns
NEW! Free Bonus! Instant access to our just-released on-demand streaming knitting videos, 9 Knitting Tutorials: Tips and Tricks for Knitters Old and New and Knitting Outside the Box: 3 Unexpected Stitch Tutorials—featuring patterns and tips for knitters of every skill level.
And here's what you don't get when you become a Charter Member of the I Like Knitting Gold Club—advertisements! That's right, we're advertising-free, so that we can devote more time, space, and effort to helping you be an awesome knitter.
All of this is available to you—right now—when you claim your I Like Knitting Gold Club Charter Membership. This special offer includes FREE unlimited access to our two streaming knitting videos, 9 Knitting Tutorials: Tips and Tricks for Knitters Old and New and Knitting Outside the Box: 3 Unexpected Stitch Tutorials…our gift for signing up now!
No other online magazine in the world has everything about knitting, all in one place and vetted and curated for your easy access and use.
Knitters everywhere have been enjoying I Like Knitting magazine for years, and now it's better than ever with more benefits, patterns, and content than you could ever imagine—with an I Like Knitting Gold Club Charter Membership.
When we first put this new club together for knitters like you, your needs and desires were top-of-mind. We're the ultimate resource and network for knitters everywhere, offering original designer patterns and content from authoritative and respected voices in the knitting world.
I think you'll agree that this really is an unusual offer, plus FREE access to our two premium streaming knitting videos when you become an I Like Knitting Gold Club Charter Member today! It's an incredible deal that you don't want to ignore!
Why not be among the select group of knitters to join us today and benefit from all the valuable information about knitting that you can't get anywhere else?
Become an I Like Knitting Gold Club Charter Member today—while this special offer lasts!
Happy knitting,

Caitlin Eaton
Editor, I Like Knitting Magazine
P.S. – Please join today so you can take advantage of this special Charter Membership offer, plus two FREE knitting videos!