There's snow time like the present to knit a cozy project!
Dear Knitting Friend,
When the powder is deep, skiers hit the slopes. When the day of downhill is done, it's time to light a fire, settle in, and cozy up to your next knitting project. We have you covered from head to toe with stunning projects you can knit anytime. Some are perfectly portable; others need a little space to spread out. One thing you can be sure of: you won't run short of projects any time soon when you have the Après Ski Collection from I Like Knitting!
Sweet Sweaters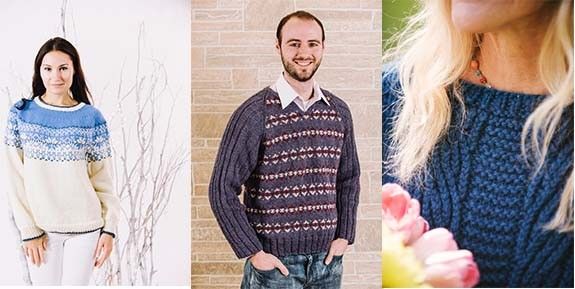 There's nothing to take the chill off the day like a comfy sweater. We have a delightful array of sweater patterns for both children and adults. If colorwork is your thing, consider the Nordic Night Pullover with its stunning snowflake pattern. The Modern Gentleman's Pullover is sure to be a hit with a man who needs a dapper new sweater for the cold weather. If a solid sweater is on your to-knit list, maybe you'd like to make the Blue Mountain Pullover with its beautiful swirling texture.
Our Après Ski Collection also includes cardigans for everyone from toddlers to adults, a very versatile vest, and a positively adorable Fair Isle capelet.
Make it a Set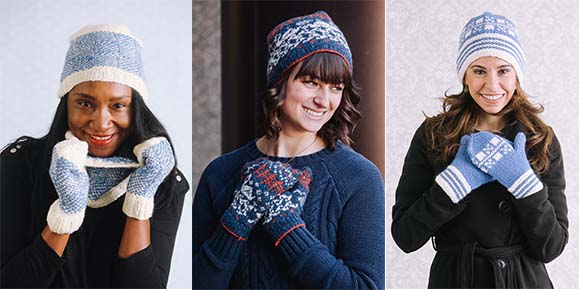 Need to knit the perfect present? How about a hat and mitten set? We have two — plus a 3-piece super set! The Cozy Checks Hat, Mitts, and Cowl Set is a perfect project for beginning and experienced knitters alike. Most of the project is knit in the round, and you'll love the way the two colors work together to create the checked pattern and cozy texture. For some stunning colorwork, make the Swan Lake Hat and Mittens Set. The pattern is fully charted so your swans will come out swimmingly! For more fun colorwork, make the Latvian Hat and Mitten Set — so bright and cheerful!
Super Scarves & Cowls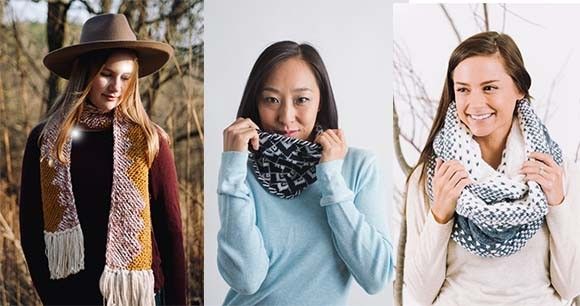 You can really never have too many scarves, can you? They're fun to make, fun to wear, and great to give as gifts. The Mystic Mountains Scarf is an easy weekend project you'll want to wear as soon as it's off your needles. Knit in a bias garter stitch, this eye-catching color block scarf is one of our favorite types of projects — it looks way more complicated to make than it really is! Get into the zigzag zone with simple short rows, increases, and decreases. You can customize this scarf to have it your way, and it works well with virtually any yarn, especially gradient yarn (one of our favorites!). If you prefer working in the round, try the Kiona Cowl with its geometric pattern evoking fish in the sea; Snow What Fun Cowl with its bright diamond pattern; Mountain Air Infinity Scarf with the lovely feel of a fresh snowfall; the Snowflake Infinity Scarf with its Scandinavian-inspired tessellating design; or the Fuchsia Snowflakes Cowl with its bold pattern and beautiful edging. The Corey Colorwork Scarf is worked in the round, too. It will give you a creative challenge with a stunning payoff. You'll love the feel and drape of this scarf — you may want to keep it for yourself!
Marvelous Mittens

Mittens are a basic winter staple, but our mittens are anything but basic! Our Blumen Baum Mittens feature a blooming tree on the back of the hand, stripes on the thumb, and checks on the palm. Get your double-points out and get going! Or go for the Breckenridge Mittens, an easy Fair Isle pattern that works up quickly in the round. The Frosted Snowblossom Mittens are a bold colorwork project with plenty of visual interest — pick your favorite color combo! And if you like the Kiona Cowl, there's a mitten pattern to match! Make a pair of eye-catching Kiona Mittens with a change from the basic rib stitch cuff; these mittens have a twisted garter edge that really sets them apart.
Sofa Snuggles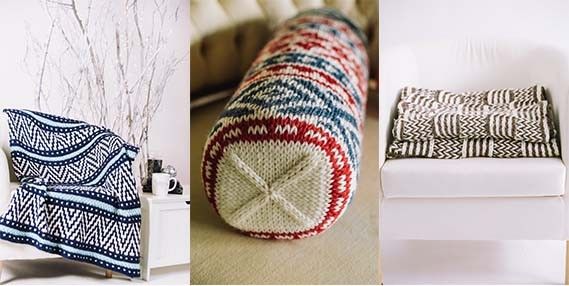 There's snow place like home, and now is always a good time to work on something for your sofa. The Starry Mountains Afghan brings the feel of the mountains inside with its bold nested chevrons. Narrower bands of blue and white sprinkle a suggestion of stars across the mountains. Our Nordic Bolster Pillow draws on classic Nordic patterning in the round and can be finished in a weekend. And if you like the look of modular knitting but you'd rather not have to join dozens of pieces together, make our Faux Modular Afghan using the stranded knitting method. The stitch pattern gives the illusion of squares, all knit in one continuous piece. And you can customize this pattern to make your afghan just the size you want.
Toasty Toes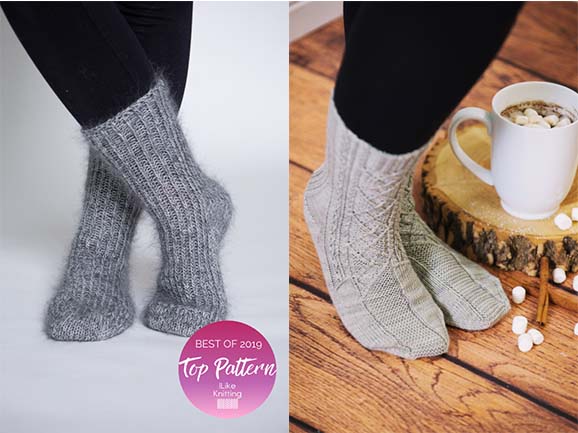 Toast your toes by the fire with a pair of beginner-friendly socks. Work our Fluffy Lodge Socks from the toe up — a pair at a time! The twisted rib pattern adds texture and extra coziness. If you're an old hand at knitting socks, this pattern is flexible enough for you to customize it with your preferred heel and toes techniques to make these socks uniquely yours. The Adirondack Socks are worked from the top down and feature a lovely zig-zag cable that may remind you of zipping down the slopes or rambling through the woods. This pattern is a combination of simple cables, garter stitch, lace, and a Fleegle heel. They're so pretty, you won't want to cover them up!
All these patterns and more are in our Après Ski Collection from I Like Knitting. There's something here to satisfy every knitter's interest. Which project will you pick first?
But this is just a fraction of what you'll get with an I Like Knitting Gold Club Charter Membership—your membership includes subscriptions to the I Like Knitting Magazine Club and to the I Like Knitting Collections Club; full and immediate access to the digital library of 5+ years of magazine issues with 600+ knitting patterns and articles; step-by-step instructions for patterns; and video tutorials and full-color photographs for details about projects and stitches. Plus, FREE access to our two premium on-demand knitting videos, 9 Knitting Tutorials: Tips and Tricks for Knitters Old and New and Knitting Outside the Box: 3 Unexpected Stitch Tutorials.
Your I Like Knitting Gold Club Charter Membership gives you access to all of our knitting patterns and content, 24-hours-a-day on whatever device you prefer —desktop, or laptop. And the content is fully searchable, so you can find exactly what you want—when you want it—at your fingertips in an instant.
Here are just a few of the tantalizing patterns sitting in our library right now—and all contained in a single issue—to which you'll get instant access when you join the I Like Knitting Gold Club as a Charter Member:
Apple Leaves Sweater
Crisp Morning Cardigan
Spooky Cute Kitty Costume
Campfire Coals Cow
Macintosh Vest
Aspen Sweater
Cranberry Twist Sweater
The Touchdown Knit Scarf
Tailgating Messy Bun Hat
Alpine Cardi
Mountain Air Infinity Scarf Knitting Pattern
And the library of photos and video tutorials is gorgeous, inspiring, and practical— showing you exactly how your finished patterns should look and exactly how to execute stitches and patterns, even the difficult ones!
When you join our #1 community for knitting-lovers, you'll receive all of the handy benefits that knitters everywhere have been buzzing about:
You'll learn new stitch techniques with a variety of patterns that range from beginner to advanced.
You'll find expert tips and tricks that will help you achieve professional results.
You'll start getting requests for your stunning knitted items from your family and friends.
You'll have access to renowned designer patterns and tutorials from all over the world.
You'll never worry about mistakes in patterns or ripping out your progress because our tech-edited patterns are curated from trusted designers in the knitting community.
You'll be connected to an online community of knitters who are just as passionate as you!
Don't miss out on this exclusive Charter Membership offer to get all of the above and more!
When you activate your I Like Knitting Gold Club Charter Membership today, you'll get access to everything we have about knitting—all access and all the time:
A full year of upcoming issues of I Like Knitting magazine—Including 150+ exclusive designer knitting patterns and articles with step-by-step instructions, video tutorials and full- color photography for details of projects and stitches
Instant access to EVERY issue we've ever published—a vast library of more than 5 years of issues with 600+ patterns and articles
A full-year's subscription to the I Like Knitting Collections Club that includes 60 NEW and trendy patterns refreshed annually
Regular e-newsletters, full of the latest knitting tips & tricks and even more FREE patterns
NEW! Free Bonus! Instant access to our just-released on-demand streaming knitting videos, 9 Knitting Tutorials: Tips and Tricks for Knitters Old and New and Knitting Outside the Box: 3 Unexpected Stitch Tutorials—featuring patterns and tips for knitters of every skill level.
And here's what you don't get when you become a Charter Member of the I Like Knitting Gold Club—advertisements! That's right, we're advertising-free, so that we can devote more time, space, and effort to helping you be an awesome knitter.
All of this is available to you—right now—when you claim your I Like Knitting Gold Club Charter Membership. This special offer includes FREE unlimited access to our two streaming knitting videos, 9 Knitting Tutorials: Tips and Tricks for Knitters Old and New and Knitting Outside the Box: 3 Unexpected Stitch Tutorials…our gift for signing up now!
No other online magazine in the world has everything about knitting, all in one place and vetted and curated for your easy access and use.
Knitters everywhere have been enjoying I Like Knitting magazine for years, and now it's better than ever with more benefits, patterns, and content than you could ever imagine—with an I Like Knitting Gold Club Charter Membership.
When we first put this new club together for knitters like you, your needs and desires were top-of-mind. We're the ultimate resource and network for knitters everywhere, offering original designer patterns and content from authoritative and respected voices in the knitting world.
I think you'll agree that this really is an unusual offer, plus FREE access to our two premium streaming knitting videos when you become an I Like Knitting Gold Club Charter Member today! It's an incredible deal that you don't want to ignore!
Why not be among the select group of knitters to join us today and benefit from all the valuable information about knitting that you can't get anywhere else?
Become an I Like Knitting Gold Club Charter Member today—while this special offer lasts!
Happy knitting,

Caitlin Eaton
Editor, I Like Knitting Magazine
P.S. – Please join today so you can take advantage of this special Charter Membership offer, plus two FREE knitting videos!