It's time to turn those random single skeins into something beautiful and fun!
I'll admit it. I have so many single skeins of yarn that I overbought for projects that never happened, or that didn't take as much yarn as I thought they would. It's so hard to resist a half-off sale – especially when it's that hand-spun, hand-dyed cashmere!
Our unofficial office survey revealed that it's not just me, either. We all have a small collection of single skeins, which is why we're introducing the One-Skein Knitting Collection. 27 skeins. 27 patterns. 27 projects you can finish in no time, and you'll want to wear all the time.
Who's ready to start? Grab your favorite skein and give it a new purpose in life. Let's take a look at the new patterns in the special One-Skein Knitting Collection.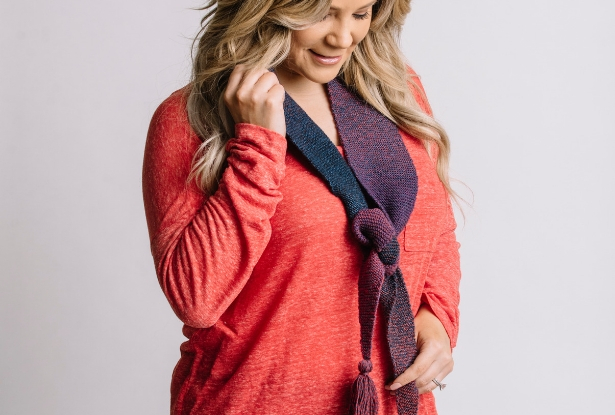 Felix Knotted Scarf
Felix is a fun scarf to add to an outfit in any season, and it's a fantastic project for a beginning knitter looking for something more interesting than a rectangular scarf. Finish the scarf with tassels, and tie it together when you wear it for the perfect accessory.
You work this scarf from side to side with minimal shaping to make the points at each end. The best part is that it's easy enough to work that you can make more and surprise all your friends who tell you how beautiful it is.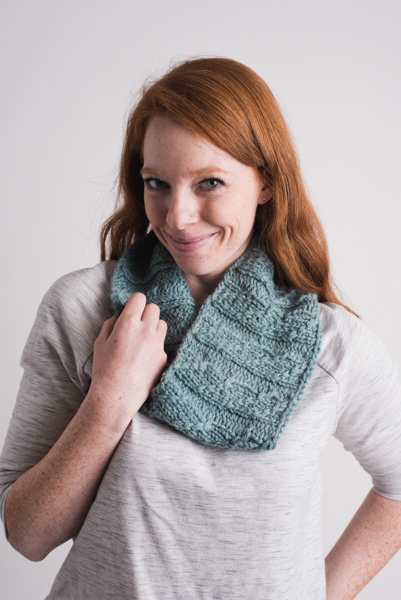 Crisial Cowl
This cowl gets its name from Welsh word for crystal – "crisial." Inspired by the geometric shapes of crystals, the Crisial Cowl uses a simple two-stitch cable to achieve a classic, textural piece that's ideal in any season. You can work this with aran or heavy worsted weight yarn – they both work well with this project. And it's easy to customize by adding or subtracting repeats. Trust me, you'll want to make a few of these to match with any outfit!
The Path to Knitting Success
The patterns in the One-Skein Knitting Collection are specially-picked to help you succeed. Beginning knitters can feel pride in creating a new scarf or headband. Experienced knitters can relax and have some fun revisiting some classic patterns.
Every pattern in this collection, and in fact, every pattern we publish in I Like Knitting, comes complete with:
A complete list of all the yarns and tools
Row by row instructions
Special stitch instructions
Pattern notes
Detailed, full-color photography
It really is as easy as possible to create stunning pieces. Check out some more of the patterns in the One-Skein Knitting Collection.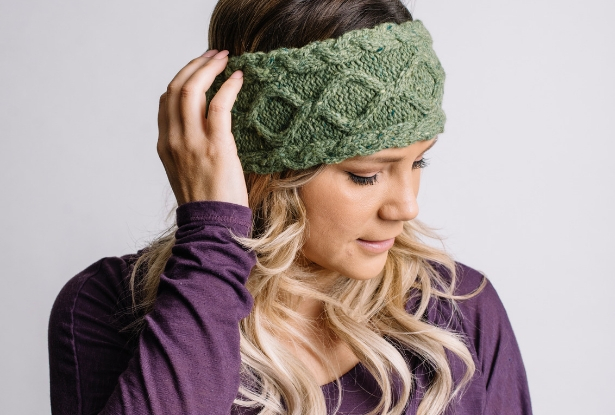 Hazel Cabled Headband Ear Warmer
This pattern is a lot easier than it looks. The trendy headband effortlessly combines texture and color in a cable and braid design. The final product is 22" in length and fastens with three buttons you sew on to finish.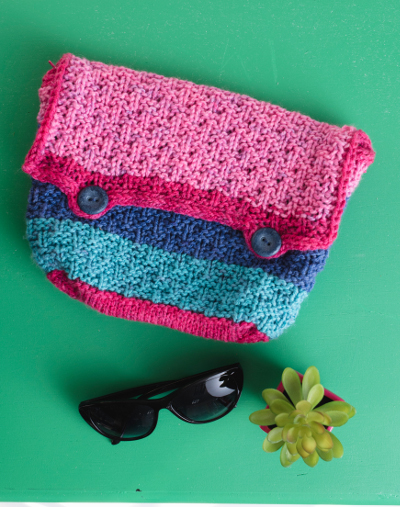 Cora Clutch
It's hard to believe this cute little clutch only takes one skein of yarn, but when you use a mixed-colored yarn, like the Mixed Berry we used here, you can get some truly beautiful patterns. The Cora also looks great as a single color, too. You'll knit this textured clutch in the round, and for added durability, this pattern also includes a fabric lining and a zipper.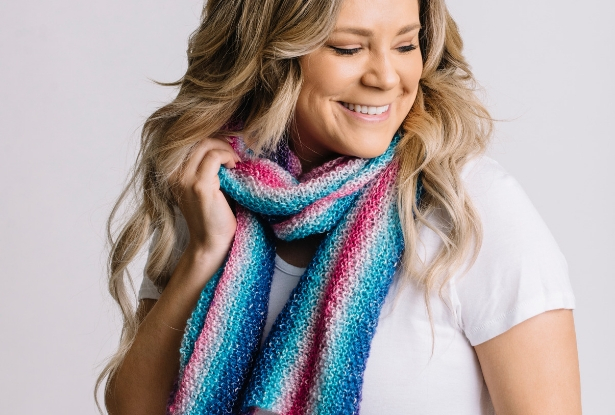 Makenna Striped Scarf
Here's another pattern that takes advantage of a multi-colored cake of yarn. The Makenna Striped Scarf is fun and easy to make, and once you get going, you won't need the pattern, so it's perfect for on-the-go knitting. And the finished result is absolutely stunning!
The secret here is that the yarn directs your knitting. When the color changes, it's time to change stitches. Because this scarf is so quick to work up, it makes an ideal gift that anyone would love to receive.
Knitting like never before!
Get started on your first knitting project ever, or finally use that skein that's sitting in your basket waiting for just the right pattern. No matter how much or how little experience you have, the One-Skein Knitting Collection is full of inspiration, and will give you something to try no matter what that skein is made of:
Super Fine is Divine: A skein of superfine Merino Wool feels simply wonderful. Use it for the Felix Knotted Scarf and you won't be able to keep your hands away from it.
Go Bulky: Soft as soft can be, a superwash bulky wool helps the Crisial Cowl work up easily. You'll love the way a bulky wool glides from skein to needle to finished project.
Medium Weight Merino: Thinner and softer than regular wool, and naturally luxurious, Merino wool is the perfect yarn for the Hazel Cabled Headband Ear Warmer. Helps keep you warm when it's cold out, and keeps you cool when it's warm out!
Feeling Content with Cotton: You can make so much with a cotton/acrylic blend, like the Makenna Striped Scarf. Light and breezy cotton is the perfect choice for so many warm-weather patterns.
Don't let those single skeins gather dust anymore. It's time to make something fun.
But this is just a fraction of what you'll get with an I Like Knitting Gold Club Charter Membership—your membership includes subscriptions to the I Like Knitting Magazine Club and to the I Like Knitting Collections Club; full and immediate access to the digital library of 5+ years of magazine issues with 600+ knitting patterns and articles; step-by-step instructions for patterns; and video tutorials and full-color photographs for details about projects and stitches. Plus, FREE access to our two premium on-demand knitting videos, 9 Knitting Tutorials: Tips and Tricks for Knitters Old and New and Knitting Outside the Box: 3 Unexpected Stitch Tutorials.
Your I Like Knitting Gold Club Charter Membership gives you access to all of our knitting patterns and content, 24-hours-a-day on whatever device you prefer —desktop, or laptop. And the content is fully searchable, so you can find exactly what you want—when you want it—at your fingertips in an instant.
Here are just a few of the tantalizing patterns sitting in our library right now—and all contained in a single issue—to which you'll get instant access when you join the I Like Knitting Gold Club as a Charter Member:
Apple Leaves Sweater
Crisp Morning Cardigan
Spooky Cute Kitty Costume
Campfire Coals Cow
Macintosh Vest
Aspen Sweater
Cranberry Twist Sweater
The Touchdown Knit Scarf
Tailgating Messy Bun Hat
Alpine Cardi
Mountain Air Infinity Scarf Knitting Pattern
And the library of photos and video tutorials is gorgeous, inspiring, and practical— showing you exactly how your finished patterns should look and exactly how to execute stitches and patterns, even the difficult ones!
When you join our #1 community for knitting-lovers, you'll receive all of the handy benefits that knitters everywhere have been buzzing about:
You'll learn new stitch techniques with a variety of patterns that range from beginner to advanced.
You'll find expert tips and tricks that will help you achieve professional results.
You'll start getting requests for your stunning knitted items from your family and friends.
You'll have access to renowned designer patterns and tutorials from all over the world.
You'll never worry about mistakes in patterns or ripping out your progress because our tech-edited patterns are curated from trusted designers in the knitting community.
You'll be connected to an online community of knitters who are just as passionate as you!
Don't miss out on this exclusive Charter Membership offer to get all of the above and more!
When you activate your I Like Knitting Gold Club Charter Membership today, you'll get access to everything we have about knitting—all access and all the time:
A full year of upcoming issues of I Like Knitting magazine—Including 150+ exclusive designer knitting patterns and articles with step-by-step instructions, video tutorials and full- color photography for details of projects and stitches
Instant access to EVERY issue we've ever published—a vast library of more than 5 years of issues with 600+ patterns and articles
A full-year's subscription to the I Like Knitting Collections Club that includes 60 NEW and trendy patterns refreshed annually
Regular e-newsletters, full of the latest knitting tips & tricks and even more FREE patterns
NEW! Free Bonus! Instant access to our just-released on-demand streaming knitting videos, 9 Knitting Tutorials: Tips and Tricks for Knitters Old and New and Knitting Outside the Box: 3 Unexpected Stitch Tutorials—featuring patterns and tips for knitters of every skill level.
And here's what you don't get when you become a Charter Member of the I Like Knitting Gold Club—advertisements! That's right, we're advertising-free, so that we can devote more time, space, and effort to helping you be an awesome knitter.
All of this is available to you—right now—when you claim your I Like Knitting Gold Club Charter Membership. This special offer includes FREE unlimited access to our two streaming knitting videos, 9 Knitting Tutorials: Tips and Tricks for Knitters Old and New and Knitting Outside the Box: 3 Unexpected Stitch Tutorials…our gift for signing up now!
No other online magazine in the world has everything about knitting, all in one place and vetted and curated for your easy access and use.
Knitters everywhere have been enjoying I Like Knitting magazine for years, and now it's better than ever with more benefits, patterns, and content than you could ever imagine—with an I Like Knitting Gold Club Charter Membership.
When we first put this new club together for knitters like you, your needs and desires were top-of-mind. We're the ultimate resource and network for knitters everywhere, offering original designer patterns and content from authoritative and respected voices in the knitting world.
I think you'll agree that this really is an unusual offer, plus FREE access to our two premium streaming knitting videos when you become an I Like Knitting Gold Club Charter Member today! It's an incredible deal that you don't want to ignore!
Why not be among the select group of knitters to join us today and benefit from all the valuable information about knitting that you can't get anywhere else?
Become an I Like Knitting Gold Club Charter Member today—while this special offer lasts!
Happy knitting,

Caitlin Eaton
Editor, I Like Knitting Magazine
P.S. – Please join today so you can take advantage of this special Charter Membership offer, plus two FREE knitting videos!