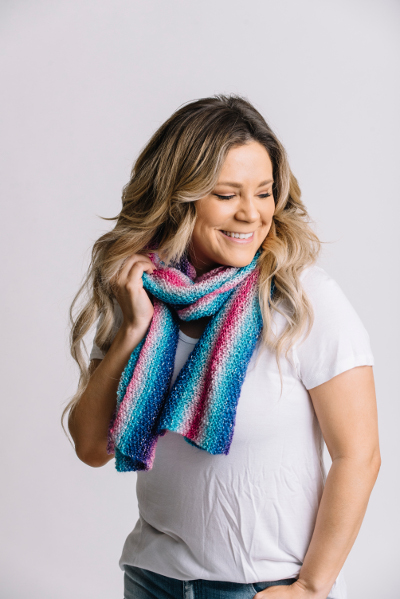 Mackenna uses the color changes of one cake of yarn to determine when it's time to change stitches. It's fun and easy to make. Once you get going you won't need the pattern, so it's great for on-the-go knitting. Plus, isn't the finished result stunning?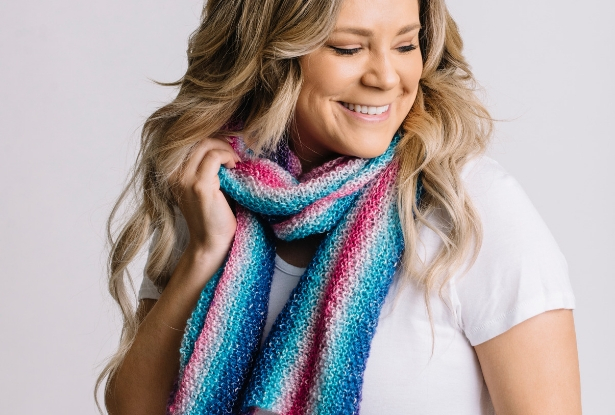 Skill Level: Easy
Size: 10″ x 56″
Gauge: 17 sts and 25 rows = 4" [10 cm] in seed stitch
Materials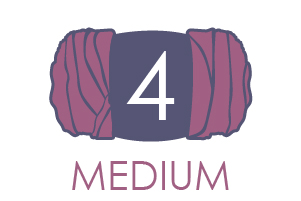 Yarn: Lion Brand Shawl in a Cake (58% Cotton, 39% Acrylic, 3% Other; 481 yards [440 meters]/150 grams): Half Moon 212 (1 ball)
Needles: US size 8 (5.0 mm) 24" circular
Notions: Tapestry needle
Pattern Notes
This pattern works with a yarn that fades from one color into the next. So there will be Color A, then Color A into B, then Color B, then Color B into C and so on.
The pattern starts with a section of garter stitch through all of Color A, then when the color starts to change the row is finished and a section of seed stitch is worked through Color A into B, Color B, and Color B into C, as soon as the color change is completed, the row is finished and the pattern goes back to garter stitch for all of Color C.
This is repeated throughout so the garter sections are one solid color and the seed stitch sections are a color change, a solid color, and a color change.
Pattern
CO 235 sts
Garter Section
Row 1: K all.
Rep Row 1 until color begins to change, then move onto Seed Stitch Section.
Seed Stitch Section
Row 1: K1, (p1, k1) across.
Rep Row 1 through color change, through next color, and until the next color has changed, then move onto Garter Section.
Continue working Garter Section and Seed Stitch Section changing as indicated until final color.
BO all sts knit wise.
Finishing
Weave in all ends.