Welcome to a knitter's paradise!
Dear Knitting Friend,
Swaying palms and sparkling waters. Warm breezes and soothing surf. Treat yourself to a trip to the tropics with our Tropical Daydream Knitting Collection. Each pattern is inspired by the feel of the tropics — sun, sea, and sand. Answer the call of the islands with delicate lace, flirty hems, tropical tops, sun-kissed shawls and more! Let's dip into the warm waters of the Tropical Daydream Knitting Collection from I Like Knitting!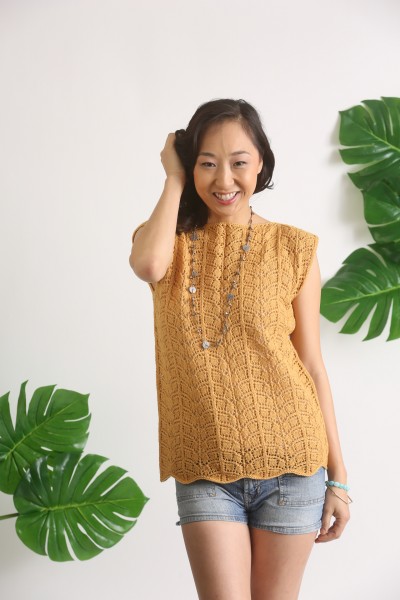 Hazy days at the beach were the inspiration for our Pineapple Top. This advanced pattern features a suspended leaf pattern that gives you a lovely scalloped edge. This top is well worth the effort you'll put into it, with its beautiful lacy look and delicate drape.
A top pattern doesn't have to be advanced to be beautiful. Just look at our Off The Coast Top. This adorable summer tank is rated easy, worked from the top down, and features relaxed stockinette stitch and a light lacy pattern. Add in minimal finishing and you have a beginning knitter's delight!
Our Palm Frond Flutter Top is perfect beach-side fashion — you'll feel like you're on the beach already! Our Caribbean Waves Top brings the feel of the waves to you with its wave-like rows along the bottom. And for a figure-flattering project that's perfect at the beach and beyond, make our Asymmetrical Mint Cream Top. Its diagonal lines draw the eye upward, and the textured yarn creates a lovely fabric. Pair this top with a skirt or jeans, or wear it as a tunic at the beach; it's that versatile!
How about an easy to knit, lightweight sweater for the little lady in the family? Our Flamingo Pink Tee has delicate shoulder pleats and a curved hem, creating a flowy, feminine top. It's a great project for beginning and experienced knitters alike.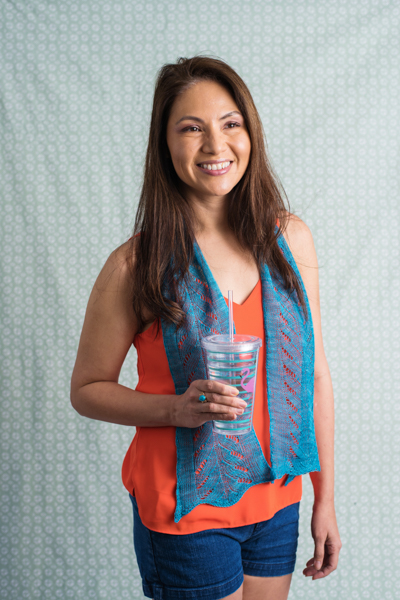 A day at the beach is a day well spent. But come sundown, you may be reaching for something to take off the chill. We have more than a dozen suggestions, from light and lacy to totally coastal cool.
Our Malibu Shore Scarf is almost as light as air! This pattern — rated easy — features lovely swirls of lace down the middle and a flouncy edge to finish it all off. If you've been looking for a design that's a great introduction to lace, here it is! We have more lacy selections, too, including our Tide Pool Lace Scarf, Harbor Scarf, Island Fern Lace Shawl, Flipping Your Fins Shawl, and more!
When the breeze picks up and you need something with a little more breeze-blocking power, wrap yourself in the welcoming warmth of our Pineapple Shawl, complete with three dozen pineapple motifs all around. Our Sunrays Shawl is as much fun to make as it is to wear. Self-striping yarn does some of the work for you. It's the perfect shawl to have on hand for bright and breezy days.
Wrap yourself in the feel of the tropics any time with our Monstera Wrap. This pattern is fully repeatable from all sides, and it's reversible, too! You'll love the look of these big, swaying leaves in this wrap that's like no other.
Give your outfit a little burst of seaside feel with a decorative cowl. Our High Tides Cowl mixes a wavy stitch pattern with a bubbly lace pattern to echo the surf at a rocky shore. Another good introduction to lace is our Lemonade Cowl. Simple knits and yarn-overs with basic decreases create a lace repeat that's perfect for knitters new to lace. Rated easy, this cowl is long, giving you a draped-scarf feel without much weight.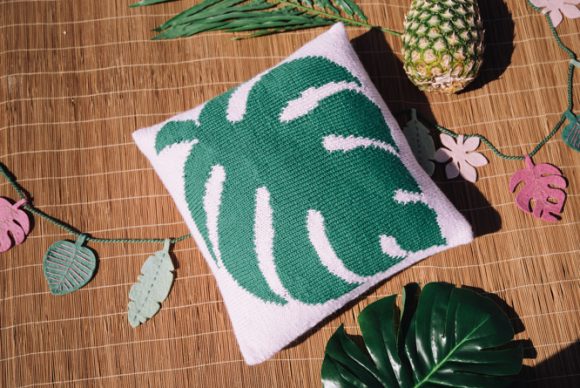 You'll feel the warmth of the tropical sun when you make our Palm-tastic Pillow. With its giant palm motif, this charming island pillow is a fun mix of ribbing, stockinette stitch, and intarsia technique. It's as interesting to make as it is beautiful to look at!
Get into an island state of mind with Sally's Beachcomber Bag. Glittering sea glass beads and bright shells give this easy weekend project a tropical look that will make you want to head to the beach. But this bulky cotton yarn bag will work just as well as a shopping bag for anyday use. Who says shopping bags have to be boring? Break away from the ho-hum reusable bags and tote something stylish! If you want a tote that's a little more on the whimsical side, our Flip Flop Summer Tote is just pure fun with its cheerful motif.
Need to make a little something fun for your favorite little one? Knit up our Seymour Turtle Toy. Seymour is a perfect weekend project that you can easily take on the go. Knit him up in separate parts, sew him together, and get ready for smiles! Give Seymour a comfy place to relax on our Head Over Fins Blanket — you can almost hear the waves lapping at the shore.
When you need just the barest of cover-ups, we've got you covered. You'll want to keep our Lime Breeze Cover Up in your beach bag all summer long — it's so light and versatile. If you're up for a lovely, lacy challenge, our Shimmering Mermaid Sarong is perfect for a romantic walk along the water.
Prepare to bask in the warm sea breeze as you work up the patterns in our Tropical Daydream Knitting Collection from I Like Knitting. Treat yourself to some dreamy, breezy projects that will let you keep a little bit of the tropics with you wherever you go.
But this is just a fraction of what you'll get with an I Like Knitting Gold Club Charter Membership—your membership includes subscriptions to the I Like Knitting Magazine Club and to the I Like Knitting Collections Club; full and immediate access to the digital library of 5+ years of magazine issues with 600+ knitting patterns and articles; step-by-step instructions for patterns; and video tutorials and full-color photographs for details about projects and stitches. Plus, FREE access to our two premium on-demand knitting videos, 9 Knitting Tutorials: Tips and Tricks for Knitters Old and New and Knitting Outside the Box: 3 Unexpected Stitch Tutorials.
Your I Like Knitting Gold Club Charter Membership gives you access to all of our knitting patterns and content, 24-hours-a-day on whatever device you prefer —desktop, or laptop. And the content is fully searchable, so you can find exactly what you want—when you want it—at your fingertips in an instant.
Here are just a few of the tantalizing patterns sitting in our library right now—and all contained in a single issue—to which you'll get instant access when you join the I Like Knitting Gold Club as a Charter Member:
Apple Leaves Sweater
Crisp Morning Cardigan
Spooky Cute Kitty Costume
Campfire Coals Cow
Macintosh Vest
Aspen Sweater
Cranberry Twist Sweater
The Touchdown Knit Scarf
Tailgating Messy Bun Hat
Alpine Cardi
Mountain Air Infinity Scarf Knitting Pattern
And the library of photos and video tutorials is gorgeous, inspiring, and practical— showing you exactly how your finished patterns should look and exactly how to execute stitches and patterns, even the difficult ones!
When you join our #1 community for knitting-lovers, you'll receive all of the handy benefits that knitters everywhere have been buzzing about:
You'll learn new stitch techniques with a variety of patterns that range from beginner to advanced.
You'll find expert tips and tricks that will help you achieve professional results.
You'll start getting requests for your stunning knitted items from your family and friends.
You'll have access to renowned designer patterns and tutorials from all over the world.
You'll never worry about mistakes in patterns or ripping out your progress because our tech-edited patterns are curated from trusted designers in the knitting community.
You'll be connected to an online community of knitters who are just as passionate as you!
Don't miss out on this exclusive Charter Membership offer to get all of the above and more!
When you activate your I Like Knitting Gold Club Charter Membership today, you'll get access to everything we have about knitting—all access and all the time:
A full year of upcoming issues of I Like Knitting magazine—Including 150+ exclusive designer knitting patterns and articles with step-by-step instructions, video tutorials and full- color photography for details of projects and stitches
Instant access to EVERY issue we've ever published—a vast library of more than 5 years of issues with 600+ patterns and articles
A full-year's subscription to the I Like Knitting Collections Club that includes 60 NEW and trendy patterns refreshed annually
Regular e-newsletters, full of the latest knitting tips & tricks and even more FREE patterns
NEW! Free Bonus! Instant access to our just-released on-demand streaming knitting videos, 9 Knitting Tutorials: Tips and Tricks for Knitters Old and New and Knitting Outside the Box: 3 Unexpected Stitch Tutorials—featuring patterns and tips for knitters of every skill level.
And here's what you don't get when you become a Charter Member of the I Like Knitting Gold Club—advertisements! That's right, we're advertising-free, so that we can devote more time, space, and effort to helping you be an awesome knitter.
All of this is available to you—right now—when you claim your I Like Knitting Gold Club Charter Membership. This special offer includes FREE unlimited access to our two streaming knitting videos, 9 Knitting Tutorials: Tips and Tricks for Knitters Old and New and Knitting Outside the Box: 3 Unexpected Stitch Tutorials…our gift for signing up now!
No other online magazine in the world has everything about knitting, all in one place and vetted and curated for your easy access and use.
Knitters everywhere have been enjoying I Like Knitting magazine for years, and now it's better than ever with more benefits, patterns, and content than you could ever imagine—with an I Like Knitting Gold Club Charter Membership.
When we first put this new club together for knitters like you, your needs and desires were top-of-mind. We're the ultimate resource and network for knitters everywhere, offering original designer patterns and content from authoritative and respected voices in the knitting world.
I think you'll agree that this really is an unusual offer, plus FREE access to our two premium streaming knitting videos when you become an I Like Knitting Gold Club Charter Member today! It's an incredible deal that you don't want to ignore!
Why not be among the select group of knitters to join us today and benefit from all the valuable information about knitting that you can't get anywhere else?
Become an I Like Knitting Gold Club Charter Member today—while this special offer lasts!
Happy knitting,

Caitlin Eaton
Editor, I Like Knitting Magazine
P.S. – Please join today so you can take advantage of this special Charter Membership offer, plus two FREE knitting videos!