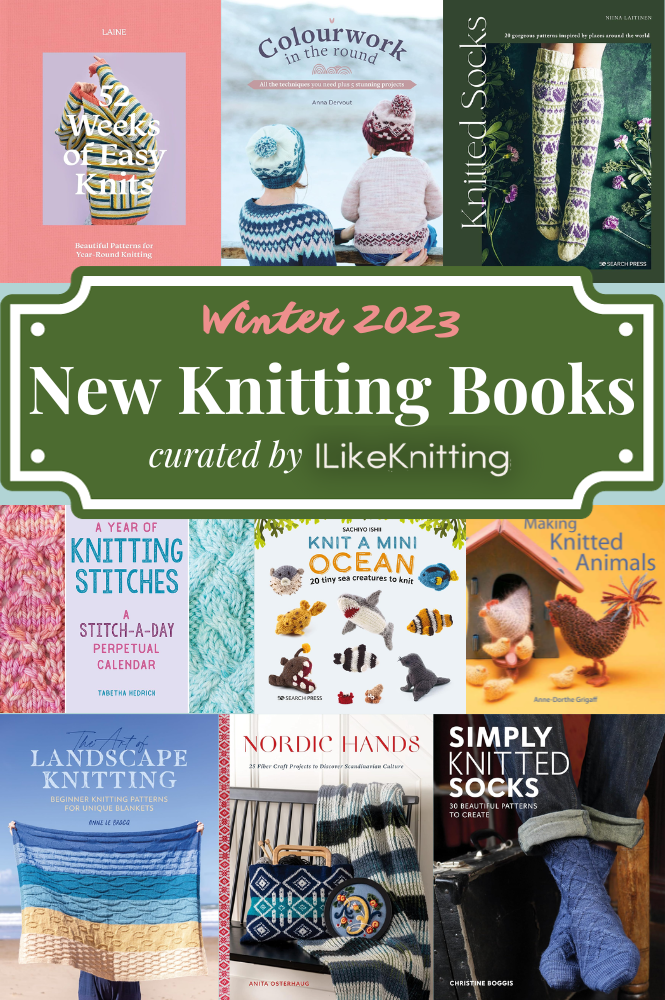 Embarking on a knitting project is more than just a craft; it's an adventure in creativity and self-expression. In this curated round-up, we present a selection of the most captivating knitting books released in late 2023, each one a testament to the boundless potential of yarn and needles. From intricate stitches to whimsical designs, these books offer a diverse array of patterns and techniques to inspire knitters of all levels. Whether you're a seasoned pro or just picking up your first set of needles, this collection promises something special for every knitting enthusiast. Join us as we dive into a world of patterns, stitches, and creativity, inviting you to explore new horizons and add a touch of handmade charm to your knitting journey.
"Simply Knitted Socks" by Boggis offers a delightful collection of 25 sock patterns that are both beautiful and accessible for knitters of various skill levels. The designs are thoughtfully presented, and the instructions are clear, making it a valuable addition to any knitting library. With patterns ranging from classic to contemporary, this book is sure to inspire sock enthusiasts.
"A Year of Knitting Stitches" by Tabetha Hedrick is a perpetual calendar that provides a daily dose of knitting inspiration. Each day features a new stitch pattern, making it an excellent resource for expanding one's knitting repertoire. The calendar format allows for easy reference, making it a practical and engaging tool for knitters looking to add variety to their projects.
"52 Weeks of Easy Knits" by Laine is a treasure trove of beautiful patterns designed for year-round knitting pleasure. The book offers a diverse range of projects, from cozy accessories to stylish garments, all accompanied by clear instructions. With its carefully curated selection, this book is perfect for knitters seeking a versatile collection of projects to keep their needles busy.
"The Art of Landscape Knitting" by Anne Le Brocq introduces a unique approach to knitting with patterns inspired by the beauty of nature. The beginner-friendly designs for bespoke blankets are accompanied by detailed instructions, making them accessible to knitters of all levels. This book not only guides you through the knitting process but also encourages you to see the world through a creative and textured lens.
"Knit a Mini Ocean" by Sachiyo Ishii offers an enchanting collection of 20 tiny sea creatures to knit. The patterns are well-designed and accompanied by clear instructions, allowing knitters to create adorable aquatic creatures with ease. This book is perfect for those looking to embark on a charming knitting journey inspired by the wonders of the ocean.
"Nordic Hands" by Anita Osterhaug invites readers to discover Scandinavian culture through fiber craft projects. From mittens to home décor, the book offers a range of patterns that celebrate the rich traditions of the Nordic region. With its cultural insights and beautifully crafted designs, this book provides a unique knitting experience.
"Making Knitted Animals" by Anne-Dorthe Grigaff combines creativity and family activities with a collection of charming knitted animal patterns. The projects are well-suited for crafting with children, providing an enjoyable way to introduce them to the world of knitting. The book's playful approach and accessible designs make it a wonderful resource for families looking to share crafting moments together.
"Colourwork in the Round" by Anna Dervout is a comprehensive guide to mastering the techniques of working with color in circular knitting. The book provides clear instructions and showcases five stunning projects that highlight the beauty of colorwork. With its detailed guidance and inspiring projects, this book is a valuable resource for knitters eager to explore the world of intricate patterns.
"Knitted Socks" by Niina Laitinen takes knitters on a global journey, offering 20 sock patterns inspired by places around the world. The book combines cultural elements with creative knitting, resulting in a diverse and engaging collection. With its unique concept and well-crafted patterns, this book is a must-have for sock aficionados seeking a worldly knitting adventure.