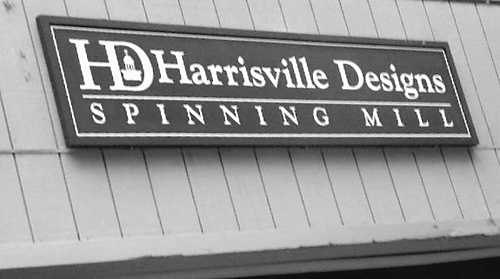 Historic Harrisville Designs
Where does your yarn come from? Do you ever wonder? I often wonder where the yarn I am working with came from, how it was made, and were human hands involved in producing it? So, on a beautiful summer morning in late June I set off to find out. Really early, I packed
Historic Harrisville Designs
Where does your yarn come from? Do you ever wonder? I often wonder where the yarn I am working with came from, how it was made, and were human hands involved in producing it? So, on a beautiful summer morning in late June I set off to find out. Really early, I packed up my SUV with a current WIP, camera, and loads of questions to make the 3-hour drive north from my home town in Western Massachusetts through the picturesque Monadnock Highlands of southwestern New Hampshire to Harrisville Designs. On this day, I had the great opportunity to tour the textile mill, learn the process of turning fiber into yarn, and learn about the long and rich history of Harrisville Designs.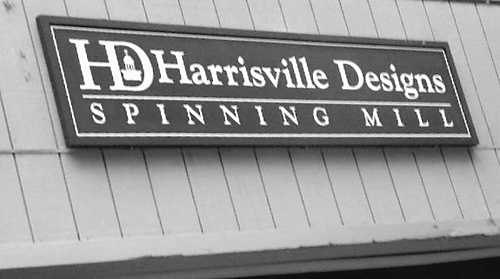 The second you enter the town of Harrisville, you are instantly transported back in time. The small village sounds, smells, and feels different from the surrounding towns. Unchanged from its original form, this industrial community is built on a rich heritage going back to 1794 during the early stages of America's Industrial Revolution. The village isn't quick to get to. As the town's website touts, it is in an "isolated rural setting free from highways and automobile related sprawl" (http://www.harrisvillenh.org/historic-harrisville). Follow the winding country road towards the Nubanusit River to the large red-brick mill buildings, home of Harrisville Designs.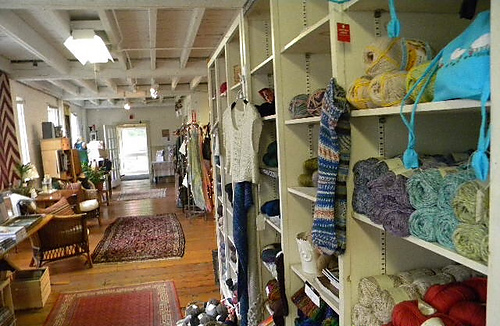 Harrisville Designs is a small family owned and operated mill started in 1794 when the first of several mills were built by the Harris family. In the mid-1800s, the Chester Mills were created after the Colony family bought out the Harris holding. In 1970, the Chester Mills closed due to bankruptcy and the Historic Harrisville, Inc was created by a non-profit organization consisting of townspeople and preservationists to maintain the mills. In 1971, John J. Colony III started Harrisville Designs to keep the textile tradition alive. It is clear that John has a deep passion, pride, and love for this place, not just the mill, but the town and its people. His desire to keep the mills here and running, not just for his sons, but generations to come and the future of Harrisville is unwavering. Now, after 200 years of rich textile tradition, the mill is still going strong and is one of only a handful of wool mills still in existent in the USA today.
I arrived at the retail store mid-morning ahead of the scheduled mill tour. I took a few minutes to walk around and check out the wide selection of yarns, spinning and weaving tools in their space. The store was a relaxed and cozy environment overlooking the canal with a loft for workshops. The space featured amazing knit samples, and an impressive display of yarns, looms, and spinning wheels. After petting all the yarns and talking with the amazing staff it was time for my tour with John Colony III, 5th generation owner of Harrisville Designs. During the tour, John guided me around the mill while he explained textile manufacturing, the process of turning fiber into yarn, products for weaving, and the vast history of the mill.
Harrisville Designs is a seamless blend old world and new. Our mill tour started down the road at the old railroad yard where the fiber is processed. There are 7-8 employees working at this location, using old machines that still work great in order to keep up history, maintain the old ways, while staying competitive in the industry.
Harrisville Designs handles the entire process, from carding to spinning and finishing. The fibers are sourced from New Zealand and Australia and arrive at the mill from Philadelphia in massive 800-pound dyed bales, which all started out as really white fibers that are then dyed very bright. These brightly dyed bales of fibers are amazing to see.
Unlike many yarns on the market, the fibers are dyed-in-the wool, meaning the fleece is dyed before being carded and spun. Using their own color blending formulas for consistent colorway from batch to batch, colors are combined in the spinning process to achieve the variations and depth of colors without sacrificing saturation for that recognizable heather yarn they produce. With their vast history, Harrisville Designs offers a remarkable range of colors that are each carefully blended to create a line of yarns that all work seamlessly together. While this design process takes a lot of careful planning and design, the results are extraordinary. The fibers are drafted and spun, meaning twist is introduced to the fibers to make single-ply yarns, and those single-ply yarns are plied to create yarns that are two or more ply yarns. After the yarns are made, they are washed and steamed to set the twist, packaged and shipped off.
Harrisville Designs not only produces yarn lines under their own label, they also create yarns for brands such as Brooklyn Tweed and Peace Fleece. In addition to yarn, looms, and other knitting and weaving products, Harrisville Designs offers a wide array of workshops from knitting, spinning, weaving, felting, and so much more, each lead by top instructors.
Take the tour (virtually) – Harrisville Designs Mill Tour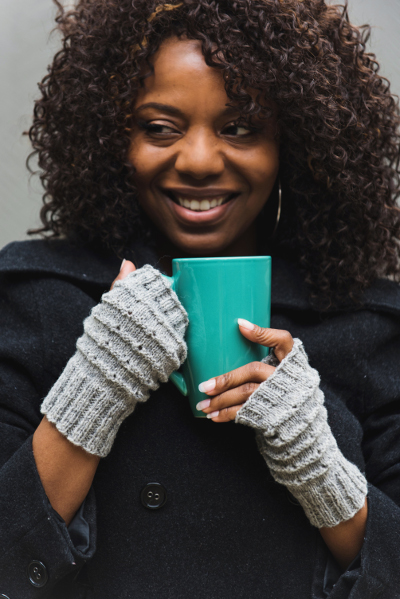 Check out the Silver Mist Fingerless Gloves that Tian designed using Harrisville Designs Shetland Fingering yarn. Whether you crochet or knit, these mitten patterns are excellent for misty morning coffee breaks.