Features
Patterns
Departments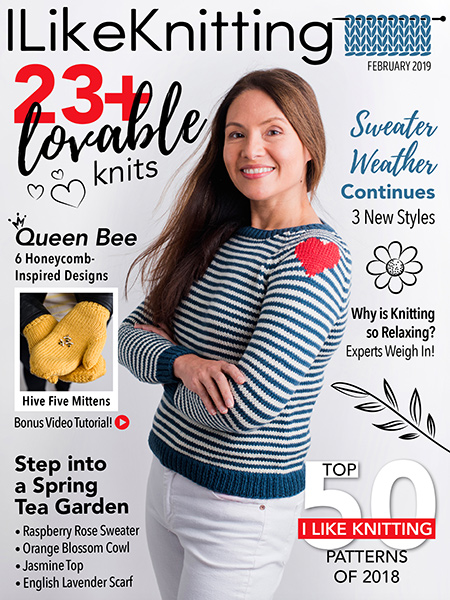 A Note from the Editor
Get ready to fall in love with this new issue featuring some of winter's finest patterns. For the (chilly) romantics at heart, whip up some cozy projects featuring delicate heart details. Not a fan of heart motifs? Our Sweater Weather Continues section features three projects in three distinct styles that are sure to be classics this season. Want to jump in on the bee trend? Then don't miss our Queen Bee section featuring a must-see bag, a bold wrap, a bag, mittens and pillow — all inspired by everything bees — think honeycombs, honey and stripes.
Plus, we've put together some of our boldest projects yet, all inspired by colorful florals that will brighten up your winter. My personal favorite is the Raspberry Rose Sweater which features an adorable floral trim.
No matter what you're looking for — scarves, cowls, hats, bags — you'll find everything you need to start this season off on the right foot.
Go on; knit your heart out!

P.S. Do you love Ravelry? Do you love to knit? Then join our official Ravelry group for knitters. In this group, we'll discuss everything from our favorite needles to upcoming knit alongs. Join right here!
P.P.S. Take our issue survey once you've seen the issue!
Design submissions and article ideas should be submitted through our submission form.