Features
Patterns
Departments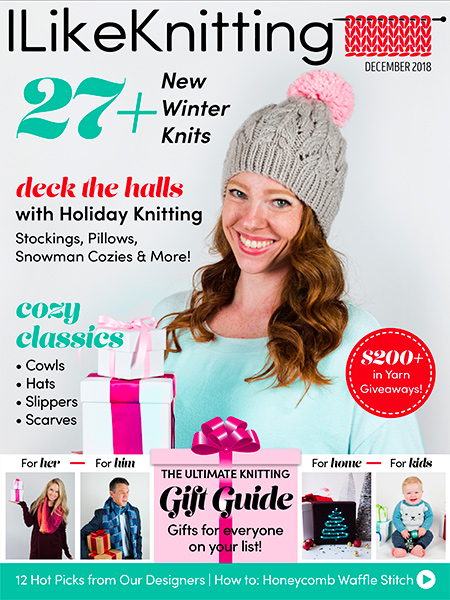 A Note from the Editor
There's a certain anticipation that comes before the holidays. Between baking your favorite cookies, wrapping presents with festive bows and taking vacations that are just for family – there's so much to be grateful for this season. And in our usual fashion, we're bringing you brand new winter classics to knit – but this time with a twist! In an effort to ease the stress that comes with holiday gift giving, we've put together our own Ultimate Gift Guide featuring handmade projects for everyone on your list. Inside you'll discover brand new scarves, slippers, cowls, socks, hats and more! Plus, what happens when you combine an adorable knit tree design with a pack of LED Christmas lights? You won't believe how cute the Tree-mendously Lit Knit Décor turned out!
And if that weren't already enough we're also including a chance to win more than $200+ worth of yarn giveaways! Don't miss your chance to win some incredible prizes.
Happy knitting!

P.S. Do you love Ravelry? Do you love to knit? Then join our official Ravelry group for knitters. In this group, we'll discuss everything from our favorite needles to upcoming knit alongs. Join right here!
P.P.S. Take our issue survey once you've seen the issue!
Design submissions and article ideas should be submitted through our submission form.