Something to wear, something to share, something to show off!
Dear Knitter,
Warm summer breezes will eventually give way to the crisp cool of fall, but it's always knitting season! I like to work on small projects when I'm traveling, and then dig into bigger projects when I get back home. And yes, I'll, confess, I am looking ahead toward the cooler weather I know is coming.
Whether you want to stay in the moment or you want to plan ahead for when the breezes turn from balmy to brisk, we have more than a dozen delightful projects for you!
Let's take a look inside the August 2023 issue of I Like Knitting to see the Fall forecast!
From August to Autumn
Summer weather gives you so many dressy options—including knit dresses! Our Margo Mini Dress features a bold square neckline and a captivating cable panel that evokes the feel of entwined roots in an enchanted forest. This dress can take you well into fall; just layer it with light shirt.
Don't overlook the younger set. We have a delightful dress that comes with its own friend! The Meow-velous Striped Dress & Knit Kitten Pal is the perfect project for girls who want a little whimsy in their day. Best of all? This dress has pockets!
For layering options, consider our Anya Buttoned Vest (perfect for beginner knitters) or our Dashing Lines Poncho with its bold contrast. Make yourself a new all-purpose bag with our Avalon Patchwork Tote, or update your throw pillows with our subtle yet stylish River Textured Pillow.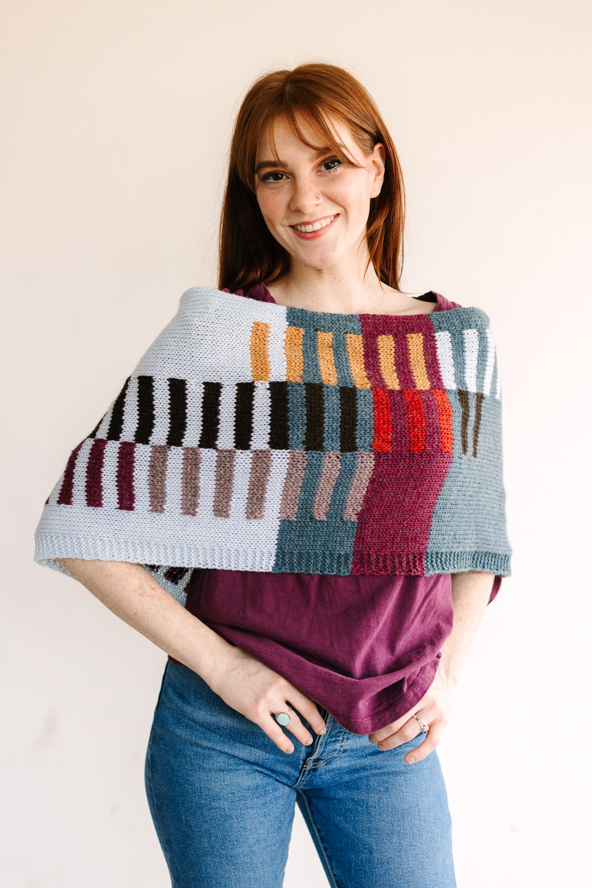 Golden Moments
I always treasure that golden moment when the sunset fills the sky with lovely shades of pink, ivory, and peach. Capture that sunset feeling with our Maude Poncho. It's ethereal, soft, and seamless. And you can totally customize it the way you want it: add sleeves and a funnel neck, or just keep things simple. This is a beginner-friendly pattern with possibility!
For timeless coziness and comfort, consider our Rosaura Raglan Sweater to ward off cold, gloomy weather. The textured pattern will keep you looking and feeling marvelous! Our Alexis Diamond Lattice Shawl is designed with simplicity and graceful lace combined; it's bound to be a year-round favorite! And if you'd like to try out planned pooling, our Watercolor Pillow is a great place to start. Worked in one piece and decorated with a strategic sprinkling of purl stitches, this pillow looks like a painted canvas.
Layered to Perfection
When it comes time to layer on warmth and style, it's best to start at the top. Our Cassia Beanie layers on the texture with a combination of 2×2 rib, broken rib, and mock cables to create a stylish hat that's perfect for anyone on your list who needs a hat. The longer brim gives the wearer more choices for a perfect fit. For another quick and cozy gift project, make our Lola Legwarmers. Knit them in the round and have them finished in just a weekend.
It's always sweater season somewhere, and our Lorena Tennis Sweater is ready to go there. The loose, relaxed fit and classic V-neck border take this sweater from basic to bold! Our Caline Turtleneck Sweater Dress is seamless and completely customizable. And when you're ready for a new cardigan, you'll want to take a closer look at our Eliza Shawl Collar Cardigan, created with comfort and style in mind.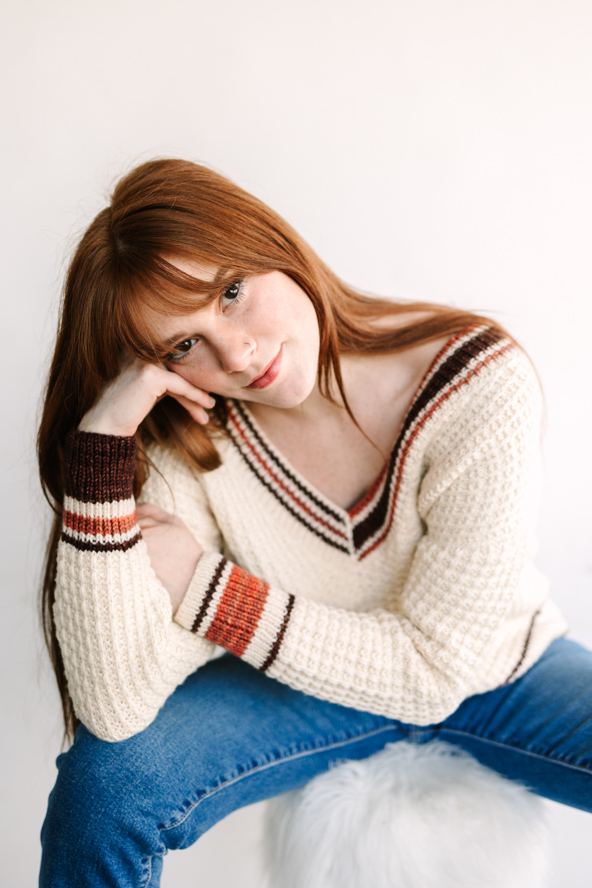 The August 2023 issue of I Like Knitting is packed with patterns that are bound to become new wardrobe staples and go-to décor.
Each one of the patterns in I Like Knitting comes with everything you need to finish your project:
A full list of all the yarns and tools you'll need
Row by row instructions
Special stitch instructions
Pattern notes
Detailed, full-color photography
There's something for knitters of all experience levels in the August 2023 issue of I Like Knitting. And if you're still craving more creative projects ideas, you have immediate access to our complete library of more than 700 patterns, expert tips and tutorials, along with many more special collections, including The Knit Mitten Collection, The One-Skein Knitting Collection, The Vintage Knits Collections and The Knit Hat Collection. It's all yours with your membership in the I Like Knitting Gold Club.
We have over a dozen bold and beautiful projects in our August 2023 issue. Which project will you cast on first?