Dear Knitter,
Every guy should have that one favorite sweater, and the Felipe Men's Sweater may just be it. This sweater features a classic cable pattern with a modern twist on the sleeve design: the cables are turned inside out on the sleeve cap! Make this sweater for someone who loves cabled sweaters but appreciates a modern touch.
This cabled sweater has it all: rich, varied cable patterns that work together to create a stunning garment. Rather than adding bulk, these cables create a high-energy look that leads the eye right to the wearer — and he'll be smiling because he knows how good this sweater looks.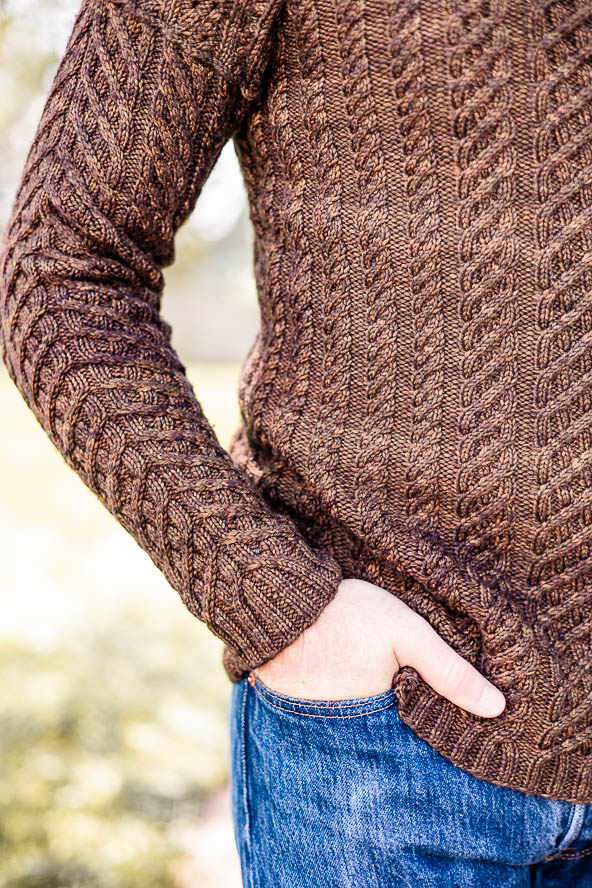 You'll work the body of this sweater in the round from the bottom up, then seam the sleeves onto the body. This combination of classic cables with a modern sleeve treatment will make this sweater a lasting favorite. Rated Intermediate, the Felipe Men's Sweater could easily become a staple in his wardrobe!
The Felipe Men's Sweater pattern includes:
List of necessary materials
Line-by-line instructions
Pattern notes
Detailed photography
Finishing instructions
Pick your perfect yarn, get out your cable needle, and prepare to make someone their new favorite sweater!
Happy knitting!