Learn 10 new ways to knit in the round! Our dynamic collection of circular needle patterns is ready when you are as part of your I Like Knitting Gold membership.
For knitters, going in circles doesn't mean getting nowhere—it means a fun, easy, seamless way to knit! For you, knitting with circular needles means working your favorite knitting patterns in the round, without those tricky seams. In fact, many experienced knitters find that circular needles help them knit more quickly and make knitting on the go—such as on a plane, at a game, or in other tight spaces—more convenient and enjoyable.
If you've never knitted with circular needles it's not hard to learn—and you may never knit with straight needles again. There are so many advantages to knitting with circular needles, and not just when you knit round projects like hats. You don't have to worry about the stitches falling off the end; you can allow the weight of the work to rest in your lap, taking strain off your hands, wrists, and shoulders; and you can easily adjust to using circular needles for flat knitting, too.
With these advantages in mind, we wanted to introduce you to our dynamic collection of patterns for Circular Needles. You'll find a mix of designs here, for women and kids, from beginner level to advanced. What these patterns all have in common, though, is that they can all be worked on circular needles. You'll find patterns to work from the top down and bottom up, patterns with pretty bows and lacy backs, and patterns for summer, winter, and in between. You'll discover an adorable wildlife hoodie for your favorite child and a cute way to use up your stash of leftover sock yarn, as well as two Fair Isle sweaters.
And we can't leave out the 700 + patterns you get in the I Like Knitting library, where you'll find everything from home decor to stunning scarves to beautiful tops for every season and so much more.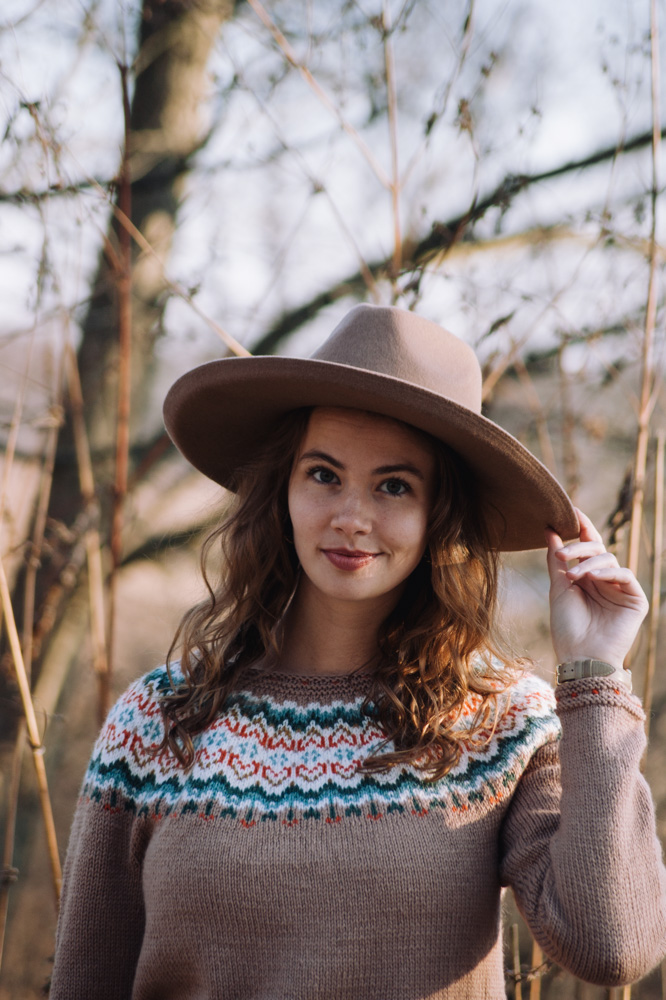 We All 'Heart' Fair Isle
The Fair Isle motif makes a sweater an instant classic, and this one is especially sweet with hidden hearts amongst the intricate colorwork details. You can knit this Intermediate-level Hidden Hearts Fair Isle Sweater in three weeks and wear it from fall through the early stages of spring. With circular needles, this pattern is worked in the round, seamlessly from the top down.
A Touch of Lace
Designer Olya Mikesh loves to combine traditional techniques with modern style, and she achieves her goal beautifully with this flattering sweater. Worked in the round from the top down, Blooming Lace is an Intermediate-level pattern that you can wear with a skirt, jeans, or even over a dress on chilly evenings. Just the right amount of lace and eyelets add a feminine touch to this garment, and balance the clean stockinette stitch background. Raglan increases are used to shape the yoke.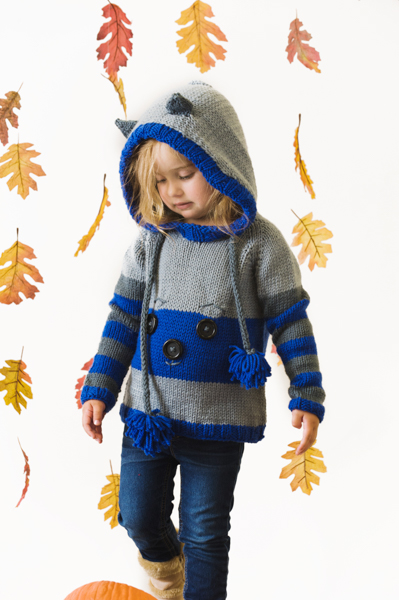 Little Ones Will Go Wild
The classic children's story "The Kissing Hand" inspired this charming Sneaky Raccoon Hoodie, and your favorite child will look adorable in it! This intermediate circular needles pattern is a seamless knit with big stripes on the sleeves and a fun color block stripe across the body, just perfect for making your raccoon face come alive with buttons. The hood is topped with little raccoon ears to complete the look. Too cute!
A Versatile Fair Isle
You can't have too many Fair Isle sweater patterns, especially when this Ice Mountain Pullover design includes a bonus feature: a collar you can fold up for extra chilly days and fold down when temperatures start warming up. Worked seamlessly from the bottom up on circular needles, this intermediate knitting pattern will quickly become a favorite.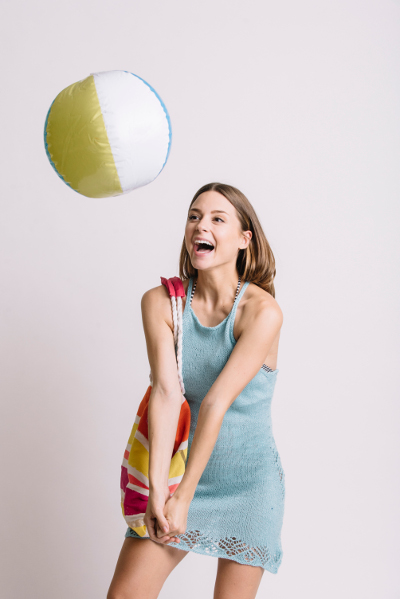 Covered Up in Lace
Knits to wear in summer? Yes! Using lightweight yarns and openwork lace, the Riley Halter Cover-Up is the perfect example of that. Alexis Di Gregorio seamlessly designed this cover-up for gals on the go. Combining a conservatively cut front with an openwork scaly lace in the back, this pattern is the perfect cover-up that everyone will envy.
Don't forget, as well, that this and every pattern in I Like Knitting, comes complete with:
A list of necessary yarn and tools you'll need
Row-by-row instructions
Special stitch instructions
Pattern notes
Detailed, full-color photography
Whether you are just starting out with knitting or you're an advanced knitter, you'll find a Circular Needles pattern that's right for you, and we'll be right beside you, with plenty of tutorials and instructions.
Babes in Bows
What's better than a classic sweater she can wear all year long? A sweater that's covered in knitted bows! This top-down raglan Arabella Bow Sweater pattern is simple to make—a great starting project for your circular needles. The garter stitch bows are not only easy, but they're a perfect excuse for some stash busting! Use ups odds and ends of your favorite sock yarn to make a sweater design that really pops. The possibilities are endless and the result is timeless!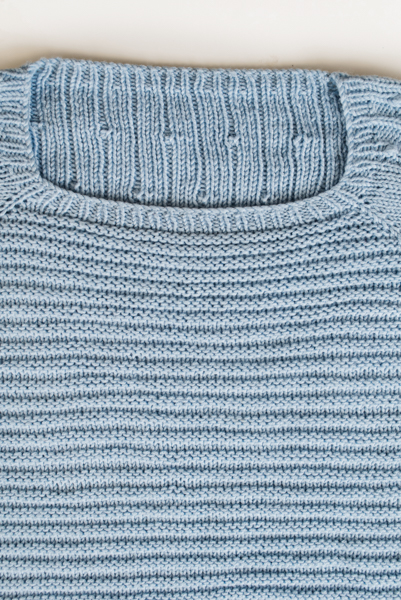 A Classic for All Seasons
You'll reach for this lightweight pullover at the first spring rain or chilly winter day when it's just too cold to go outside—even on a breezy summer evening! Stay just a little warmer in any season with the Knit in a Splash Pullover. Worked top down on circular needles, this seamless pullover is an intermediate knitting pattern with a subtle yet stylish design. Make one in every color!
Vintage Beauty in Blue
Inspired by the bold femininity of yesteryear, the Blue Meadow Cardigan  combines a fitted shape with a directional lace pattern on the back to create a casually elegant garment. The body uses strong waist shaping along the sides and a deep V-neck to keep in the spirit of classic cardigans. The body is worked back and forth. Circular needles are used to accommodate the large number of stitches. Charts are included to guide you through this advance—but lovely—pattern.
Just Beachy
As light as a summer breeze, as sleek as a sailboat, the Marisol Tank Top will be a great addition to your beachy wardrobe. Just imagine yourself wearing this lightweight, seamless tank when spending an evening at the seashore with a glass of wine. The intermediate pattern is worked in the round from the bottom up to armholes, then front and back are worked flat. The seamless construction incorporates a 1×1 rib stitch and stockinette stitch with color stripes of different widths at the bottom.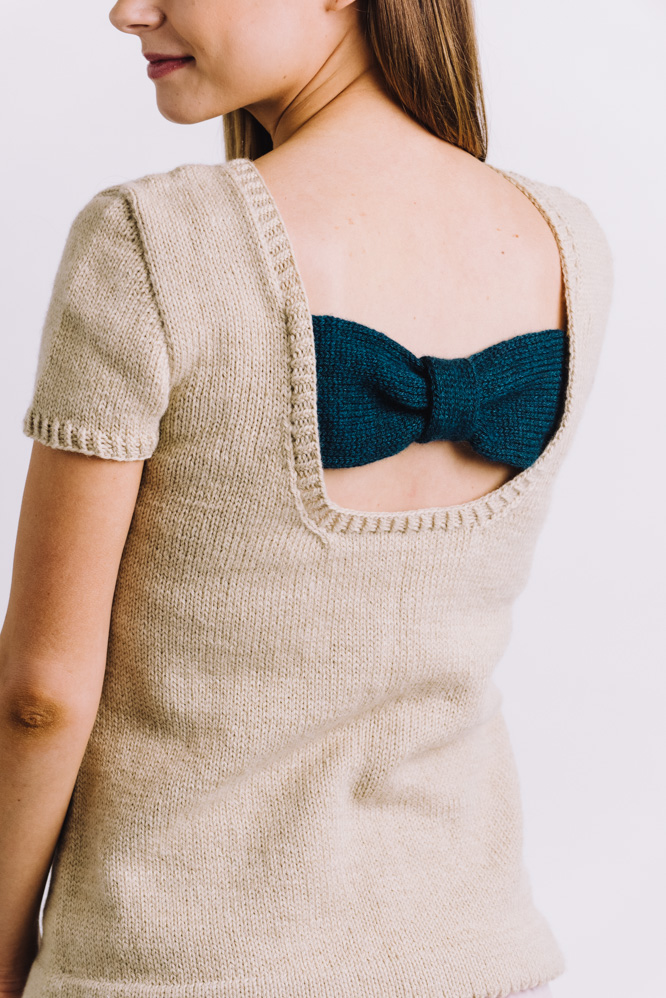 T in the Front, Party in the Back
This top features a fun surprise! From the front, the Hallie Bow-Back Top looks like a traditional summer tee, but turn it around and you'll discover an open back with a contrasting inset bow. This intermediate-level top begins at the bottom with a folded hem. If you prefer, ribbing can be substituted. The back has a deep scoop, and the front neckline is a shallow scoop. Set-in sleeves are worked from the top down, seamlessly, using short rows. The bow is worked separately and sewn in. Featuring a picot-edged turned hem and top-down, set-in sleeves, it's the perfect little top for any summer occasion.
These Circular Needles Patterns are yours, along with a library of more than 700 patterns, expert tips and tutorials, and many more special collections, including The Knit Mitten Collection, The Vintage Knits Collection, and The One-Skein Knitting Collection. It's all yours with your membership in the I Like Knitting Gold Club. Join us today and enjoy all this and more!
But this is just a fraction of what you'll get with an I Like Knitting Gold Club Charter Membership—your membership includes subscriptions to the I Like Knitting Magazine Club and to the I Like Knitting Collections Club; full and immediate access to the digital library of 5+ years of magazine issues with 600+ knitting patterns and articles; step-by-step instructions for patterns; and video tutorials and full-color photographs for details about projects and stitches. Plus, FREE access to our two premium on-demand knitting videos, 9 Knitting Tutorials: Tips and Tricks for Knitters Old and New and Knitting Outside the Box: 3 Unexpected Stitch Tutorials.
Your I Like Knitting Gold Club Charter Membership gives you access to all of our knitting patterns and content, 24-hours-a-day on whatever device you prefer —desktop, or laptop. And the content is fully searchable, so you can find exactly what you want—when you want it—at your fingertips in an instant.
Here are just a few of the tantalizing patterns sitting in our library right now—and all contained in a single issue—to which you'll get instant access when you join the I Like Knitting Gold Club as a Charter Member:
Apple Leaves Sweater
Crisp Morning Cardigan
Spooky Cute Kitty Costume
Campfire Coals Cow
Macintosh Vest
Aspen Sweater
Cranberry Twist Sweater
The Touchdown Knit Scarf
Tailgating Messy Bun Hat
Alpine Cardi
Mountain Air Infinity Scarf Knitting Pattern
And the library of photos and video tutorials is gorgeous, inspiring, and practical— showing you exactly how your finished patterns should look and exactly how to execute stitches and patterns, even the difficult ones!
When you join our #1 community for knitting-lovers, you'll receive all of the handy benefits that knitters everywhere have been buzzing about:
You'll learn new stitch techniques with a variety of patterns that range from beginner to advanced.
You'll find expert tips and tricks that will help you achieve professional results.
You'll start getting requests for your stunning knitted items from your family and friends.
You'll have access to renowned designer patterns and tutorials from all over the world.
You'll never worry about mistakes in patterns or ripping out your progress because our tech-edited patterns are curated from trusted designers in the knitting community.
You'll be connected to an online community of knitters who are just as passionate as you!
Don't miss out on this exclusive Charter Membership offer to get all of the above and more!
When you activate your I Like Knitting Gold Club Charter Membership today, you'll get access to everything we have about knitting—all access and all the time:
A full year of upcoming issues of I Like Knitting magazine—Including 150+ exclusive designer knitting patterns and articles with step-by-step instructions, video tutorials and full- color photography for details of projects and stitches
Instant access to EVERY issue we've ever published—a vast library of more than 5 years of issues with 600+ patterns and articles
A full-year's subscription to the I Like Knitting Collections Club that includes 60 NEW and trendy patterns refreshed annually
Regular e-newsletters, full of the latest knitting tips & tricks and even more FREE patterns
NEW! Free Bonus! Instant access to our just-released on-demand streaming knitting videos, 9 Knitting Tutorials: Tips and Tricks for Knitters Old and New and Knitting Outside the Box: 3 Unexpected Stitch Tutorials—featuring patterns and tips for knitters of every skill level.
And here's what you don't get when you become a Charter Member of the I Like Knitting Gold Club—advertisements! That's right, we're advertising-free, so that we can devote more time, space, and effort to helping you be an awesome knitter.
All of this is available to you—right now—when you claim your I Like Knitting Gold Club Charter Membership. This special offer includes FREE unlimited access to our two streaming knitting videos, 9 Knitting Tutorials: Tips and Tricks for Knitters Old and New and Knitting Outside the Box: 3 Unexpected Stitch Tutorials…our gift for signing up now!
No other online magazine in the world has everything about knitting, all in one place and vetted and curated for your easy access and use.
Knitters everywhere have been enjoying I Like Knitting magazine for years, and now it's better than ever with more benefits, patterns, and content than you could ever imagine—with an I Like Knitting Gold Club Charter Membership.
When we first put this new club together for knitters like you, your needs and desires were top-of-mind. We're the ultimate resource and network for knitters everywhere, offering original designer patterns and content from authoritative and respected voices in the knitting world.
I think you'll agree that this really is an unusual offer, plus FREE access to our two premium streaming knitting videos when you become an I Like Knitting Gold Club Charter Member today! It's an incredible deal that you don't want to ignore!
Why not be among the select group of knitters to join us today and benefit from all the valuable information about knitting that you can't get anywhere else?
Become an I Like Knitting Gold Club Charter Member today—while this special offer lasts!
Happy knitting,

Caitlin Eaton
Editor, I Like Knitting Magazine
P.S. – Please join today so you can take advantage of this special Charter Membership offer, plus two FREE knitting videos!