Ready to wrap yourself in lace? Our dynamic collection of lace patterns will fulfill your desires—part of your I Like Knitting Gold membership.
Lace never goes out of style. It goes with everything, from a pair of jeans to a maxi sundress, from a day at the beach to an evening date. Modern fashion loves a touch of lace, and there's a lace stitch and pattern for every knitter to love.
Knitted lace is a pleasure to work and to wear. The stitch patterns mesmerize, the garments and accessories feel light and airy. Lace garments are just the thing for a breezy spring day or a cool summer night.
Now that summer is around the corner, it's time to knit new lace patterns! You can start with The Lace Collection: 5 Lighter than Air Designs. In this free collection, you'll find a mix of Intermediate and Advanced designs, each one a delight to make and wear: a shawlette, tee, tunic, cardigan, and scarf.
Not only will you get these five designs, but there are also 700 + patterns waiting for you in the I Like Knitting library, where you'll find everything from home decor to stunning scarves to beautiful tops for every season and so much more.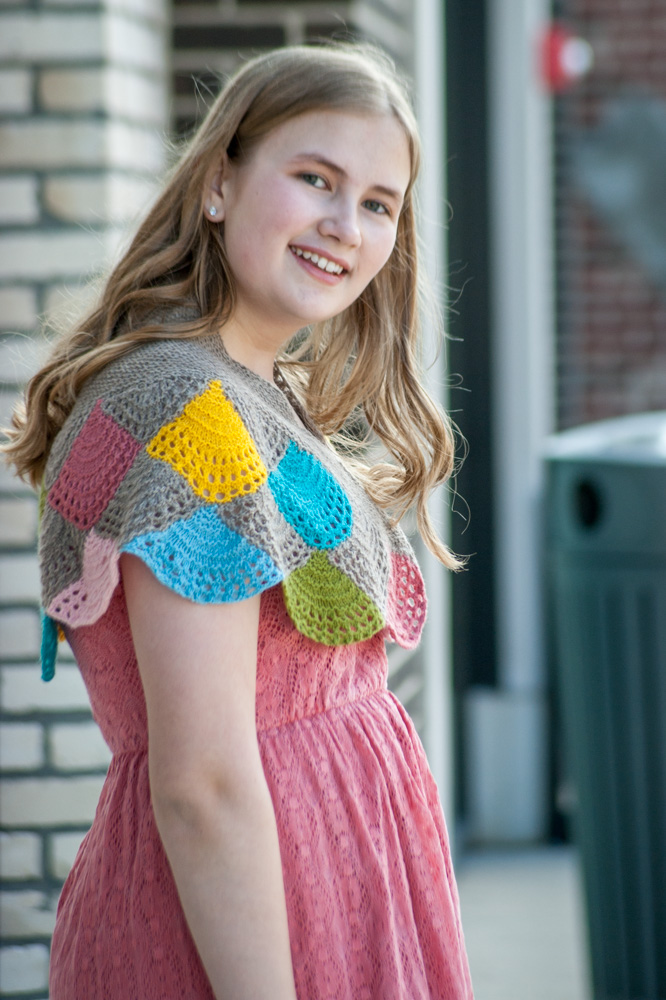 Cascading scallops
What's a 'shawlette'? A shawl that barely covers the shoulders—just enough to keep the chill off. This modern take looks modern and flirty. Wear the Daydreaming in Colors Scalloped Shawlette over a spaghetti-strapped maxi dress at a wedding or with a sundress at lunch al fresco.
With this intermediate pattern, you work the scallops separately in different colors and then join them with another row of scallops to create a graceful edging. Later, you pick up stitches at the straight edge and work them in a crescent shape creating this wonderful shawlette's drape.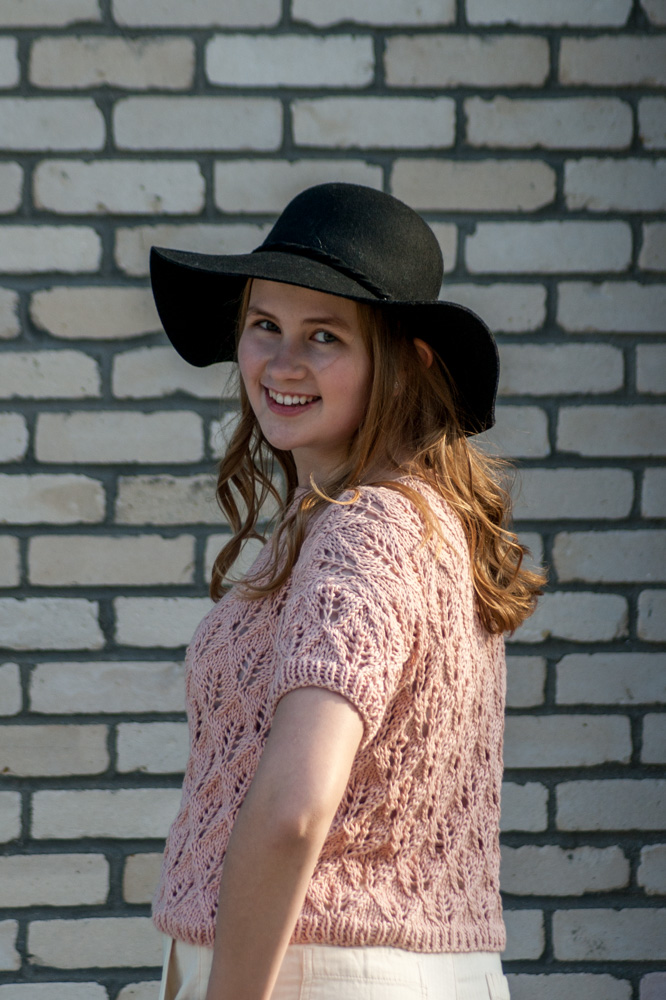 You'll blossom in this tee
Like cherry blossoms gently dancing in the air, the Cherry Blossom Lace Tee lays lightly on your body. The lacework is just open enough to feel airy, but not so much that it's see-through. Pair it with a white denim skirt, shorts, or, well, anything—this openwork top is so soft and versatile you'll want to wear it every day.
The top is worked in the Fern Lace stitch—a beautiful stitch that creates the appearance of interlocking ferns. We show it cropped, but this intermediate pattern can be worked as long or short as you like. Feel free to adjust as you like!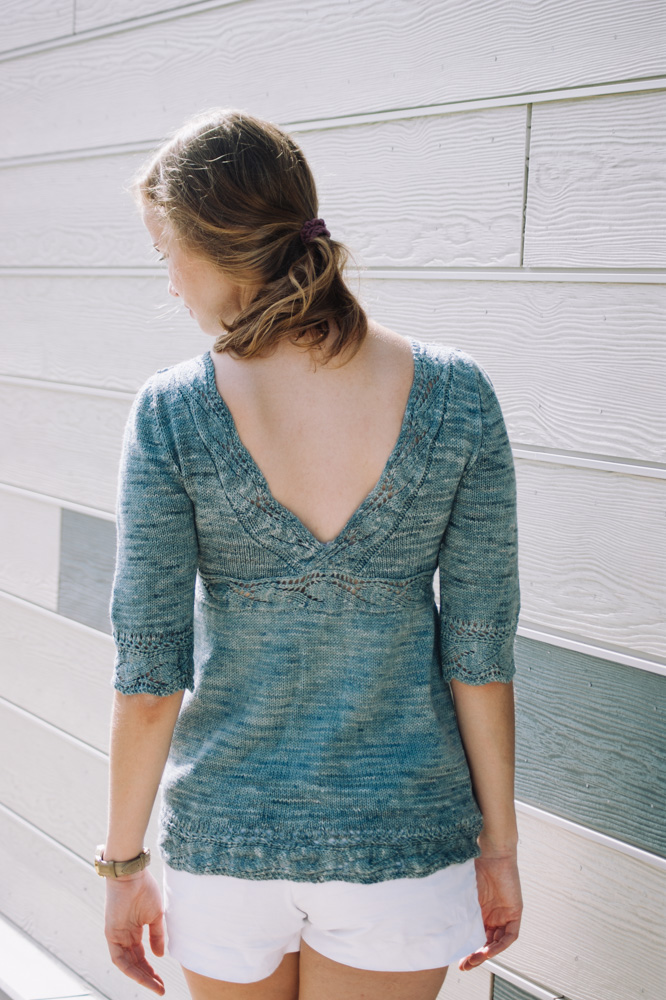 Tunic surprise
The elegant and flattering Water's Edge Tunic looks lovely and demure from the front but turns dramatic in the back. When you turn around, the tunic reveals a deep V-neckline. The undulating hem of the tunic emulates ocean waves lapping the shore. The detail on the waistband, sleeves, and neckline resembles the crest of the waves—or maybe a mermaid's braided chain?
This advanced tunic pattern is knit in the round with set-in sleeves. The pattern incorporates the Roman Stripe stitch—a combination of garter stitch, stockinette, and openwork—as well as the Kitchener stitch. The beautiful tunic would look just as beautiful with a pair of white jeans and tennies as a maxi skirt and strappy sandals.
Cute Cardi
Packing for a weekend away? Be sure to take the Just Peachy Lace Cardigan along. You'll wear it everywhere from outdoor dining and sight-seeing to indoors at the movies or a museum where the air conditioning is set on chill. During the week this cardi serves as the perfect summer work jacket.
The body of this intermediate pattern is made up of openwork and narrow panels, while the lower border and sleeves feature twisted stitches and openwork. This garment uses unit construction, which means each piece is finished as much as possible (bands, seams, etc.) before moving on to the next major piece. This eliminates much of the finishing work at the end – yay!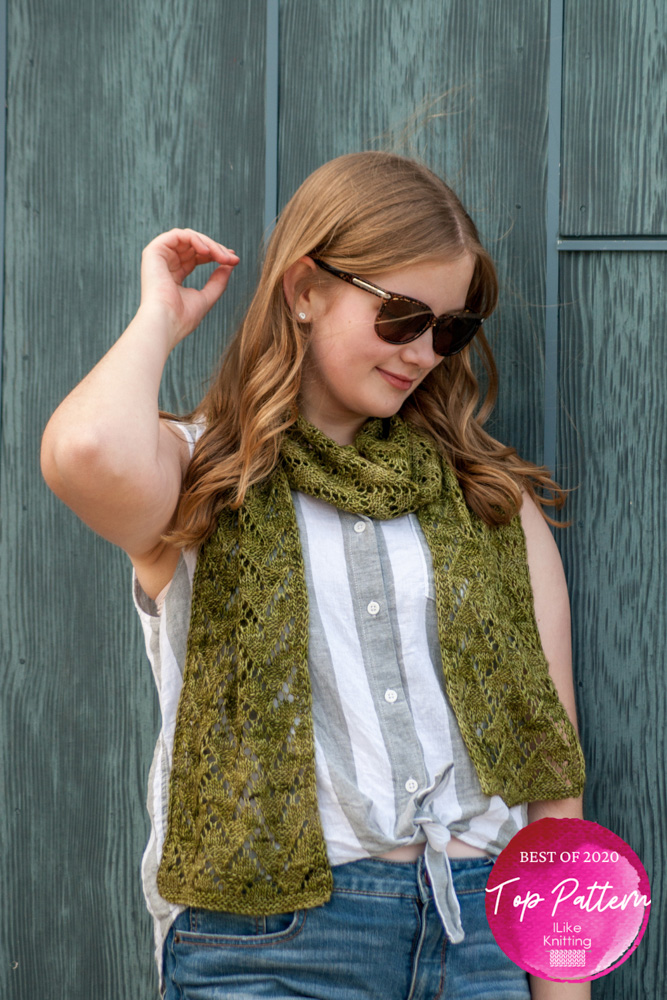 Botanical Beauty
Here's a lace scarf pattern with all the delicacy of a freshly unfurled fern. The Island Fern Scarf will accessorize your summer looks perfectly plus add a bit of comfort when salty breezes blow. The light, lacy scarf design has an organic lace pattern that looks different—but equally beautiful on each side. This intermediate pattern is quick and easy to work up. You'll definitely want the charming Island Fern Scarf in your summer wardrobe.
Don't forget, as well, that this and every pattern in I Like Knitting comes complete with:
A list of necessary yarn and tools you'll need
Row-by-row instructions
Special stitch instructions
Pattern notes
Detailed, full-color photography
Whether you are an intermediate or an advanced knitter, you'll find a lace pattern that's right for you, and we'll be right beside you, with plenty of tutorials and instructions.
These seed lace patterns are yours, along with a library of more than 700 patterns, expert tips and tutorials, and many more special collections, including the Seed Stitch Collection, The Beginner Collection, and The Baby Knits Collection. It's all yours with your membership in the I Like Knitting Gold Club. Join us today and enjoy all this and more!
But this is just a fraction of what you'll get with an I Like Knitting Gold Club Charter Membership—your membership includes subscriptions to the I Like Knitting Magazine Club and to the I Like Knitting Collections Club; full and immediate access to the digital library of 5+ years of magazine issues with 600+ knitting patterns and articles; step-by-step instructions for patterns; and video tutorials and full-color photographs for details about projects and stitches. Plus, FREE access to our two premium on-demand knitting videos, 9 Knitting Tutorials: Tips and Tricks for Knitters Old and New and Knitting Outside the Box: 3 Unexpected Stitch Tutorials.
Your I Like Knitting Gold Club Charter Membership gives you access to all of our knitting patterns and content, 24-hours-a-day on whatever device you prefer —desktop, or laptop. And the content is fully searchable, so you can find exactly what you want—when you want it—at your fingertips in an instant.
Here are just a few of the tantalizing patterns sitting in our library right now—and all contained in a single issue—to which you'll get instant access when you join the I Like Knitting Gold Club as a Charter Member:
Apple Leaves Sweater
Crisp Morning Cardigan
Spooky Cute Kitty Costume
Campfire Coals Cow
Macintosh Vest
Aspen Sweater
Cranberry Twist Sweater
The Touchdown Knit Scarf
Tailgating Messy Bun Hat
Alpine Cardi
Mountain Air Infinity Scarf Knitting Pattern
And the library of photos and video tutorials is gorgeous, inspiring, and practical— showing you exactly how your finished patterns should look and exactly how to execute stitches and patterns, even the difficult ones!
When you join our #1 community for knitting-lovers, you'll receive all of the handy benefits that knitters everywhere have been buzzing about:
You'll learn new stitch techniques with a variety of patterns that range from beginner to advanced.
You'll find expert tips and tricks that will help you achieve professional results.
You'll start getting requests for your stunning knitted items from your family and friends.
You'll have access to renowned designer patterns and tutorials from all over the world.
You'll never worry about mistakes in patterns or ripping out your progress because our tech-edited patterns are curated from trusted designers in the knitting community.
You'll be connected to an online community of knitters who are just as passionate as you!
Don't miss out on this exclusive Charter Membership offer to get all of the above and more!
When you activate your I Like Knitting Gold Club Charter Membership today, you'll get access to everything we have about knitting—all access and all the time:
A full year of upcoming issues of I Like Knitting magazine—Including 150+ exclusive designer knitting patterns and articles with step-by-step instructions, video tutorials and full- color photography for details of projects and stitches
Instant access to EVERY issue we've ever published—a vast library of more than 5 years of issues with 600+ patterns and articles
A full-year's subscription to the I Like Knitting Collections Club that includes 60 NEW and trendy patterns refreshed annually
Regular e-newsletters, full of the latest knitting tips & tricks and even more FREE patterns
NEW! Free Bonus! Instant access to our just-released on-demand streaming knitting videos, 9 Knitting Tutorials: Tips and Tricks for Knitters Old and New and Knitting Outside the Box: 3 Unexpected Stitch Tutorials—featuring patterns and tips for knitters of every skill level.
And here's what you don't get when you become a Charter Member of the I Like Knitting Gold Club—advertisements! That's right, we're advertising-free, so that we can devote more time, space, and effort to helping you be an awesome knitter.
All of this is available to you—right now—when you claim your I Like Knitting Gold Club Charter Membership. This special offer includes FREE unlimited access to our two streaming knitting videos, 9 Knitting Tutorials: Tips and Tricks for Knitters Old and New and Knitting Outside the Box: 3 Unexpected Stitch Tutorials…our gift for signing up now!
No other online magazine in the world has everything about knitting, all in one place and vetted and curated for your easy access and use.
Knitters everywhere have been enjoying I Like Knitting magazine for years, and now it's better than ever with more benefits, patterns, and content than you could ever imagine—with an I Like Knitting Gold Club Charter Membership.
When we first put this new club together for knitters like you, your needs and desires were top-of-mind. We're the ultimate resource and network for knitters everywhere, offering original designer patterns and content from authoritative and respected voices in the knitting world.
I think you'll agree that this really is an unusual offer, plus FREE access to our two premium streaming knitting videos when you become an I Like Knitting Gold Club Charter Member today! It's an incredible deal that you don't want to ignore!
Why not be among the select group of knitters to join us today and benefit from all the valuable information about knitting that you can't get anywhere else?
Become an I Like Knitting Gold Club Charter Member today—while this special offer lasts!
Happy knitting,

Caitlin Eaton
Editor, I Like Knitting Magazine
P.S. – Please join today so you can take advantage of this special Charter Membership offer, plus two FREE knitting videos!