Don't miss out on these stylish summer knits as part of your I Like Knitting Gold Club membership!
Welcome to the June 2021 issue of I Like Knitting. It's mid-spring as I'm writing this, and there's still a little chill in the evening air. That's okay, because the days are getting longer and brighter, that thermometer is reaching a little higher every day, and the blackbirds and Cardinals are singing in the treetops. It's hard not to spend a little time daydreaming about seaside lounging, quiet walks in nature, or our favorite activity: knitting the perfect tank, tee, or tote for summer style!
We're excited for you to join us, too. The hard part is figuring out where to begin! There's a lot in this issue, from patterns inspired by the tranquility of seaside lounging to bold, beachy brights to summer accessories that reflect the warm tones of a summer sunrise.
You can also check out four new knitting books that are just hitting the shelves, take a look at 11 new tie-dye themed knitting products, and explore some creative fun in the Step Into Tie Dye Tutorial.
There's no other way to say it; the June 2021 issue of I Like Knitting is top notch! You'll find some of your favorite designers in here, plus there are some designers making their debut with us. All in all, we're really excited about this issue, and hope you enjoy the projects as much as we have.
Now on to the knitting!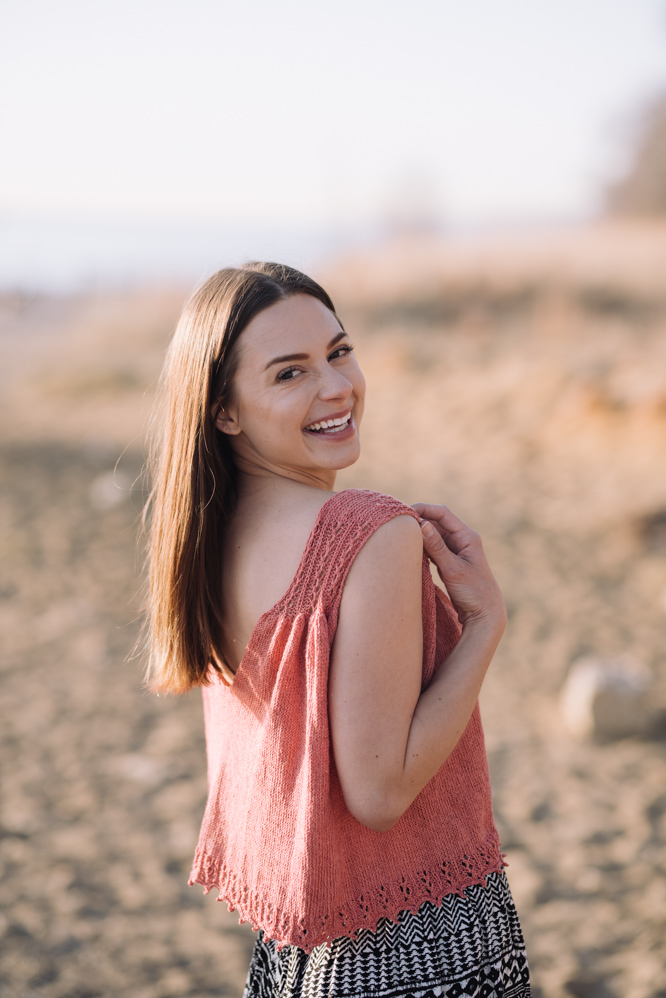 The Kairi Tank is all about those carefree summer days watching the fireflies and listening to the crickets. This semi-cropped, sleeveless tank is perfect for summer days, and easily converts to a vest. And the oversized shape helps it fit any body type without too much effort in sizing.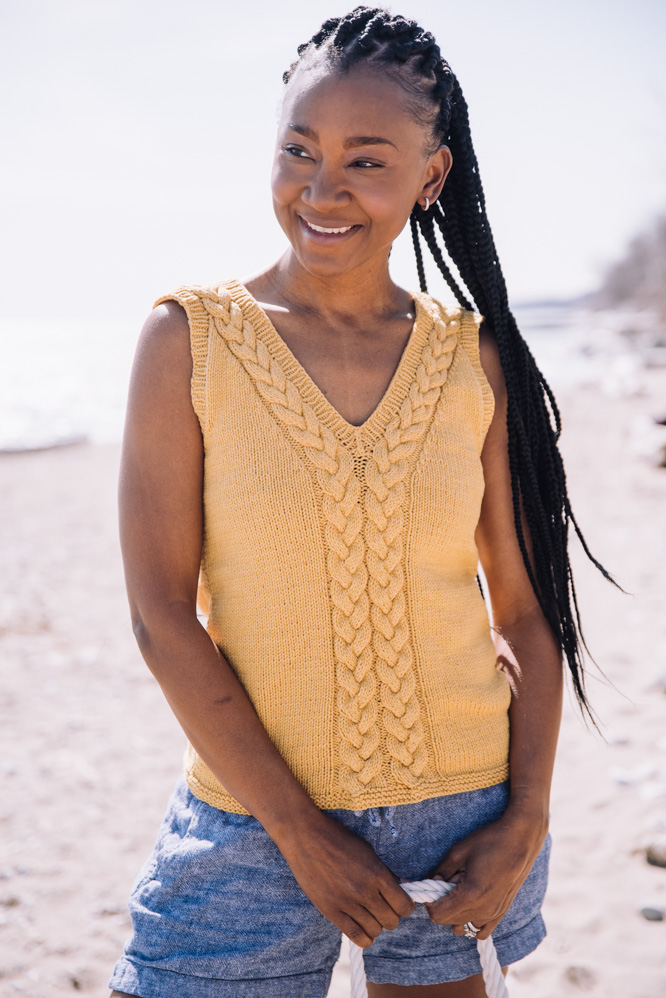 The Cora Cabled Tank, from designer Nazanin Fard, is the drop of sunshine we all need in our closet. This gorgeous stockinette stitch tank top features an attractive cable pattern worked in front into a V-neck, continuing on to the shoulders. If you're looking for a project to start your summer knitting, this is it!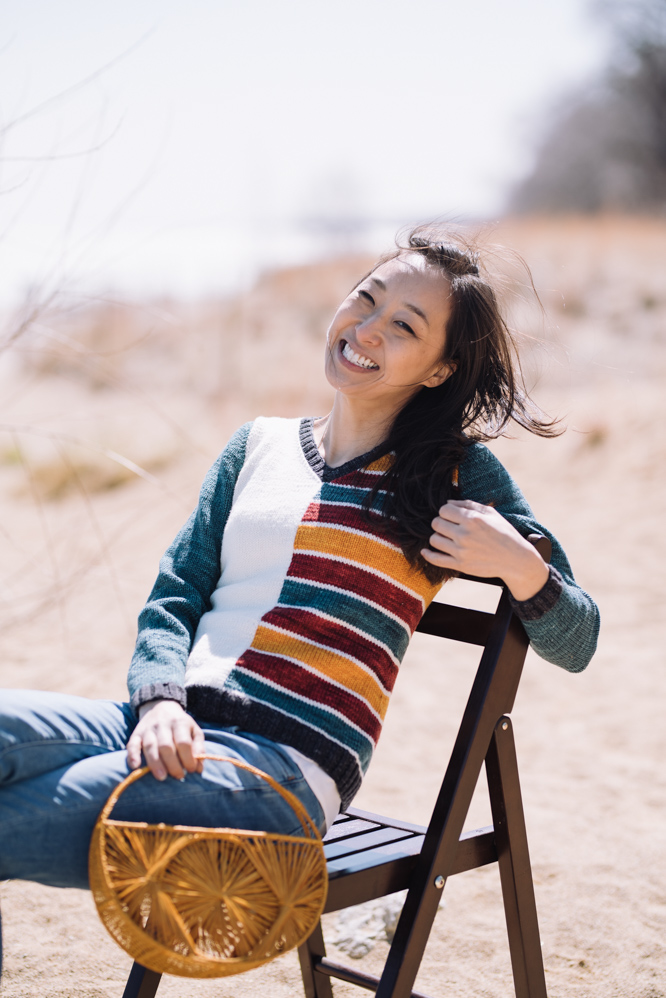 Even spectacular days at the beach can turn into breezy and cool evenings, which is why we love the Hali Half Stripe Sweater, from Adrienne Larsen. "Stunning" doesn't begin to describe the beauty of this Merino wool and nylon sweater. Bands of ruby red, ocean teal, and golden yellow is a modern take on the classic striped sweater. The pattern is worked flat from the bottom up in one piece, with one side seam joining the front and back MC sides. This is an advanced-level project, but if you're up for the challenge, the final piece is sure to get rave reviews from everyone.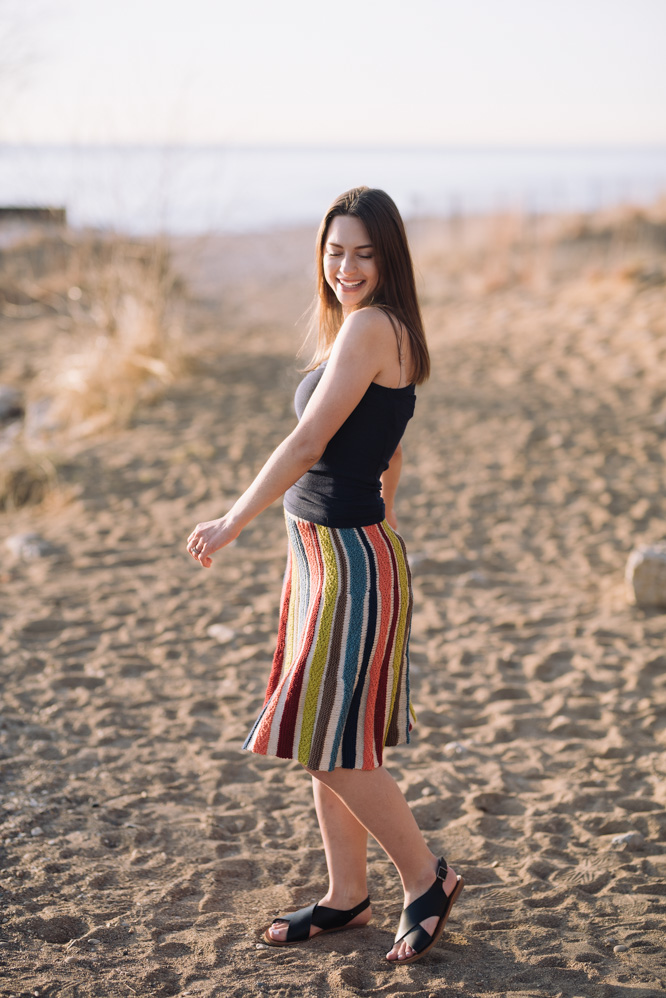 When you want to branch out, take a look at the Mariza Striped Skirt! The bold, playful design uses six different colors to create a beautiful garment that can double as a stashbuster! This cotton and linen piece is an easy project to knit, and it's also an easy project to customize. This skirt goes great with your favorite tank, or dress it up with a plain button up.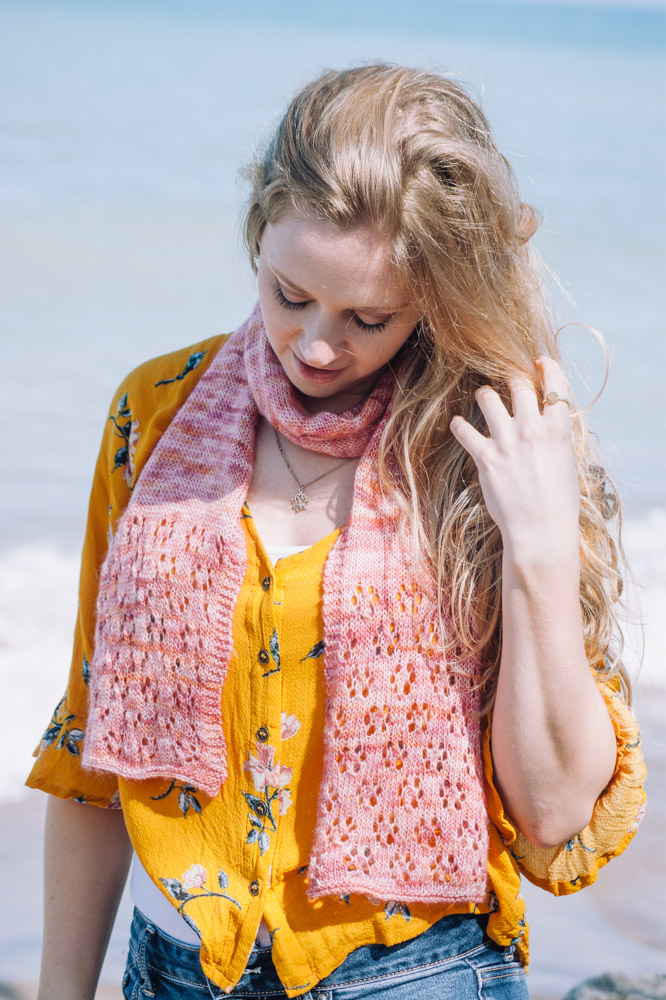 The lightweight, extrafine Merino and linen Rosado Eyelet Scarf is a fantastic one-skein project! Cool summer mornings or moonlit strolls? The Rosado is your scarf. With delicate eyelet details on the ends, this scarf works with your most comfortable tee or your sophisticated evening dress.
Each of these patterns, and ten more, are yours in the June 2021 issue of I Like Knitting. And that's just the start of your I Like Knitting Gold Club Charter Membership. Along with the June issue, you have instant access to our complete digital library of 600+ patterns, magazine issues, special collections, tutorials, and articles.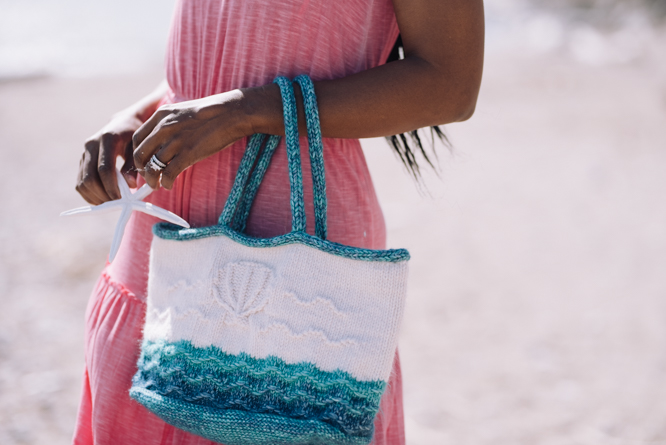 Sunny skies are here, and the latest issue of I Like Knitting has the patterns you need for summer style. We hope you'll enjoy the brand new issue of I Like Knitting, including these exciting patterns:
The playful Bay Scallop Beach Tote is made for the shore, but is versatile enough for everyday use. Textured stitches and simple colorwork give this bag a simple, but intriguing air.
The one-of-a-kind Solano Tie Dye Socks give you the opportunity to make your own personalized yarn! This fun weekend project is perfect for beginners.
Add a cool, nautical piece to your collection with the Pacifica Stripes Tee! The sport-weight linen design is ideal for summer days and casual nights
… and that's just the beginning of the hundreds of patterns you have access to.
All the patterns and tutorials you want are here for you, 24 hours a day on your desktop, laptop, or tablet. Discover patterns that will keep your wardrobe fresh and stylish all year long, no matter the season.
But this is just a fraction of what you'll get with an I Like Knitting Gold Club Charter Membership—your membership includes subscriptions to the I Like Knitting Magazine Club and to the I Like Knitting Collections Club; full and immediate access to the digital library of 5+ years of magazine issues with 600+ knitting patterns and articles; step-by-step instructions for patterns; and video tutorials and full-color photographs for details about projects and stitches. Plus, FREE access to our two premium on-demand knitting videos, 9 Knitting Tutorials: Tips and Tricks for Knitters Old and New and Knitting Outside the Box: 3 Unexpected Stitch Tutorials.
Your I Like Knitting Gold Club Charter Membership gives you access to all of our knitting patterns and content, 24-hours-a-day on whatever device you prefer —desktop, or laptop. And the content is fully searchable, so you can find exactly what you want—when you want it—at your fingertips in an instant.
Here are just a few of the tantalizing patterns sitting in our library right now—and all contained in a single issue—to which you'll get instant access when you join the I Like Knitting Gold Club as a Charter Member:
Apple Leaves Sweater
Crisp Morning Cardigan
Spooky Cute Kitty Costume
Campfire Coals Cow
Macintosh Vest
Aspen Sweater
Cranberry Twist Sweater
The Touchdown Knit Scarf
Tailgating Messy Bun Hat
Alpine Cardi
Mountain Air Infinity Scarf Knitting Pattern
And the library of photos and video tutorials is gorgeous, inspiring, and practical— showing you exactly how your finished patterns should look and exactly how to execute stitches and patterns, even the difficult ones!
When you join our #1 community for knitting-lovers, you'll receive all of the handy benefits that knitters everywhere have been buzzing about:
You'll learn new stitch techniques with a variety of patterns that range from beginner to advanced.
You'll find expert tips and tricks that will help you achieve professional results.
You'll start getting requests for your stunning knitted items from your family and friends.
You'll have access to renowned designer patterns and tutorials from all over the world.
You'll never worry about mistakes in patterns or ripping out your progress because our tech-edited patterns are curated from trusted designers in the knitting community.
You'll be connected to an online community of knitters who are just as passionate as you!
Don't miss out on this exclusive Charter Membership offer to get all of the above and more!
When you activate your I Like Knitting Gold Club Charter Membership today, you'll get access to everything we have about knitting—all access and all the time:
A full year of upcoming issues of I Like Knitting magazine—Including 150+ exclusive designer knitting patterns and articles with step-by-step instructions, video tutorials and full- color photography for details of projects and stitches
Instant access to EVERY issue we've ever published—a vast library of more than 5 years of issues with 600+ patterns and articles
A full-year's subscription to the I Like Knitting Collections Club that includes 60 NEW and trendy patterns refreshed annually
Regular e-newsletters, full of the latest knitting tips & tricks and even more FREE patterns
NEW! Free Bonus! Instant access to our just-released on-demand streaming knitting videos, 9 Knitting Tutorials: Tips and Tricks for Knitters Old and New and Knitting Outside the Box: 3 Unexpected Stitch Tutorials—featuring patterns and tips for knitters of every skill level.
And here's what you don't get when you become a Charter Member of the I Like Knitting Gold Club—advertisements! That's right, we're advertising-free, so that we can devote more time, space, and effort to helping you be an awesome knitter.
All of this is available to you—right now—when you claim your I Like Knitting Gold Club Charter Membership. This special offer includes FREE unlimited access to our two streaming knitting videos, 9 Knitting Tutorials: Tips and Tricks for Knitters Old and New and Knitting Outside the Box: 3 Unexpected Stitch Tutorials…our gift for signing up now!
No other online magazine in the world has everything about knitting, all in one place and vetted and curated for your easy access and use.
Knitters everywhere have been enjoying I Like Knitting magazine for years, and now it's better than ever with more benefits, patterns, and content than you could ever imagine—with an I Like Knitting Gold Club Charter Membership.
When we first put this new club together for knitters like you, your needs and desires were top-of-mind. We're the ultimate resource and network for knitters everywhere, offering original designer patterns and content from authoritative and respected voices in the knitting world.
I think you'll agree that this really is an unusual offer, plus FREE access to our two premium streaming knitting videos when you become an I Like Knitting Gold Club Charter Member today! It's an incredible deal that you don't want to ignore!
Why not be among the select group of knitters to join us today and benefit from all the valuable information about knitting that you can't get anywhere else?
Become an I Like Knitting Gold Club Charter Member today—while this special offer lasts!
Happy knitting,

Caitlin Eaton
Editor, I Like Knitting Magazine
P.S. – Please join today so you can take advantage of this special Charter Membership offer, plus two FREE knitting videos!