Fisherman's rib, creative cables, cozy chenille, sweet socks and more are on the February menu of projects. From beginner to expert, there's a project here for you!
Dear Knitting Friend,
It's a new year, and time for new projects — from essential (and lovely!) sweaters to whimsical and romantic accessories. There's still plenty of winter left in much of the country, so you might want make the Everleigh Fisherman's Rib Sweater, featured on this month's cover. This comfy, cozy sweater is worked in the round from the bottom up. It's seamless, too. And as a bonus, you can even wear this sweater inside out! This is a great project to try if you haven't made any projects with fisherman's rib stitches.
New Year Must-Haves
Now, you might want to start out a little smaller if you've never worked fisherman's rib stitches before. Enter the Caley Fisherman Scarf. This is a quick and easy pattern you can work up in a day while you're binging your favorite show. It doesn't demand a lot of your attention, and the end product is a gorgeous, two-color striped scarf that's reversible — and perfect for anyone!
Another easy project with great appeal is the Seren Split Turtleneck Sweater. This pattern is rated easy, making it a terrific choice for new knitters and an ideal option for advanced knitters who just want to take a break. Make this sweater your own with your choice of buttons to lead up the split shoulder to the lovely 2×2 ribbed turtleneck.
For more experienced knitters, there's the Thalia Cardigan with an open front, a shawl collar, and an overall textured pattern that catches the eye and feels oh-so-good to wear! If you're ready for a cable challenge, take on the Helena Cardigan. This stunning sweater features an ornamental cable in the middle of the back, and flowing cables in the front and down the sleeves.
Spring Beginnings
Ring in spring with the Alanna Shadow Stripe Cardigan. This creative take on a classic striped cardigan uses yarn in light and lace weight together to create a light and breezy sweater with an airy look and feel. The Ella Pullover is an advanced project that features intricate hem and sleeve details. You'll love the elegant look of this sweater, right down to the button-up back. If you're looking for something on the lighter side, make the Lillee Boatneck Sweater, knit in the round from the bottom up. The easy, all-over lace pattern makes this a perfect choice for spring, and you'll love the scalloped edges on the hem and sleeves. The Elora Balloon Sleeves Sweater is an intermediate project knit seamlessly from the top down. This sweater has an ethereal, airy feel, and the combination of silk and mohair result in a delicate garment that you can dress up or down.
Be Our Galentine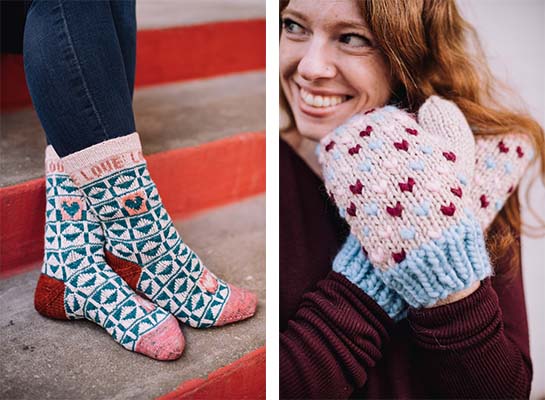 Valentine's Day is always a good excuse to make a heart-felt gift. Start with our Heart of Hearts Mittens — an easy project you can finish in a day. And when you're done, you'll have a lovely pair of cozy, classic thrummed mittens. Once you've taken care of keeping fingers warm, knit up our Love Letter Socks, complete with little envelopes, hearts peeking out, and "love" all around. You pick the color scheme to make these socks uniquely yours.
Maybe it's time to knit up a complete outfit. Start with the Be Mine Turtleneck, a super cozy pullover that's a mix of retro and modern. The addition of mohair to this pattern adds fluffiness and warmth to this sweet sweater. The Maci Pocket Skirt is a flattering, warm delightful companion piece to the Be Mine Turtleneck. This skirt has it all: delightful drape, an elastic waist, and pockets!
How about a one-ball project you can have done in a week? Cozy up to the Chloe Chenille Scarf, an ideal project for a beginning knitter that nets you a plush scarf with beautiful texture. No increases or decreases, just a shifting rib pattern that makes this scarf look far more complex than it is.
And here's a great stashbuster project to make colorful gifts in about an hour. The Beaded Initial Keychain uses super fine crochet thread and contrasting color seed beads to create a one-of-a-kind gift. Step up your knitting game by learning to add beads to your work. Careful: this project may be habit-forming!
So many choices — sweaters, socks, mittens, and more.  Which project will you knit first?
But this is just a fraction of what you'll get with an I Like Knitting Gold Club Charter Membership—your membership includes subscriptions to the I Like Knitting Magazine Club and to the I Like Knitting Collections Club; full and immediate access to the digital library of 5+ years of magazine issues with 600+ knitting patterns and articles; step-by-step instructions for patterns; and video tutorials and full-color photographs for details about projects and stitches. Plus, FREE access to our two premium on-demand knitting videos, 9 Knitting Tutorials: Tips and Tricks for Knitters Old and New and Knitting Outside the Box: 3 Unexpected Stitch Tutorials.
Your I Like Knitting Gold Club Charter Membership gives you access to all of our knitting patterns and content, 24-hours-a-day on whatever device you prefer —desktop, or laptop. And the content is fully searchable, so you can find exactly what you want—when you want it—at your fingertips in an instant.
Here are just a few of the tantalizing patterns sitting in our library right now—and all contained in a single issue—to which you'll get instant access when you join the I Like Knitting Gold Club as a Charter Member:
Apple Leaves Sweater
Crisp Morning Cardigan
Spooky Cute Kitty Costume
Campfire Coals Cow
Macintosh Vest
Aspen Sweater
Cranberry Twist Sweater
The Touchdown Knit Scarf
Tailgating Messy Bun Hat
Alpine Cardi
Mountain Air Infinity Scarf Knitting Pattern
And the library of photos and video tutorials is gorgeous, inspiring, and practical— showing you exactly how your finished patterns should look and exactly how to execute stitches and patterns, even the difficult ones!
When you join our #1 community for knitting-lovers, you'll receive all of the handy benefits that knitters everywhere have been buzzing about:
You'll learn new stitch techniques with a variety of patterns that range from beginner to advanced.
You'll find expert tips and tricks that will help you achieve professional results.
You'll start getting requests for your stunning knitted items from your family and friends.
You'll have access to renowned designer patterns and tutorials from all over the world.
You'll never worry about mistakes in patterns or ripping out your progress because our tech-edited patterns are curated from trusted designers in the knitting community.
You'll be connected to an online community of knitters who are just as passionate as you!
Don't miss out on this exclusive Charter Membership offer to get all of the above and more!
When you activate your I Like Knitting Gold Club Charter Membership today, you'll get access to everything we have about knitting—all access and all the time:
A full year of upcoming issues of I Like Knitting magazine—Including 150+ exclusive designer knitting patterns and articles with step-by-step instructions, video tutorials and full- color photography for details of projects and stitches
Instant access to EVERY issue we've ever published—a vast library of more than 5 years of issues with 600+ patterns and articles
A full-year's subscription to the I Like Knitting Collections Club that includes 60 NEW and trendy patterns refreshed annually
Regular e-newsletters, full of the latest knitting tips & tricks and even more FREE patterns
NEW! Free Bonus! Instant access to our just-released on-demand streaming knitting videos, 9 Knitting Tutorials: Tips and Tricks for Knitters Old and New and Knitting Outside the Box: 3 Unexpected Stitch Tutorials—featuring patterns and tips for knitters of every skill level.
And here's what you don't get when you become a Charter Member of the I Like Knitting Gold Club—advertisements! That's right, we're advertising-free, so that we can devote more time, space, and effort to helping you be an awesome knitter.
All of this is available to you—right now—when you claim your I Like Knitting Gold Club Charter Membership. This special offer includes FREE unlimited access to our two streaming knitting videos, 9 Knitting Tutorials: Tips and Tricks for Knitters Old and New and Knitting Outside the Box: 3 Unexpected Stitch Tutorials…our gift for signing up now!
No other online magazine in the world has everything about knitting, all in one place and vetted and curated for your easy access and use.
Knitters everywhere have been enjoying I Like Knitting magazine for years, and now it's better than ever with more benefits, patterns, and content than you could ever imagine—with an I Like Knitting Gold Club Charter Membership.
When we first put this new club together for knitters like you, your needs and desires were top-of-mind. We're the ultimate resource and network for knitters everywhere, offering original designer patterns and content from authoritative and respected voices in the knitting world.
I think you'll agree that this really is an unusual offer, plus FREE access to our two premium streaming knitting videos when you become an I Like Knitting Gold Club Charter Member today! It's an incredible deal that you don't want to ignore!
Why not be among the select group of knitters to join us today and benefit from all the valuable information about knitting that you can't get anywhere else?
Become an I Like Knitting Gold Club Charter Member today—while this special offer lasts!
Happy knitting,

Caitlin Eaton
Editor, I Like Knitting Magazine
P.S. – Please join today so you can take advantage of this special Charter Membership offer, plus two FREE knitting videos!