Welcome the arrival of Fall with stunning new projects!
Dear Knitter,
As warm summer breezes give way to the crisp cool air of Autumn, you know it's time to start knitting up some cozy layers! From snazzy socks to comfy cardigans, we have dozens of delightful projects for you!
Let's take a look inside the October 2023 issue of I Like Knitting to see the Fall forecast!
Featured Pieces
As an Autumn appetizer, consider putting some of these projects on your to-knit list:
Tawney Sweater Blazer: A cozy cardigan with a tailored finish.
Joy of Lace Scarf: Blocks of lace in muted jewel tones make this scarf a joy to make and a joy to wear.
Auberon Cabled Hat: This fun textured design is gender-neutral, with an all-over cabled pattern you'll memorize in no time!
Mae Cabled Tunic: A stunner of a sweater!
Lattice Boot Cuffs: Get that chunky sock look without all the bulk!
Pumpkin Pouf: The perfect whimsical Autumn footrest!
Here are just a few more of the ways for you to cover up, stay cozy, and add some fall décor to your home:
Fall's It Bags
The garnet is a gem that symbolizes friendship. What better way to surprise a friend than with the Cabernet Crossbody Bag? This bag features a dazzling diagonal woven pattern that will dress up any casual outfit. If you'd like to work on your Tunisian Crochet skills, you can make the strap using that technique; or knit an I-Cord strap instead. For and added elegant look, use vintage (or vintage style) hardware to attach the strap to the bag.
Other projects you can have "in the bag" include the Brinley Tote, Estella Purse, Cabernet Crossbody Bag, and more!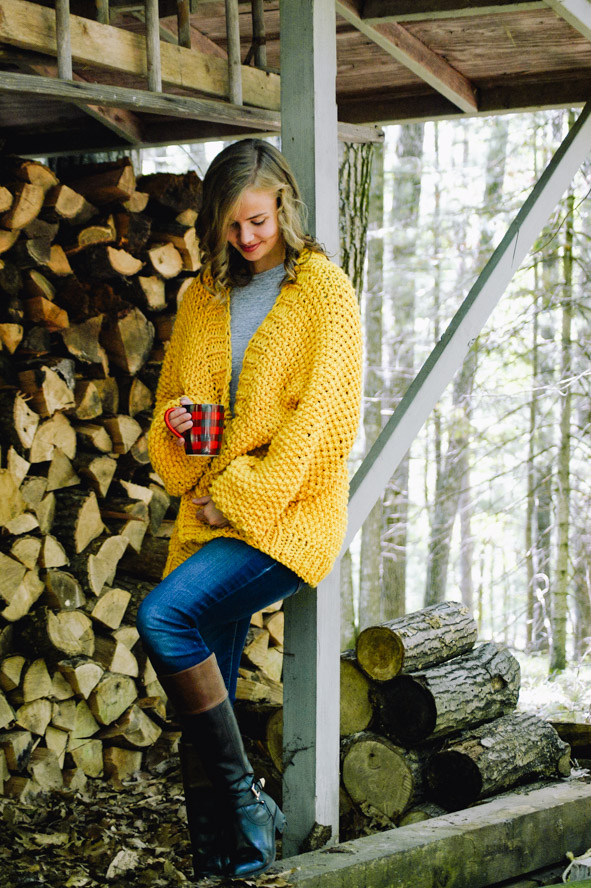 Slouchy Staples  
Fall is sweater season, and we have plenty of comfy choices for you!
We all need an oversized, cozy, classic cardigan. Refresh your cardigan collection with our Flicka Cardigan. It features loose, flowing poet sleeves and a big shawl collar. Work This open-front raglan cardigan from the top down and get ready to wrap yourself in total comfort!
Or consider making the Myrah Patchwork Cardigan, Rylan Oversized Cardigan, Poplar Cardi, Helena Cable Cardigan, or one of four other super sweaters!
Scarf Season
In truth, it's always scarf season; it's just a matter of which warmth or decorative level you prefer. Here are a few of our fall favorites:
The Caley Fisherman's Rib Scarf is a quick and easy pattern you can work up in a day while you're binging your favorite show. It doesn't demand a lot of your attention, and the end product is a gorgeous, two-color striped scarf that's reversible — and perfect for anyone!
Need some other scarf ideas for you, friends, and family? Consider the Mystic Mountains Scarf, Autumn's True Stripes Scarf, Raelyn Beginner Broken Rib Scarf, Poppy Broken Brioche Lines Scarf, October Afternoons Beginner Knit Scarf Pattern, Stoughton Coffee Bean Scarf, and others!
Sweaters' BFFS: Hats!
Knit yourself a beret, and feel yourself transported to a time when life was simpler. Our Pumpkin Pecan Slouchy Beret by Karen Fletcher adds lacework to keep your head cozy but still let you feel the fresh air of fall as the breeze blows through the trees. Now, this project might take you a week or two with all that lacework—but just think of how wonderful it will feel the first time you put this hat on! Treat yourself to this elegant slouchy hat with just a touch of attitude.
You might also enjoy making the Knot to Worry Hat, Grayson Mistake Rib Beginner Hat, Autumn Fields Beanie, Burnt Sienna Slouch Hat or several other delightful season toppers.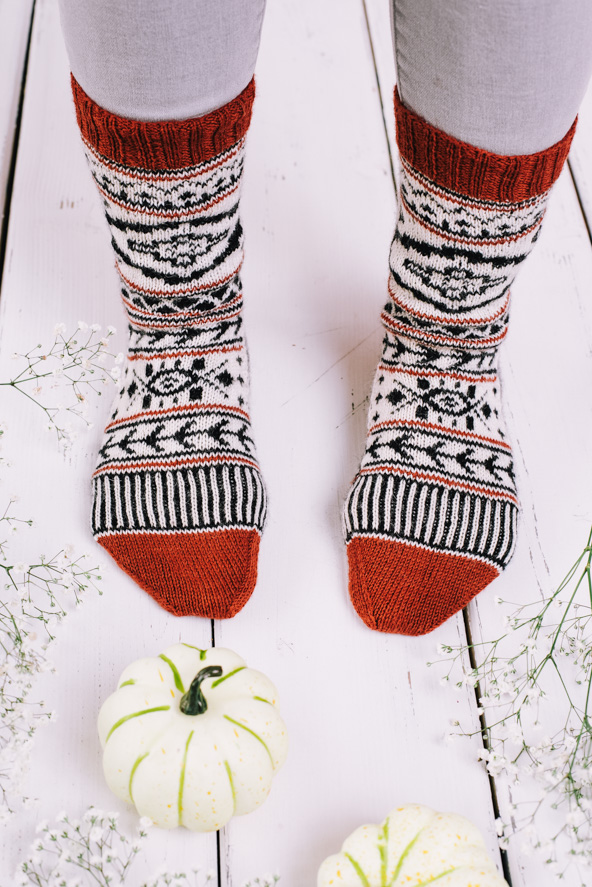 Best Foot Fall-ward
Put your feet up in style in a new pair of Autumn Bloom Socks by Melissa Harr. When plain stockinette socks say boring and lace or cable socks say too much, take a different path and make yourself these lovely cuff-down socks that use twisted stitches to create a pattern that looks complicated but isn't. But, hey—we won't tell if you won't.
You'll need a little sock-knitting experience under your belt to make these, but when they're done, your feet will thank you. These could become your festive fireside socks!
We have more sock patterns to help you spruce up your sock drawer, including Wheat Harvest Socks, Toasted Marshmallow Socks, Autumn Aztec Socks, and more!
Shift into Neutral
If you're comfortable with the easy level knitting skills and are ready to put them all together in one lovely project, consider making our Sandalwood Pullover. The wonderfully simple sweater has a smooth body and sleeves worked in the round, accentuated by a simple lace pattern in the yoke and sleeve caps. Dress it up or down, and make it in your favorite color.
Or try one of our other featured neutral projects: Misty Horizon Hoodie, Kinsley Diamonds Vest, Sandalwood Pullover, or London Fog Latte Sweater.
All these projects alone would be enough to keep you busy well into Fall. But wait; there's more! Here's a quick look at some of the other projects in our October issue:
Autumn's Best Accessories
Bronwyn Chunky Headband
Hazel Cabled Headband Ear Warmer
Freya Fingerless Mitts
Autumn's Aztec Mittens
Raelyn Beginner Broken Rib Cowl
Mulberry Wine Cowl
…plus 4 more!
Gather Round
Waves of Grain Pillow
Bonfire Plaid Blanket
Wee-B-Little Pumpkins
Turning New Leaves Garland
Indoor Picnic Placemat
…and 3 more!
Better Together
Milena Mittens + Hood Set
Woven Gold Hat and Cowl Set
Branch Lace Hat and Mitts Set
Pumpkin Spice Hat and Scarf Set
…plus 3 more!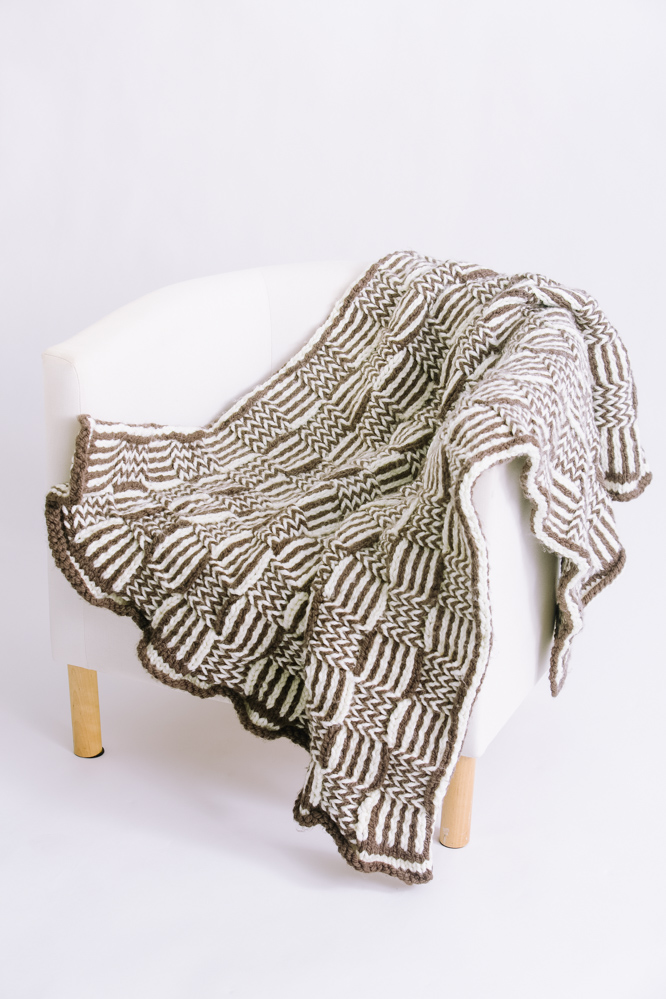 The October 2023 issue of I Like Knitting is packed with patterns that are bound to become new wardrobe staples and go-to décor.
Each one of the patterns in I Like Knitting comes with everything you need to finish your project:
A full list of all the yarns and tools you'll need
Row by row instructions
Special stitch instructions
Pattern notes
Detailed, full-color photography
There's something for knitters of all experience levels in the October 2023 issue of I Like Knitting. And if you're still craving more creative projects ideas, you have immediate access to our complete library of more than 700 patterns, expert tips and tutorials, along with many more special collections, including The Knit Mitten Collection, The One-Skein Knitting Collection, The Vintage Knits Collections and The Knit Hat Collection. It's all yours with your membership in the I Like Knitting Gold Club.
We have over a dozen bold and beautiful projects in our October 2023 issue. Which project will you cast on first?