Bold beanies, cozy cables, luxurious wraps, and the perfect holiday  gifts are here for you to enjoy!
Dear Knitting Enthusiast,
Is your cold-weather wardrobe up to date? Do you need a last-minute holiday party gift? Does the thought of a new sweater make you smile? Can you almost feel the soft wool and warmth of a cabled scarf? If you can nod your head to any of this, then the December 2022 issue of I Like Knitting is for you! From colorful, seasonal red tops and accessories to exquisitely textured scarves to Fair Isle sweaters that you may just want to live in, this issue is all about keeping warm and cozy in winter weather.
With 47 + designs, you'll find fun projects for beginners and advanced knitters alike. And you can peruse our curated lists of more than 30 new knitting books, festive knitting products, and cheerful knitting-themed holiday mugs! Who could say no to an enamel Knitting Snowman pin?
The spirit of the season is here in the December 2022 issue of I Like Knitting. Whether it's a seamless raglan with a center front cable panel, a colorful honeycomb-inspired wool hat, or an infinity cowl with an intricate lace pattern, the Merry Must Haves in this edition are designed for joy.
The December 2022 issue of I Like Knitting has plenty of fun projects for everyone, from easy designs for beginners to more challenging projects for advanced knitters. Plus, our digital library also includes hundreds of patterns, video tutorials, special collections, and more. So, who's ready to celebrate the season?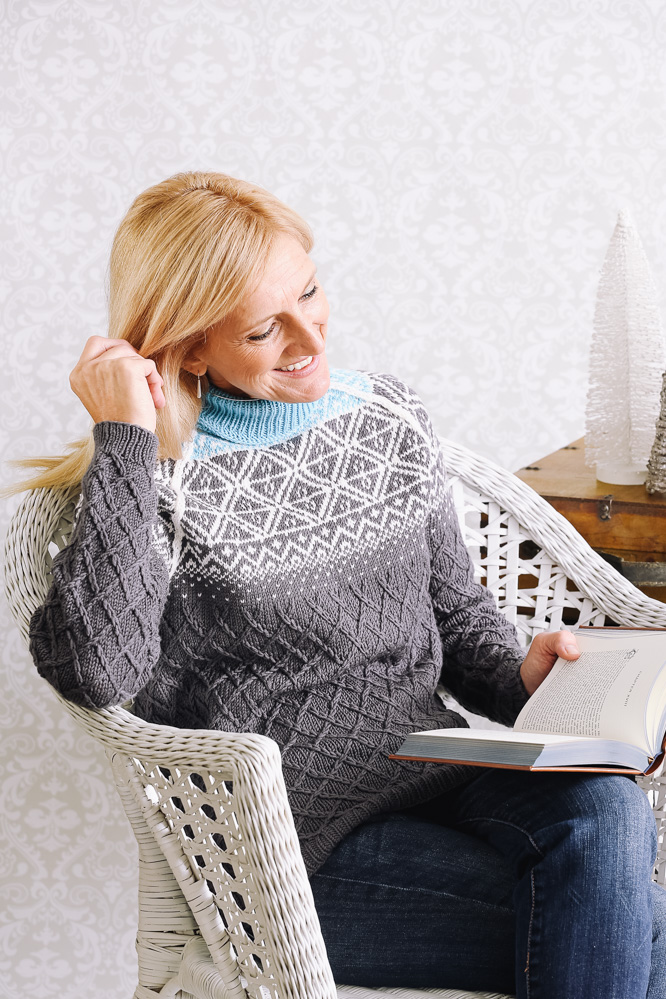 The Ice Mountain Pullover is simply stunning. This highly-textured pattern, from Amy Gunderson, features soft colors that highlight the gorgeous Fair Isle design. This intermediate-level pattern is worked seamlessly from the bottom up, and is sure to get compliments wherever you go.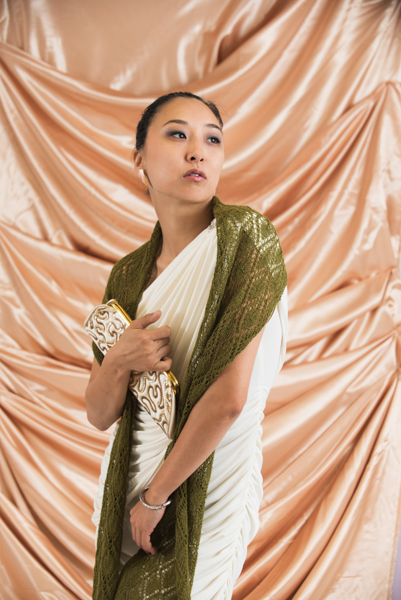 If you want to feel glamorous, don't miss the Nouveau Year Wrap, from designer Miranda Jollie. The alpaca and silk yarn of this art deco-inspired wrap will light up the night with its subtle shimmer and the beaded edges add an extra touch of elegance. And though this lacy wrap might look like a complicated pattern, it's perfect for beginners.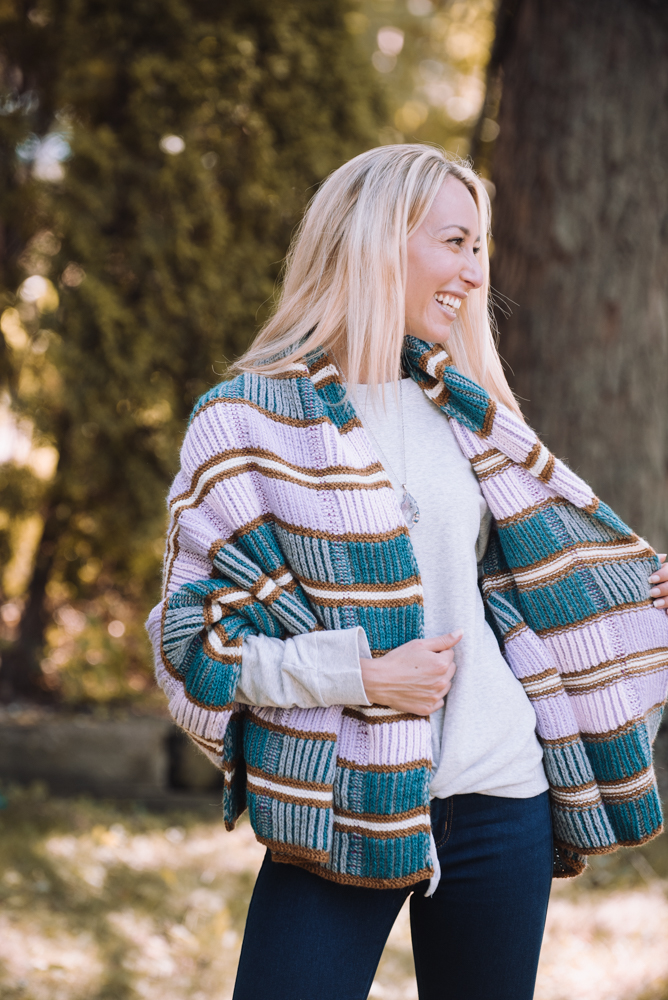 For something a little heavier, the Color Me Plaid Brioche Wrap is perfect. This design comes to us from Renate Kamm, and features a fully reversible, syncopated 4-color brioche design. Garter stitches, which are later decorated, make the syncopating process easy to remember. Large swaths of lavender and blue are interrupted with brown and vanilla stripes, making this piece a visual delight, while the acrylic, wool, and nylon yarn make it a joy to wear.
Don't forget to keep your head warm! The Easy Ribbed Beanie, from Callie Maidhof, is a quick project to work up and it looks great on anyone. The design is simple and classic, and since it's one color, you can opt to stay cozy in your favorite shade.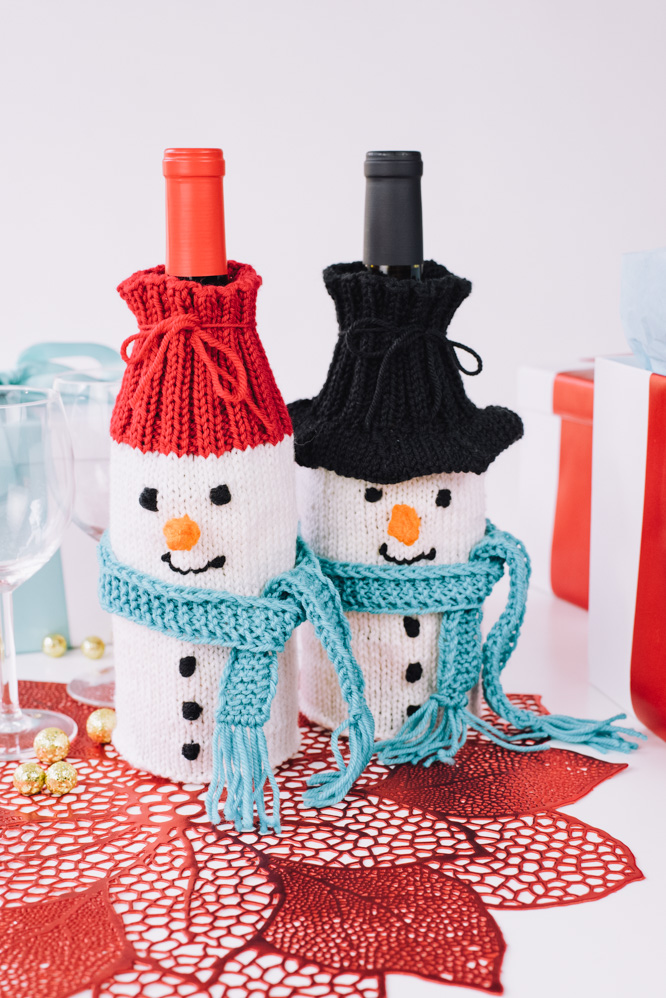 You don't need snow to enjoy making adorable snowmen. These Wine-derful Time Snowman Bottle Cozies are just right for your whites and reds. These adorable cozies make a fabulous last-minute gift or keep them to add some atmosphere to your own home.
The December 2022 issue of I Like Knitting has the detailed instructions for these designs and then some. Get fun home accessories like the Dishes are a Breeze Beginner Dishcloths or the oh-so-cute Cappuccino Cozies. Update your winter attire with the Chamomile Pullover or the striking Queen of Hearts Dress. And get as cozy as cozy can be with Cambrie Cable Slippers or the Winter Garden Gate Throw.
Best of all, this issue of I Like Knitting comes with so much more than what's here.
Your I Like Knitting Gold Club Charter Membership includes every pattern in this issue, plus our entire library of magazine issues and special collections with hundreds of patterns, tutorials, full-color photographs, and step-by-step instructions!