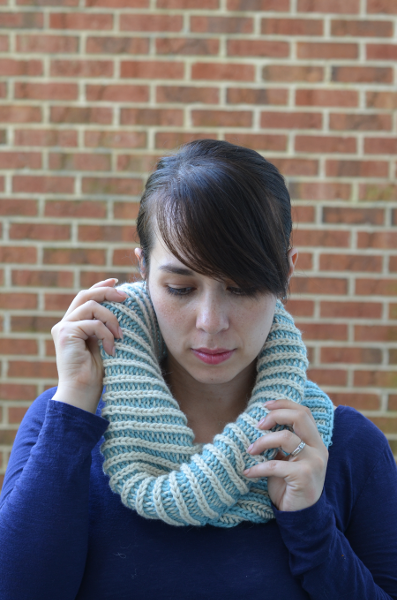 Learn to knit two-color brioche with this squishy, cozy, reversible cowl! This cowl is perfect for learning the basics of working brioche stitch in the round. Made in colors that envoke a wintery chill, this cowl is sure to keep you super warm.
Skill Level: Intermediate 
Size: 10" tall x 28" around, or 14" when folded flat
Gauge: 11 sts and 18 rows = 4" [10 cm] in brioche rib after blocking
Materials
Yarn: Blue Sky Alpacas Worsted Hand Dyes (50% alpaca, 50% merino; 100 yards [91 meters]/100 grams): #2023 Lagoon (MC, 1 skein), #2003 Ecru (CC, 1 skein)
Needles: US size 9 (5.5 mm) circular needles (24")
Notions: Stitch marker, tapestry needle
Abbreviations
Bricoche knit (BK): K2tog knit stitch and corresponding yo
Brioche purl (bp): P2tog purl stitch and corresponding yo
Slyo: yo, slip 1 stitch purl-wise (yarn over should be over the slipped stitch)
Pattern Notes
This pattern is worked in the round.
When working the first and last stitch of each round be sure that you are working the corresponding yarn over. Since these are not secured they are easy to miss!
Pattern
With MC, CO 80 sts over two needles. Join to knit in the round, being careful not to twist. Pm for beginning of round.
Setup Rnd 1: [K1, p1] to end.
Setup Rnd 2: [K1, slyo] to end.
Note: After your second setup round it will appear you have 120 stitches on the needles, but every other stitch has a corresponding yarn over.
Brioche Rib
Rnd 1: With CC, [slyo, bp] to end.
Rnd 2: With MC, [bk, slyo] to end.
Repeat Rounds 1-2 until work measures approximately 93/4" from CO edge.
Rnd 3: With MC, [bk, p1] to end.
Note: After this round you'll be back to 80 sts, without the yarn-overs.
Rnd 4: [K1, p1] to end.
Bind Off
K2, *slip 2 sts purl wise from right hand needle to left hand needle, k2tog tbl, k1; rep from * until all sts have been bound off. Break yarn and pull through.
Finishing
Weave in ends. Wash and block lightly, lay flat to dry. Trim ends after blocking.