From cool cardigans to tops ablaze with summer colors, this issue of I Like Knitting is here so you can discover your next project.
Dear Knitting Enthusiast,
Summer is all about those special moments – the dragonfly hovering over the lake, busy bees in the lavender, fiery colors of sunsets, and the blinking of fireflies at dusk. Gardens are abundant with heirloom tomatoes and juicy watermelon. On afternoon strolls we pass lemonade stands, kids jumping rope, and long happy lines at the ice cream window.
In all those summer moments you'll find color. The pinks and oranges of sunsets, the crimson flowers in the garden, yellow lemons, green and pink melons, and the rich array of colors that summer somehow manages to fill into every nook.
It's that summer color that inspired this August 2022 issue of I Like Knitting. You'll find bold designs, rich cables, fun fringe, soft yarns, warm season sweaters, vests for when you need to dress up a casual look, totes for beach trips, new knitting books, exciting new knitting products, and accessories to help you look your best whatever you do.
The August 2022 issue of I Like Knitting has plenty of fun projects for everyone, from easy designs for beginners to more challenging projects for advanced knitters. Plus, our digital library also includes hundreds of patterns, video tutorials, special collections, and more. The only question is what to work on first?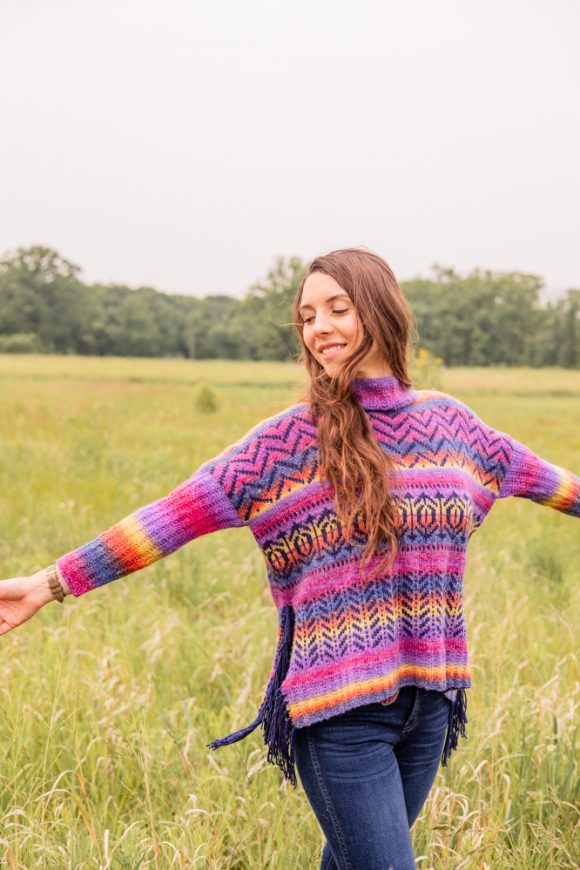 If I had to pick one favorite design in this issue, it would be a hard choice, but the Solaro Swoncho might be it. The stunning color transitions in this self-striping yarn evoke the colors of an August sunset while repeated geometric patterns overlay the color for some breathtaking contrast. The entire garment is worked bottom up, in the round, utilizing steeks for the deep split hemline and sleeve openings.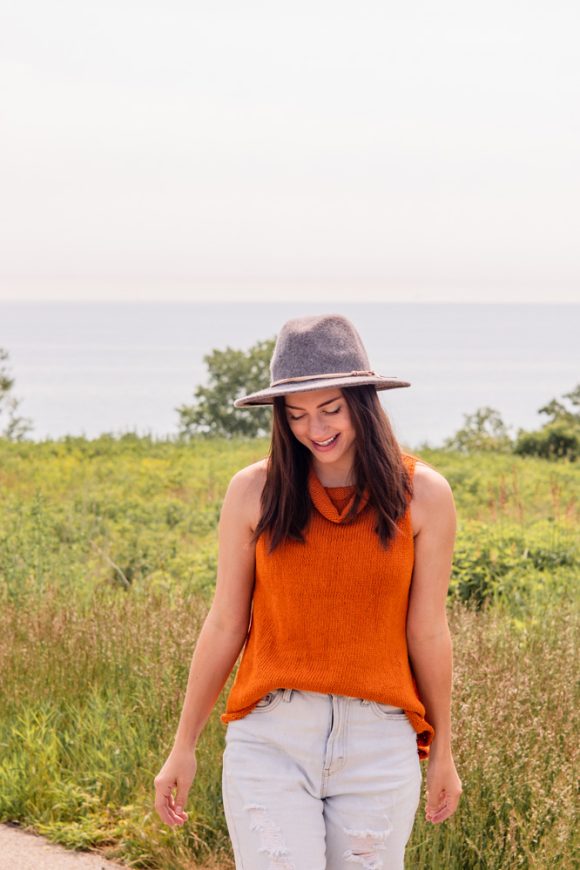 Another favorite is the vivid Sienna Tank, from designer Sandra Gutierrez. The 50/50 linen and cotton yarn in pumpkin is about as comfortable as it gets. The design is versatile, too, with enough sophistication to wear to the office, but simple and cute if you want to throw it on with some jeans for an outing with friends. Oh! And the A-line shaping makes this design incredibly flattering.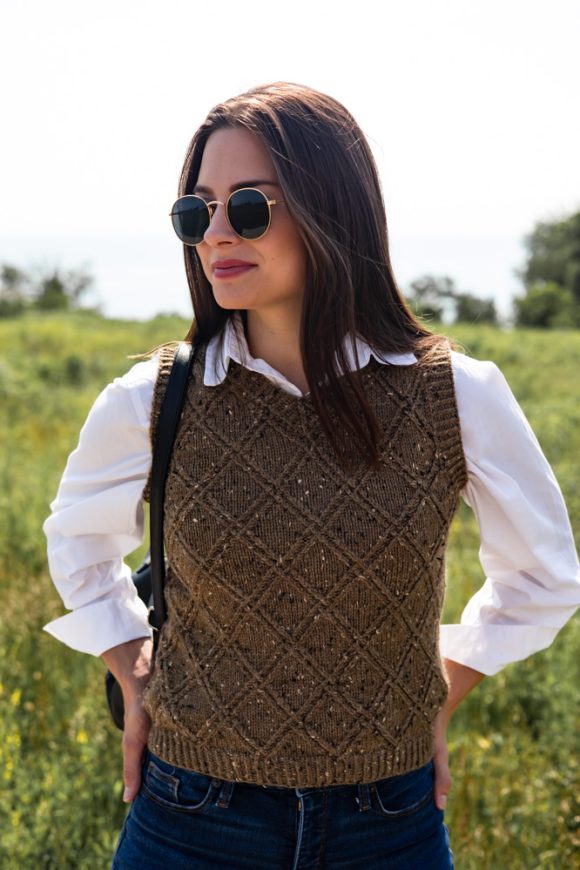 Speaking of sophistication, wait until you pull the Kinsley Diamonds Vest out of your closet. This piece, from designer Laura Barker, is pure class. This tweed vest consists of diagonal lines created by pairs of twisted stitches centered around purl bands and crossing with cables. This design will challenge your skills, but the result is one of the most beautiful pieces you could imagine.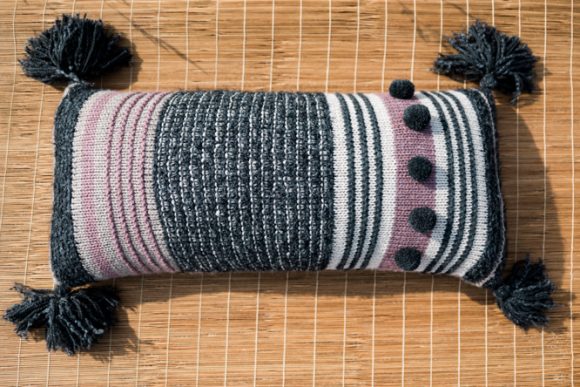 The August 2022 issue of I Like Knitting has some fashion for your home, too. The Starling Pillow is a cute little throw pillow that highlights the texture of different stitches, techniques, and fine highland wool. You'll go from smooth stockinette stitch, to purl rows, to boucle mixed with purl rows, and then boucle all by itself. And just to give it that final push, you can add in poms and tassels.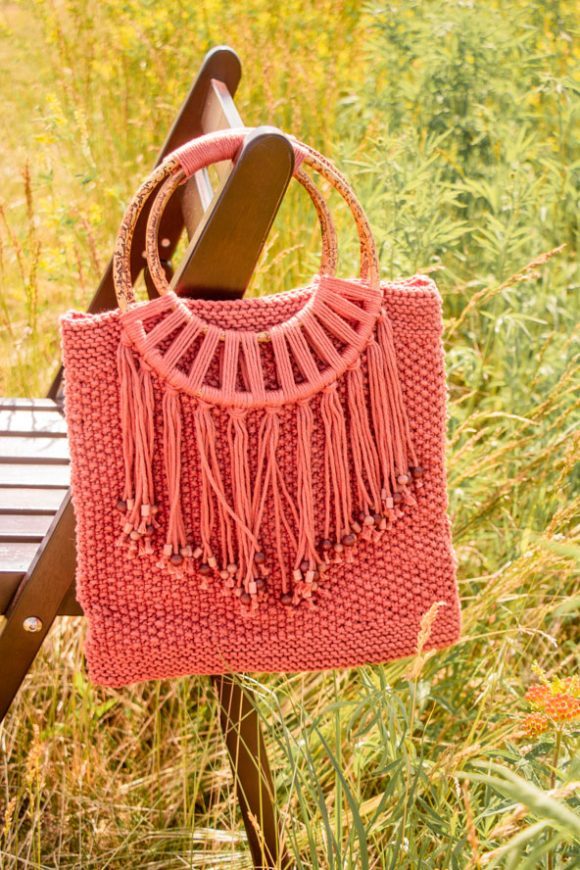 Whether you need the perfect place for your knitting supplies or a fun tote for those summer outings, the Brinley Tote is an easy project that looks more complicated than it is. This show-stopper bag features snazzy beaded fringe and clever double rattan handles. And since it's all one color, you could easily make this in your favorite hue.
The August 2022 issue of I Like Knitting has the detailed instructions for these designs and then some. And you don't want to miss the curated collection of Wildflower Knitting Products! The summer stitch markers are super fun and the summer scene row counter pin is practical and entirely adorable. Best of all, this issue of I Like Knitting comes with so much more than what's here.
Your I Like Knitting Gold Club Charter Membership includes every pattern in this issue, plus our entire library of magazine issues and special collections with hundreds of patterns, tutorials, full-color photographs, and step-by-step instructions!