Top-notch projects await!
Dear Knitting Friend,
With spring in the air and summer not far behind, this is a great time to make some new tops. We have patterns ranging from laid-back to superbly stylish. Here's a look at what you'll find in our Signature Spring Tops & Tees Collection!
Top it off
Take an easy, breezy approach to warmer weather with our Kailani Breezy Top. This lightweight sweater is a combination of two classic lace patterns; they come together to make a light and comfy sweater that's perfect for a sunset stroll.
Take a simple tee, add a little lace, and you have a super top that goes way beyond basic. Our Interlaced Diamond Top features a wide, round neckline, short sleeves, and a delicate panel of diamond-shaped lace motifs.
Knit yourself a top in the round from the top down, adding lace eyelets as you go. Our Owls' Nest Top features lace that resembles crocheted lace, with its larger eyelets. You'll love the simple elegance of this top, perfect for a day out and about.
Take the feeling of fresh flowers with you wherever you go, in our Jasmine Top. This sweater features delightful floral colorwork motifs at the hem and the yoke. When you can't get out to the garden, take the garden with you!
Take your tee to a new level with lattice and fan lace. Our Coral Honeysuckle Top is an easy-rated pattern with raglan sleeves that create a butterfly-like line along the shoulder. This top will look great whether you wear it with jeans or your favorite skirt.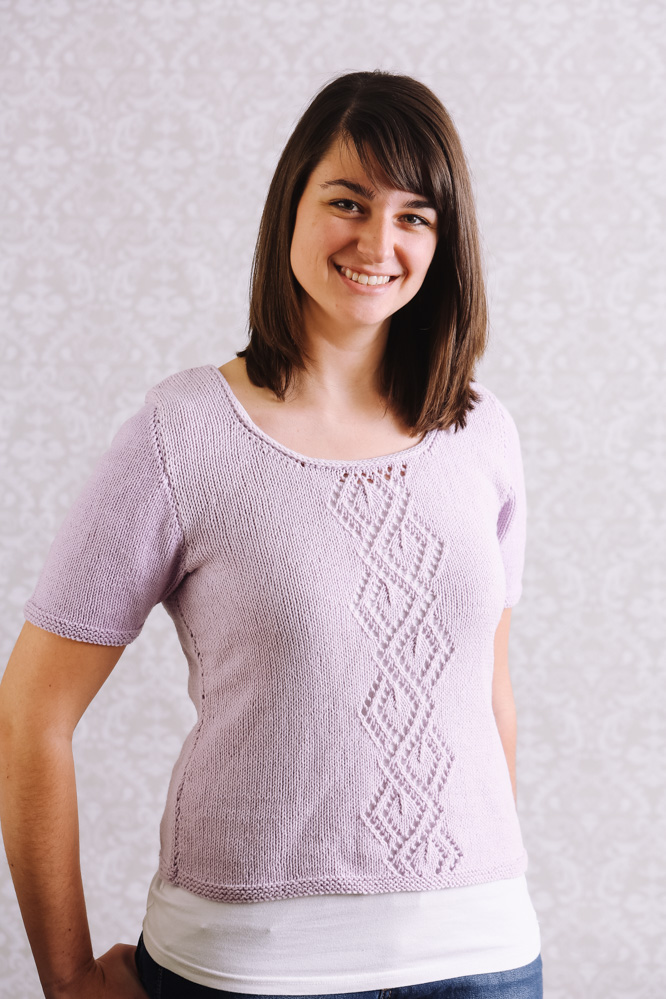 Intermediate knitters will enjoy making our Cotton Candy Top. Featuring lacy raglan sleeves, an eye-catching front lace panel, and an open back neckline, this is a fun and flirty sweater that's perfect for play time!
You'll love the flowing, scalloped design of our Wild & Free Top. The cap sleeves and flattering drape of this sweater will make it a new favorite! As a bonus, this sweater is reversible, with a V-neck on one side and a scoop neck on the other!
For a beautiful look on a warm summer evening, consider our Strawberry Wine Top. You wouldn't think so to look at it, but this pattern is rated easy! Use bulky yarn to work the bodice of this sweater in the round, using oyster stitch. The small cap sleeves are designed to drape and flutter as you move. Save this top for a special occasion or just celebrate the day with this beautiful top.
The contemporary tee-shirt is transformed into an elegant statement piece with our Romantic Vineyard Top. Ribbed trim adds shaping and style, and a gorgeous lace panel on the back provides a stunning flourish.
Fits you to a Tee
Some of us are already dreaming of warm spring days, and the Rosaleen Embroidered Tee will take you through spring and straight into summer — and your flowers will never wilt! Create your own tiny rose garden on this t-shirt, knit in the round from the top down.
Our Mirielle Tee is a carefree combination of casual and trendy. The built-in "belt" gives this sweater a dash of design in this solid-color pattern. Large open sleeves, a tunic profile, and contrasting edging make this sweater great warm-weather statement piece.
Make the Seeing Eyelet-to-Eyelet Top for an elegant, stylish look with a beautiful eyelet lace border at the hem and delicate eyelets at the neckline. This will be your goes-with-everything top. Dress it up or tone it down — just enjoy the sleek styling.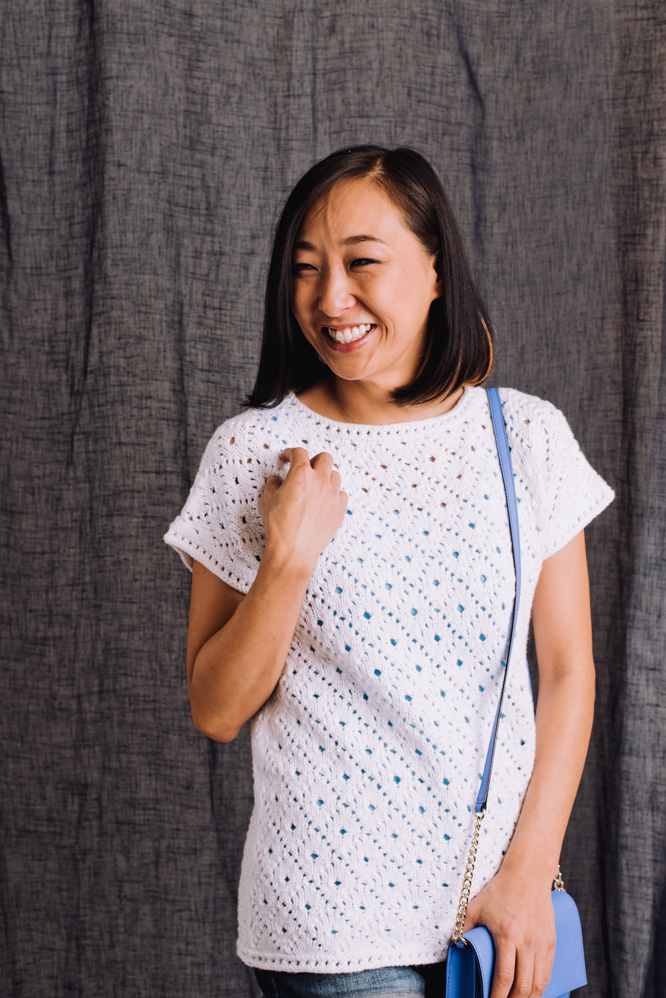 Tee-style tops don't have to be basic or boring. You'll feel (and look!) cool all summer long in our All Eyelets On You Tee. This project is perfectly suited for beginning knitters. Rated easy, this sweater is knit in two pieces, with seams at the shoulders and sides. Put a tank or tee on underneath and show off the lovely lacy look of this top!
You don't need to yell to make a statement. Our Cross Back Tee is all simplicity and elegance, with lovely sleeve and hem detailing, plus a dramatic scooped back. Stockinette stitch makes up the main body, and edges are finished off with I-cord.
Beginning knitters looking for a top to try should make our Orchid Tee. This simple, wide-sleeve top has stylish visual interest with just one lacy sleeve. Work the front and back flat, seam the shoulders and sides together, and get going!
Romantic and feminine, our Flutter Lace Tee recalls the fashion of the early 1900s matched with a modern sensibility. A lacy lower body and lace-trimmed sleeves give this top a timeless feel. Dress it up with a flowing skirt or make a bold casual statement and pair it with jeans.
Welcome lace into your everyday with our Leafy Lace Tee. Designed as an oversized cover-up, you can take this tee to the beach or use it as an airy layer over your favorite tank or dress. You have plenty of options with this lightweight top!
Be ready for warmer weather with patterns from our Signature Spring Tops & Tees Collection. Which one's at the "top" of your list?