Wrap yourself in light and lacy patterns!
Dear Knitting Friend,
Winter scarves are delightful, cozy, and warm. But warmer weather calls for a different kind of scarf. Our Signature Spring Scarf Collection has nine notable scarf patterns with light, lacy motifs you're sure to enjoy. Use them to dress up an outfit for the evening, or to provide a beautiful way to ward off an evening chill. Our patterns are perfect for knitters who are just beginning and those who enjoy a little challenge. You'll love the look and feel of these lightweight scarves! The patterns are elegant enough that you might want to make a scarf or two to treat a friend. Here's a sampling of what you'll find in our Signature Spring Scarf Collection!
Take an eight-row repeat and watch it transform into our airy Horseshoe Lace Scarf. This dazzling piece features a delicate horseshoe lace motif that will dress up your spring outfits. Knit it in a medium weight yarn in a solid color to show off the lacy pattern.
Some of my favorite projects require just one skein of yarn, and that includes our English Lace Scarf. This scarf uses the English Mesh Lace Stitch on repeat for each outer end of the scarf; the middle section has a little more weight to it, but with a lovely lace line running down the middle. The English Mesh Lace Stitch plays with positive and negative space to create a lightweight summer scarf suitable for a day at the beach or a night out on the town. Use linen yarn for an easy-care outdoor scarf.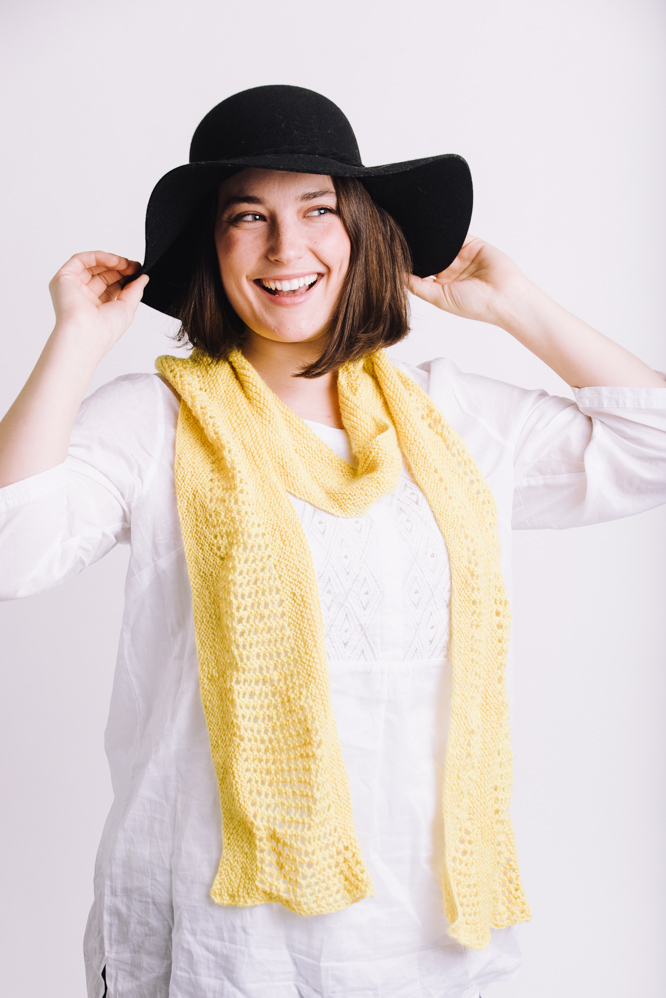 Maybe you'd like to knit yourself a scarf that feels like air. Well, our Eyelet of the Beholder Scarf is a great choice! This scarf is long and skinny, knit in garter stitch with a simple eyelet lace motif — a perfect project for a beginning or experienced knitter.
Take the simple chevron to new heights with our English Lavender Scarf. This scarf is lightweight but perfect for dramatic draping, with delicate double rows of chevrons. You'll make this beautiful scarf in two sections, then graft it together using the kitchener stitch (see our tutorial for details). This is an excellent project for knitters at the intermediate level and beyond.
Feathers and leaves in lace make our Ruffled Feathers Scarf the perfect outfit pick-me-up! Keep this scarf handy to dress up any outfit. This intermediate pattern is worked flat, in one, piece, and it looks lovely in super fine yarn in solid colors. You may not be able to stop at just one!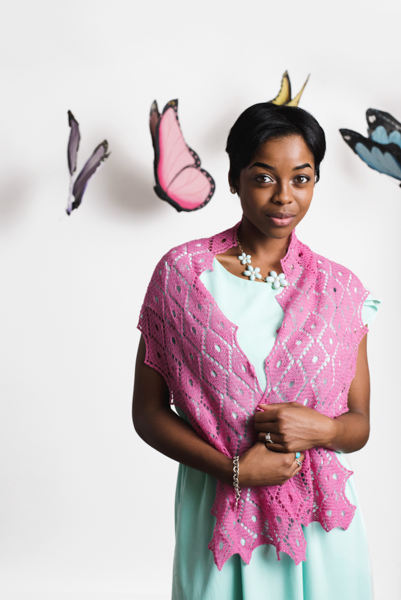 Part wrap, part scarf, our Gossamer Wing Scarf has plenty of visual interest. This wonderfully airy one-skein scarf is worked entirely in garter stitch, making it completely reversible! You'll love the scalloped edges and the bold yet breezy diamond pattern. This scarf is way easier to knit than you might think — the pattern is rated easy. Make it in lightweight yarn in your favorite color.
Looking for another light, lacy and easy scarf pattern? Cast on our England Awaits Scarf and watch the gentle waves form as you knit. This scarf, featured on our collection cover, is the perfect statement piece to add to your wardrobe. You'll work this scarf from end to end. Make it as long as you like!
The breezy days of spring and summer call for a scarf with attitude. Our Sunshine Lace Scarf combines vertical lines and an open lacy pattern to create a bold statement piece. Garter stitch marks your borders, giving the lace pattern a perfect frame with just the right weight.
Dress up an outfit with a vibrant scarf that almost feels like you're wearing flowers. Our Warm Weather Whimsy Scarf has an openwork design featuring a German braid pattern, coin cables, and a satin ribbon fringe for a fabulous finish!
Warmer weather is calling, and these scarf projects are waiting for you in our Signature Spring Scarf Collection.
If you love lacy scarves, at least one of these patterns has your name on it. Knit yourself something light and lovely!