From casual & comfy to bold & beautiful!
Dear Knitting Friend,
Any time is a good time to start a new sweater. From cozy pullovers to flowing tunics to sweaters with graceful lace and bold cables, there's a project here that will call to you! Our Sweater Weather Knitting Collection for Fall has almost two dozen stunning sweaters to spark your knitting enthusiasm. Keep an eye out for sweaters to put on your gift list, too. Here's a sampling of what you'll find in our Sweater Weather Knitting Collection for Fall!
Casual & Comfy
Our Sweater Weather Knitting Collection for Fall includes plenty of patterns for comfy, casual days. The New Knit Henley Sweater will be your new go-to pullover for a relaxed day outside. Its oversized and boxy fit makes it a perfect choice for an active day. You'll have a wardrobe staple with style when you knit our Esme Half-Zip Sweater. This project uses a textured or boucle yarn to create a sherpa-like fabric. The top-down, yoke-style technique lets you create a collar with no steeking!
When you need an extra layer, but not too much, you want a sweater with some versatility. Our Cranberry Harvest Sweater would be perfect to wear on its own or over your favorite plaid shirt. This project is worked in panels and the sleeves are worked flat. You'll love the texture of this pattern! Everyone has that one comfy sweater they reach for again and again. Even if you're a new knitter, you can make yourself a comfy sweater. Try our Aspen Sweater. It's quick and fun to knit, using super bulky yarn. For added charm, add elbow patches!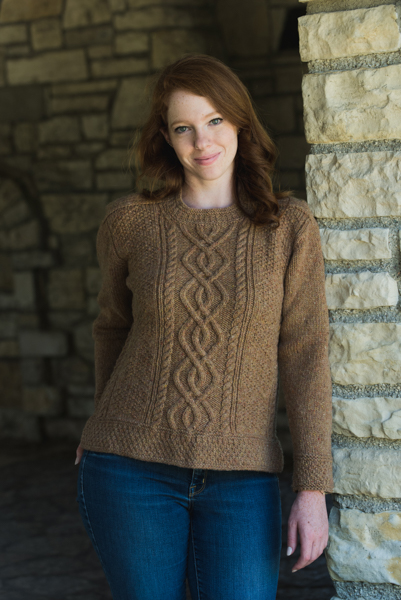 Other casual & comfy patterns include our Beatrix Aran Cabled Pullover, with big cables, little cables, and textured accents, and our Mabel Front Cable Pullover, a project that transforms a simple cable-front pullover into an eye-catching piece with contrasting yarn.
Detailed & Delightful
In any sweater project, details make a difference. Our Woodland Explorer Sweater is a low-key variation on the classic Inverness Fisherman's style, and you'll love the delicate texture. Go for even more intricate texture with our Orchard Pullover, with its delicate blossom pattern. Work this project from the bottom up.
Sometimes understated is the way to go; it makes the detail work stand out even more. Our Ella Pullover features intricate hem and sleeve details. You'll work most of this project in the round. Delicate buttons adorn the back placket. Cables and ribbing combine to create a lovely form-fitting sweater in our Plum Cable Pullover. This is a perfect sweater for colder weather, and the lines on this sweater are just beautiful!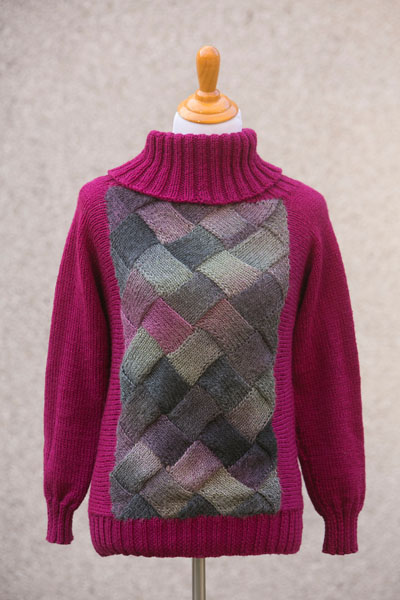 For warmth, style, and smiles, consider Grandma's Favorite Sweater, with its entrelac panel in the front, knitted from variegated yarn. Roomy sleeves, snug cuffs, and a generous cowl ensure you'll stay warm even away from the fire. Need something more on the elegant side? Our Leaf Lines Sweater features waist shaping for a flattering silhouette, and panels of diamonds leaves down the sleeves to add an elegant touch.
Combine the simplicity of a top-down seamless raglan with a center-front cable panel and a stockinette body, and you have our Ruby Cabled Raglan — lovely detail for a casual pullover. If you want to save your detailing for the sleeves, our Cinnamon Spice Pullover features beautiful rows of eyelets and cables down the arms. Keep this sweater in the front of your drawer!
FUN & FLOWING
Need something with a flowing fit? Our River Valley Tunic could easily become your next go-to pullover. The drape of this tunic is comfortable and flattering, and the delicate diamond pattern gives this sweater extra sparkle. Our Olivette Mock Cable Sweater features an all-over mock cable and eyelet pattern, almost like leaves waving in the breeze. This pattern has a relaxed fit and a V-neck that makes it perfect to wear on its own or with a layer when you need a little more warmth. The beautiful stitch work of our Cranberry Twist Sweater creates an eye-catching pattern on the front. Details at the shoulders, cuffs, and hem make this a stunning project.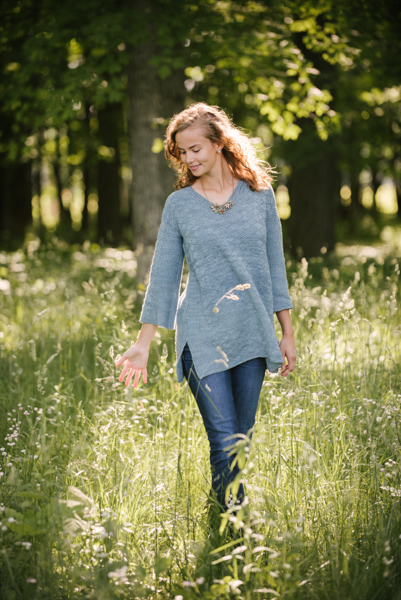 Step up your fall fun with our Honeycomb Sweater. This top-down honeycomb sweater is perfect fall fashion. A wide, loose neckline and sloping bottom hem that's a little longer in the back make this a fun sweater that's far from boring! Or go for comfy and stylish with our Buttoned Heather Pullover. Dolman sleeves give this sweater a light and airy fit.
BOLD & BEAUTIFUL
Sometimes you just want to go bold. Well, here's your opportunity! Stay warm and look fabulous in our Blackberry Cowl Sweater. The combination of asymmetry, cables, and lightweight yarn result in a fantastic addition to your fall wardrobe! Another bold & beautiful choice is our Sadie Wide Neck Sweater, with its V-neck, bold cables, and versatile wearing options.
Got sports? Try our Fan Favorite Knit Sweater Pattern, a V-neck pullover with stylish contrasting color to create sporty stripes. It's a win for this season's wardrobe! When cold-weather days get you down, you can always put on the Grape Supreme Textured Sweater, a flattering V-neck sweater with thumbholes, just for fun. Add a surprise textured back, and you have a lovely sweater to get you through any cold, dreary day.
So many textures! So many choices! Our Sweater Weather Knitting Collection for Fall has you covered. Which project will you cast on first?