Sweet lace, flowing cables, eye-catching patterns!
Dear Knitting Friend,
Let's be real: if you knit sweaters, it's always sweater season. No matter the time of year, you're bound to be working on something. Well, our Summer-Ready Sweaters Knitting Collection has more than a dozen stunning sweaters suited for sunny summer days and those cool, breezy summer evenings. From casual and comfy to lightweight and lacy, there's a sweater here with your name on it! Keep an eye out for sweaters to put on your gift list, too. Here's a sampling of what you'll find in our Summer-Ready Sweaters Knitting Collection!
Panoply of Pullovers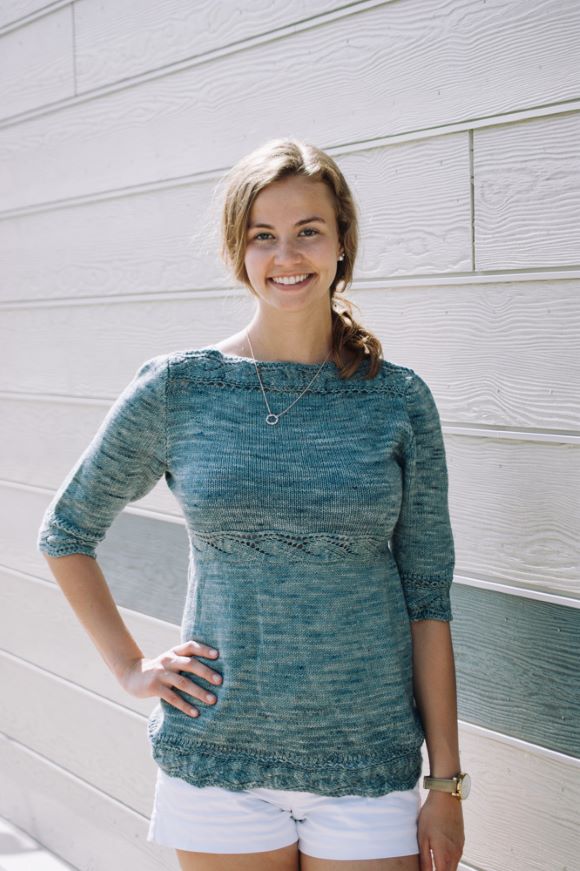 Our Summer-Ready Sweaters Knitting Collection includes a wide variety of pullovers, all with a water or mountain theme. The hem of the Water's Edge Tunic will remind you of the pattern left in the sand as the waves head back to the sea. This is an advanced pattern, and worth the effort of every stitch. You'll love the detail at the neckline, hem, and cuffs — and the stunning look of the neckline on the back!
Feeling the call of the tropics? Our Caribbean Waters Pullover has a stunning diamond wave pattern that's as mesmerizing as the sea itself. Knit this intermediate project in the round from the bottom up.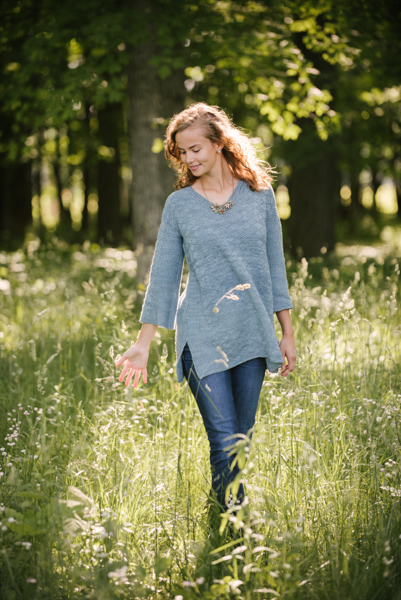 Need something with a flowing fit? Our River Valley Tunic could easily become your next go-to pullover. The drape of this tunic is comfortable and flattering, and the delicate diamond pattern gives this sweater extra sparkle.
How about flow and frill? Our Waterfront Pullover offers both, with a smooth bodice and a wavy lace pattern along the extended hem and cuffs. This sweater offers a tailored look with just the right touch of whimsy.
Our Lagoon and Blue Mountain pullovers each offer summer comfort with different style and texture — there's something here to suit every summer mood!
Light & Lacy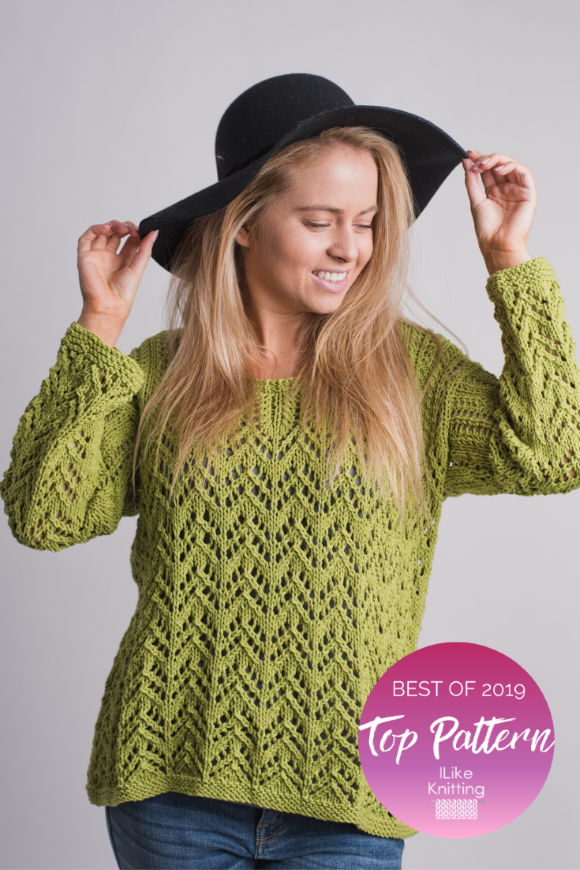 Summer's a great time to have a light and lacy sweater on hand, just to take off the edge of an evening chill or a brisk morning breeze. Our Parodia Sweater has a lace pattern that's perfect for a boho-chic look. This oversize sweater is worked in the round from the bottom up. You're going to love the lacy feel!
We can all use a new cardigan, and the Elderberry Leaves Cardigan is a perfect summer symphony of lace. The lace pattern is both fun and challenging, and the pattern has a spot for that special button you've been saving for just the right project!
It's always a good idea to have a pretty layer for cooler days, and our Shalee Summer Sweater gives you a little extra warmth for your neck and upper arms. The lacy look comes from a broken rib pattern with chic style. Knit in the round from the bottom up.
Creative Cables
Summer sweaters come in all shapes and styles, and our Fiorella Lace & Cable Sweater is a great example of a classic sweater with a fabulous cable and lace panel front, back, and sides. You're going to love the comfort and drape of this sweater — it can carry you from late summer days into fall.
Enjoy the elegant romance of lace and cables together in our Cornelia Sweater. This sweater flows with the sweet breeze of summer all around. A simple scoop neck, drop shoulder, and three-quarter sleeve design give this sweater a timeless feel. Garter stitch edgings give the sweater a simple, clean finish to let the lace and cables get all the attention.
Clean Lines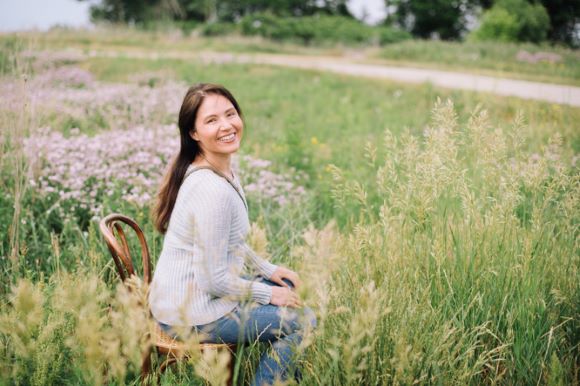 Sometimes you need something with clean lines and not a lot of fuss. Our Lillemor Sweater offers those clean lines in two directions for a touch of casual chic. You can work this sweater almost seamlessly, picking up your vertical lines after the sleeves and bodice are done.
Our Knit in a Splash Pullover has classic clean lines with whimsical knit raindrops running down the sleeves and back. The subtle pattern will make you look forward to the next rainy day!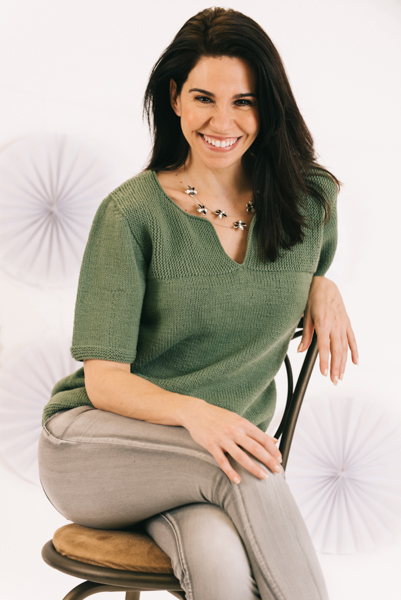 How about a tailored sweater knit from the top down? Our Pistachio Pullover is fun to knit — plus, you can try it on as you go! A lovely v-neck yoke merges into a stockinette body and sleeves with classic garter stitch edging. Clean lines, lovely look!
The Sonnet Sweater, featured on our cover, is a classic, cozy, comfy ribbed sweater that's perfect for end-of-summer weather. Knit it in a neutral color or go bold with a brighter shade. This sweater's such a classic, you may want to make two!
These stunning sweater projects are waiting for you in our Summer-Ready Sweaters Knitting Collection. Which project will you cast on first?
But this is just a fraction of what you'll get with an I Like Knitting Gold Club Charter Membership—your membership includes subscriptions to the I Like Knitting Magazine Club and to the I Like Knitting Collections Club; full and immediate access to the digital library of 5+ years of magazine issues with 600+ knitting patterns and articles; step-by-step instructions for patterns; and video tutorials and full-color photographs for details about projects and stitches. Plus, FREE access to our two premium on-demand knitting videos, 9 Knitting Tutorials: Tips and Tricks for Knitters Old and New and Knitting Outside the Box: 3 Unexpected Stitch Tutorials.
Your I Like Knitting Gold Club Charter Membership gives you access to all of our knitting patterns and content, 24-hours-a-day on whatever device you prefer —desktop, or laptop. And the content is fully searchable, so you can find exactly what you want—when you want it—at your fingertips in an instant.
Here are just a few of the tantalizing patterns sitting in our library right now—and all contained in a single issue—to which you'll get instant access when you join the I Like Knitting Gold Club as a Charter Member:
Apple Leaves Sweater
Crisp Morning Cardigan
Spooky Cute Kitty Costume
Campfire Coals Cow
Macintosh Vest
Aspen Sweater
Cranberry Twist Sweater
The Touchdown Knit Scarf
Tailgating Messy Bun Hat
Alpine Cardi
Mountain Air Infinity Scarf Knitting Pattern
And the library of photos and video tutorials is gorgeous, inspiring, and practical— showing you exactly how your finished patterns should look and exactly how to execute stitches and patterns, even the difficult ones!
When you join our #1 community for knitting-lovers, you'll receive all of the handy benefits that knitters everywhere have been buzzing about:
You'll learn new stitch techniques with a variety of patterns that range from beginner to advanced.
You'll find expert tips and tricks that will help you achieve professional results.
You'll start getting requests for your stunning knitted items from your family and friends.
You'll have access to renowned designer patterns and tutorials from all over the world.
You'll never worry about mistakes in patterns or ripping out your progress because our tech-edited patterns are curated from trusted designers in the knitting community.
You'll be connected to an online community of knitters who are just as passionate as you!
Don't miss out on this exclusive Charter Membership offer to get all of the above and more!
When you activate your I Like Knitting Gold Club Charter Membership today, you'll get access to everything we have about knitting—all access and all the time:
A full year of upcoming issues of I Like Knitting magazine—Including 150+ exclusive designer knitting patterns and articles with step-by-step instructions, video tutorials and full- color photography for details of projects and stitches
Instant access to EVERY issue we've ever published—a vast library of more than 5 years of issues with 600+ patterns and articles
A full-year's subscription to the I Like Knitting Collections Club that includes 60 NEW and trendy patterns refreshed annually
Regular e-newsletters, full of the latest knitting tips & tricks and even more FREE patterns
NEW! Free Bonus! Instant access to our just-released on-demand streaming knitting videos, 9 Knitting Tutorials: Tips and Tricks for Knitters Old and New and Knitting Outside the Box: 3 Unexpected Stitch Tutorials—featuring patterns and tips for knitters of every skill level.
And here's what you don't get when you become a Charter Member of the I Like Knitting Gold Club—advertisements! That's right, we're advertising-free, so that we can devote more time, space, and effort to helping you be an awesome knitter.
All of this is available to you—right now—when you claim your I Like Knitting Gold Club Charter Membership. This special offer includes FREE unlimited access to our two streaming knitting videos, 9 Knitting Tutorials: Tips and Tricks for Knitters Old and New and Knitting Outside the Box: 3 Unexpected Stitch Tutorials…our gift for signing up now!
No other online magazine in the world has everything about knitting, all in one place and vetted and curated for your easy access and use.
Knitters everywhere have been enjoying I Like Knitting magazine for years, and now it's better than ever with more benefits, patterns, and content than you could ever imagine—with an I Like Knitting Gold Club Charter Membership.
When we first put this new club together for knitters like you, your needs and desires were top-of-mind. We're the ultimate resource and network for knitters everywhere, offering original designer patterns and content from authoritative and respected voices in the knitting world.
I think you'll agree that this really is an unusual offer, plus FREE access to our two premium streaming knitting videos when you become an I Like Knitting Gold Club Charter Member today! It's an incredible deal that you don't want to ignore!
Why not be among the select group of knitters to join us today and benefit from all the valuable information about knitting that you can't get anywhere else?
Become an I Like Knitting Gold Club Charter Member today—while this special offer lasts!
Happy knitting,

Caitlin Eaton
Editor, I Like Knitting Magazine
P.S. – Please join today so you can take advantage of this special Charter Membership offer, plus two FREE knitting videos!